There are few things better than the thrill of knowing a beloved book is coming to the screen. When we read books, we often draw a picture in our minds of what the locations look like and how the drama unfolds. I love that moment when a book-turned-movie is about to begin, because even though I know the story, what I don't know yet is how the story will unfold in a new form. Lately, we're getting to see a few Taylor Jenkins Reid books come to life, and I'm not mad about it. Daisy Jones and the Six landed on Amazon as a series last month, and now One True Loves will grace our screens as a movie, hitting theaters on April 7.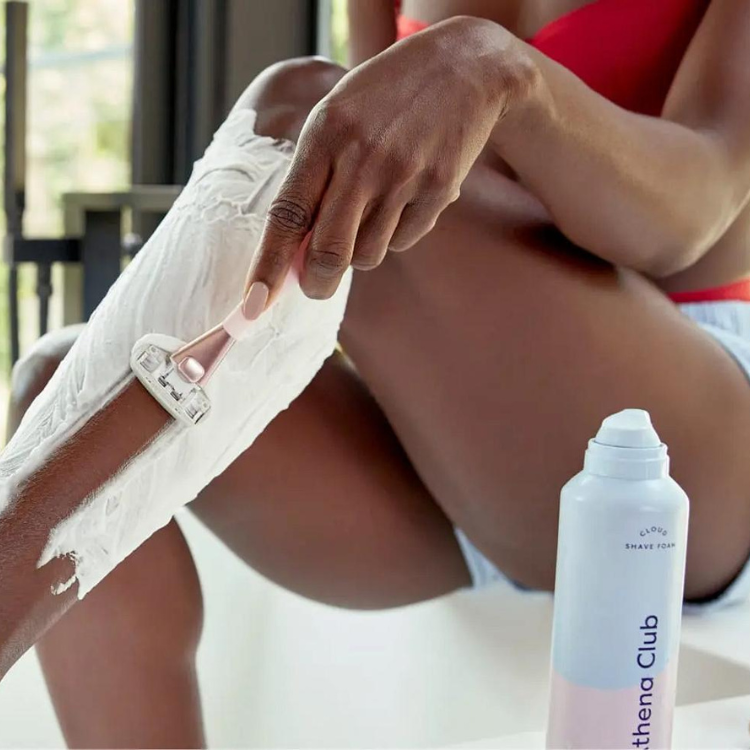 "This razor gave me the silkiest, smoothest shave I've ever had! I never get any cuts or scrapes, even on those hard-to-shave places."
I was excited to see an early screening of One True Loves, and, like the book, it gave me a lot to think about. It had me reflecting on past relationships, as well as my current one, and all the pivotal moments that happened to me that forged new paths in my life. Sometimes these new paths lead us to the people we love, whether that be family, friends, or romantic partners. Guaranteed, the movie, which was written by Taylor Jenkins Reid and her husband Alex Jenkins Reid, will make you think a lot about the meaning of love, especially the often-used phrase: "true love." But first, take a look at the trailer:
For anyone that prefers a movie viewing on your own couch with a giant bowl of popcorn (me), the movie will also be hitting digital platforms on April 14. It's perfect for a movie night with your friends or book club, and here's why I think so (avoiding any big spoilers, of course):
Why One True Loves is Perfect for your Next Movie Night
It Stars Actors Who Bring Their Own Twist to the Characters
Casting is key when it comes to bringing a book to life, and I was excited because two of my favorite actors are leading the story of One True Loves, in a genre that we haven't seen them play in much before. Portraying Emma is Phillipa Soo, who is also an incredibly talented musical theater actor and starred as Eliza Hamilton in the original run of Hamilton. As someone who listened to the Hamilton soundtrack so much that it became my favorite artist on Spotify one year, I can say I'm a huge fan.
We also get to see Simu Liu as Sam, Emma's childhood friend and fiancé. Simu starred in Marvel Studio's Shang-Chi and the Legend of the Ten Rings, and is one of my favorite actors to follow on Instagram. Speaking of, Simu displayed his own musical talents on his feeds by singing a song from Daisy Jones and the Six, bringing it right on back to the world of Taylor Jenkins Reid. And then, Riley Keough, who plays Daisy Jones in the series, posted a duet of the song with Simu on TikTok. Anyway, I very much digress, but I love a good TikTok duet and this was a major crossover moment.
The rest of the lovely One True Loves main cast is rounded out by Luke Bracey (Point Break, The Holidate) as Jesse, Emma's long-lost husband, and Michaela Conlin (Bones, For All Mankind) as Emma's sister, Marie. I especially loved the scenes between Emma and Marie, as we get to see into their backstory as sisters, and how complicated that dynamic can be. And of course, the scenes between Jesse and Emma are full of all the emotions (literally all of them) and some very fun montages that will definitely make you want to travel the world.
It's Got Tons of Drama
Given the premise of this movie and the scenes we know and love in the book, it wouldn't be complete without some really dramatic moments. The main conflict in the movie (which isn't a spoiler since it's apparent in the trailer and the first chapter of the book) is that after her husband's death, Emma moves on with her life and gets engaged, only to find out years later that her husband is alive and well. She's torn between her past and her future, and forever changed by a life-altering event that put her on a new path.
In the movie, we get to see a lot of characters running (either away from or toward another character), a proposal (or two), and perhaps the most dramatic moment, a reunion between two characters that genuinely got my tear ducts going. Because the main conflict is revealed right up front, the focus of the movie is on the exploration of the paths Emma took in the past and could take in the future, and I love this structure.
And a Good Amount of Humor, Too
With any good dramatic romance, a bit of humor is sometimes needed to provide balance. This comes in many forms. In the book, Sam is described as having a great sense of humor, and in the movie, Simu's performance as Sam delivers. We get to see more of his personal journey in the movie as he interacts with his music students and tries very hard to be very chill about all the things going on in his life. Although he's supposed to be teaching his class, they manage to help him work through his issues in a cute way. There's also one scene with all the other teachers at his school that gave me Abbott Elementary vibes, and although very brief, was a nice touch.
A Movie Night Conversation Starter
Is it possible to have more than one true love?
The best thing about movie nights for me are the discussions afterwards, and I find that the main theme in One True Loves is a really spicy topic. Is it possible to have more than one true love? This writer thinks absolutely, yes. Some of my friends would say no. And off we go on a debate to end all debates about love, its origins, and human nature. In my life, I have felt love in many different ways, and each experience has shaped who I want to be, or who I know I no longer want to be. Because we're always changing as human beings, I think when we go through a life altering event and come through it, we are redefined. The movie explores this in a visceral way, flashing back and forth between moments, much like our mind races when we are making important decisions.
A Book Club Conversation Starter
How does the book compare to the movie?
Of course, a movie night wouldn't be complete without a discussion of the Taylor Jenkins Reid book that started it all. So if you've already read the book with your book club, here's a question to keep the conversation going after you watch the movie.
A quote from the One True Loves book that sparked my interest right from the start was this: "I think that perhaps everyone has a moment that splits their life in two." This sets up the story and tells us the blueprint we are going to be given as we navigate both of Emma's relationships. The book is structured so that we learn about one relationship and then the other, until the stories combine. However as I mentioned above, the movie flows back and forth between each story, weaving in flashbacks with real time. As with any movie developed from a book, we lose some of the backstory (especially high school Emma's life), and the more descriptive details, but that is to be expected. All in all, in an era of reality shows and dating apps that target the development of true love, I appreciate any story that explores how multidimensional love can be, whether we believe in one true love or one true loves or anything else we choose to seek.