The past 14 months or so, fashion has become all but obsolete—and as a fashion editor, that's made me ask myself a lot of questions. How do you talk about fashion, and fashion hacks, when fashion doesn't really exist for the moment? How many times can you write about sweatpants? Will my job ever be the same?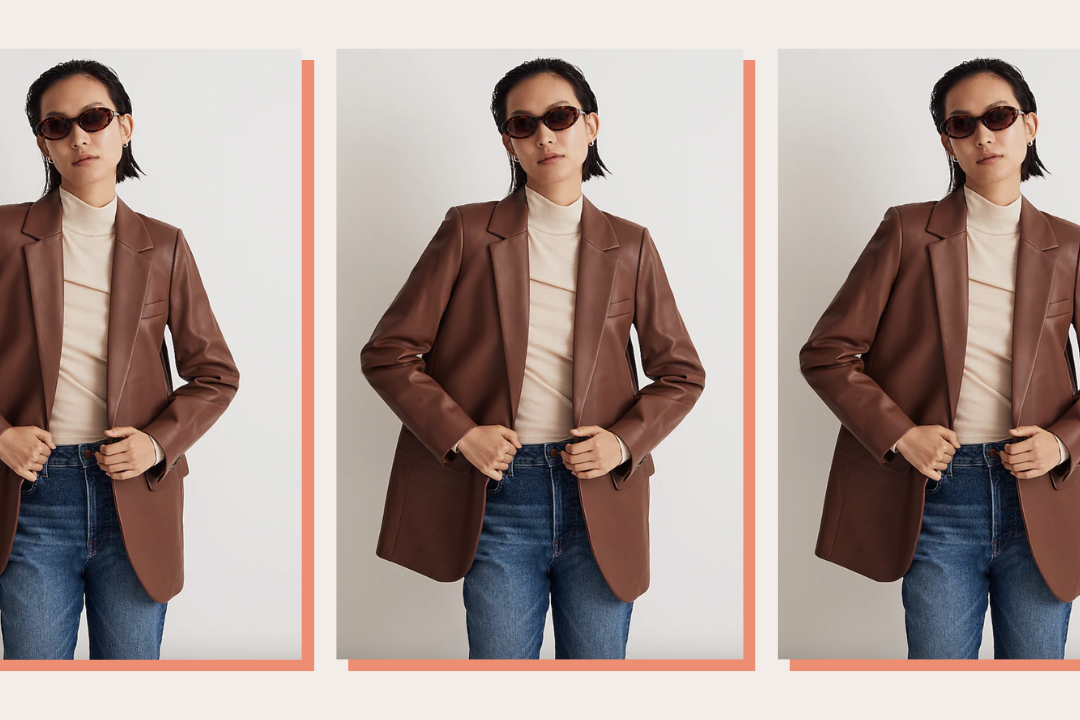 time for your fall wardrobe update!
Unfortunately, many of these questions have yet to be answered, and we're all still trying to figure out exactly what clothes will mean to us in 2021. But recently, in an effort to take lemons and make lemonade, if you will, I was reminiscing about the lessons that the past year has taught us about fashion—and in a shocking twist, there were quite a few.
I may be alone in dreaming of a day I wear jeans to the office five days a week again, but these fashion hacks I learned in quarantine are universal (and won't be going anywhere for me once we're back into the real world in full swing).
1. When in doubt, wear a matching set
Prior to COVID, I spent close to exactly $0 a year on loungewear. I bought two kinds of clothes: real-world clothes and workout clothes. But obviously, that has done a complete 180 this year, and for the first time I'm relishing in the glory that is good, cute, cozy loungewear—and obviously, matching sets are at the top of that list.
Going to the grocery store? Matching set. Not leaving the couch for the weekend? Matching set. Girls night? Matching set. Day-to-day life was made to be lived in coordinating sweats, and they're only made better by throwing a jacket and accessories over them. After quarantine, they'll continue to be a main player in my rotation, working from home or not.
2. Online shopping size charts exist for a reason
Prior to quarantine, I was not one to online shop really ever. I love going to stores and trying things on and perusing around in the meantime, and ordering things online sucked that joy right out of me. But obviously, now that joy has transitioned from in-store joy to "my UPS man just got here" joy, and online shopping is basically all that exists.
A year ago, I had a closet packed to the brim of packages filled with contents I needed to return because they didn't fit right. Why? Because rather than paying a lick of attention to the size guide, I'd order my usual size from every store and pretend to be shocked when it would come and didn't fit. News flash: all stores' sizing is different, and size charts with measurements exist for this reason. I ordered myself a tape measure, jotted down my numbers, and look at the measurements of clothes before I order them (not just what size each letter supposedly corresponds with). Since starting this, I probably have a 95 percent success rate with online orders fitting, versus the 25 percent when quarantine started.
3. Pieces in your closet shouldn't serve only one purpose
Obviously, the pieces I used to wear to the office have taken a bigger hiatus than they would have in different circumstances—but not a complete one. Clothes look completely different based on how you style them, and the pieces you have categorized as "business casual" or "fancy brunch only" can be repurposed to be casual too. The times I did leave the house, I made old pieces feel brand-new by styling them in ways I ordinarily never would: pairing my silk blouses with distressed denim and sneakers, wearing my favorite blazer with denim shorts and a T-shirt… the list goes on.
It's so easy to throw your hands up and say "I have nothing to wear" every time you open your closet, but taking the effort to try old things in new ways can make all the difference.
4. When in doubt, comfort is king
No matter who you are, odds are that the past year has made your tolerance for anything even remotely uncomfortable close to zero. Nothing is more comfortable than sweats, so thinking about pulling on the tight pants we used to tolerate is basically unbearable—and that's a good thing.
Our clothes don't have to be made out of 100 percent cotton to be comfortable, but tolerating pieces that make us want to take them off the second we finally got them on shouldn't be the standard. Last week, I found myself debating keeping on a pair of jeans that had no give and were making me feel constricted, and changed into a pair I knew was more comfortable at the last second before I left the house. The result? I enjoyed my night way more than I would have if I kept the rigid ones on, and it was all because quarantine taught me to embrace comfort.
5. Never underestimate activewear
I never thought that my activewear was going to feel like the most put-together thing I put on my body, but after reaching for sweats day after day, leggings suddenly felt like the 2020 equivalent of a ball gown. Throwing on matching activewear and living your day in it can feel (and look!) like a well-thought-out outfit, while in reality it's anything but. Not ready to dive back into jeans? No problem—your activewear can serve as a substitute forevermore.
6. Bright lipstick can turn your day around
I've always loved makeup, but have never been a big lipstick girl—until this year. After seeing our lovely Graphic Designer, Kelly, pulling off berry lip after berry lip on our Zoom meetings, I decided it was time for me to stop trying to find the perfect nude and utilize bolder colors instead—and quickly discovered that it's the quickest thing that can change my day.
A little mascara and a bright lipstick—even when paired with the matching set or activewear we were talking about—can completely change how you feel and carry yourself throughout the day. On the days that I feel unproductive and just meh, I would pull out my favorite lipstick, slick my hair back into a bun, and would instantly reap the benefits of feeling a little bit more put together. In post-quarantine life, I'll be putting my nude lipsticks on the back burner for ones that are bolder, brighter, and more fun.