In this world, there are two universal truths: one is that Jennifer Aniston simply doesn't age, and the other is that some way, somehow, Rachel Green's Friends outfits remain in style even as time goes on.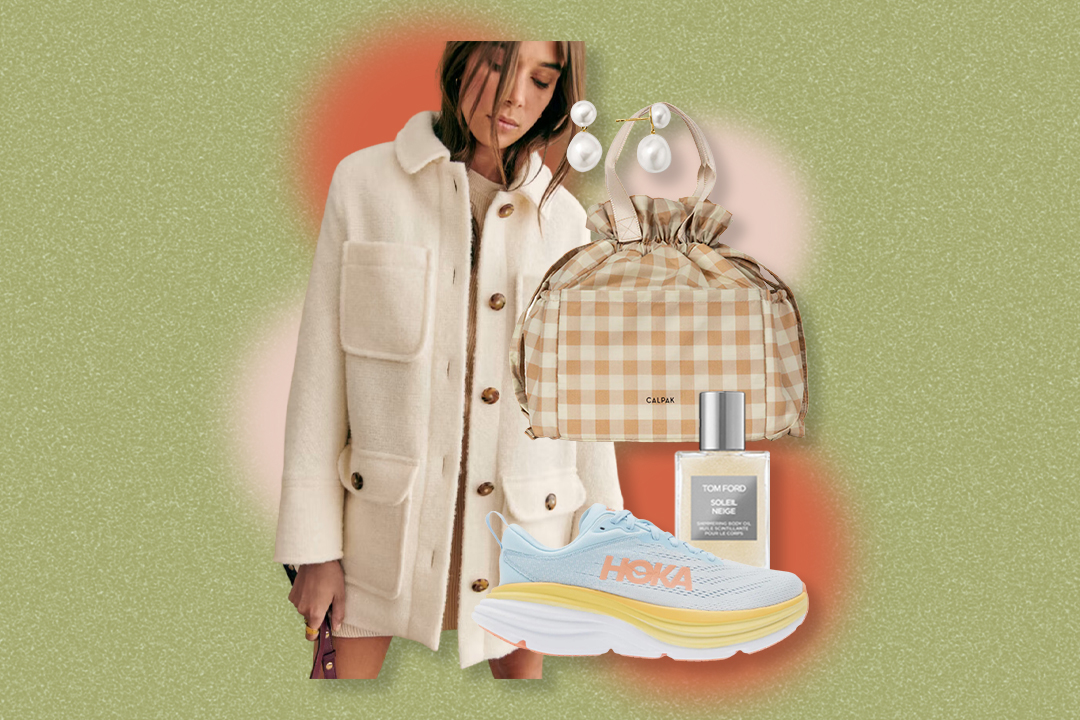 Rachel Green's outfits (and hair, obviously) defined the '90s, and her cool-girl, effortless looks all offer something to aspire to even in 2023. Sure, Monica and Phoebe had looks that will stick in our minds until the end of time, but Rachel just got it. She seldom wore something that we wouldn't happily wear today, and considering it's over 25 years later, that's saying something.
Every year, one of the most difficult dressing conundrums is, of course, choosing a Thanksgiving look, and who better to turn to for inspiration than Rachel Green herself? We've replicated every Thanksgiving outfit Rachel ever wore, from her iconic football look to what she cooked her infamous trifle in.
Unsure of what to wear for the most important meal of the year? We're turning to an expert: Ms. Rachel Green herself.
1. Season 3, Episode 9
sneakers | t-shirt | long sleeve | joggers (plus) | hat
When we think of a Friends Thanksgiving episode, our minds go straight to this one—and for those of us who want to stick to something cozy on Turkey Day, this is it.
2. Season 10, Episode 8
button-up | boots | sweater tank | jeans (plus) | earrings
Nobody does a twist on preppiness like Rachel Green, and lucky for us, preppy looks are back in full swing for 2023. Take inspiration from Rachel and layer a black sweater tank over a crisp, white button-up, and you've got an understated-but-festive winner of an outfit.
3. Season 8, Episode 9
lace top (plus) | boots | jeans (plus) | necklace
The star of this episode was Brad Pitt, but the runner-up was this whimsical blouse that was as festive as they come.
4. Season 6, Episode 9
earrings | sweater tank & cardigan set | skirt | flats
Rachel didn't know a thing about how to bake a trifle, but she did know how to pick the perfect sweater for Thanksgiving dinner. Paired with a red lip? To die for.
5. Season 1, Episode 9
boots | sweater (plus) | jeans (plus) | watch
Rachel's first Thanksgiving outfit was, in my humble opinion, one of her best. The simplicity of this sweater with some black pants screams "I don't need to try too hard to be the best-dressed cousin."
6. Season 4, Episode 8
boots | turtleneck | cardigan | mini skirt (plus)
Yes, Ross was the worst in this episode, but Rachel's chic layered look was (almost) distracting enough to steal the whole episode.
7. Season 5, Episode 8
sweater (plus) | pendant necklace | trousers (plus) | flats
A red sweater on Thanksgiving isn't exactly a new idea, but Rachel makes it work in a whole new way with a fringed hem that spices it up. When completed with silver accessories, it's a simple outfit that is made complete with festive details.
8. Season 7, Episode 8
sweater | earrings | skirt (plus) | boots
In all of Friends, this is one of my top three favorite looks worn by any character. The variety of textures keeps the all-black outfit interesting, especially with the leather-on-leather skirt and knee-high boot situation. It screams "I have a big fashion job at Ralph Lauren" in a subtly chic way.
9. Season 9, Episode 8
turtleneck (plus) | boots | faux-leather pants (plus) | earrings
A wine-colored sweater is the quintessential go-to of Thanksgiving-wear, but we think Rachel would approve of swapping her pants to a faux-leather version (in a similar color, of course). The result? The fall-toned color palette of our dreams.