Over the past year or so, I'd be embarrassed to know how much money I've spent on products I've seen on TikTok. Say what you will about the platform as a whole, but it holds a power to convince people to buy products perhaps like nothing else before—and once their algorithm figured out I'm a sucker for hearing about products for bleached hair, all bets were completely off.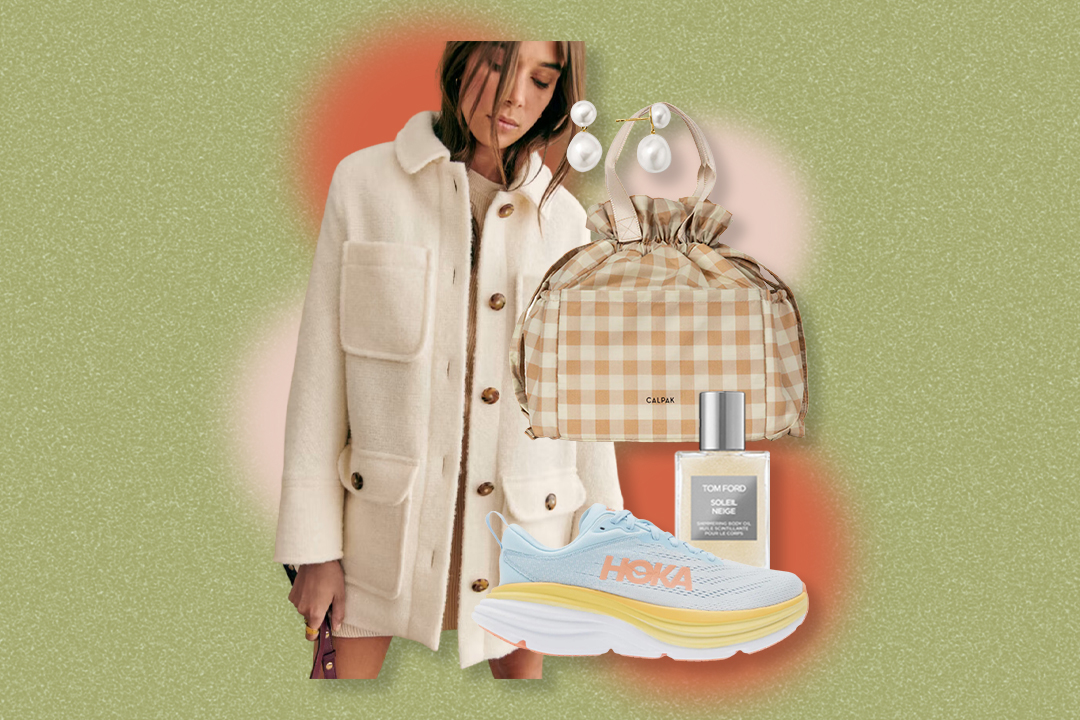 A couple of months ago, the platform was buzzing about a new shampoo and conditioner that were a surefire Olaplex alternative. After seeing dozens of videos talking about them, it piqued my interest enough to do some digging.
As an Olaplex lover but also as someone who loves to try new, innovative products, the Redken Acidic Bonding shampoo, conditioner, and leave-in treatment sounded right up my alley, promising repair to broken bonds that are a result of damaged hair. After six weeks of consistent use, I have a lot of thoughts—and might even have a replacement for my long-time haircare favorites. Here's how it went:
About My Hair
I have never been someone whose hair is anything near amazing—and it's only gotten worse over the past decade of consistently highlighting it. It's pin-straight, medium-thickness, and without effort, is pretty lifeless.
My hair is very, very, very straight, and because of that, I don't deal with too much frizz, but I do deal with feeling like my strands look lackluster overall. I've had hair stylists tell me for how often I dye it that my hair is in great shape, but obviously, with consistent bleaching comes dryness and breakage, two things I deal with consistently.
I'm someone who has always thrown all of my efforts into my skincare, but when it comes to hair care, I could do more. I've been on a journey of trying to get it into great shape, and that has included a lot of Olaplex—which I think has helped my situation quite a bit, but not in a way that makes me never want to use anything else.
About the Products
The Redken Acidic Bonding Concentrate System claims to repair all types of damaged hair with the help of citric acid, which reinforces weakened bonds and improves hair strength. All three of the products are pH-balanced, specifically formulated to defend against the negative effects of hair coloring, heat styling, and even water, which has a pH of 7. The products aim to bring hair's pH back to a healthy range of 4.5-5.5, which results in healthier hair. It also contains color fade protection and is sulfate-free.
The scent: 10/10
The products are formulated with citric acid, which leaves it with an absolutely lovely, light citrus scent. I'm pretty sensitive to smells in my products, and this is one of my favorites I've come across in that it smells great but isn't too overpowering in any way.
The packaging: 9/10
I find this packaging to be super sleek and easy to use. The white bottles with silver, metallic labels are beautiful in my shower caddy and made me want to display them front and center. Of all of Redken's packaging (which I have a decent amount of), this is by far my favorite.
The price: 4/10
Unfortunately, the one caveat of this product is that it's pretty pricey; at about $30 per product, it's similarly priced to Olaplex itself. However, since it's a product concentrate, I found that I use significantly less of it than other shampoos and conditioners, and after six weeks, I've hardly made a dent in either product—and I generally go through shampoos and conditioners pretty quickly. I'd say going through this will take me double the amount of time it took me to go through Olaplex shampoo and conditioners, which makes the price feel a lot more reasonable. The bottles are also a little bigger, coming in at 10.1 fl. oz. versus Olaplex's 8.5 fl. oz. packaging, so it clocks in cheaper per ounce too.
The shampoo: 9/10
Off the bat, I noticed that this shampoo lathers quite a bit less than others, but after getting used to it, I really enjoyed how it felt on my hair. I wash my hair around three times a week (which I wish was a lower number, but with a lot of sweaty workouts, it makes it hard to go further between washes).
I can more or less tell if I like a shampoo as I'm rinsing it out in the shower. A lot of shampoos will make my hair feel immediately dry and brittle, but as I rinsed this one out, it felt sleek and soft. The experience of using it is lovely because of the aforementioned citrus scent, and I feel that it really cleans my hair without leaving it dry whatsoever, which almost never happens for me. I also appreciate that I don't need to worry about fading my color with it, as many shampoos result in my blonde fading and turning brassy.
I generally use purple shampoo every third wash to keep my hair's tone in check, but since using this, I've noticed I feel like my purple shampoo days are fewer and further between—about once every five washes rather than the usual three. This is absolutely huge for me, as it really shows that this isn't damaging my hair's color and it's preventing even further damage since purple shampoo is notoriously drying and damaging.
The conditioner: 8/10
Of the three products, this one surprised me the most. I usually put a ridiculous, unnecessary amount of conditioner in my hair, but again, since this is a concentrate, I used far less than I normally do but noticed better results.
I'll say that I didn't notice a huge difference in my hair softness after a single wash, but over time, this has made my hair look and feel significantly healthier. It's easy for my hair to feel weighed-down, which makes finding conditioners I really love difficult since I also want them to be as hydrating as possible, but this strikes the balance between both perfectly.
The leave-in treatment: 9/10
A leave-in product can absolutely make or break my entire haircare routine. I need to finish my hair routine with hydrating leave-in products, but more often than not, they weigh my straight hair down and leave it with absolutely no volume or body. I can tell whether or not I love one immediately after drying my hair, and knew off the bat that this was a winner.
This product is my absolute dream leave-in product: it tames any frizz and makes my hair look sleek and healthy, without leaving it greasy or heavy. I put a pretty small amount from the middle of my hair through the ends, and it feels like a drink of water for my dry strands.
Before
After six weeks
Again, my hair has been colored between these pictures, but I think that speaks even more to the results I've been getting, as my hair is usually dry as a bone after getting dyed. My hair looks thicker, shinier, and healthier overall, and has a lot more luster than it did before I started.
The final verdict:
After six weeks of using these, I've noticed a significant difference in my hair's health. I feel as if they're really repairing my hair and giving it what it needs, rather than just putting a bandaid on dryness and breakage with oils or waxes.
I got my hair colored in the middle of trying these products, which also was a huge test since my hair is usually quite dry immediately after. After my first wash post-color, I didn't feel nearly as dry as I normally did and noticed the difference right away, since it's something I normally dread as an after-effect of my hair appointments.
Compared with Olaplex's shampoo and conditioner, I felt very similar results, but since I use less of this product than I do Olaplex, I would repurchase these products instead, and know that I 100 percent will once I run out.