My story starts 23 years ago. I was 13 and headed to get my very first relaxer ever. I had long, thick, and what, at the time, I considered to be unruly hair and had begged my mom for my first big girl hairstyle. For those of you that don't know, a relaxer is a chemical hair process that straightens curly hair. That day, I walked out of the salon with my mom, sporting a super straight, silky mane. And so began my journey with my hair.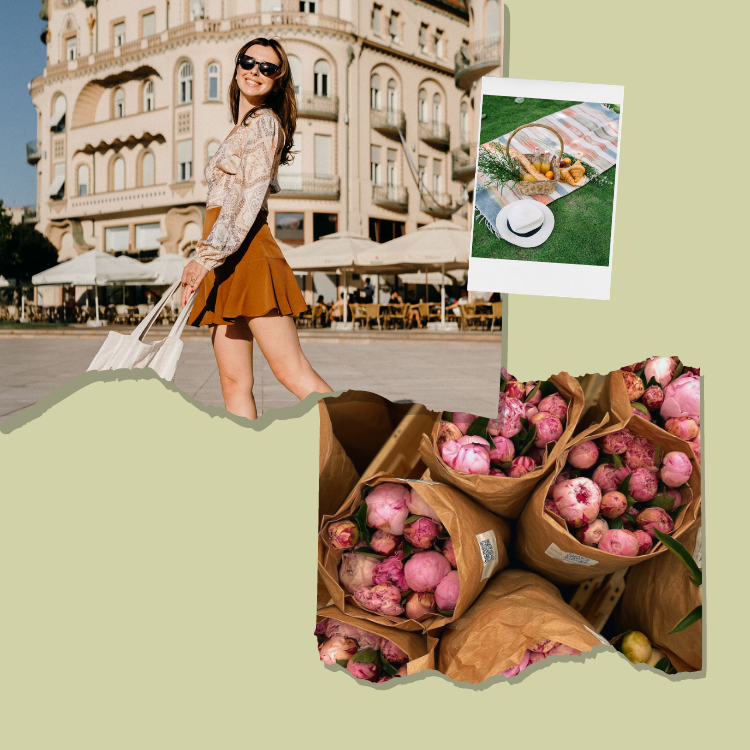 read this if you're in your saving era this summer
Like many of us, I've had a love/hate relationship with my hair over the years. A good haircut here, some unsettling breakage there, an unfortunate color fiasco sprinkled in between a few good hair days. But one thing was always certain: every 8 to 12 weeks, I was headed to the salon to get my relaxer, not even considering there was another option for my hair.
Now, fast forward about a decade and a half later. It was my first-born son's first birthday. He had the most beautiful, curly hair I'd ever seen. And I knew it was from me. My husband's birth-given bone-straight locks weren't the reason my son's curls were blowing in the wind on our rooftop as we celebrated with friends and family. People have commented on his hair since the day he was born. He came out with a head full of dark curls. And it made me proud. He got it from his mama. I looked at him as we sang "Happy Birthday," and in my head decided that was the day I was going to start the process of getting my curls back.
This feels like a good point in my story to mention that I'm no hair expert. In fact, I'm the opposite. I started to Google and research and YouTube anything I could to get a little bit smarter on how to do it, how it would work, and what I should know. I was excited about the possibilities of this new/old hair and was so ready for change. By this stage of life, my hair was pretty unhealthy. I was not one of those women who could rock and maintain healthy, relaxed hair. It was damaged, lifeless, and at that point, I kind of felt like this was the change I needed.
Luckily, my friend and longtime stylist Erica was here to help. I'll take you through a little snapshot of the ups and downs of my transition from straight to natural hair.
Months 1 – 3
Okay, this is no big deal. I'm committed, I'm doing this. I can't wait to see some curls. I'm buying ALL the products because maybe there's some sort of silver bullet to make my hair grow faster and my curls to start popping. Spoiler alert: There is no magic bullet. Healthy hair takes time to grow. Either way, I'm excited to see something… anything!
Months 4 – 9
This was a horrible idea. Yes, there's an itty bitty amount of new growth and what maybe I can consider curls. But they are tangled and hard to manage, and forget styling, I can't get a comb through my hair! At this stage, thank goodness for Erica, I was getting regular blowouts to better manage the two textures that were happening on my head. At month eight, I made a drastic cut. My once shoulder-length hair was chopped to chin length. It was the biggest cut I've ever done, and it felt liberating, to be honest.
Months 10 – 20
More of the same. Blowouts every week, little bit more growth, starting to see a good chunk of thick curls and a whole lot of thin straight, relaxed hair peeking through still. The curls look so pretty; the straight hair not so much. I asked my stylist to take my hair even shorter. Ear length. The shortest, by far, my hair had ever been. But man, was it healthy, shiny, and full of life. It was at that moment that the idea of beauty meaning long, straight hair was dead to me. At that moment, I realized that I felt most beautiful with healthy, strong hair — no matter the length or straightness.
Months 21 – now
At this stage, I had more natural hair than relaxed hair on my head. I stopped getting regular blowouts which made a huge difference in the texture and growth of my hair. It's true, less heat does equal healthier hair — and with my hair growth being so slow, I was excited to see the effects of leaving heat alone. I would challenge myself to go for one month, three months, six months with no heat. Forcing myself to figure out new hairstyles and really embrace my new curls and hair.
I'd be lying if I said early on there weren't moments of "Wow, does my hair look crazy?" or "What will my friends who've only seen me with my blown-out hair think?" or "Is this appropriate for a business meeting?" And to be honest, I hated that those thoughts even popped into my head. This was my hair; it grew out of my head, and it was perfect.
Fast forward to being fully natural for about three years, and I truly love my hair. As silly as it may sound, it's given me a fresh perspective on beauty and confidence. I now have two little boys, both still with amazing curly hair that they got from me. I know going natural isn't for everyone, but for me, it was more than just about my hair. It was breaking from this "norm" of what I considered to be beautiful.
As I mentioned, I'm no hair expert, but these are the things that worked for me throughout my transitioning process. And trust me, I'm still learning. By no means have I necessarily hit my hair goals, but what I can say is I'm so happy with that hair that I have right now.
Patience
I know, it's annoying. But really, I look back at pictures when I thought my hair wasn't growing at all, and I compare it to just a few months before I could see progress.
Products
I'm pretty sure for all of the naturals reading this right now, we can all agree you go through a serious product overload looking for all the things that are going to "work" in your hair. I think honestly it's all a part of the process, but once you find what works, do yourself a favor and stick with it.
Moisturize
And speaking of products, find a good leave-in conditioner, daily oil or cream that works for your hair. Natural hair can be dry, and a good moisture routine can make all the difference.
Google It
I can't even count the number of YouTube videos I watched for hair inspiration, tutorials, and product recommendations. There are so many incredible hair bloggers and vloggers out there that I was able to tap when I needed a little help.
These days I'm so proud of my big, bouncy waves and curls — it has brought out a different personality in me and connects me even deeper to my boys. And for that, I'm so thankful to have gone through all the highs and lows of transitioning back to my natural hair.
A few of my favorite curly hair products:
Are you thinking about going natural? Did you already transition from relaxed to natural? Share your story below!