Eating more fruits and veggies doesn't sound revolutionary, but the only "diet" I'd universally recommend is plant-based, because it isn't about limiting or labeling foods as "good" and "bad." Eating plant-based is not a secret weight-loss diet or an unsustainable eating plan. Instead, it's the simple decision to eat more of the natural foods from the earth that our bodies are meant to eat. But if eating healthy were that easy, everyone would be doing it, right? With overloaded work schedules and a stay-at-home order that took away our normalcy, toilet paper, and portion control, healthy eating has gone out the window for many of us.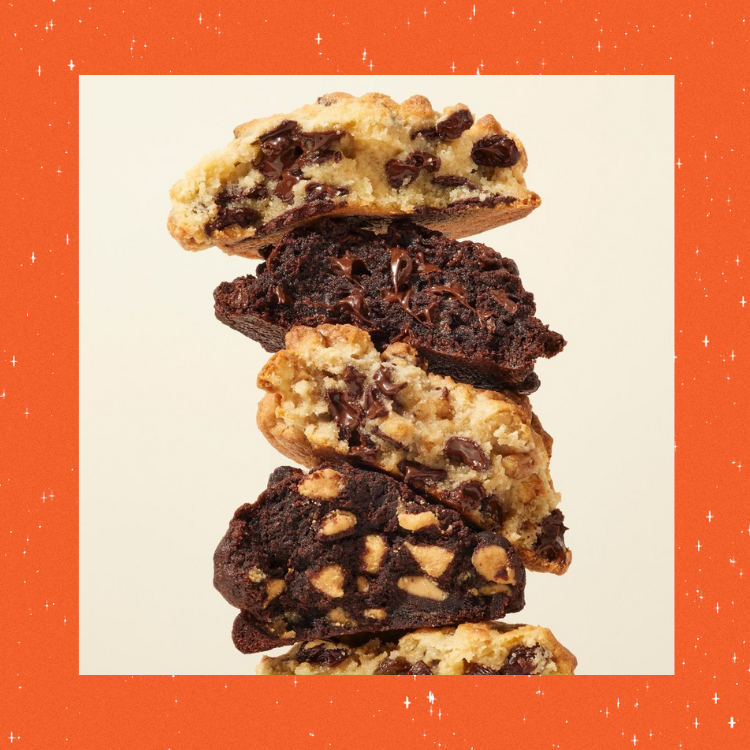 Enough with the stress! These 20 gifts will please even the pickiest person.
If a busy lifestyle leaves you ordering pizza most nights of the week since there's nothing in the fridge, or staying at home has made you go through chocolate chip cookies quicker than you go through a new Netflix series, don't worry. I'm often too busy to get to the grocery store, can get lazy with cooking or prepping, and love food way too much to give up my favorite meals and snacks. So if I can eat plant-based, so can you. Here are five secrets I live by for getting in all my fruits and veggies, no matter how busy my schedule is or the last time I went to the grocery store.
1. Get plant-based meals delivered
Some weeks are just so busy that you don't have time to plan, prepare, or shop for meals, which makes eating plant-based pretty difficult (Chinese takeout or frozen chicken nuggets are much more tempting). Luckily for the other busy women and health nuts out there, Blue Apron offers health-conscious options like vegetarian, 600 calories or less, etc., so not only can you select meals that you'll look forward to all day, but you'll be eating meals that keep you on track with your unique goals.
Plus, Blue Apron now offers customizations. What does that mean for your plant-based diet? You can now swap, add, or upgrade proteins on select meals to make them more plant-friendly. So if your roommate or significant other prefers meat, you won't have to sacrifice your health-focused preferences since you both can get the protein you want (insider tip: look for the "see options" box under the meal's image after signing up to see if it is customizable).
New customers: click here to save over $60 on your first 3 boxes!
2. Equip your kitchen
If you're newly plant-based, you might need some different equipment to make your cooking (and life) a little easier. Having the right tools on hand means a lot more variety in your meals, using the same food and ingredients. For example, try a spiralizer to turn zucchini into noodles, invest in a Nutribullet to quickly DIY a creamy soup out of cauliflower or butternut squash, and a pressure cooker to make dishes out of dried beans and grains (more on that below).
3. Stock up on frozen produce
Fresh is always best, but for times when you can't get to the grocery store, stock up on frozen produce. Use frozen produce like broccoli, cauliflower, spinach, or butternut squash for stews, stir-fries, and smoothies. Not only is frozen produce often cheaper, but it lasts much longer than the fresher versions, so you can keep it on hand for emergencies (AKA when you're craving stir fry at 11 p.m.). It's also frozen at peak freshness, which means it's packed with as many nutrients as possible. Try frozen fruit for smoothies, riced cauliflower or broccoli florets for side dishes, and pre-made meals for the nights you don't even have time to cook. If you prefer non-packaged produce, you can also chop up fresh veggies and freeze them yourself (produce like sweet potatoes and broccoli can last a long time in the freezer).
4. Make dry food your best friend
Just like stocking up on frozen food can prepare you for busy days, dried whole foods are the secret ingredient to satisfying plant-based meals, without the work of grocery shopping every week. Try stocking up on dried beans (like lentils, black beans, or pinto beans) and whole grains (brown rice, quinoa, or millet). They'll last forever in your pantry, are cheaper than buying prepared (especially when bought in bulk), and can be made in a pressure cooker to save time.
5. Think of adding plants instead of taking away other food groups
I love plant-based eating because it's just about what you should add; you don't have to cut out whole food groups or deprive yourself of foods you love. So when life gets busy (because it will) and you don't have time to cook, prep, grocery shop, or plan ahead (because you won't), you don't need to stress and panic-order Papa John's. Instead, make yourself some pasta (yes, even if it's not "plant-based") and think of what you can add to include more plant-powered nutrients. Maybe it's blending lentils into the pasta sauce or heating frozen broccoli to eat with it.
When I do order out (which has been more often than not this year, TBH), I get a pizza with all the veggie toppings and order a side salad to go with it, or load up on avocado rolls and shishito peppers. No matter how busy life gets, what ingredients you have in your kitchen, or even which restaurant you order from, don't worry about how to stick to one diet or limit certain foods. Instead, get creative with how you can add more plants to any meal.
What tips and tricks help you eat plant-based?
This post includes a sponsored mention of Blue Apron, but all of the opinions within are those of The Everygirl editorial board.