The entirety of my past 15 months can be summed up by one thing: a Pepto-Bismol pink pair of pants, perched at the top of my "fun" pants pile, staring me down each and every time I go to get dressed.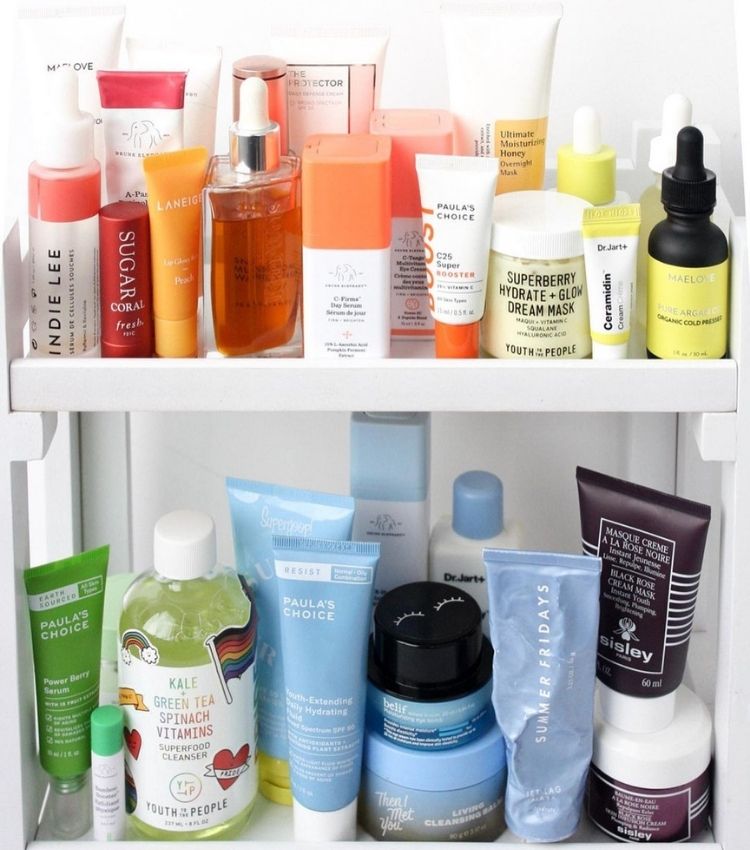 the wrong order can reduce effectiveness
You see, I thought the pants were going to be a staple of mine. I ordered them with the blind optimism of a girl who'd been sitting in her 600 square foot apartment only speaking to her little old dog for weeks on end, and when I saw them online, they were like a mirage, glorious and intangible. I wanted–nay, needed—to strip off the grey sweats that were now all but a fifth limb of mine and walk down the streets of Chicago in them like a butterfly who'd just completed the ultimate wardrobe metamorphosis.
Guess how many times I've worn them: zero.
Quarantine has now lasted approximately 13 months longer than I thought it would at the time of said purchase, and the pants have sat front and center in my closet since, as an ever-present reminder of my foolishness. But recently, in the middle of filling my online cart with pieces that I (hopefully) will be actually wearing in the real world soon, I realized the time had come to push myself to make use out of all of the variations of Pepto-Bismol pants I have in my wardrobe: the things I wish I never bought, not because they don't fit, but because they just don't fit my style (or were online purchase fails that I never returned). Here's how styling the clothes I regret buying went:
1. The button-up that feels like a maternity shirt
shirt / shorts / sandals / bag
I'm all about a variation on a white button-up, and loved how this looked online—but in real life, it feels like a maternity shirt to me. I've had it for months and haven't worn it one single time, and when I was styling it, decided the trick was to pair it a few trendier pieces. I love how it looks with these longer denim shorts, and I did a double-whammy and finished it with these red sandals that I've never worn. I also added a chunky gold necklace to make the whole look feel like something I'd actually want to wear on a summer night.
I previously had only tried to wear this with jeans, and through this little experiment, actually discovered I like it a lot more with shorts, and am excited to let it see the light of day over the next few months.
2. The brown leather pants
blouse / pants / pants (plus-size) / loafers
These are one of those things that I saw online and bought literally without a second thought. I loved the color and the wider-leg fit and literally everything about them—but in real life, they felt really specific and like they were only really appropriate for those perfect few days of fall weather we get here in Chicago, and it just felt hard to get real use out of them. The goal was to make them work for one of the chillier spring days we're having now, and I actually love how this blouse looks with them. I absolutely will be wearing these styled this way in the fall, but am going to try to squeeze this look into my real life before it gets too warm out.
3. The orange leopard blazer
orange top / tank / shorts / sandals
The entirety of this intro also could have been written about this orange and blue leopard blazer. Hear me out: I always appreciate Target's designer collabs, and they're known for selling out in an instant. I got my hands on this Phillip Lim x Target piece, imagining wearing it all the time… and it still has the tags on it.
This might be the most successful re-discovery of this entire challenge, because I realized I was looking at it all wrong. I imagined this more as a fall piece, paired with jeans and boots, but since I have my mind on summer right now, I realized it works better for me as a resort wear piece. It's super lightweight, and paired with denim shorts and this sweater tank it feels like a lot of the resort button-ups that are all over stores right now. It feels super effortless and isn't something I'd normally wear, but really enjoy.
4. The gingham blazer
blazer / jeans / jeans (plus-size) / tank / tank (plus-size) / sandals
For absolutely no reason at all, I absolutely detest this blazer. I hate it, but cannot muster up the courage to get rid of it because it still has the tags on it. The blazer itself isn't bad per se, it just is way preppier than what my personal style has evolved to lately. I've tried time and time again to wear it with a white tee and regular jeans, and it's made me hate it even more, so it was time to mix it up.
After staring at my closet and debating how I could make myself like it, I landed on these fun, wide-leg pants. It made it feel a little vintage rather than preppy, and with a basic white tank and these braided sandals, it would be a perfect summer-office-day-where-it's-hot-but-the-AC-is-blasting look.
5. The Pepto-Bismol pants
bodysuit / pants / pants (plus-size) / sandals / bag
Here they are: the pants themselves. I absolutely shocked myself and went the complete opposite way I thought I would here; but after a year of being inside, I'm very into color, and with summer on the brain, this just felt right. Pink and orange is absolutely everywhere right now, and while this isn't something I'd necessarily wear on a regular Tuesday, I love it as a vacation outfit to wear out to dinner on a hot night. Do I look like a walking dreamsicle? Absolutely—but there's no time like after a year of not going out to get out of my comfort zone.