I'll admit that I'm not usually the girl who loves a big salad for lunch or dinner. I like to think of salad as something to enjoy either before the main course or as a side with my dinner. My one exception, though, is a Sweetgreen salad. I love to treat myself to a fancy salad every once in a while, and out of all the salad places I've tried, Sweetgreen hits the spot every time. I always order the same thing (Harvest Bowl for life), but once summer rolls around, I admittedly don't treat myself as often. (Unsurprisingly, I don't usually crave a warm bowl with apples and sweet potatoes when it's 90 degrees outside.) If I'm gonna have a salad over the summer, I make it at home.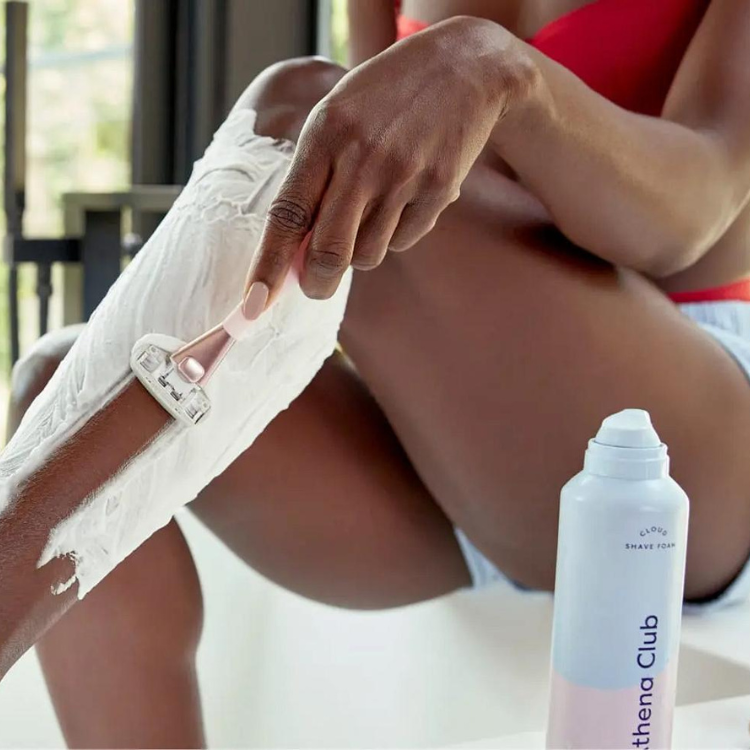 "This razor gave me the silkiest, smoothest shave I've ever had! I never get any cuts or scrapes, even on those hard-to-shave places."
Earlier this summer, I had a big box of peaches from The Peach Truck that was begging to be enjoyed before they shriveled up and went bad. In need of a side for a pizza night with friends, I decided a stone fruit salad would be perfect for the occasion—and a great way to use my peaches. I added goat cheese for a bit of tang to play against the sweetness of the fruit, some slivered almonds for crunch, and balsamic dressing to bring it all together. After a quick toss in a salad bowl, it ended up being a hit.
A few weeks later, I got a promotional email from Sweetgreen, announcing their seasonal Peach and Goat Cheese Salad, and wouldn't you know … it looked almost identical to the salad I had been making on repeat since that pizza night. The Sweetgreen version includes a few more mix-ins than mine, but I honestly think the five ingredients I use offer plenty of flavor and texture. I now keep the ingredients stocked in my kitchen so I can have this salad for lunch all season long. Whether you're entertaining guests this summer or just want to save some money making a fancy salad at home, this Sweetgreen dupe salad recipe is definitely worth trying.
Sweetgreen Peach and Goat Cheese Dupe Salad Recipe
Total time: 5 minutes | Difficulty: Easy
Ingredients:
A few handfuls of spring mix
One peach, sliced into chunks
1 oz. goat cheese
A sprinkle of slivered almonds
A drizzle of Trader Joe's Organic Balsamic and Fig dressing
Protein of choice (optional)
Directions:
1. Slice the peach and set aside.
2. Add your spring mix to an individual salad bowl. Then add goat cheese, almonds, your protein of choice, and peach chunks.
3. Drizzle on the Balsamic and Fig dressing, toss, and enjoy!