I used to wear makeup because I loved the way it looked. I mean, I wore it because it was fun and I felt confident and it was a little bit of peace in my morning routine, but mostly, I just enjoyed looking good for the people around me. I thought I had too much acne or my hair was too thin to "pull off" the styles I saw people try on Instagram and Pinterest. Now, I put makeup on because it makes me feel cool and powerful in meetings, it's something fun to kickstart my day, and it's quite the conversation starter. This has led me to try new makeup looks I never would have previously even looked at, let alone covered my face in. But now I look forward to new trends every single season. This year's summer makeup trends are here, so I naturally jumped at the chance to try them.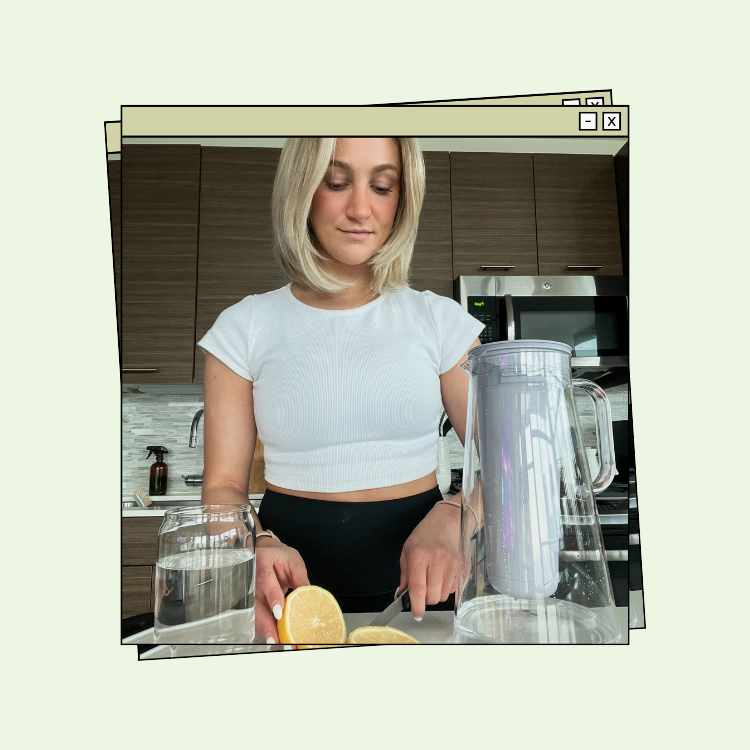 get it right in 2023 and beyond
The trends this summer are everything I've ever wanted and more. From bright lips to glittery eyeshadow to lightweight skin and simple, gorgeous hair looks to boot, Hot Girl Summer lives on once again. I was so excited, I had to try them for myself. Here's how it went:
1. Orange Lips
I gave up wearing bright lips for the last year thanks to wearing a mask, and while I'm not putting my mask away anytime soon, I'm feeling seriously in the mood for bright, summery lips again. This gorgeous look on Julia Garner by Hung Vanngo (Selena Gomez's makeup artist, NBD) inspired me to get out my orange lipstick once again. Orange is a favorite shade of mine, and just like red, there's an option for everyone depending on your undertone. I like a yellow-based orange on my olive/warm-tone skin, but a pinky-coral orange is perfect if you like something cooler. I did my base as normal, used a gold shimmery eyeshadow across my lids, and carefully applied my favorite orange lipstick.
This was perfect to wear for a day of meetings because I felt put-together and ready to take on my day all thanks to a few swipes of lipstick. I could see myself wearing a similar look often, especially because it was beyond simple but wildly effective at making me look great.
2. '90s Volume
My fine, thin, medium-length hair didn't quite go as well as I thought with this trend. I started off by blow-drying my hair with my Revlon Styler which is usually what I use when I want to inject lots of volume into my hair. I also used three velcro rollers to get some more volume on the sides of my face and the crown. Then, I curled just the ends of my hair with a 1 in. curling iron, alternating directions to keep the curls from all blending together. At first, it looked super cute—it was fluffy, bouncy, and had all the flair we see in queen Meg's above. But in less than 45 minutes, the curls fell completely flat and were entirely nonexistent. The volume lasted a bit longer, but my hair was straight merely an hour after I tried the look.
Because I loved how it looked so much, I'm considering investing in hot rollers or a small heated curling brush (and maybe one day I'll hit the lottery and invest in a Dyson Airwrap, which is what they used to achieve this look on Megan Thee Stallion!) to try it again.
3. Disco Eyes
The disco trend is all about fun, colorful, metallic, glittery goodness. It's the antithesis to the last year and a celebration of what's to come. So, you won't be surprised to know it was the trend I was most excited to try. Of course, I waited until a Wednesday full of meetings to try it, so you're welcome to everyone who got to see me with glitter all over my face in a business meeting. 🙂
There are dozens of ways to try this out, but I opted for a metallic silver eyelid with glitter in the inner corner and lining the outer lash line. For a disco look, this was pretty easy. Practical? Not so much, but that's to be expected with this trend. I can see myself wearing this whenever I just want to have fun and enjoy the process of getting ready—and of course, when I finally hit the bars again.
4. No Makeup
Skinmalism is a trend in you're likely seeing it everywhere, but I believe it's about to be the future of the makeup and skincare industry. Brands like Topicals are making it known that skincare conditions like acne and rosacea aren't inherently "flaws"; they're just parts of our skin, and you can choose to or choose not to cover them up.
Like many, I'm not particularly confident with my bare skin thanks to acne, scarring, and clogged pores. But the only way I'm going to start feeling better with it is by trying new things like this. So, I did my makeup as normal and skipped my usual foundation and concealer step. I added a little concealer underneath my eyes to make my eyeshadow pop, but otherwise, I kept my complexion products to a little bronzer and highlighter. Because I didn't cover up my face with foundation, I already had a bit of natural color, so I didn't even need blush (but if I wanted to amp it up, I definitely could have still added some!).
Am I obsessed with this look right now? No. I didn't magically learn to love, or even accept, my skin overnight. But I can say that doing it more and more over time will help me, and I appreciate how good my skin felt all day. I love eyeshadow and makeup products, so I've never been someone who can go makeup-free all the time, but with this look, I love that I can get the benefits of letting my skin breathe without sacrificing another day of surprising my coworkers on Zoom with colorful eyeshadow.
5. Colorful Liner
This trend has been floating around the last few summers, but we're seeing it taken to the next level for 2021. Floating lines, double wings, contrasting colors, ombre—you name it. This trend is everything I want in a beauty look: colorful, unique, edgy, and totally cool. But is it easy? Not exactly. I'm admittedly not great at winged liner, and this seriously tested my skills. There isn't much room for error in this since it's such a bright color, and unlike my black liner looks, I can't smudge it and chalk it up to a ~smokey eye~. I had to make sure my lines were straight and even, which took me an absurd amount of time.
But the result put me on cloud nine all day. Since this was an eye look, I could wear it to the grocery store or on a Target run and completely show it off even while wearing my mask. And boy did I want to show this one off. I probably won't do this look all the time, but I already have it slated for patio season big time.