Thanksgiving dinner is known for a lot of things, but being easy to assemble definitely isn't one of them. Stuffing, turkey, mashed potatoes—figuring out the timing of cooking them all in one kitchen and getting everything on the table by dinnertime is a math problem we'd rather not have to figure out. It's no surprise that to make things a little bit easier, we turn to our grocery-store true love, Trader Joe's, to help with the heavy lifting.
Trader Joe's definitely isn't lacking in seasonal items for your Thanksgiving feast. From full-blown turkeys to creative sides you can toss in the oven without a second thought (not to mention an inexpensive wine selection that will accompany dinner perfectly), it's your one-stop shop for Thanksgiving dinner.
Ready to get cooking for your 2022 feast or find that perfect side dish to bring to your Friendsgiving? These 24 Trader Joe's items will help you get to your dinner with no last-minute fretting included.
1. Cornbread Stuffing Mix
Stuffing is arguably the best dish on the Thanksgiving table, but it can be a pain to make from scratch. With this mix, you just add butter and water, pop it into a casserole dish or pan on the stovetop, and you've got a winning side with minimal effort! There's also a gluten-free version for all the GF folks out there.
2. Cranberry Sauce
Whether you love it or hate it, no Thanksgiving meal is complete without cranberry sauce on the table. Skip the gelatinous canned version and opt for this fresh take instead.
3. Creamed Greens
Whipping up a veggie casserole from scratch isn't a necessity with this frozen option you can toss in the oven with no hassle. The best part? Even the most judgmental eater at the table won't know it was frozen first.
4. Everything but the Leftovers Seasoning
Packing all the flavors of a Thanksgiving feast (think sage, rosemary, onion, and black pepper among others), this seasoning blend is the perfect way to add some oomph to your standby dishes.
5. Turkey Sausage Stuffing Fried Rice
Want something less traditional on the table? This fried rice is an unexpected take on a classic side and would be a no-brainer to bring to a party so you don't show up empty-handed.
6. Turkey Herbs
Cooking a turkey yourself this year? Skip the fuss of rounding up all the herbs you need to flavor it with and pick up this pre-selected assortment instead.
7. Brined Young Turkey
Skip the hassle of pre-ordering or frantically searching for your meal's bird this year and pick up one of TJ's instead (we meant it when we said it's the only place you need to go this year).
8. Turkey-less Stuffed Roast with Gravy
Found in the freezer section, this vegan-friendly main dish packs all the flavor of a turkey roast without the meat. It's the perfect alternative for anyone who follows a plant-based diet.
9. Pistachio Pomegranate Crisps
We'd never say no to a plain cracker with some cheese, but these pistachio pomegranate ones are festive enough to make Thanksgiving charcuterie a bit more special.
10. Rustic Apple Tarte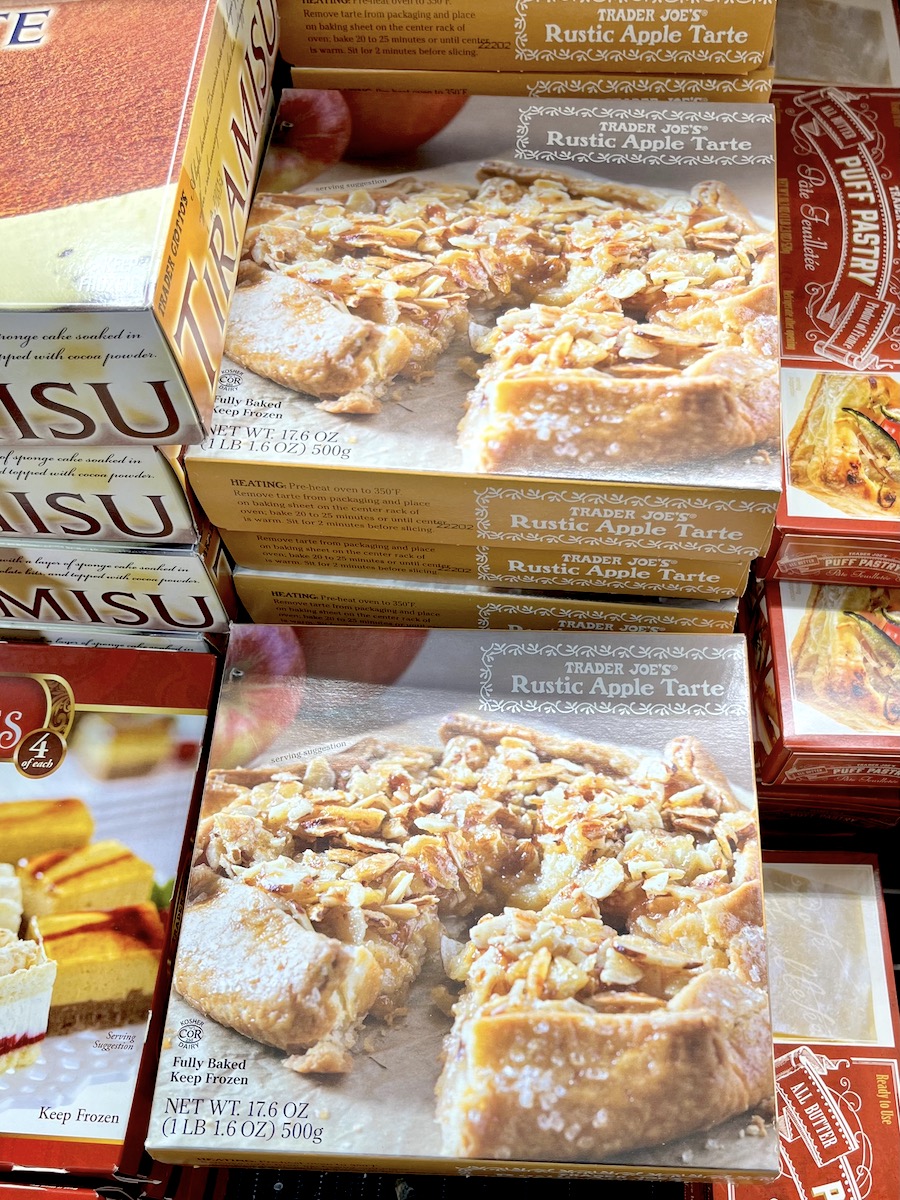 For a no-stress Thanksgiving dessert, you can't go wrong with this apple tart from TJ's freezer section. Made with apples, cream cheese, sliced almonds, and a sprinkling of sugar, it's good enough to fool your guests into thinking it's homemade.
11. Brie en Croûte
Before dinner's ready, pop this in the oven and leave it out for guests to snack on before the big meal.
12. Turkey & Stuffing en Croûte
If you're having a smaller party or don't think your get-together needs a full turkey, this turkey tenderloin wrapped in puff pastry is the perfect compromise. It's just as delicious as the traditional entrée but with way less commitment.
13. Green Bean Casserole Bites
Green bean casserole is a love-it-or-hate-it kind of thing, but these green bean casserole bites are going to turn even the biggest casserole hater into a convert.
14. Condensed Cream of Portabella Mushroom Soup

If you're going the homemade route for your green bean casserole this year, this cream of mushroom soup will add a ton of flavor.
15. Camembert Cheese and Cranberry Sauce Bites
These cranberry-sauce-filled bites are begging to be included with your assortment of hors d'oeuvres—and we bet they'll be the first thing to be completely gone.
16. Cornbread Mix
Making cornbread from scratch? Not necessary with this easy-to-bake mix.
17. Corn and Chile Salsa
For an appetizer that's a bit less mainstream, this corn salsa (and some chips) is perfect for guests to snack on while mingling.
18. Thanksgiving Stuffing Seasoned Kettle Chips
Stuffing-flavored chips? We're mad we didn't think of it first, but that isn't going to stop us from devouring the whole bag.
19. Turkey Flavored Gravy
Like the package says: Just pour, heat, and serve. Gravy has never been easier.
20. Peeled and Cooked Chestnuts
Odds are, you probably have a chestnut lover or two in your crowd, and these pre-peeled and cooked ones are perfect to present when dinner is done.
21. Holiday Vegetable Hash
Adding veggies to your stuffing or soup isn't necessary, but when they're pre-cut and presented like this, it's an easy way to make your side dish a little more delicious.
22. Gingerbread Turkey Decorating Kit
Got some kids coming to your Thanksgiving this year? This cookie decorating kit makes a great activity to entertain young ones before dinner starts or while the adults are cleaning up.
23. Mashed Sweet Potatoes with Pecans
Sure, mashed potatoes are good, but this twist on the classic dish with sweet potatoes and pecans is even better.
24. Cranberry Orange Bars
This frozen treat is a different yet tasty addition to any dessert spread—and requires no prep work whatsoever.