Welcome to The Everygirl Podcast. Whether you're looking for insider secrets from successful women that have your dream job, are interested in expert advice to transform your health and feel your best, or just want to be entertained and laugh along with us on your commute, we've got you covered.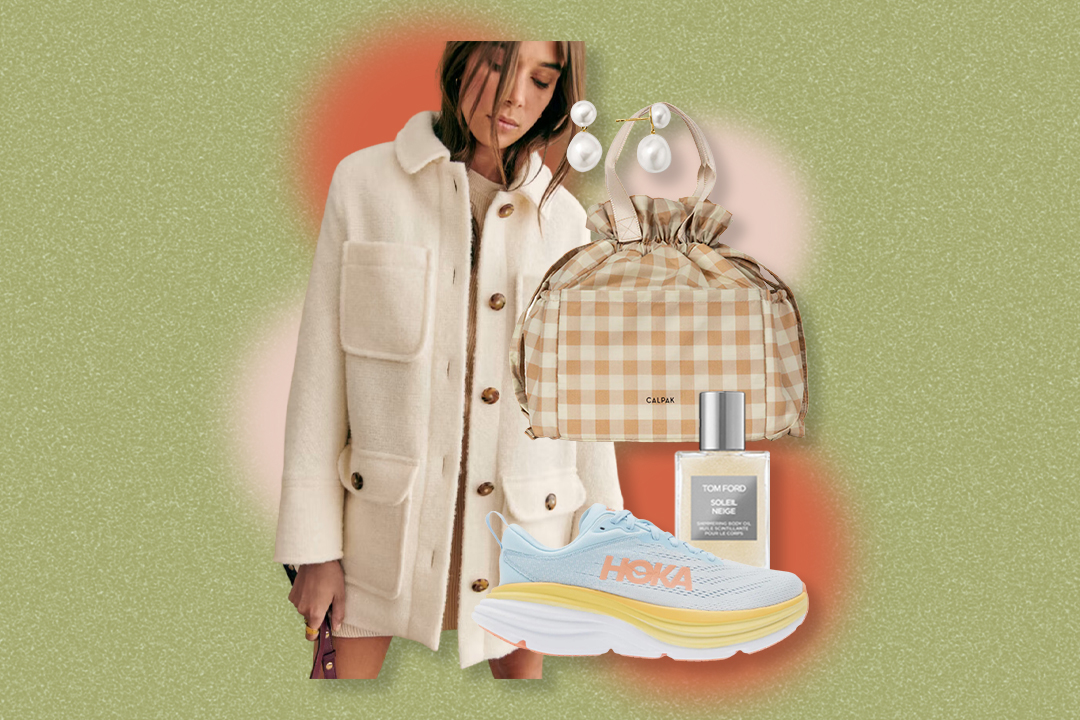 The first time I hear a Christmas song every year is always the same: I'm usually sitting in a coffee shop, about a week after Halloween, minding my own business and not thinking about the holiday season at all. Suddenly, my ears are accosted by "All I Want For Christmas Is You," and I start spiraling. Why haven't I finished making my gift list yet? Who is hosting friendsgiving this year, and what am I bringing? Why is it mid-November and I still haven't dealt with the rotting jack-o-lantern on my front porch? How am I possibly going to find time to watch the new Lindsay Lohan Christmas movie?!
The holiday season can bring up a whirlwind of emotions, which is why this week's episode of The Everygirl Podcast covers the best tips and tricks for getting through the holiday season relatively unscathed. From avoiding last-minute gift shopping to healing your inner child, there are some tangible steps we can all take to remind ourselves of what the holiday season is all about. Read on for our editors' best tips for how to avoid the yearly panic that sets in during the festive season, and check out this week's episode of The Everygirl Podcast for more.
1. Start making a list and checking it twice–as soon as possible
From budgeting to finding the perfect present, gift giving can be one of the most stressful parts of the holiday season. Getting a head start will save you a lot of stress when it comes to shopping. Steph Alleva Cornell, the Branded Content Editor at The Everymom, is an expert at making sure that she keeps track of what she wants to give the most important people in her life throughout the entire year. As she mentions on the podcast, she makes a mental note anytime a friend or family member mentions something they want, or if she sees something that she knows would just be perfect for a loved one.
If you're worried about gift giving this holiday season, making a list of those must-gift people in your life is a great place to start. Just like thank you cards, getting ready to gift is better late than never: you'll thank yourself for getting started the second you hear Mariah Carey in the coffee shop. As for what to gift? We got you covered on that too: check out our Holiday Gift Guide to find something unique, special, and budget-friendly for everyone on your list.
2. Protect your peace by setting boundaries for where you spend your time
The harsh reality of celebrating the holidays as an adult is that you are going to have to turn down the occasional invite. It is simply not possible to make it to every single holiday party or gathering, so setting boundaries where you need to is essential this time of year. On the podcast, Steph emphasizes the importance of putting her foot down when she is juggling multiple invitations to multiple family events. "You're always going to want to please everybody, and the fact is that you can't," she said. Julia Poulter, managing editor at The Everymom, explains that looking at yourself (and your partner and/or children if applicable) as your own family unit can really help with your mindset around boundary-setting.
When it comes to holiday invitations, be honest with your loved ones about when you can show up and when you need to take a breather from the festivities. Connection may be one of the most important things about the holiday season, but that doesn't mean it should come at any cost. The people who truly care for you will understand if you need to attend a different event or just take some time to yourself one day.
3. Reflect on what you loved about the holidays as a kid
Real talk: the holidays were more fun when we were children. The good news is that even though we may feel nostalgic for the past during this time of year, there's always an opportunity during the holiday season to heal your inner child by doing things that you used to love as a kid. Andi Wynter, social media coordinator for The Everygirl Media Group, shares that one of her favorite traditions of going all out on the holiday decorations on the podcast. When she became an adult, she took it upon herself to make the magic her parents had made for her when she was growing up.
Creating a little magic for yourself during the holiday season in the midst of all of the stress and anxiety can make all the difference when you're feeling overwhelmed. Remembering the things you have always loved during the season and allowing yourself to really enjoy those things will help you get in the holiday spirit no matter what emotions you might be facing. So grab your decor, because in 2022 we're making holidays fun again.