The excitement I feel when stores start to line their shelves with holiday decor is second to none. I'm definitely in the "decorate before Thanksgiving" camp, which can be controversial, I know. However, I decided a few years ago that I didn't want to stifle the holiday spirit anymore—I can deck the halls whenever I want! And since I always start decorating early, I can scoop up the latest trends as soon as they hit stores.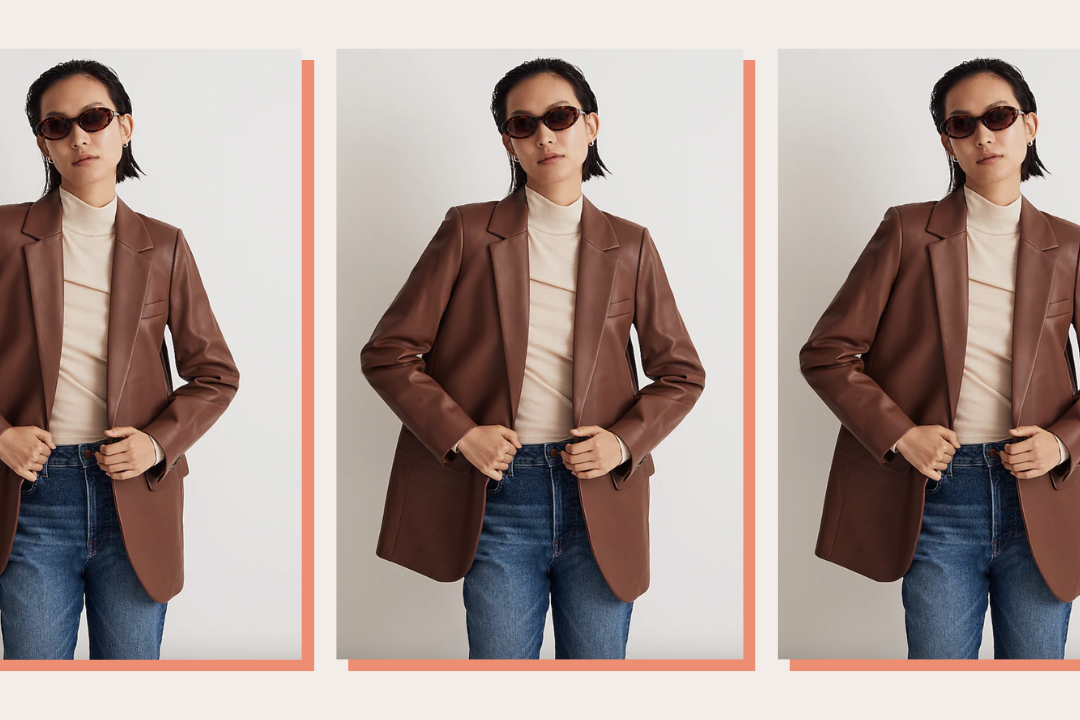 time for your fall wardrobe update!
I grew up in a household where holiday decor stayed the same every year, but as an adult, I like to explore different styles and switch things up from one holiday season to the next. This year's holiday decor trends include a fun assortment of bold colors, cozy accents, playful textures, and old-school nostalgia. It runs the gamut from edgy and eclectic to chic and classic, and honestly, I'm here for it. These are the holiday decor trends I can't wait to decorate with for 2022:
1. Disco Ball Decor
Disco balls have been everyone's favorite accessory for the past year or two, and this season, swapping your tinsel garland for a mirror ball is perfectly on-trend. You're sure to find disco ball-inspired ornaments, wreaths, and even tree toppers as you browse stores this year. Make sure your tree is well-lit to give your disco ball trimmings optimal sparkle and shine.
2. Pink Accents
We can thank the Barbiecore trend for all the pink holiday decor we're seeing on social media and store shelves this year, and I, for one, couldn't be more pleased. Dopamine decor is definitely still a thing, and what could be more fun than holiday pops of pink? Whether you prefer soft blush or bold hot pink, there are so many options to pink-ify your holiday decor, from pink trees to stockings to wrapping paper.
3. Vintage-Inspired Holiday Decor
The holiday season is full of nostalgia. It can bring up all sorts of memories from childhood and make us want to relive family traditions—not to mention all the classic holiday movies and songs many of us revisit year after year. In that same spirit, vintage-inspired decor is definitely in this year. Tinsel trees and retro vibes make for unique decor that can make us think of eras gone by—think vintage bottlebrush trees (created in the 1930s!), tinsel trees inspired by the '60s, and the ceramic trees of the '70s.
4. Gnomes
I didn't have gnomes on my 2022 holiday decor bingo card, but they are everywhere this year! You'll find these little characters in a variety of sizes and outfits, all with hats, beards, and round little noses. They're perfect for mantels or on top of shelves and will definitely add some whimsy and fun to your home this year.
5. Bright Colors
Bold, non-traditional hues like teal, yellow, pink, and blue are making a big statement this year. If you aren't afraid of color or veering off the beaten path, this holiday decor trend is for you. Incorporate a mix of bright colors in varying intensities to keep you feeling festive and energized all season long!
6. Coastal Grandma-Inspired Holiday Decor
The coastal grandma trend still has me lusting over chinoiserie-style accessories, woven textures, and tone-on-tone neutrals. This aesthetic is all about embracing the classics, and for the holidays, that means creams, golds, and nature-inspired pieces like lush garlands and wreaths. This type of seasonal decor feels like a cozy exhale to me, and no, you don't need to be a grandma to enjoy it!
7. Traditional Red and Green
Let's face it, a traditional red and green color palette for the holidays never really goes out of style. To bring this palette to life, you can't go wrong with timeless plaids, brass accents, and cozy knits. If your style is classic and traditional, this may be the look you've been rocking for years, especially since it's not really a trend—it's a holiday aesthetic that has stood the test of time!