As women, we all have insecurities we'd like to hide with makeup. In keeping with Colbie Caillat's inspiring Try music video, (we especially love this lyric version, too!) we're shining the spotlight on a more natural makeup look. So, let's challenge ourselves to do away with heavy makeup this fall! Let your natural beauty shine by focusing on your favorite features and highlight the flaws that make you flawless. We sat down with three popular Chicago-based writers (one published author and two lifestyle bloggers) to discuss beauty confidence and self-acceptance. We also took a peek inside each of their makeup bags for a glimpse of their must-have products.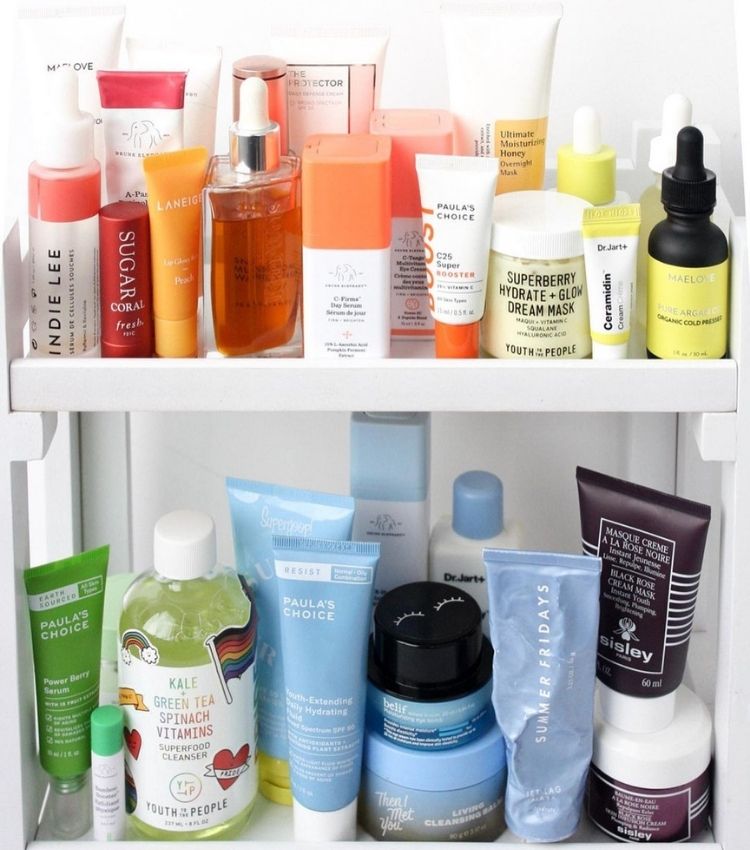 the wrong order can reduce effectiveness
Read on for our tips on how to accentuate distinct facial features, inspiring the real flawlessness in us all!
Bare Beauty Tip #1 / Make A Fabulous Smile Your Focus
Favorite Facial Feature
My smile! I got it from my father—we have the same wide tooth grin.
The Everygirl Beauty Tip
Making Asheli's smile the focus, we selected a flattering plum wine lip color that worked beautifully with her undertones. Consider pairing your fall wardrobe with a matte wine lip or a moisturizing raspberry tone for an instant face boost. Wearing a bold lip allows you to keep the rest of your face low key—looking instantly made up in a fresh way!
What makes me flawless? All the quirks about my face that make me, me. I have a gap between my front two teeth that I used to be embarrassed about, but now appreciate how it makes my smile different. And…my natural hair! [Because of it] I have more confidence in my overall sense of beauty.
Asheli's Must Have Product
Lipstick! I think my smile is one of my best facial features, so what better way to highlight it than with bold lipstick? I love everything from bright coral, pink, and red to dark plum and maroon.
She Feels Most Beautiful When
I start the day off with a morning cardio or yoga workout. It's a great way for me to wake up and get energized for the day. When I skip a morning workout I always feel sluggish and less motivated to get things done.
Asheli's Beauty Tip
I think it's important to acknowledge beauty on the outside starts from the inside. If there's anything I've learned it's that outer beauty starts with treating your inner body, mind, and soul with love and respect. Eat healthy, exercise, take time to recharge—those are the foundations of beauty, everything else is just icing on the cake.
Her Beauty Idol
Lupita Nyong'o. She's my spirit animal through and through. Her skin is absolutely flawless.
Bare Beauty Tip #2 / Make Fierce Freckles Your Focus
Favorite Facial Feature
Freckles. I never paid much attention to them until people would call them out in conversation. "I love your freckles!" or "How many freckles do you have?" (Like I know?!) Over time, I realized that not many people have the bold beauty marks like I do, but they keep me young looking. So, I'll take 'em.
I'm flawless because I stopped caring what others thought about me a long time ago. I think that's the ultimate privilege of getting older.
Emily's Favorite Beauty Product
A daily facial moisturizer with SPF 15. That's all there is to it. I apply it every morning and skip all the fancy serums and masks. I hardly have wrinkles, my pores are manageable, and my skin looks like it did in high school.
I Feel Most Beautiful When
I treat myself to a blowout. I have a lot of thick, Jewish hair, and it's amazing to me what someone else can do with some heat, a round brush, bicep strength, and nowhere else to be for 1.5 hours.
The Everygirl Beauty Tip
To highlight freckles in a natural way, lighten the under eye area with concealer and then make blush your focus. Consider using a soft, pretty coral pink like we did here. Be sure to sweep your blush color upwards with a brush, blending toward the hairline.
My Beauty Idol
Emmy Rossum. She's who I would want to play me in the on-screen version of Eightysixed. There's nothing over-the-top about her, but she's still drop dead gorgeous.
Emily's Beauty Tips
Comfort goes a long way. I attended a Gatsby themed party this summer and skipped the mini flapper dress and high heals for ankle length pants and Born padded oxfords. Not only was I able to dance the night away, but the event photographer said I nailed the look and I was exactly how he would picture Gatsby's modern day girlfriend to be. How about that for a compliment!
Signature Beauty Look
Face: Glasses (of course), pale pink lip (Snob by MAC), Josie Maran cheek gelee in Poppy, black/blue/green eyeliner, quick brush of mascara. Hair: Wash and go long bob (cut by Hans at Maxine in Chicago).
Bare Beauty Tip #3 / Make Enticing Eyes The Focus
Favorite Facial Feature
My blue eyes! I got it from my father who's one of my most favorite people!
The Everygirl Beauty Tip
To make your eyes pop, line your water line with flesh tone or white eyeliner. Next, line your lower lashes with a tiny touch of color—consider a color that will compliment your eyecolor or a fun alternative to black (like a blue or green). Our trick: keep the color tight on the lash line to make your eyes the focus.
I've come to love a lot of features that I used to despise when I was younger. I used to think my nose was too big, my eyes looked too tired, my skin was too splotchy, etc. Now I've come to embrace and accept the things that make me perfectly imperfect, which I'm very thankful for.
Maya's Must Have Beauty Product
Eyeliner! I love my eyes, but they're itty-bitty. I love to add winged eyeliner to make them stand out more.
I Feel Most Beautiful When
I get a good night sleep (and drink enough water too!) Working full time and blogging doesn't always leave too much time for sleep—so on nights when I get a full eight hours, I feel rejuvenated and ready to tackle the day!
My Beauty Idol
I think Shailene Woodley is such a natural beauty, and I love her sassy style. Best of all, she always uses vegan and all-natural beauty products.
Signature Beauty Look
I've had the same look for a while, but I guess that makes it my signature look! I'm always wear a subtle cat-eye, BB cream and under eye concealer (both from Tarte), Nars blush and bronzer in Orgasm and Laguna, and dark black mascara.
Maya's Beauty Tips
I love using natural beauty products, and I find that they work much better than anything else! One Love Organics is my go-to skincare line, and I love that their multi-tasking Skin Savior for moisturizing and to mix with a powder foundation for a dewy summer look.