I talk about Trader Joe's so much that it has ultimately become one of my most prominent personality traits. Maybe that's because it's deep-rooted in my pandemic-related loss of control and lack of entertainment, but over the past year, my love for TJ's has absolutely skyrocketed. Socially-distanced trips to Trader Joe's give me life and serve as the ultimate "me time." If you told 21-year-old me that, by the mere age of 26, my favorite hobby would be hitting up my local Trader Joe's, there is a measly one percent chance that I'd believe you.
Hate grocery shopping? Same. These hacks make them 100x easier.
My near-embarrassing affinity for Trader Joe's has led me to some out-of-this-world grocery finds and, fear not, internet, I'm here to shout my new favorites from the rooftops. Last week, I tried 13 Trader Joe's staples for the first time—here are the seven I'll most definitely buy again:
1. Chili & Lime Rolled Corn Tortilla Chips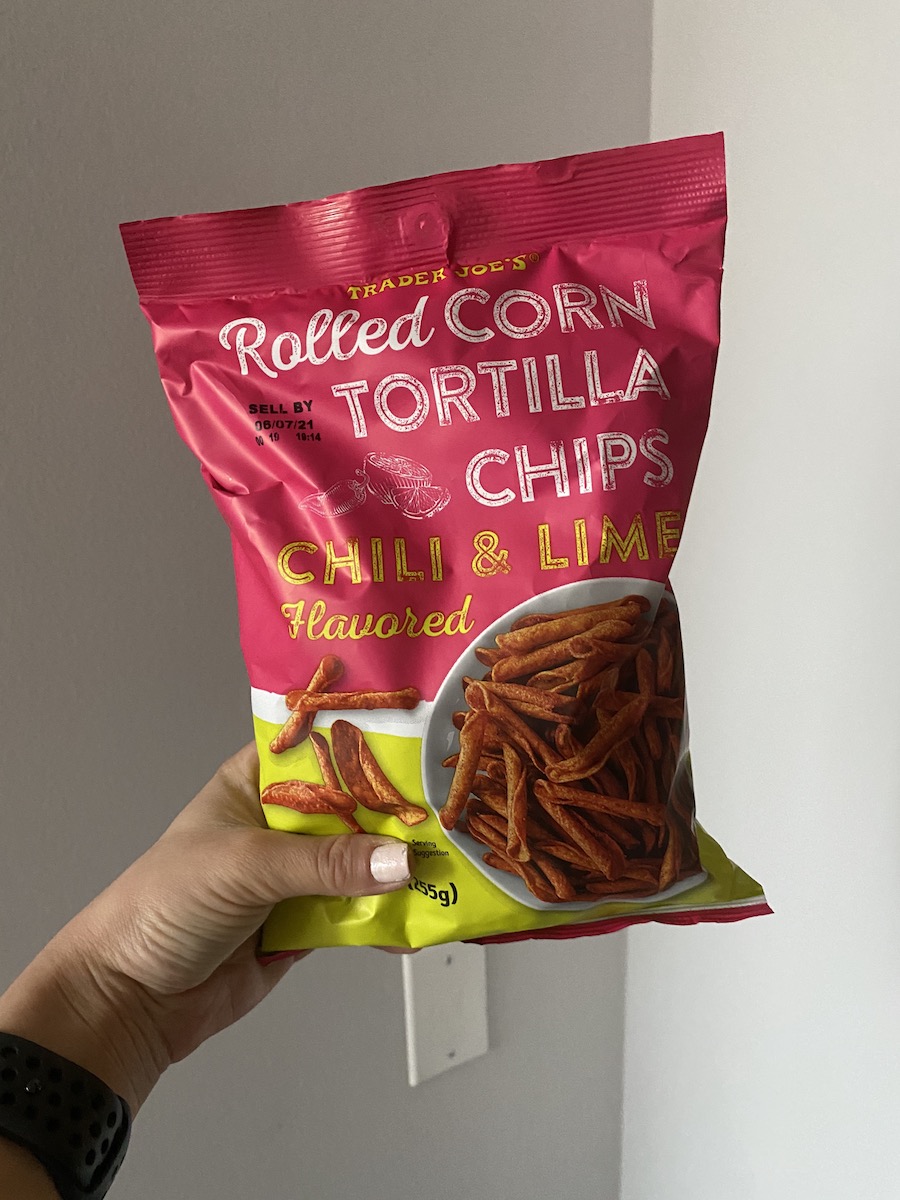 These Chili & Lime Tortilla Chips are comparable to Takis but—get this—they're vaguely more healthy for you because there's less sodium! OK, so it's still not the healthiest treat, sue me. But these things are freakin' good. Despite the multiple attempts I've made to "just have one," I've proven to myself that shoveling these into my mouth is simply the best method (bonus points will be awarded if you dip them in your favorite ranch). I can't get enough of these guys and will 10/10 buy them again.
2. Perfect Refrigerated Protein Bar
I am always on the hunt for a new protein bar because—let's be real—the tasty ones aren't so great for you while the healthy options usually a) taste like tar or b) boast a texture that I can only describe as suspicious. A friend of mine swears by these Perfect Bars so on my last TJ's run, I was determined to pick some up for myself.
I tried to find them in the Trader Joe's protein bar section for about 20 minutes before giving up, only to find them a bit later in the refrigerated section nuzzled between kombucha tea and pre-packaged overnight oats. Because these non-GMO, organic, and kosher bars include only clean ingredients (hello, 20 superfoods), you store them in the refrigerator for up to a week. The taste is so good that I promise they won't even last that long. The peanut butter flavor was good, the chocolate chip cookie dough flavor was great, and the peanut butter chocolate chip flavor left me head over heels in love.
3. Fettuccine Alfredo
No matter how many times I am pleasantly surprised by TJ's selection of frozen pasta, I still always proceed with caution. As much as I hate waiting for pasta water to boil, the idea of stovetop, frozen noodles feels a bit wrong. But when I consider the convenience of not having to clean more than one pan and the practicality of not having to spend an arm and a leg on ingredients to create a fresh sauce, I bite the bullet and add it to my cart. And let me tell you, this frozen fettuccine alfredo hits. It's perfectly creamy, tender, tasty, low-hassle, and ready in six minutes. I added air-fried chicken breast tenderloin and spinach and I truly can't stop thinking about it.
4. Everything but the Bagel Kettle-Cooked Chips
Trader Joe's is absolutely running with the success of their Everything but the Bagel seasoning and I am not mad about it. These kettle-cooked potato chips are TJ's latest experiment that hit shelves about one month ago. They're dusted with EBTB and, hello, of course they're good—based on the fact that I already put EBTB on everything (including roasted potatoes), I truly had no doubts. The seasoning, the crunch, my decision to dip them in French onion dip… just immaculate. This bag lasted less than a day in my home and I'll for sure be replacing it on my next TJ's run.
5. Cacio e Pepe Ravioli
You heard it here first: I would do illegal things for this TJ's Cacio e Pepe Ravioli. This is another quick weeknight dinner option that I need to stockpile the next time I do a grocery run. I can't think of anything quite simpler than boiling for four minutes, tossing in olive oil, and topping with parmesan cheese; and, despite the ease of cooking, this stuff tastes fancy as hell.
6. Buttermilk Protein Pancake Mix
Pancakes are always a good idea and these protein-packed, just-add-water pancakes absolutely seal the deal for me. I hate making decisions so when it comes to breakfast, I love not having to choose between sweet or savory. I whip these up with a side of eggs and the occasional air-fried bacon for a breakfast that makes getting out of bed an absolute treat.
7. Syrah-Soaked Toscano Cheese

Before I tried this Syrah-Soaked Toscano Cheese, I was fully convinced that the TJ's Blueberry Goat Cheese was my absolute favorite. My run with blueberry goat cheese isn't over by no means, but I most certainly do have a new favorite. This red-wine-soaked cheese is undeniably wonderful. To me, this cheese has the kick of parmesan with the spreadable texture of cheddar. And paired with my favorite red wine and Trader Joe's Fig & Olive Crisps? Chef's kiss. My cheese board game has been forever changed.