There once was a time when I thought the holidays were the most wonderful time of the year. But that was until I experienced the unmatched joy of stocking my shopping cart to the brim with Trader Joe's fall items. As someone who proudly signed a petition for TJ's to carry their seasonal Butternut Squash Mac & Cheese year-round, I can honestly say that the release of Trader Joe's fall items is to me as the Superbowl is to football fans.
After weeks of stalking my local Trader Joe's, I finally got to add all the pumpkin, butternut squash, cinnamon, maple, and pepita goodness to my cart. These Trader Joe's fall items are going to sell out before you can mutter the words pumpkin spice latte. Get 'em while they're hot!
Breakfast and Baked Goods
Pumpkin Bagels
All year long, I look forward to these pumpkin bagels gracing the shelves of my local Trader Joe's. Now that they're finally here, I'll be consuming them in overwhelming amounts. I'm currently at a two-bagel-per-day consumption rate, and, truly, I've never been happier. They carry the most ideal, subtle pumpkin flavor and pair well with plain cream cheese and a warm cup of coffee.
Pumpkin Brioche Twist
This pumpkin-flavored brioche tastes phenomenal on its own—just toast a slice and add butter for an easy fall breakfast or dessert. However, I just had a brilliant, beyond-brilliant idea that I can't stop thinking about: this bread, but make it french toast. Based on how well it performs independently, I can't imagine that this twist will be anything less than perfect.
Pumpkin Blondie Brownies
If blondies are your idea of a good time, look no further than TJ's Pumpkin Blondie Brownies. With white chocolate chips, pecans, and the most decadent pumpkin flavor of all time, these are a must-add to your cart. Gift them to your friends, bring them to all of your fall events, or eat them by yourself with a spoon in one sitting. Go ahead. We won't judge.
Pumpkin Bread & Muffin Mix
I'm a sucker for baked treats in the fall, but to my (and my grandmother's) disappointment, my talents for baking ended with the use of my Easy Bake Oven circa 2004. Besides the fact that I want my home to smell like an autumnal haven, the ease of simply adding oil, eggs, and water sounded like my cup of tea. If you want a one-way ticket to a warm, inviting fall treat, look no further. This Pumpkin Bread & Muffin Mix has your back.
Pecan Pumpkin Instant Oatmeal
Oatmeal fans, unite! These days, it's a miracle if I can wake up early enough to whip up a breakfast other than a granola bar or instant oatmeal, so I was absolutely stoked to see that, for a limited time, Trader Joe's is offering a pecan pumpkin version of their traditional instant oatmeal. If you're looking to add a bit of festivity to your day without breaking a sweat, this low-maintenance, high-reward oatmeal is all you need.
Pumpkin Cereal Bars
These Pumpkin Cereal Bars are truly a gift from the autumnal gods. If you're a fan of Fig Newtons but also love fall, these bars have your name written all over them. For a quick grab-and-go snack that will give you immaculate spooky-season vibes, pick up a box of these. Trust me. You won't be able to have just one.
Pumpkin Waffles
Two words, 14 letters. Say it, and I'm yours. Pumpkin Waffles. There aren't too many breakfast foods I would do a backflip for (note: I don't actually know how to do a backflip), but for these Pumpkin Waffles, I'd make it happen. While waffles are traditionally considered a breakfast food, let's be real: They also make for great desserts. So on the days when I want a sweet treat to end my day, I'll be reaching for these waffles, which are easy to cook up and tasty AF.
Gluten-Free Pumpkin Pancake Mix
Gluten-free friends: You can have your (pan)cake and eat it too. If you're in the mood for pumpkin pancakes, this pancake mix is as easy to make as it is delicious. A Sunday morning with Hocus Pocus and pumpkin pancakes is our love language, so we'll be stocking up on these for year-round use. Bonus points will be awarded if you add chocolate chips.
Pumpkin Chocolate Chunk Oatmeal Cookie Mix
Fall baking got infinitely easier when this Pumpkin Chocolate Chunk Oatmeal Cookie Mix entered the chat. On days when you want to tap into your inner Betty Crocker but don't want to deal with engaging in a scavenger hunt at your local grocery store, opt for this pre-portioned cookie mix. It has everything your favorite fall cookie recipe would ask for. Get your bake on without making a fuss. This stuff is the real deal.
Pumpkin Pie Spice
If you plan on doing any fall baking or whipping up an at-home pumpkin spice latte, this Pumpkin Pie Spice is a fall essential. This spice pairs well with lattes, baked goods, yogurts, and sweet potatoes, and it can quickly turn any food into a fall delicacy. If you don't already have it in your pantry, this is your sign to pick one up on your next TJ's run.
Entrées
Butternut Squash Ravioli
She's beauty. She's grace. She's Butternut Squash Ravioli. This ravioli is found in TJ's refrigerator section. It was incredibly easy to make and tasted as if it came from the kitchen of a five-star restaurant. After heating a pot of water and letting the ravioli gently boil for five minutes, I tossed it in olive oil, added a generous amount of parmesan cheese, and dug in. It was sweet without being overwhelming and truly hit the spot. I didn't need to finish all three servings in one sitting, but what can I say? It was that good.
Butternut Squash Mac & Cheese
If I could only have one meal for the rest of my life, this Butternut Squash Mac & Cheese would undoubtedly be it. When I first tried it three years ago, I made the grave mistake of only buying one package. After a quick walk home, I discovered the cheesy goodness that it held, and it was so easy even I could cook it. I actually called my mom to tell her about it. The next day, I returned to my local Trader Joe's to stock up, only to find that *gasp* they were sold out! Now, whenever I see them in stock, I always grab at least three of them. Lesson learned.
Pumpkin Empanadas
Whoever said that diamonds are a girl's best friend must have never had these Pumpkin Empanadas from Trader Joe's freezer section. If you like your empanadas sweet with a touch of savory, then you'll want to pick these guys up STAT. They make for the perfect late-night snack and are the equivalent of a warm hug wrapped in a flaky pastry. We dare you to try to eat just one.
Snacks and Desserts
Maple & Sea Salt Kettle Corn
In full transparency, I am currently shoveling this kettle corn into my mouth. And it is good. I've always been a fan of kettle corn because it's sweeter than your average popcorn without veering too far into dessert territory. (I'm talking to you, one-way-ticket-to-a-cavity caramel corn.) When I picked up this kettle corn, I was a little worried it might be too sweet, but I'm happy to report it's not. The semi-sweet maple flavor is perfectly balanced thanks to a hint of sea salt. It's the love child of a pancake and a piece of popcorn. Needless to say, I'm here for it.
Pumpkin Cranberry Crisps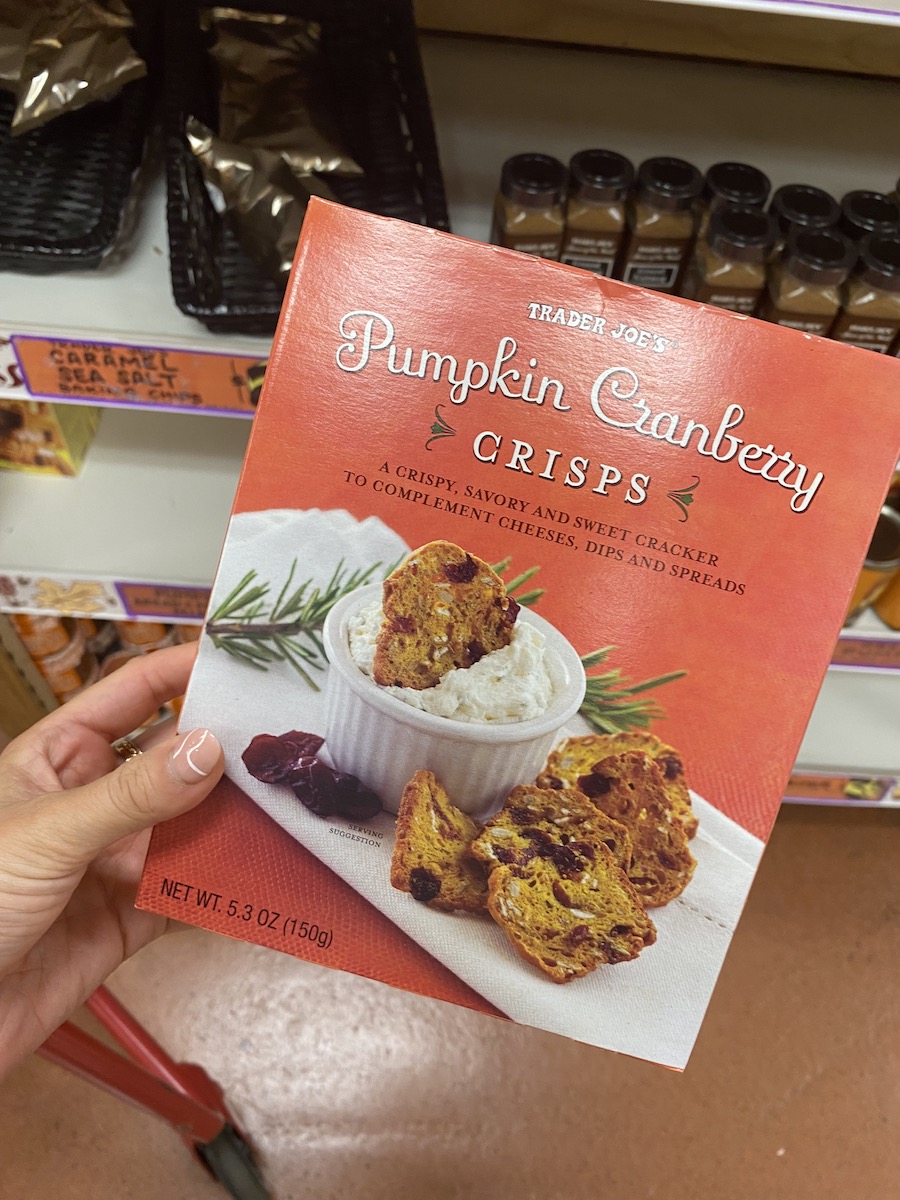 I've been in a love triangle with TJ's Fig & Olive Crisps and the Raisin Rosemary Crisps for as long as I can remember. So when I saw these Pumpkin Cranberry Crisps, I knew I had to throw them into the mix as well. My S.O. and I made a cheeseboard last night with these crackers, and they absolutely stole the show. They're perfectly crunchy with just a hint of sweetness, which paired well with spicy jams and sharp cheeses.
Pumpkin Flavored Joe-Joe's
As a certified Joe-Joe's stan, I had high hopes for the pumpkin-flavored version. Let me tell you: They did not disappoint. If you're looking for a sweet taste of fall, start here. I don't think I could eat these in mass amounts as I do the traditional Joe-Joe's. (What can I say? I'm partial to the OG.) But I'll be turning to this variety while they're in stock in an effort to soak up as much of the season as I can.
Pumpkin Cheesecake
There aren't many things I love more than cheesecake. However, making it from scratch is just not for me. So when I saw that TJ's was featuring a pre-made pumpkin cheesecake ready to eat from the box, I about lost my marbles. Catch me eating this at midnight straight from the package with a spoon. I'm not embarrassed.
Pumpkin Ice Cream
For the days when you want something cool and sweet, head directly to Trader Joe's ice cream section. Last year, TJ's came out with this Pumpkin Ice Cream, and this year's new addition is a Salted Maple flavor. Whether you eat it straight from the tub or use it to top off a warm, crisp apple pie is your prerogative. Just make sure you hop on it soon because these ice cream flavors will be flying off of shelves long before you can say, "Two scoops, please."
Dips and Spreads
Cinnamon Bun Spread
If you only purchase one of the Trader Joe's fall items this season, let it be this Cinnamon Bun Spread. My love for cinnamon rolls knows no bounds. So, my initial instinct was to attack this spread with a spoon. With a lazy attempt to refrain, I reached for the only edible vessel I had in my fridge: stale naan bread. Despite the fact that I absolutely set this spread up for failure, it performed the best out of every single item on this list. And in true "me" fashion, I'll be creating a petition to convince TJ's to keep this one year-round.
Pumpkin Cream Cheese Spread
Fall would not be complete without the addition of TJ's very own Pumpkin Cream Cheese Spread. It's the perfect way to take your breakfast from "fine" to "fall" in no time. It's also one of the items I wish they stocked year-round. I once searched the entire city of Chicago for this stuff, and since the first spread, I haven't turned back.
Sweet & Savory, Lightly Spiced Pumpkin Spread
We love a good cheese board any day, but the idea of making a fall-themed charcuterie board with this Sweet & Savory, Lightly Spiced Pumpkin Spread has me itching to make one STAT. If you ask me, jams and jellies are the unsung heroes of the cheese board. And this sweet-yet-spicy spread will be my new go-to until an empty Trader Joe's stockpile tells me otherwise.
Pumpkin Butter
This sweet, sweet spread will teleport you to another dimension where it's fall year-round and spiced cider is always flowing. This pumpkin butter carries a perfect sweet-to-spice ratio and pairs well with just about anything you could imagine: your favorite fall treats (bagels and brioche and pancakes), oatmeal, smoothies, sweet potatoes, and yogurts. If you're in the market for an easy AF way to get into the season, this Pumpkin Butter has your back.
Pumpkin 4 Cheese Greek Style Yogurt Dip
This four-cheese yogurt dip is the Trader Joe's fall find you didn't know you needed. Think of our all-time favorite Butternut Squash Mac & Cheese, but more savory and in dip form. Pair it with crackers, crostini, pretzels, and beyond. This cheesy seasonal goodness will keep you coming back for more.
Pumpkin Spice Hummus
I personally have a thing for dips, so I added this seasonal Pumpkin Spice Hummus to my cart with unmatched speed. This stuff definitely lies on the sweeter side and, if you ask me, tastes like a pumpkin pie. While you could definitely enjoy it with the traditional pita, tortilla chips, or naan, I can't wait to experiment with apples, English muffins, or graham crackers.
Pepita Salsa
As someone who appreciates traditional salsa and carries the "Why ruin a good thing?" philosophy into many aspects of life, I can't lie: I didn't expect much from this salsa. But after one tortilla scoop of it—and the delectable sweet heat that followed—I was absolutely hooked. Made with bell pepper, chipotle spices, and pumpkin seeds, this salsa truly outshined those other plain-Jane salsas. And for that, I say: Bring on the pepita.
Sauces and Soups
Autumnal Harvest Soup
Grilled cheese with tomato soup is my go-to comfort meal. So, when I saw this fall harvest take on the classic soup, I about lost my sh*t. This creamy, tomato-based soup with pumpkin and butternut squash pairs perfectly with a crispy, gooey cheese sandwich. When I dipped my brie, mozzarella, and cheddar grilled cheese into this soup, I may or may not have seen stars. If you see me grabbing seven jars of this soup on my next trip to TJ's, respectfully, no, you didn't.
Butternut Squash Soup
I've never been the type of consumer who goes out of her way to stock up on butternut squash soup, but I decided this was the year I'd lean into the hype. In the name of soup season, I picked up TJ's regular Butternut Squash Soup as well as their organic, low-sodium version. While I'm willing to make some sacrifices in the name of health, I must advise that you go with the higher-sodium variety. It's thicker, more flavorful, and brighter in color, which easily makes it worth the extra sodium splurge. I served it with a dollop of heavy cream, a dash of cinnamon, and a side of ciabatta bread, and I will 100% whip this up again when I'm in need of hassle-free, ready-in-five comfort food.
Pumpkin Bisque
This sweet-meets-savory pumpkin bisque soup is the fall version of heaven on Earth. When the leaves change, the weather becomes crisp enough to sport your oversized blazer, and you long for a comfort meal that feels like home, this soup delivers. With fall spices and the perfect amount of pumpkin flavor, it's the fall pantry staple you'll turn to again and again.
Autumnal Harvest Creamy Pasta Sauce
Since falling head-over-heels for Trader Joe's Butternut Squash Mac & Cheese two years ago, my affinity toward seasonal pasta flavors has grown beyond my wildest imagination. I cooked this sauce up with Banza Noodles, garnished it with fresh basil, and topped it with a very generous amount of parmesan cheese. It felt like a seasonal dish from my favorite Lincoln Park Italian restaurant. I'll be inhaling this sauce faster than one could say, "Bon appétit."
Beverages
Maple Oat Milk
One of my greatest griefs with Trader Joe's is that, aside from during the fall season, they don't have a great selection of flavored oat milk. (Flavored oat milk is key to making my signature homemade lattes.) But when summer comes to a close, and the leaves begin to change, I can always count on this Maple Oat Milk to have my back for easy at-home coffee. Simply froth a cup of this flavored oat milk and pair it with your espresso of choice for a latte that feels fancy AF with little to no effort. We love a good Pumpkin Cream Cold Brew, but this make-at-home coffee concoction is arguably just as good (and a whole lot cheaper).
Pumpkin Spice Coffee
If you don't love flavored creamer or syrups in your morning cup of caffeine but are also craving something seasonal, this medium-dark roast Pumpkin Spice Coffee is a great solution. It's packed with orange peel, cinnamon, nutmeg, allspice, ground vanilla beans, and pumpkin spice flavor. This ground coffee is sure to spice up your morning.
Spiced Cider
Move over, Pumpkin Spice Lattes—the original fall drink is back and better than ever. There's something about a spiced cider paired with a cinnamon sugar donut that just hits the spot. This spiced cider from TJ's is no exception. And for those who prefer something a little boozier, look no further for the easiest fall cocktail of all time. Just add a bit of rum, brandy, or bourbon to this spiced cider for an instant seasonal cocktail.
Non-Food Items
Vanilla Pumpkin Scented Candle, Honeycrisp Apple Scented Candle
Fall-scented candles are a hero of the season, and these Trader Joe's soy candles take the cake for so many reasons. First, we have a price that you simply can't beat. There aren't many places where you can pick up a scented candle for $3.99 while stocking up on produce. Although this affordable price could potentially foreshadow a candle that you light once, quickly extinguish, and toss lovingly into the trash, this is not the case. I lived off the Pumpkin Vanilla Scented Candle last year. (It's warm, inviting, and a pumpkin-meets-vanilla dream.) And this year, I'm reaching for the Honeycrisp Apple scent. I lit one last night, and its sweet, fresh fragrance made my stale one-bedroom apartment feel like a fall oasis.
Pumpkin Body Butter
I don't typically pick up many non-edible items from TJ's, but this Pumpkin Body Butter has me rethinking my entire weekly Trader Joe's game plan. I bought this body butter in the spirit of fall, expecting to use it a few times, and subsequently let it sit far past its expiration in my medicine cabinet. But hear me out, team. This thick AF body butter made my hands so soft. (Note: As a former nurse who uses hand sanitizer like a lifeline, I do not say this lightly.) It has the perfect hint of pumpkin scent without being too overwhelming and has a non-greasy formula that absorbs quickly. I'll definitely use this up before the season ends.