The holidays get all the glory for being the most wonderful time of the year, but we'd argue that fall deserves just as much credit. If you've ever experienced the unmatched joy of stocking your shopping cart to the brim with Trader Joe's fall items, you know what we mean. As frequent fliers at our respective TJ's locations, our editors can honestly say that the release of Trader Joe's fall items is an event we look forward to all year.
After weeks of scouring our local stores for any hint of fall, we are happy to announce that Trader Joe's has finally unleashed all of their pumpkin, apple, butternut squash, cinnamon, and maple goodness. And speaking from experience, we know that these Trader Joe's fall items are going to sell out before you can say the words "pumpkin spice latte." Keep reading for our definitive list of Trader Joe's fall items, including both long-time favorites and new releases for 2023.
Breakfast + Baked Goods
Honeycrisp Apple Granola
New this year, this granola combines the sweet flavor of Honeycrisp apples with a mix of spices that makes it taste like the best parts of fall. Top it with milk and eat it like cereal, sprinkle it on yogurt for extra crunch, or snack on it straight out of the bag.
Apple Cinnamon Buns
If you're the kind of person who treats breakfast like morning dessert, these Apple Cinnamon Buns are for you. The flaky, Danish-style pastries are streaked with cinnamon-apple filling and topped with a crumbly streusel topping. You can either enjoy them right out of the box or toast them lightly first for an even more delightful treat.
Pumpkin Bagels
These Pumpkin Bagels are a Trader Joe's breakfast staple when fall rolls around. They're made with a seasonal blend of spices including cinnamon, nutmeg, and ginger, so they basically taste like pumpkin pie in bagel form. We suggest you toast one, spread it well with plain cream cheese, and enjoy with a warm cup of coffee.
Pumpkin Cream Cheese Spread
If you want to take your pumpkin bagel up a notch, might we suggest the addition of this Pumpkin Cream Cheese Spread. It's also the perfect way to dress up a plain bagel or toast, quickly taking your breakfast from "fine" to "fall" in no time.
Pumpkin Brioche Twist
This pumpkin-flavored brioche tastes phenomenal on its own—just toast a slice and add butter for an easy fall breakfast or dessert. But if you really want to go all out, these thick slices would make the perfect bread for French toast. We can only imagine how good it would taste fresh out of the pan with a drizzle of maple syrup on top.
Pumpkin Cereal Bars
If you're a fan of Fig Newtons but also love fall, these Pumpkin Cereal Bars have your name written all over them. For a quick grab-and-go snack that will give you immaculate spooky-season vibes, pick up a box of these. Trust us: you won't be able to have just one.
Pumpkin Blondie Brownies
If blondies are your idea of a good time, look no further than TJ's Pumpkin Blondie Brownies. With white chocolate chips, pecans, and the most decadent pumpkin flavor of all time, these are a must-add to your cart. Gift them to your friends, bring them to all of your fall events, or eat them by yourself with a spoon in one sitting (we won't judge!).
Pecan Pumpkin Instant Oatmeal
Oatmeal fans, unite! If quick and easy is your M.O. in the morning, you need to try this pecan pumpkin version of Trader Joe's traditional instant oatmeal. If you're looking to add a bit of festivity to your day without breaking a sweat, this low-maintenance, high-reward oatmeal is all you need.
Pumpkin Waffles
Frozen waffles are a freezer staple in any lazy girl's household, and this pumpkin version makes the perfect addition to your usual breakfast rotation. Not into sweets in the morning? These also make a great dessert when dressed up with your topping of choice. We personally think these would be divine topped with TJ's Speculoos Cookie Butter.
Gluten-Free Pumpkin Pancake Mix
Gluten-free friends: You can have your (pan)cake and eat it, too. If you're in the mood for pumpkin pancakes, this mix is as easy to make as it is delicious. A Sunday morning with Hocus Pocus and pumpkin pancakes is our love language, so we'll be stocking up on these for year-round use. Bonus points will be awarded if you add chocolate chips.
Cinnamon Roll Blondie Bar Baking Mix
Autumn also brings the beginning of baking season, and we can't wait to get cozy in the kitchen and bake up all the sweet treats this fall. First in the lineup? These Cinnamon Roll Blondie Bars. The mix includes almost everything you'll need to make these sweet, cinnamony, icing-topped treats—just supply the eggs, butter, and water.
Pumpkin Bread & Muffin Mix
If you want a one-way ticket to a warm, inviting fall treat, look no further. This Pumpkin Bread & Muffin Mix only requires the addition of a few ingredients, and most of the mixing and measuring is done for you. Whether you use it to make pumpkin bread or muffins, you'll have your home smelling like an autumnal haven in no time.
Gluten-Free Pumpkin Bread & Muffin Mix
Just as good as the aforementioned baking mix, this allergy-friendly version will help you whip up breads and muffins that are so light and airy, you won't even be able to tell they're gluten-free.
Pumpkin Chocolate Chunk Oatmeal Cookie Mix
On days when you want to tap into your inner Betty Crocker but don't want to embark on an ingredient scavenger hunt at your local grocery store, opt for this pre-portioned cookie mix. Made with chocolate chunks, chewy oats, and pumpkin spice flavors, it has everything your favorite fall cookie recipe would ask for, so you can get your bake on without the fuss.
Pumpkin Pie Spice
If you plan on doing any fall baking or whipping up an at-home pumpkin spice latte this year, this Pumpkin Pie Spice is a fall essential. This spice pairs well with lattes, baked goods, yogurts, and sweet potatoes, and it can quickly turn any food into a fall delicacy. If you don't already have it in your pantry, this is your sign to pick one up on your next TJ's run.
Cinnamon Bun Spread
Rich, gooey, and packed with yummy spices, this Cinnamon Bun Spread is a breakfast hero that can singlehandedly make a piece of plain toast taste like a sweet, sticky cinnamon bun. An English muffin or a bagel would also work just as well! You could even swirl a dollop into some vanilla ice cream to jazz up your dessert.
Pumpkin Butter
Perhaps the most versatile item on this list, Trader Joe's Pumpkin Butter has a delightful sweet-to-spice ratio that pairs well with just about anything you could imagine. Use it to top bagels or toast, swirl some into your oatmeal or yogurt, or serve it alongside cheese and crackers for an unexpected charcuterie board addition.
Snacks + Entrées
Butternut Squash Mac & Cheese
We're warning you now: If you see this Butternut Squash Mac & Cheese in store, grab at least three packages. You won't regret it. Made with a delicious blend of cheddar, gouda, and parmesan cheeses, it gets a fall boost thanks to the addition of butternut squash pureé and seasonal spices like nutmeg and sage. Basically, it's the ultimate fall comfort food—with veggies already mixed in.
Pumpkin Cranberry Crisps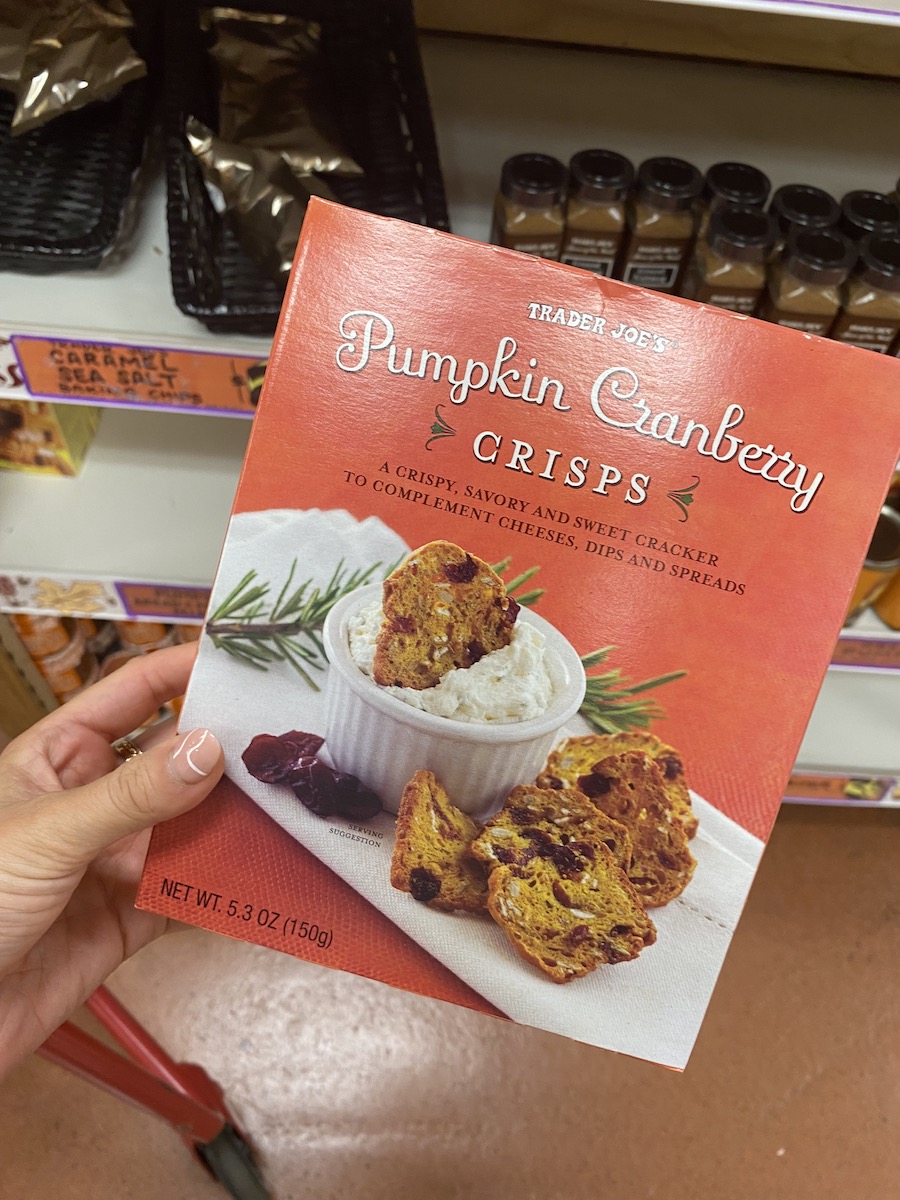 If you plan on making any sort of cheese board this fall, these Pumpkin Cranberry Crisps deserve a spot on it. They look and taste way fancier than your average cracker, and thanks to the subtle hint of sweetness, they pair perfectly with spicy jams and sharp cheeses.
Pumpkin Tortilla Chips
No snack is safe from the pumpkin treatment come fall, and tortilla chips are no exception. These are made with pumpkin purée (which gives them a slightly darker color than your normal tortilla chip), as well as pumpkin seeds for extra texture and a dash of spices like cinnamon and nutmeg. Try them with your favorite salsa or with a dip like Trader Joe's Everything And the Elote Greek Style Yogurt Dip.
Pepita Salsa
Don't worry: This is not pumpkin spice salsa. It's made with pumpkin seeds (AKA pepitas), which add a slightly nutty flavor and extra texture to the chunky blend of tomatoes, bell peppers, and chipotle spices. It's spicy, slightly sweet, and totally unexpected.
Autumnal Harvest Soup
Made with pumpkin, butternut squash, and autumn herbs like rosemary and sage, this creamy soup is a fall riff on your traditional tomato soup. Although it tastes homemade, it's super easy to heat and eat. Pair it with a crispy, gooey grilled cheese sandwich for a warm, delicious fall comfort meal.
Pumpkin Bisque
When the leaves change, the weather turns crisp, and you long for a comfort meal that feels like home, this soup delivers. With fall spices and the perfect amount of pumpkin flavor, it's the fall pantry staple you'll turn to again and again.
Autumnal Harvest Creamy Pasta Sauce
This Autumnal Harvest Creamy Pasta Sauce is a super easy hack for a seasonal pasta dish that tastes like it came from a fancy restaurant. After you boil your pasta and stir in the sauce, we recommend garnishing it with fresh basil and a generous amount of parmesan cheese for an added touch.
Desserts
Pumpkin Spiced Teeny Tiny Pretzels
If you're all-in on pumpkin spice this season, make sure these mini pretzels are on your list. Covered in a pumpkin spice-infused yogurt coating and pumpkin-spiced pumpkin seeds, they're an ideal snack for anyone who drinks PSLs all season long.
Maple Fudge
Another new addition to Trader Joe's fall items for 2023, this Maple Flavored Fudge is buttery, crumbly, and melt-in-your-mouth good. The bite-sized pieces are perfect as an afternoon treat alongside a cup of coffee or as a little treat to cap off the day.
Pumpkin Flavored Joe-Joe's
As certified Joe-Joe's stans, we can attest that the pumpkin-flavored variety does not disappoint. Consisting of vanilla wafer cookies sandwiched together with pumpkin crème filling, they're great for dunking in a glass of milk or snacking on straight out of the box.
Pumpkin Spiced Joe-Joe's
For all you die-hard pumpkin spice fans, Trader Joe's pulled out all the stops for these pumpkin-spiced Joe-Joe's. This version takes regular Pumpkin Joe-Joe's, dips them in a pumpkin-spiced yogurt-flavored coating, and sprinkles them with sea salt for a salty-sweet finish. If that sounds like pumpkin spice overload to you, this is not your journey.
Pumpkin Spice Batons
Delicate wafer cookies are rolled into a baton shape and filled with lightly spiced pumpkin cream filling to create these Pumpkin Spice Batons. They make a delightfully crunchy treat on their own, or you can pair them with a mug of hot cocoa or coffee for an extra pick-me-up.
Salted Maple Ice Cream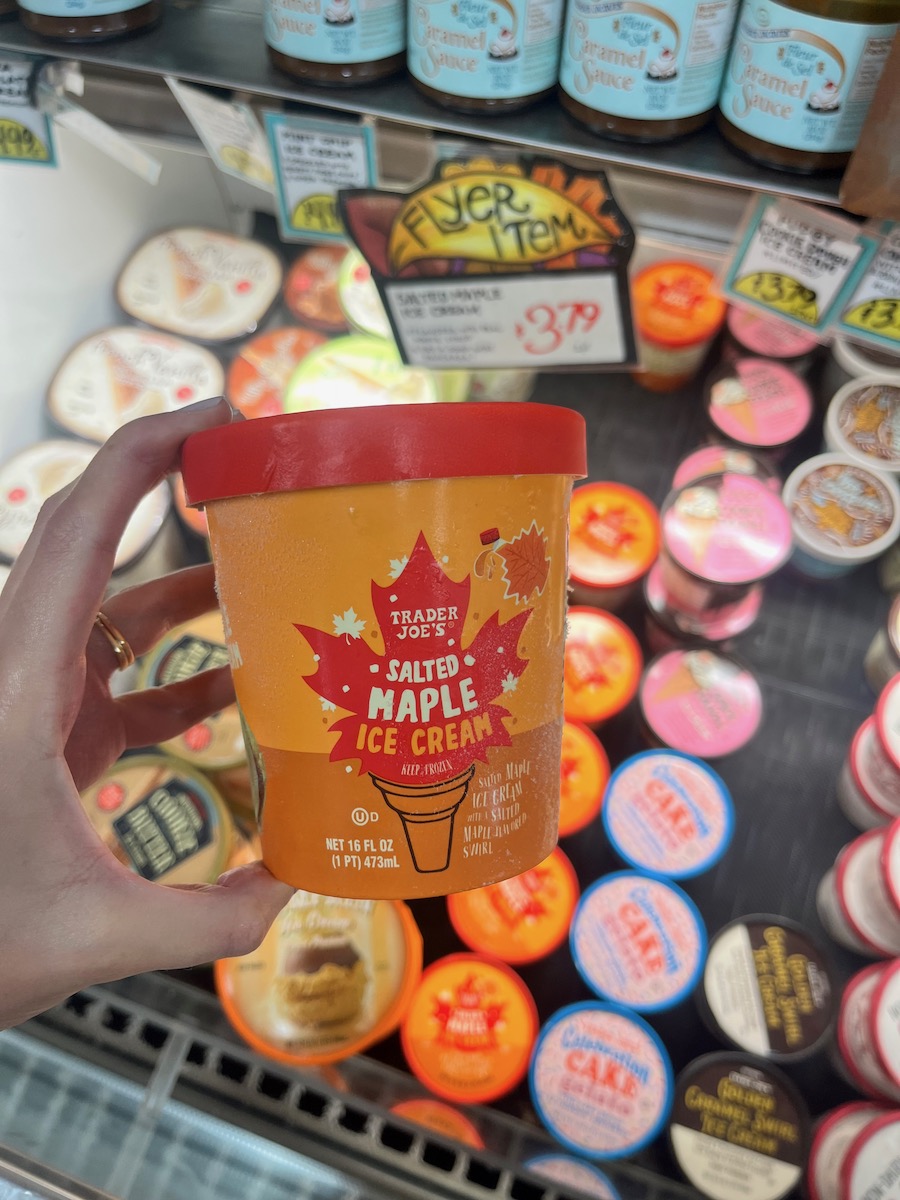 Brand new for this year, this ice cream celebrates one of the most underrated flavors of fall: maple. It's thick, creamy, and flavored with real maple syrup and a sprinkle of sea salt for an indulgent sweet and salty treat.
Mini Maple Flavored Marshmallows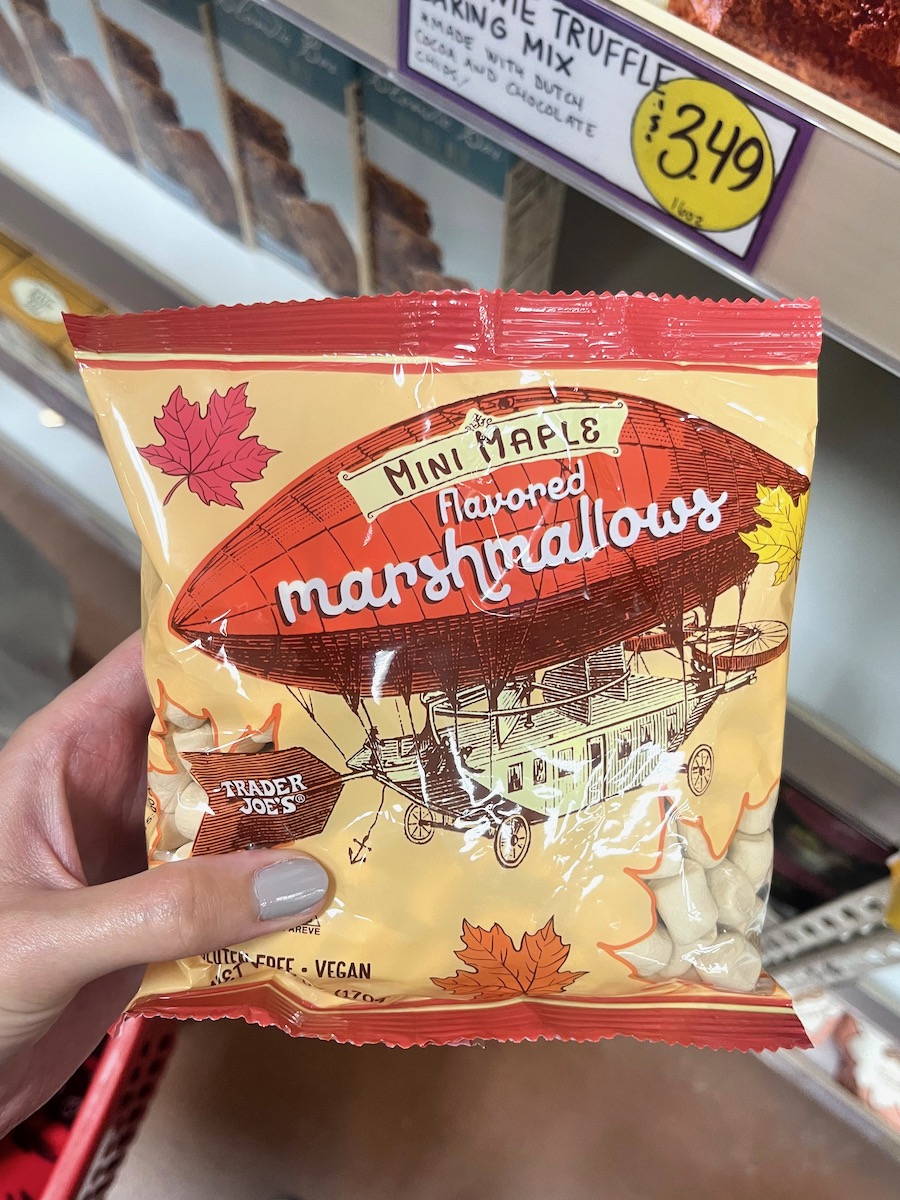 A new addition to Trader Joe's baking aisle, these mini marshmallows are flavored with maple syrup, which gives them a sweet, caramelly taste. Swap these in wherever you typically use mini marshmallows: melted into Rice Krispie treats, floating in a mug of cocoa, or sprinkled atop sweet potato casserole at Thanksgiving. Even better, they're also gluten-free, vegan, and kosher.
Caramel Apple Dipping Kit
For a fall treat that's as fun to make as it is to eat, grab one of these Caramel Apple Dipping Kits. They include six sticks, along with caramel, peanuts, and autumn-inspired sprinkles to decorate with—just add the apples! This would be a fun activity to do on a cozy girls' night in or with kids.
Pumpkin Cheesecake
If you need a dessert that feels fancy but takes literally zero effort to prepare, this Pumpkin Cheesecake (found in the freezer aisle) is a fantastic option. Made with seasonal pumpkin pie spices and generous amounts of pumpkin, it's ready to eat straight from the box. Simply cut it into slices and top with a dollop of whipped cream, and your guests will be totally impressed.
Pumpkin Ice Cream
For the days when you want something cooler than a pumpkin spice latte, head directly to Trader Joe's ice cream section. Whether you eat this Pumpkin Ice Cream straight from the tub or use it to top off a warm, crisp apple pie, that's your prerogative.
Beverages
Non-Dairy Pumpkin Oat Beverage
Flavored oat milk is one of the best ways to make homemade lattes, and this pumpkin option will be your go-to come fall. Simply froth a cup of oat milk and pair it with your espresso of choice for a latte that feels fancy AF with little to no effort. We love a good Pumpkin Cream Cold Brew, but this make-at-home coffee concoction is arguably just as good (and a whole lot cheaper).
Non-Dairy Maple Oat Beverage
For a sweeter option, skip the pumpkin and go for this maple flavor instead. It's creamy, maple-y, and perfect for adding a touch of fall flavor to your morning coffee or bowl of cereal.
Pumpkin Spice Coffee
If you don't love flavored creamer or syrups but are still craving something seasonal, this medium-dark roast Pumpkin Spice Coffee is a great solution. Packed with orange peel, cinnamon, nutmeg, allspice, ground vanilla beans, and pumpkin spice flavor, this ground coffee is sure to spice up your morning.
Spiced Cider
Move over, Pumpkin Spice Lattes—the original fall drink is back and better than ever. There's something about apple cider paired with a cinnamon sugar donut that just hits the spot. And this spiced cider from TJ's is no exception. For those who prefer something a little boozier, look no further for the easiest fall cocktail of all time. Just add a bit of rum, brandy, or bourbon to this spiced cider for an instant seasonal cocktail.
Non-Food Items
Pumpkin Overnight Face Mask
If you're familiar with Trader Joe's Watermelon Overnight Face Mask, this is basically the fall version of that. Unlike traditional face masks that you wear for 10 minutes and then rinse off, this mask is meant to be worn overnight. Apply it as the last step in your skincare routine at night and then wash it off in the morning. Thanks to hydrating ingredients like plant-derived squalene and pumpkin fruit extract, it'll leave your skin feeling soft and rejuvenated.
Pumpkin Body Butter
If you've never explored the non-edible items from TJ's, this Pumpkin Body Butter might be the final push you need. Packed with hydrating ingredients like pumpkin seed oil, coconut oil, shea butter, aloe, and vitamin E, this thick AF formula will make your skin feel so soft. Plus, it is non-greasy, absorbs quickly, and has the perfect hint of pumpkin scent without being too overwhelming.
Pumpkin Body Scrub
Meet the new autumn-inspired addition to your everything shower lineup. This pumpkin-infused body scrub is made with exfoliating brown sugar to help banish dry skin and leave you feeling silky smooth. Follow it up with a generous amount of TJ's Pumpkin Body Butter for a body care routine that'll have you smelling like pumpkin spice (in a good way).
Vanilla Pumpkin + Honeycrisp Apple Scented Candles
Fall-scented candles are one of the best parts of the season, and these Trader Joe's soy candles do not disappoint. At just $3.99 apiece, you simply can't beat the price. And although this affordable price point could potentially foreshadow a candle that you light once, quickly extinguish, and toss lovingly into the trash, this is not the case. Whether you're more of a Pumpkin Vanilla or a Honeycrisp Apple gal, you can't go wrong with either scent.