If snacking was considered a competitive sport, I would probably win an Olympic title for it. I've always had an affinity for snacking, most likely deeply-rooted in childhood when my mother would urge that I "bring a jacket and a snack" on any outing, ever. I carried this sturdy advice with me into adulthood and, now, I rarely leave home without a snackable food option to deescalate any type of hanger emergency that arises.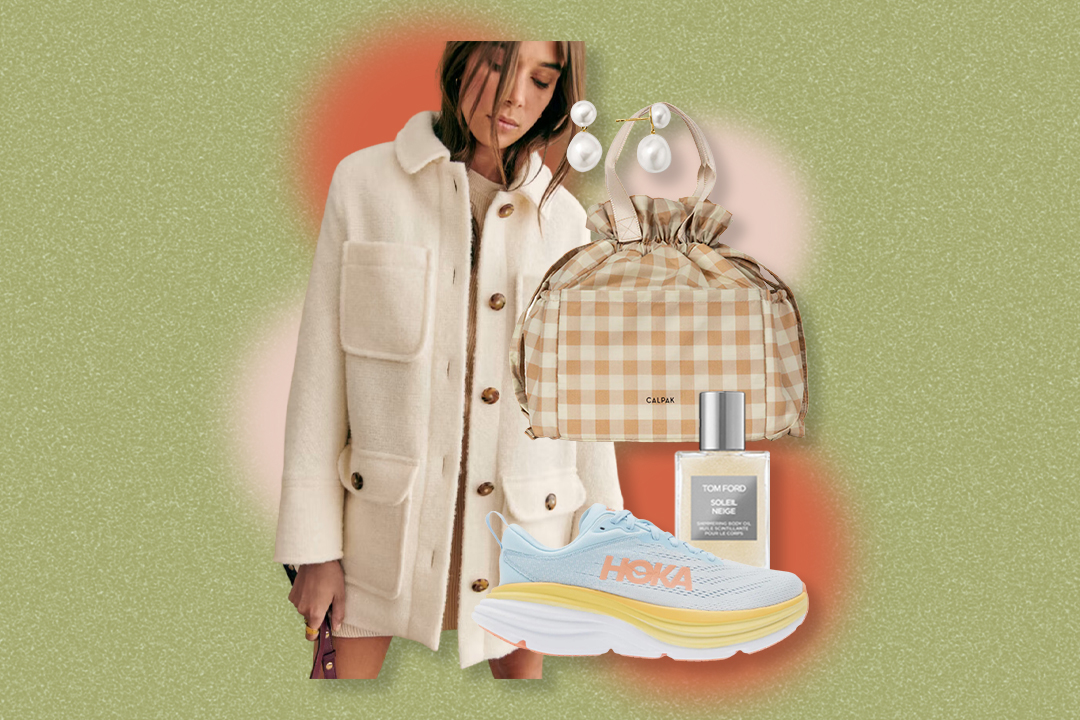 Take it from a woman who used to bring Goldfish and pretzels to pre-COVID bars: Snacks save lives. And, as always, one of my favorite places to pick up on-the-go foods that make my life exponentially better is (you guessed it!) Trader Joe's. Here are some of my favorite Trader Joe's grab-and-go snacks that keep my belly full, my mind right, and my heart happy as can be:
1. Almonds, Chocolate, and Cashews Trek Mix
This almond, chocolate, and cashew trail mix has been a consistent staple in my home for the past two years. It boasts the most perfect dark-chocolate-to-nut ratio and is a sweet-and-salty lover's dream. The best part of this particular Trek Mix assortment? It's pre-portioned in separate bags, which makes it the perfect snack to take on the go.
2. Southwest Salad
I'm not usually a fan of salad and I'm definitely not an advocate for pre-packaged salads. But this Southwest Salad is one of my favorite exceptions. Made with black beans, corn, Cotija cheese, and tangy ranch, this salad is more than just leaves. It's fresh, it's zesty, and it proves that on-the-go foods can still be nutritious.
3. Barebells Protein Bar
If you know me, you know that I'm always on the hunt for my next go-to protein bar. Last month, I was so obsessed with Perfect Bars that I had one a day for probably 24 days in a row. I'm not saying that I'm over Perfect Bars just yet (stay tuned for their imminent feature), but these cookies-and-cream flavored bars are a worthy addition to my rotation. With 20 grams of protein, no added sugar, and a flavor that truly tastes like a Three Musketeers candy bar, adding multiple bars to my cart is an absolute no-brainer.
4. Fuji Apple Slices
If I won the lottery, I would spend probably half of my funds to purchase a lifetime supply of these Fuji apple slices. They're sweet, they're tangy, and they serve up the most flawless degree of styrofoam-y, freeze-dried crunch. My only grievance with these is that they're a bit pricey considering that the resealable bag is consistently only half-full upon purchasing. Is it enough to deter me from picking them up and inhaling them in one sitting? No ma'am.
5. Sea Salt & Turbinado Sugar Dark Chocolate Almonds
If you speak to me about my personal life for approximately five minutes, there's a 95 percent chance that these dark chocolate almonds will come up in conversation. My love affair with this sweet and salty delicacy began years ago and our romantic flame has yet to die out. If you have a major sweet tooth (guilty), these are the perfect dessert to any meal and also make for a great standalone snack when you're craving something equally savory and sweet.
6. Icelandic Style Vanilla Yogurt
OK, this vanilla-flavored, Icelandic-style yogurt is my jam. If you've never had Icelandic-style yogurt before, you're in for a real treat. It's strained yogurt that is thicker and denser than Greek yogurt but, in my opinion, is creamier and less chalky. When I'm in a rush, this is the perfect grab-and-go snack and when I have some time to sit and enjoy, I'll dump the contents into a bowl and jazz it up with some granola, banana, coconut flakes, chia seeds, and honey. Nom, nom, nom.
7. Perfect Bar
This refrigerated protein bar is one of my absolute favorites for so many reasons that I'm not quite sure where to begin. Could it be that it packs 15 grams of protein into one tiny bar? Could it be the wide selection of flavors? Could it be that it's non-GMO, organic, and made with more than 20 superfoods? I digress. These things are bomb. They live in the refrigerated section and can be enjoyed for one week after purchase (because, you know, fresh AF).
8. Garlic Hummus Snack Pack
My home is always stacked with TJ's garlic hummus, so when I saw that they offered an on-the-go snack pack option, I was elated. They serve up a perfect pretzel-to-hummus ratio (no need to ration your hummus, thank you very much) and are a great low-hassle snack option wherever you go.
9. Everything but the Bagel Nut Duo
In this house, we worship the Everything but the Bagel Gods. I have a longstanding theory that EBTB makes everything better, and this almond and cashew mix proves my hypothesis 100 times over. This bag lives in my backpack because I take it everywhere—and I am not ashamed. It's the perfect high-protein, guilt-free snack that keeps me full and tastes like heaven on Earth.