Trader Joe's snack selection is truly unmatched. In nearly every aisle you turn down, there are rows and rows of snacks waiting to be discovered and munched on. No matter your snacking style, TJ's has got you covered. Craving something creamy to dip your chips in? Want a healthy option for guilt-free snacking? Or perhaps you need a lil treat to get you through the afternoon? They've got it all and more. With so many options to choose from, it can be difficult to know where to start. If you need some inspiration for what to grab on your next TJ's run, let us be your snacking guides. Below, our editors share the Trader Joe's snacks they always have stocked for when that between-meal hunger hits. Happy snacking!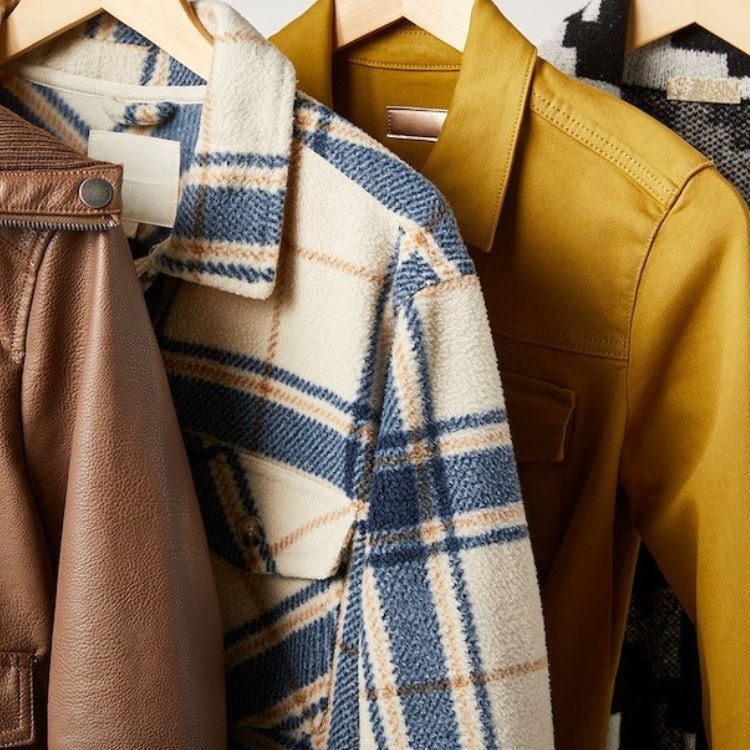 ...and it's wallet-friendly
Bamba with Hazelnut Creme Filling
I'm not kidding when I say I have recommended these to every single person I know. They came out in the last few months, and I truly think they're one of the best new releases to come to TJ's in quite a while. I'm a need-something-sweet-after-every-meal type of gal, so these are the perfect way to satisfy that craving in a way that's still pretty light. You've been warned, though: Once you start eating these, you might not be able to stop.
– Jess Welsh, Associate Editor
Spinach & Kale Greek Yogurt Dip
I am a snacker, through and through. Often for lunch, rather than actually cook a meal, I'll just make myself a little snack plate with different healthy foods to munch on at my desk. I am absolutely obsessed with artichoke dip, and this is a much healthier option that I buy every time I go to TJ's. It's great both with crackers and veggies, and I always have it in my fridge.
– Maddie Galassi, Fashion Editor
Norwegian Crispbread
I'm well aware that this quite possibly looks and sounds like the most boring snack of all time. But believe me when I say that they're perfect for when you start to get hungry and need a little something. These crunchy crackers are made with sunflower, sesame, and flax seeds—all of which provide healthy fats, fiber, and a little bit of protein—so they satisfy my hunger and power me through until my next meal. I love to have one of these between lunch and dinner with a little bit of hummus and some veggies. It's not a groundbreaking snack idea, but it's a trusty one that I come back to constantly.
– Hailey Bouche, Editorial Assistant
Dark Chocolate Drizzled Plantain Chips
There's nothing I love more than a classic salty/sweet combo, and the dark chocolate plantain chips are just that. I like to grab a handful when I need an afternoon pick-me-up or am craving something sweet on an occasional night (okay, most nights). Though they're not the most healthy option, they're also far from the worst. Made out of just plantains, dark chocolate, and sea salt, they're the perfect sweet addition to a balanced diet.
– Brett Nicole Hayden, Editorial Intern
Rolled Corn Tortilla Chips
Chili and lime are my favorite dynamic duo, so it makes sense why these are one of my go-to Trader Joe's snacks! If you can't handle the heat from Flamin' Hot Cheetos or Takis, these are a great alternative with the perfect amount of spice. If you decide to add these to your cart on your next TJ's run, I guarantee you'll find it hard to have just one, and soon enough, you'll be fighting the urge to finish the whole bag in one sitting.
– Andi Wynter, Social Media Coordinator
Sea Salt & Turbinado Sugar Dark Chocolate Almonds
These dark chocolate almonds are a salty-sweet lover's dream. I always pick up a container on any TJ's run (no matter how many I'm already hoarding at home) because I have an irrational fear that one day they'll get discontinued, which would be an absolute nightmare. I always pop a few of these after dinner for a savory-meets-sweet dessert, and they've become a holy grail staple in my household.
– Ashley Selleke, Branded Content Editor
Savory Banana & Nuts Trek Mix
Don't let the words "savory banana" put you off. This snack mix is crunchy, salty, and packs a ton of flavor—truly everything I want in a snack. This comes from someone who never buys regular trail mix because I don't love peanuts or raisins. Plus, when you count all the M&Ms and/or chocolate chips typically mixed in, it's more dessert than snack anyway. This trek mix has none of that. Just banana chips, cashew, and pecans, all coated in a zesty, garlicky seasoning. I could easily polish off the bag in one sitting, and since the portion is fairly small, you just might want to.
– Jessica Bennett, Lifestyle Editor
Organic Vegan Nacho Dip
I have tried pretty much every vegan nacho cheese dip I could get my hands on, and the Trader Joe's variety is by far the best. I love it so much I can't even keep it regularly stocked in my fridge, or I'd eat absolutely nothing else. However, the dip with a bag of tortilla chips is my go-to contribution anytime I'm invited to a friend's house, and it's always a hit—even among non-vegans.
– Garri James, Managing Editor
Organic Popcorn with Organic Extra Virgin Olive Oil
Before you come at me for being basic, let me tell you this is one of those tried-and-true Trader Joe's snacks that never disappoint. Fluffy and crunchy at the same time, a handful goes a long way, whether to satisfy a salty craving, complement your lunch sandwich, or tide you over until dinnertime. With only organic popcorn, organic extra virgin olive oil, and sea salt as the ingredients, I'd call it a healthy-ish nosh that doesn't skimp on flavor (or fiber).
– Katherine Chang, Wellness Staff Writer
Chocolate Hummus
OK sure, chocolate hummus sounds like a disgusting combination of two foods that should never go together. But I pretend that it's not called hummus (the only similarity is that it's made with chickpeas) and think of it more like a delicious chocolate frosting that has more nutrients and plant-based ingredients than your typical frosting from the store. With a base of cooked chickpeas and tahini (a sesame seed paste), it's a genius way to sneak in some extra nutrients like fiber, protein, potassium, and iron. I use it as a frosting for baked goods, have a spoonful if I'm craving something sweet, or dip fruit in for a snack. I love knowing that I'm giving my body an added dose of nutrients while satisfying my sweet tooth.
– Josie Santi, Wellness Editor
Dark Chocolate Covered Cherries
I have a bad dark chocolate addiction, and instead of trying to fight it, I have decided to treat myself a little every day. These Dark Chocolate Covered Cherries are my current go-to and definitely hit the spot. My friend introduced me to them recently, and now they're always in my cart. I usually have a few for a mid-day or after-lunch treat, and it really satisfies my chocolate craving.
– Keely Geist, Senior Social Media Editor
Pimento Cheese Dip
I am a born-and-raised Chicago girl, so I didn't try pimento cheese until going to college in the South. Buying this dip from TJ's counts as making up for lost time. I love this dip as an appetizer with chips or part of a gourmet burger for dinner, and I will definitely be breaking it out at tailgates this fall!
– Jessica Jones, Social Media Editor
Hummus and Carrots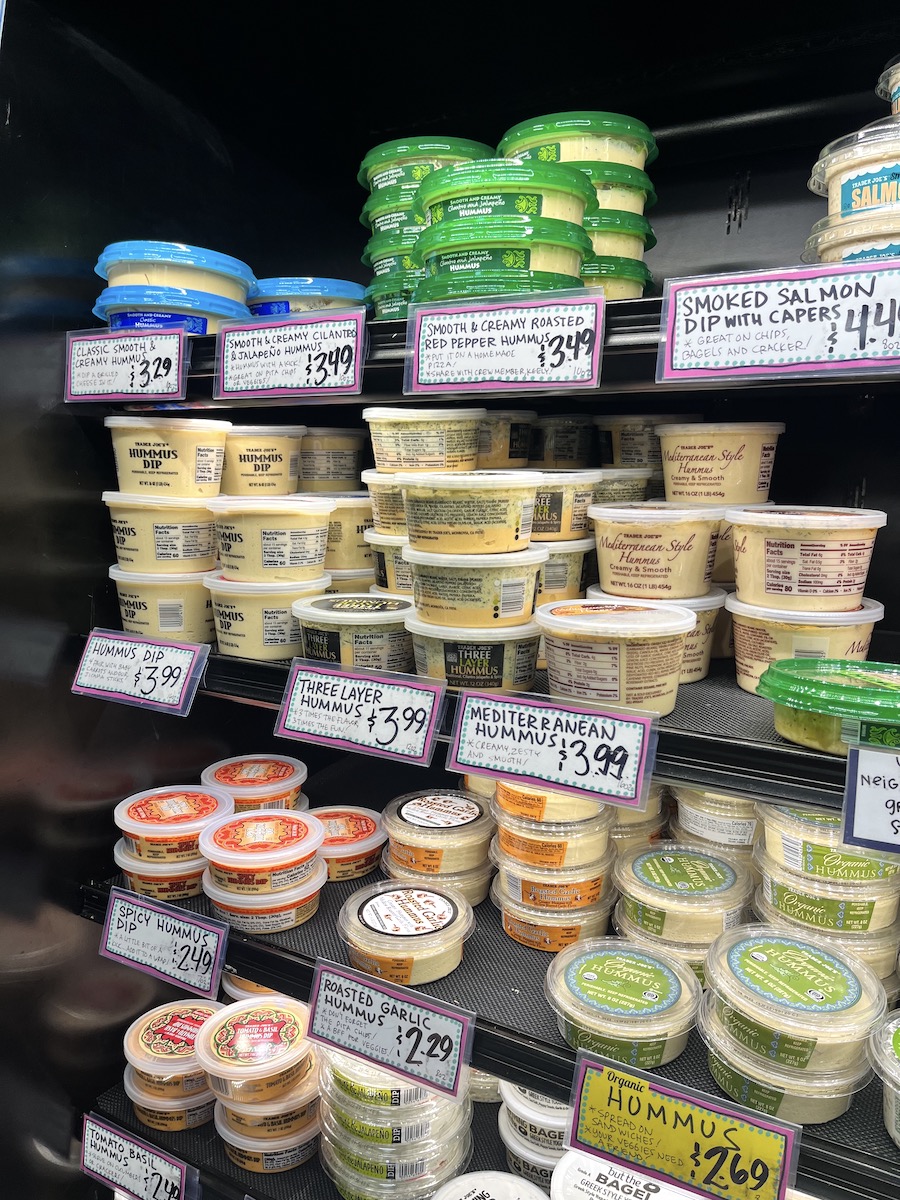 I am notorious for having no willpower when it comes to snacking, so if I have unhealthy treats in the house, I will choose those over healthy snacks every day of the week. That being said, when I need something nutritious, my favorite healthy snack is hummus with carrots or even celery. If raw vegetables aren't your thing, you can always swap them for pita bread.
– Kirra Wallace, Graphic Designer