The ephemeral world of beauty sees the coming and going of new launches daily. But even in the midst of such a poppin' industry, there is ample opportunity to view the industry-wide trends evolving over time. In 2021, we saw certain skincare ingredient trends skyrocket, from the proliferation of cannabidiol (CBD) to medicinal mushrooms to the rise of bakuchiol oil, which is widely regarded as nature's best plant-based alternative to retinol. "Skincare is trending in an interesting direction that combines the trust of doctors with an enthusiasm for plant-based medicine," said board-certified plastic surgeon Dr. Julius Few, founder of The Few Institute.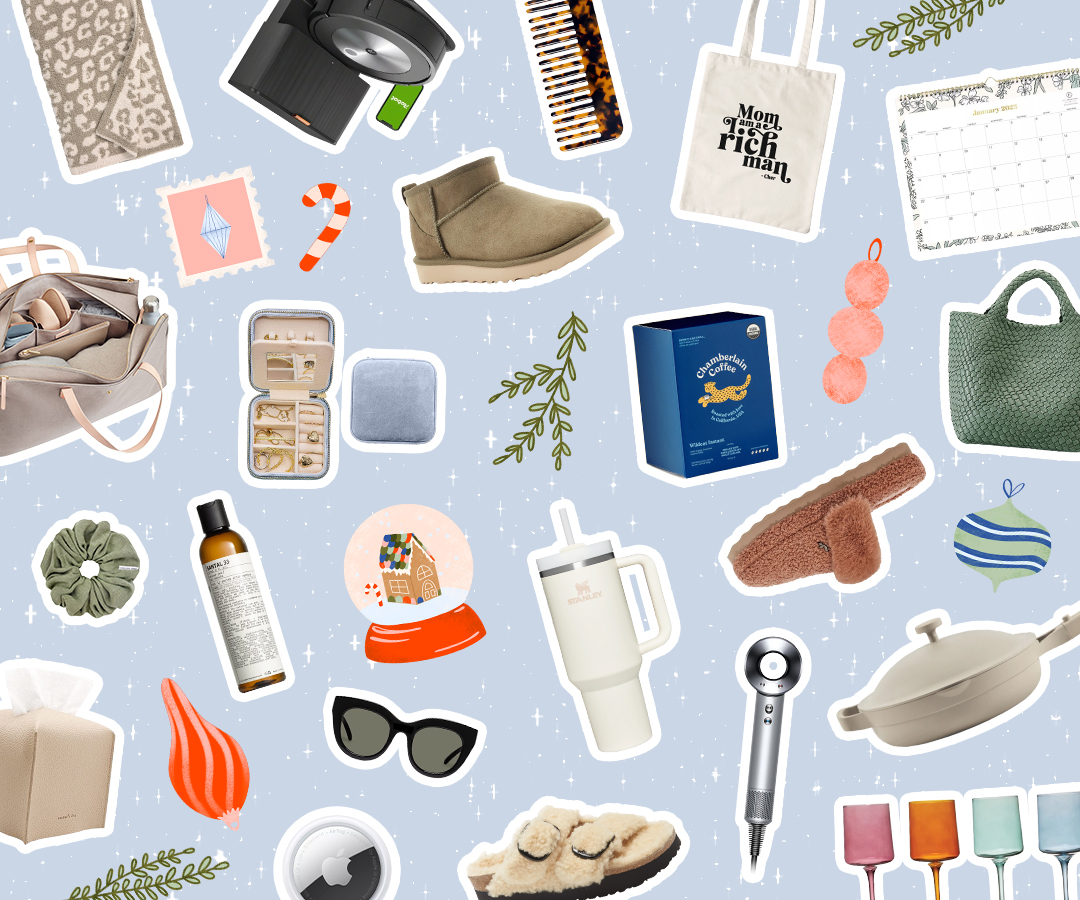 With hundreds of thoughtful gifts, you're sure to find something for everyone on your list!
He went on to explain that alongside evidence-based cosmeceuticals and dermatological staples (think: retinol, vitamin C, hyaluronic acid, glycolic acid, etc.), there is a growing demand for their plant-based sources and counterparts. "People want to see natural products that aren't full of synthetically derived ingredients but also want to know that these ingredients have been demonstrated and proven in a clinical setting."
There are also environmental factors that are driving skin trends due to their impact on the skin's needs—like the stress of the pandemic. Aesthetic nurse Samantha Pang of Skin Spirit explained, "[With] our skin undergoing stress related to internal and external factors—including the use of masks and pandemic-related stress—skin has experienced greater amounts of inflammation and oxidative damage. Therefore, ingredients that can slow down oxidative damage or enhance antioxidant ability have been important for maintaining skin homeostasis." This also explains the continued appreciation for the skin barrier, the biological function that helps fortify the skin against environmental aggressors, thereby reducing inflammatory breakouts like acne (while keeping moisture locked in).
With evidence of this green-leaning shift toward anti-inflammatory, barrier-strengthening active ingredients underway, we are getting a glimpse of what the year ahead will hold. On that note, we're calling it—here are eight active ingredients that will be trendy in 2022.
1. Green Tea
Green tea is often cited for its potent dose of free radical-fighting antioxidants, but even more specifically, Pang pointed out that it contains a well-studied catechin called epigallocatechin gallate, or EGCG. "Studies have shown that green tea can inhibit melanogenesis and tyrosinase activity, thereby reducing pigmentation, to help protect against UV radiation, reduce inflammation, and even reduce sebum protection." This makes the ingredient helpful for everything from anti-aging (via antioxidant protection) to anti-acne.
MARA
This is truly a multitasking, potent oil that can be used like a serum in your skin regimen. Along with fermented green tea, retinol promotes cell turnover and collagen production, and phytonutrient-rich brown algae nourishes the skin.
HERBIVORE
This green tea toner smells amazing, but that is the least of its skin-loving prowess. Soothing aloe, astringent witch hazel, and antioxidants from green and white teas lavish your complexion with love.
2. Water-Soluble CBD
You've definitely seen your fair share of CBD skincare products, many of them delivering the active in oil blends. But it turns out, water-soluble CBD is the more bioavailable form of the ingredient, meaning it is more readily accessed by your skin cells—and yes, there is peer-reviewed research to confirm this. "CBD is naturally extremely hydrophobic," said Dr. Few, noting that this makes it difficult for the ingredient to cross the skin's aqueous layer. "By making the CBD more water-soluble and incorporating it into a water-based formula, we can make the CBD cross this layer much faster and more efficiently than a pure CBD oil."
As Dr. Few pointed out, this also makes the active more homogeneously dosed within a formula as well as more easily combined with other ingredients.
AFORÉ
Dr. Few created an award-winning, water-soluble CBD mist that serves up a dose of green tea, vitamin C, and witch hazel for the skin.
Priya Apotheca
To give your skin an entire regimen of anti-inflammatory support, try this starter kit from the indie brand Priya Apoethca. In addition to water-soluble CBD, it features actives like hyaluronic acid, vitamin C, green tea, red algae, and more.
3. Plant-Based Ceramides
Ceramides are a class of ingredients that quite literally hold the cells of the skin barrier together; thus, they are incredible for strengthening the skin barrier and soothing the skin. As cosmetic chemist Krupa Koestline pointed out, this emphasis on barrier repair and fortification is especially important due to the popularity of harsh and corrosive actives. "Most products now use synthetic ceramides instead of plant-based ones, and there will be a shift to using plant-based versions derived from sweet potatoes, wheat, and rice in 2022."
Pacifica
Plant-based ceramides nourish the skin barrier, while oat kernel flour and calendula soothe and shea butter hydrates. As an added perk, niacinamide aids with skin barrier function while helping to promote an even skin tone.
BeautyStat
This gentle cleanser has been formulated with antimicrobial silver as well as coconut-based surfactants to cleanse the skin, while vegan ceramides and select extracts replenish the barrier.
4. Fermented Ingredients
Koestline dubbed fermented ingredients—packed with postbiotics that are rich in vitamins, antioxidants, polysaccharides, and more—as being popular picks in 2022. "What is new is the ingredients we're seeing fermented, like rose, millet, fig, barley, and soy," she said. Noting that these ingredients help with wound healing, reducing inflammation, and strengthening the skin barrier, Koestline pointed out that their recent uptick in use is also being driven by supply chain issues and efforts to reduce waste.
DASSAI
Made from fermented sake lees—a beauty secret first discovered in Japan—these face masks deliver major glow. The Sake Lee Essence imparts 16 different natural amino acids, which, along with hydrolyzed collagen, provide impressive moisture. Each mask, exclusive to Shiko Beauty, also sends vitamin C derivatives into the face, which provide brightening, antioxidant-rich support.
Strange Bird Beauty
Luxury clean beauty lovers will appreciate this powerful, nourishing facial oil featuring fermented camellia seed oil, fermented ginseng, and vitamin C-rich Amla oil. This antioxidant-rich, indie gem of an oil also features amethyst gemstone essence to inspire your intuition.
5. Prebiotics
Probiotics had a big year in 2021—and with good reason, considering the role they play in the skin's protective microbiome of bacteria—but prebiotics are another source of microbiome support. "Prebiotics are food for probiotics in the simplest sense," Koestline said. "They are the chemical compounds probiotics need to thrive and mainly consist of plant-based sugars, oils, and carbohydrates." Koestline added that oat, ginseng, and glucomannan (which is great for acne) are already existing prebiotics in skincare.
Sweet Chef
This little moisturizer comes packing a bevy of benefits—antioxidant-rich vitamin C, brightening turmeric, hydrating aloe water and hyaluronic acid, and even niacinamide. But its namesake ingredient, ginger, contains prebiotic as well as 40 different antioxidant properties.
Sage & Ylang
This glow-inducing pick can go on after your toner, gently supporting your skin's microbiome with pre, pro, and postbiotics, along with fermented and plant actives. While pricey, we think of it like a supplement for the skin.
6. Niacinamide
It was popular in 2021, and niacinamide, AKA nicotinamide, is likely to continue to be popular in 2022. It is a water-soluble form of vitamin B3 with antioxidant effects that also provide anti-inflammatory support. Pang noted, "This ingredient has been seen to improve wrinkles, texture, skin elasticity, and hyper-pigmentation, [plus] it plays well with other actives to brighten, fight acne, and anti-age the skin." It is also credited with being supportive of the skin barrier, helping to moderate oil production, and thereby refining the appearance of pores.
Paxos Skincare
This fabulous indie serum contains 5% tone-evening niacinamide as well as conditioning panthenol and plumping hyaluronic acid. Plus, additional sources of hydration, vitamin-rich avocado oil, and soothing aloe vera make this a nourishing experience that stands out in your regimen.
NATURIUM
This gel cream will make all skin types happy, delivering a dose of niacinamide that improves barrier function and helps refine the look of pores without breaking the bank.
7. Upcycled Ingredients
Sustainability is on everyone's minds, and with good reason. One of the surest ways to help make the beauty industry more friendly is to reduce waste and use upcycled ingredients, which reuses valuable ingredients that would otherwise create waste. Other ways to reduce the wastefulness of your regimen is to opt for reusable tools and especially packaging, and biodegradable and recyclable packaging is also preferred over single-use plastics. Purchasing vegan formulas that bypass the emissions-heavy factory farming of animals or simply sourcing from eco-conscious brands that harvest ingredients mindfully can also make a difference.
UpCircle Beauty
Caffeine helps brighten dark circles and hyaluronic acid hydrates and plumps, but the coolest part about this brand is its waste-reduction mission. This vegan, cruelty-free product uses repurposed coffee oil and upcycled maple extract to brighten, boost collagen, and strengthen the skin barrier.
Le Prunier
This patent-pending blend of sumptuous plum varietals is incredible for the skin, delivering antioxidants, omega fatty acids, and anti-aging vitamins A and E. The brand makes the product using 100% upcycled plum kernels from their organic farm, which is entirely solar-powered and a waste-water system.
8. Bioidentical Ingredients
"The trends around bioidentical ingredients will continue to grow as consumers become more educated on their benefits," said board-certified dermatologist Antony Nakhla. "They are synthesized to be biologically identical to the molecules already found in your skin. That means that we use ingredients that are not foreign to skin cells but those that the body recognizes and uses to communicate from one cell to the other." While they are lab synthesized, Dr. Nakhla pointed out that they essentially already speak the language of the human skin cells, thus working more efficiently. As you might expect, these high-tech ingredients can run up quite a bill, but for the skincare obsessed, they're worth it.
BIOEFFECT
This award-winning, luxury serum uses a form of barley-derived epidermal growth factor to create the gentle, non-corrosive anti-aging ingredient. In time, it helps promote cell turnover and target the creation of the structural proteins responsible for sagging and wrinkles (i.e. collagen and elastin).
Eighth Day
It's pricey, but Dr. Nakhla's beauty editor-beloved serum is worth the price. Containing Peptide-Rich Plasma, a topical containing 24 bioidentical peptides, growth factors, and amino acids, this serum heals the skin rapidly, promotes firmness, and absorbs quickly to deep dermal layers for efficacious results.