Skinny jeans: you know them, you love them, you wore them every day from 6th grade to 9th grade. No matter what denim trends come and go (mom jeans, boyfriend-fit, flared leg, etc.), you know that skinny pair in your closet will be there for you season after season, year after year. And since it is, after all, skinny-jeans-and-booties season, we put together 10 trends that pair perfectly with the slim silhouette to update your autumn uniform for 2020.
These outfits are so good (and the trends are so affordable), we won't blame you if your skinny jeans became second skin by December. Look cute, stay comfortable, and save your money for more important things (like PSLs and renting every Harry Potter movie from Amazon Video)–we've got you covered with the cutest, most affordable pieces to pair with your skinnies this season.
1. Sherpa Jacket
Is there anything cozier? We'd even go so far as to say that the sherpa jacket is the it-coat of the season. Luckily for our skinny jeans, the oversized nature of this fuzzy jacket pairs perfectly with a slim silhouette. Some of our favorite affordable brands are embracing the trend this season with versions that are high-quality and comfortable, but won't break the bank.
2. Peasant Blouse
Whether the temperatures are already dropping or you live in year-round sunny weather, we'll have the peasant blouse on repeat all season long. An ivory top with pretty ruffles, feminine details, and puffed sleeves is the perfect fall piece to wear on its own or under your go-to jacket. The ideal pairing for a peasant blouse? You guessed it: skinny jeans, which balance out the proportions of a voluminous top.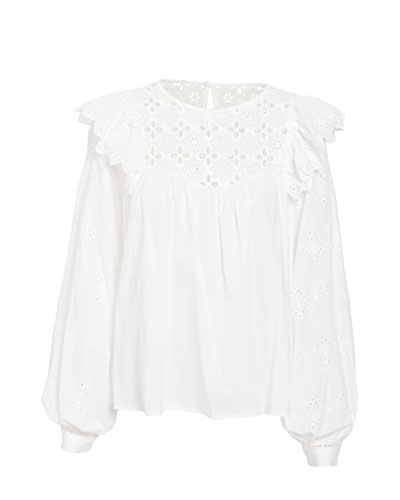 3. Jean Jacket
In case you missed the memo, head-to-toe denim is not just a killer Halloween couple's costume (an ode to 2001 Britney and Justin, of course); it's a fashion trend. The infamous Canadian tuxedo has made its way into the hearts of fashion girls like Chrissy Rutherford and celebrities like Bella Hadid. Keep your jacket slim fit and in the same wash as your skinny jeans for a sleek, sophisticated, and on-trend OOTD.
4. Puffed-Sleeved Sweaters
Maybe it's because we've been wearing loungewear for the past seven months in a row, but style stars are opting for luxe cashmere and warm knit with interesting details. Puffed-sleeves have become so popular, they just might be the #1 trend of fall 2020. And if you haven't guessed it yet, the perfect pairing for voluminous details is a slim silhouette (AKA skinny jeans) to balance out proportions. Wear with knee-high boots for extra trend points.
Banana Republic
3 colors available and 40% off!
5. Trench Coat
Ah, the trench coat: the piece that feels just as Parisian-chic as it is minimalist and cool. The lightweight (but warm) outerwear can be worn from the first day of fall until the last day of spring, making it the perfect investment piece. Luckily for our wallets, you don't have to spend $$$ to score a high-quality trench. Pair the timeless piece with your skinniest jeans, heeled booties, and a simple tee (or knit when the weather gets cold).
Old Navy
3 colors available and 30% off!
6. Plaid Blazer
Forget boring black basics! This season, we're channeling our inner Blair Waldorf (everybody has an inner Blair Waldorf) and switching out our plain work blazers for more stylish plaid versions. Wear with dark wash skinny jeans, loafers, and a thin turtleneck for a work outfit formula you'll want to wear to the office every day (or when you need to look extra professional over Zoom).
7. Buttoned-Up Cardigan
Is it just me, or is every blogger, celebrity, and fashion girl wearing cardigans as shirts by buttoning up the front? Maybe it's because we've outworn all of our pull-on sweaters, or maybe the style just looks so cute, but either way, I'm mad at myself that I didn't think of this earlier. The best part about pairing this trend with your slimmest pair of pants is that you can opt for an oversized sweater to pair with booties, or wear a tighter, cropped cardigan with heels for a date night look. Either will go with skinny fit!
8. Graphic Tee
Skinny jeans are not only the perfect basic pair of pants, but they serve as an ideal background for statement pieces. Graphic tees are one of our favorite go-to pieces to spice up any outfit while staying comfortable, and a pair of skinnies ensure all the attention is on the tee. Throw on a pair of booties and a blazer or jacket for a weather-appropriate OOTD.
J.Crew
10% off, plus an additional 40% off with code "FALLISHERE"
9. Bright Colors
That's right: bright colors aren't just for summer. As much as we love neutrals and plaid come fall, rich jewel tones are gorgeous for the season. Think emerald green, bright red, cerulean blue, and bright magenta. Look for them in accessories, sweaters, or floral blouses (because romantic florals are in for fall!).
10. Faux Fur
Starting September 1, all we want is to be warm and cozy. Lucky for us, faux fur is on-trend in a huge way. And lucky for our skinny jeans, nothing goes as well with an oversized fuzzy coat as a slim pair of jeans (but you already knew that, right?). Opt for a ripped pair to make any glam faux fur a little more casual, and wear with a cozy knit to be as warm as possible.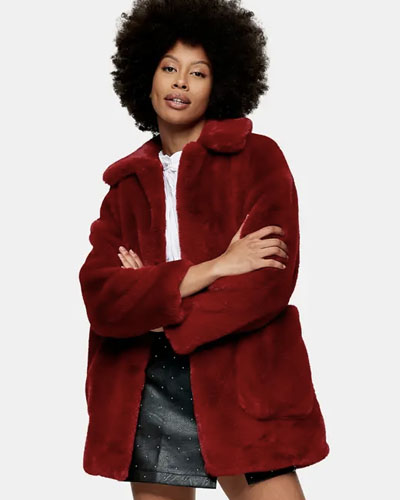 SHOP OUR FAVORITES:
How are you styling your skinny jeans for fall?