If you've been on #BeautyTok even a little bit, you've heard of skin cycling. The method, popularized by dermatologist Dr. Whitney Bowe, quickly went viral last fall for its less-is-more approach to skin care. Beauty girlies like myself were instantly hooked. It finally felt like the answer to all of our burning questions: How often is too often to exfoliate? And what's the best skin care layering concoction for hydrated, supple skin?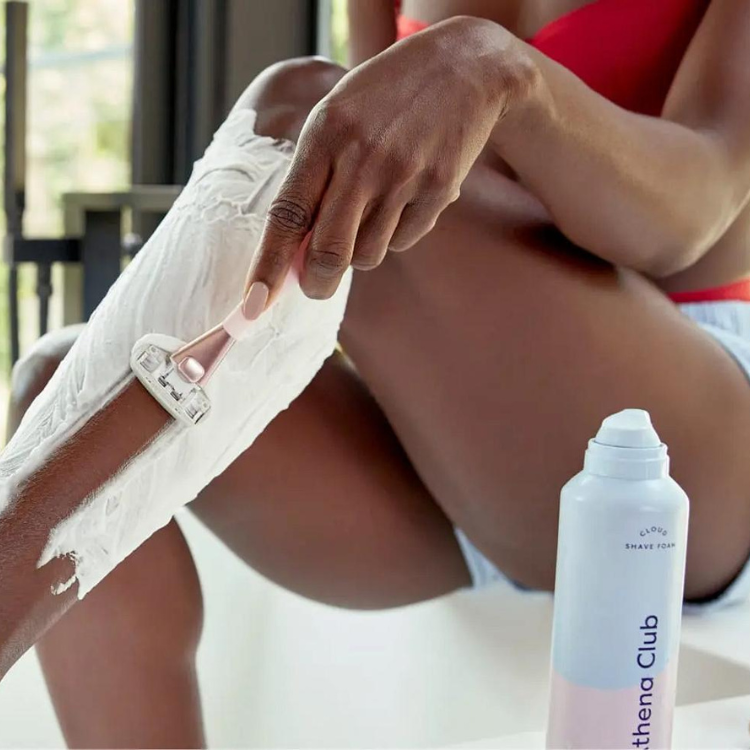 "This razor gave me the silkiest, smoothest shave I've ever had! I never get any cuts or scrapes, even on those hard-to-shave places."
As a beauty writer and someone who's always on the hunt for the best skin care tips to soothe my sensitive skin, I committed to skin cycling in September 2022. Here's my six-month update on my skin cycling journey. Spoiler alert: I finally see positive, consistent results—and I don't use fancy products.
About my skin
My naturally rosy, sensitive skin has experienced a lot of ups and downs. I was put on Accutane at 14 years old to combat my cystic acne. Six months later, my skin was clear, but dry as a rock. Then, my acne came back two years later and I was forced to get serious about my skincare routine and finding non-irritating products. Now in my mid-twenties, I finally feel like I've gotten the hang of things, but I still struggle with rosacea, stubborn pimples, and scars. My goal with skin cycling was to heal my rosacea and hopefully feel more comfortable going makeup-free. And to avoid irritation and stubborn pimples, of course. Here we go!
What's skin cycling?
ICYMI: Skin cycling consists of the following weekly routine: An exfoliation night, a retinoid night, and two recovery days packed with all the hydrating ingredients. Yes, it's that simple. When repeated in this order, this strategic method allows the skin barrier to properly rest instead of mindlessly stripping it by over-exfoliating.
To understand further, I also spoke with board-certified dermatologist, Dr. Joel L. Cohen. "Dermatologists have been using the concept of cycling skin care for many years," Cohen says. While the term "skin cycling" sounds new, it has historically been recommended for patients whose skin becomes dry with retinoid use or anyone who's acne-prone, experiences sun damage, enlarged pores, or hyperpigmentation (aka me). These conditions don't have to be at play to participate in skin cycling. Dr. Cohen confirms skin cycling is safe for all skin types. So if you're still wondering how to properly apply skin care products, this method is your answer. "People [who skin cycle] can expect improvements with rough, scaly sun-damaged or acne-prone skin, and also experience smoother, more luminous skin." Who doesn't like the sound of smooth, more luminous skin?
How I skin cycle
My skin cycling method is pretty straightforward. And to be transparent, my cycling schedule is pretty loose (read: I forget by day four what part of the cycle I'm at). If I'm really good about it, my skin rests for the recommended two days after using a retinoid. But when my schedule is super busy, my skin has four recovery days until I remember to exfoliate again.
I've learned it's important to stay on top of the exfoliation and retinoid nights because they help skin cells turnover while the rest days help hydrated, glowy skin set in. However, we have to be real with ourselves and take it day by day. If you add an extra recovery day here or there you won't be behind, I promise! In fact, that extra rest day might be better for sensitive skin gals like me. Here's the exact routine I follow:
Night 1: Exfoliation Night
There are two types of exfoliants: Physical and chemical. A physical exfoliant is a tool that physically exfoliates the skin, like a silicone brush (hi Foreo Luna), whereas a chemical exfoliant has, well, ingredients that tackle the exfoliating for you like peel pads or toner. It's recommended to use chemical exfoliants for this night, although I also use a silicone skin scrubber to slough off my makeup. Personally, I love the Aztec Secret Indian Healing Mask for exfoliation night. I mix it with apple cider vinegar, let sit for 10 minutes and wash it off. (Paula's Choice 2% BHA Exfoliant also works wonders). Then, I give my face a lymphatic drainage massage with my gua sha and face oil. This is my favorite night of skin cycling because the mask leaves my pores feeling like they can finally breathe again.
Amazon
If you want the benefits of a deep pore cleansing facial at home, look no further. This mask acts like a vacuum for your pores, drawing out all impurities in just 5-20 minutes.
Paula's Choice
This product is all over BeautyTok, and it's because of it's jaw-dropping ability to sweep away dead skin cells, unclog pores, and visibly smooth wrinkles—practically overnight.
Amazon
For extra detoxification and drainage of the face, add a gua sha to your routine. It can help promote lymphatic drainage, increase circulation, and more, which can lead to healthier and more radiant skin.
Night 2: Retinoid Night
As obsessed as I am with skincare, I have a Target budget most of the time so I have to be smart about the products that earn a worthy spot on my shelf. For night two, I wash my face with cleanser then go in with the CeraVe resurfacing retinol serum. CeraVe is a derm-approved and wallet-friendly pick, so I always feel good about using their goodies. Just two pumps is all it takes.
CeraVe
This retinol serum is under $20, and it does the lord's work. Licorice root, niacinamide, and essential ceramides work together to refine skin's texture and visibly reduce the appearance of post-acne marks over time.
Night 3 + 4: Rest Night (aka hydration)
For me, rest nights are all about hydration and lymphatic drainage. I wash my face with Byoma's jelly cleanser and lightly dab toner on my chin, forehead, and nose if I see some whiteheads forming. I know, I know—you're technically only supposed to use a chemical exfoliant on night one, but I can't help it. I only lightly dab it on if I see clogged pores bursting at the seams because I want to properly clean out the area before putting any more product on top. Then, I slather Naturium's squalene oil on my face and neck and get massaging. If I'm feeling lazy, I'll skip this step and pat on Byoma's hydrating serum and my La Roche Posay moisturizer. And that's my honest, complete skin cycling routine.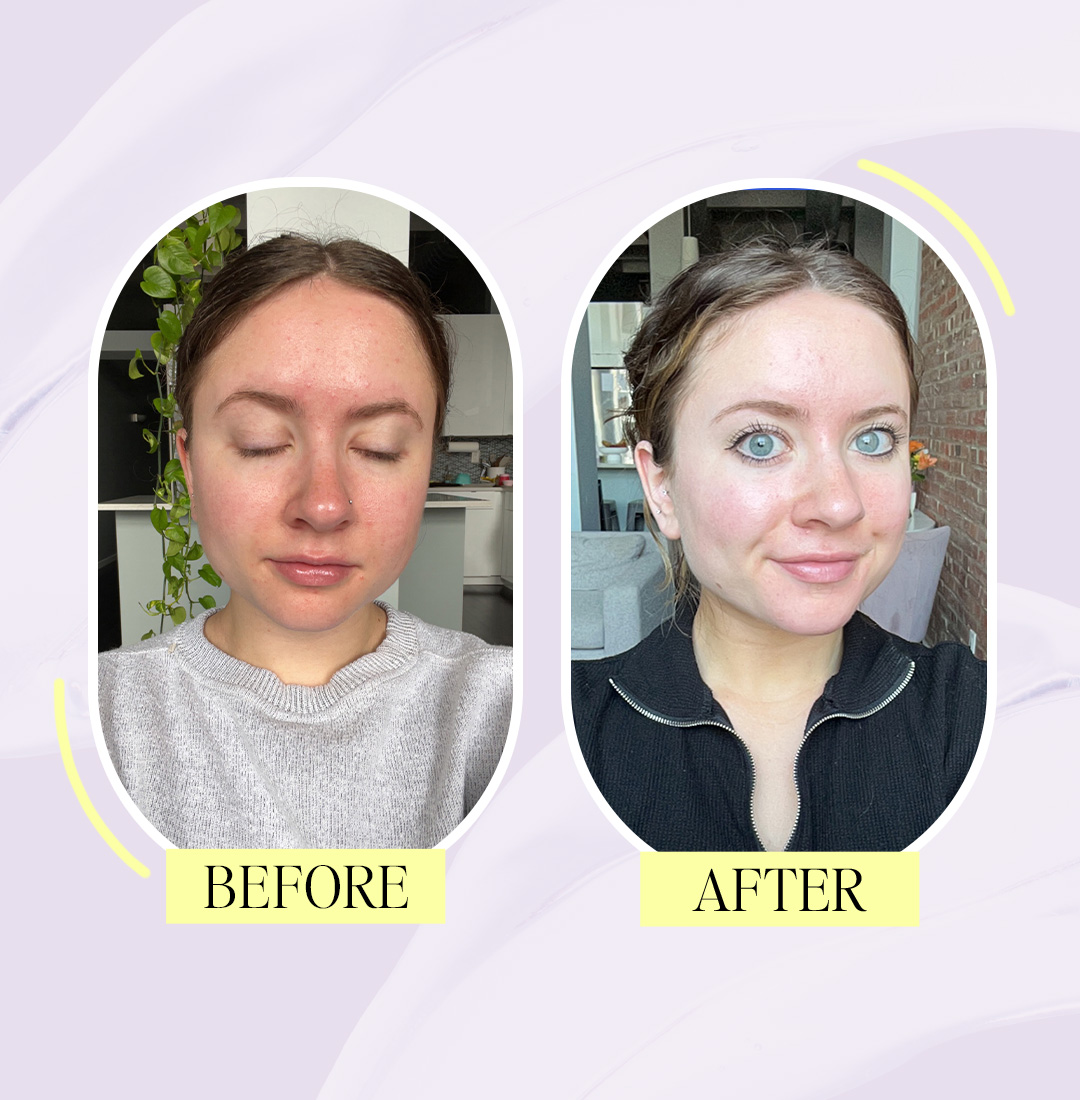 What I've learned
Before skin cycling, my routine felt like a guessing game of knowing exactly when to use chemical exfoliants and retinoids, and when to opt for hydrating ingredients. From my experience, this turnover period has helped bring clogged pores and impurities to the surface more quickly (aka purging). Even though I get the occasional pimple, they're so much easier to treat. I rarely get those weird little bumps that sort of look like pimples but aren't actually pimples under my skin (if you know, you know). Truthfully, I'm experiencing one of those skin-purging days as I tell you this. As you can tell from my before and after photos, my rosiness has also faded quite a bit. I've come to terms with the fact that my naturally rosy skin is probably a genetic thing that is never going away, but it has certainly calmed down since starting my skin cycling journey.
Whether you're wondering if skin cycling is right for you, or you're frustrated with your current skin cycling routine, my advice is this: Be patient, be nice to your skin (no picking breakouts!), and take it one day at a time. No one can guarantee that skin cycling is the answer to all of your skin struggles. The method does, however, help all skin types get comfortable with exfoliants and retinoids without irritating it. Best of all, this method can lead to that dewy complexion we all want at the end of the day. That said, it's 100% normal for your skin to go through periods of pimples following the exfoliation and retinoid night. And frankly, it's a good thing as it helps your skin purge impurities. Consistency is the key to long-term results and it takes experimenting with products to discover what treats your skin the best.