If there's one thing that's not debatable in the beauty world right now, it's that hydrated, dewy skin is in. Gone are the days of full-coverage, matte foundation getting caked on our faces under triangles of concealer under our eyes (and to that I say, good riddance). The replacement? Skin tints that even out the skin but leave you looking healthy, natural, and alive.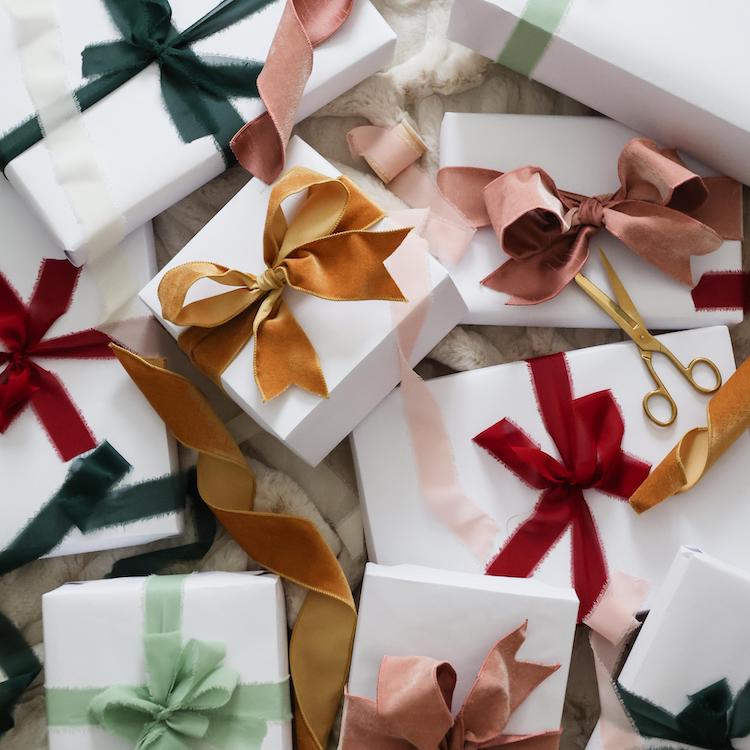 the perfect gifts for everyone—and we mean everyone—on your list
If there's one beauty product I'd deem myself an expert on, it's a good skin tint. I have perhaps the driest skin known to man, and my face hasn't produced a drop of oil since 2008. This means that no matter how badly I want them to, products with a lot of coverage just do not look good on me. Anything with a lot of coverage tends to emphasize my dryness, so I've turned to the world of skin tints as my base makeup of choice. And let me tell you, they've come a long way.
As everyone and their mother has hopped ship from the full-coverage days of yore and dove into the beauty that is a skin tint, just about every beauty brand you can name has released one—which means that it isn't easy to decide which one is for you. Enter: my ultimate skin tint test of 2023.
I decided to try, wear, and analyze seven of the most popular skin tints to break down what makes each one unique and what each is best for. The verdict is in: You're about to find your new favorite complexion product.
Tower 28 SunnyDays Tinted Sunscreen Foundation is a fragrance-free mineral sunscreen with light-medium buildable coverage and a natural finish that's safe for sensitive skin. It's also clean and reef-safe and is $32.
Sunscreens tend to be irritating to sensitive skin, so the claims of being safe for sensitive skin were a huge selling point for me. I loved the idea of using this for those summer days when it's absolutely blazing hot but you just want a little something on your face, and this is exactly that for me. The coverage is light and dewy but somehow makes you look like you're literally not wearing anything on your skin. Immediately, I thought this would be a great product to throw on in replacement of my regular sunscreen when I'm heading to the beach or pool and want to look slightly alive.
I applied this with my fingers right after my skincare, and it's perfect for no-makeup days and days I have meetings and want to look a little alive on Zoom but don't want to fuss. I know that this will be my perfect product for summer and something I reach for constantly. As far as tinted sunscreens go, this is absolutely the best.
Perfect for: Days you want something completely fuss-free to even out and protect your skin
Ilia's Super Serum Skin Tint is a clean, tinted mineral SPF 40 serum that has light coverage and a natural finish. This is definitely a cult-favorite product—I've seen it all over Instagram and TikTok for years, so I was super excited to give it a go for the first time.
I learned very quickly how important it is to really shake this product before you use it. I also cleared out the dropper and sucked up some of the freshly shaken serum to avoid it being oily or separated upon application. It definitely has a serum-like, extremely liquid-y texture that glides onto the skin just like skincare does. It's the most expensive of the bunch at $48, which for a skin tint is hefty and is the reason I haven't picked it up before.
I am absolutely obsessed with this. When I apply it, it gives me the look of healthy, even skin and is dewy without looking too wet. One of the biggest problems I have is that products look dewy and hydrating at first, but throughout the day, they end up looking super dry on my skin, but this one didn't have that problem whatsoever. When I took it off at the end of the day, I thought my skin still looked how it did when I first applied it (even after 12-ish hours).
I was also surprised by the amount of coverage this had. I actually found that it gave me light-medium coverage in a way that I think is flattering both for day-to-day wear and if I were going out or to the office and wanted a bit more makeup on. I think of all of the tints I tried, this one feels the most versatile and was the one I reached for when I had an event where I knew my skin needed to look good for a while. There's a reason this product gets a ton of hype—it really is incredible.
Perfect for: Anyone looking for a skin tint that will keep skin looking dewy and even all day
When I saw Rare Beauty was coming out with a tinted moisturizer, I literally texted my friends about it within seconds. I haven't tried a product from them that I haven't liked yet, and Selena just would not do us wrong with a product launch. To no one's surprise, this was absolutely amazing. It has light coverage with a radiant finish and SPF 20 and runs at $29, making it the cheapest of the Sephora bunch.
Off the bat, I found this to be extremely similar to Mac's Face and Body foundation. It's very sheer upon application but could be built up and still look absolutely flawless. It's the kind of tried-and-true tinted moisturizer that you know you can reach for and count on to make you look like you're alive and got eight hours of sleep. I used it without a primer or anything underneath, and it was seriously blurring and made my pores all but disappear.
While this tinted moisturizer is definitely radiant, since my skin is so dry, I found it to have a pretty natural, skin-like finish on me. Throughout the day, it definitely turned a bit more matte on me, but on someone with normal to oily skin, I'd imagine it would stay looking radiant all day. I definitely see how this became a cult-favorite product.
Perfect for: Someone who wants a reliable tinted moisturizer to wear on a daily basis
I ordered this product the day it launched and have been loving it ever since. It has light to medium coverage, gives a natural finish, and boasts blurring and smoothing qualities that last all day. The hype for this has been serious since it was launched and was sold out for literally months after its launch.
Of every skin tint I've ever used, this is by far the most blurring. It literally makes my pores and imperfections disappear and really does last all day long. It makes it look like there's a filter on my skin and has a bit more coverage that makes me reach for it on days that I have a zit I want to cover.
Since my skin is so dry and this has a natural finish, it definitely runs more on the matte side for me on its own. But I find that when I use something luminous underneath, like the Saie Glowy Super Gel (like I did here), it gives me the best of both worlds and blurs my skin without making it look dry at the end of the day. I've worn this for full, 90-degree summer days, and it's survived sweat, rain, and the elements and still looked good at the end of the day. This is something I'll always have in my arsenal, especially come summer.
Perfect for: Anyone who wants a blurring skin tint that will cover blemishes seamlessly
If I'm being honest, many moons ago, I saw this on my mom's vanity, and after stealing a blob, I adamantly decided it wasn't for me. But after putting it to the test with new maturity and a fresh set of eyes, I don't know what I was thinking because this product is absolutely amazing.
Contrary to the other tints, Kosas' Tinted Face Oil has medium coverage (as opposed to light) and a satin finish. You can tell the difference in coverage immediately when you use it, and as a light coverage kind of gal, this is about the highest coverage I can handle on my skin. But as far as medium coverage products go, this might be my favorite one I've ever tried.
Since this is an oil, it's a super unique, liquid-y texture and needs to be shaken up really well before using it. While the fluidity of it makes you think it might be super sheer, it provides medium coverage with a pretty minimal amount of product. I found it to be quite dewy upon application, which got less intense throughout the day, but not in a way that made me feel dry.
When I went out for the night last week, I reached for this over my go-to foundation, and a few hours into the night, I went to the bathroom and noticed how good my skin looked. At $42, it definitely isn't cheap, but since it can definitely be substituted for a regular foundation, I feel like it isn't a deal breaker. I can tell that this is going to be a holy grail product for me and would recommend it to absolutely anyone.
Perfect for: If you want your skin tint to have good coverage
After admiring The Lip Bar from afar for ages now, I was literally ecstatic to see it at my Target and be able to see all of the products in real life. This product is a more recent launch, and they had all eight shades stocked at my Target for $17.
Even though this is between a drugstore and high-end product, it performed right in line with the ones that I tried that were more than double the price. It has sheer, buildable coverage and is infused with hyaluronic acid to keep skin looking plump and juicy all day. It claims to hydrate all day with just a tint of pigment to make your skin look like skin, just perfected.
The Lip Bar is founded and owned by women of color and is known for having a shade range that's designed for women of color. In the store, the lightest shade looked like it might be too dark for me but ended up working perfectly with my skin tone and blended in totally seamlessly.
I was completely shocked by the finish this gave my skin and how hydrated it made me look. It feels like a true tinted moisturizer, and I immediately compared it to the Laura Mercier Tinted Moisturizer I've been using for years, but that's over double the price. It requires absolutely no effort to look good, and while it doesn't blur the skin like some of the other tints do, the moisturizing effects were enough to keep me coming back to it.
Perfect for: Anyone who wants a true tinted moisturizer
I went on a wild goose chase to find this in the winter when it was literally the only product I was seeing on my TikTok, and it was sold out everywhere. I don't think I've ever seen a product I was more attracted to after seeing how good it looked on people.
I think this product is absolutely beautiful. It is a super hydrating tint that perfectly evens out your skin while remaining hydrating, but for whatever reason, it, unfortunately, broke me out quite a bit. My skin tends to not like L'Oreal products, so it might just be a me thing, but if that wasn't the case, I'd be using this constantly.
The main seller of this to me was how bright it made my skin look all day. While some just even me out and make me look hydrated, this made me look visibly brighter and more alive. It wasn't overly dewy but didn't dry out throughout the day, so I could see this working on any skin type.
Perfect for: Anyone who's looking for a tint that will make them look brighter and healthier