You'd be hard-pressed to find a workout that boasts low-impact exercises that benefit both physical and mental health (hello, mind-body connection) like Pilates does. Before you brush the fitness modality aside because reformer Pilates classes are out of your budget or you think you don't have what it takes to become a Pilates girl from home, TikTokers stan the new version of the workout (the 6.6 billion views say it all) that you don't want to sleep on. Enter: Wall Pilates, FitTok's latest obsession.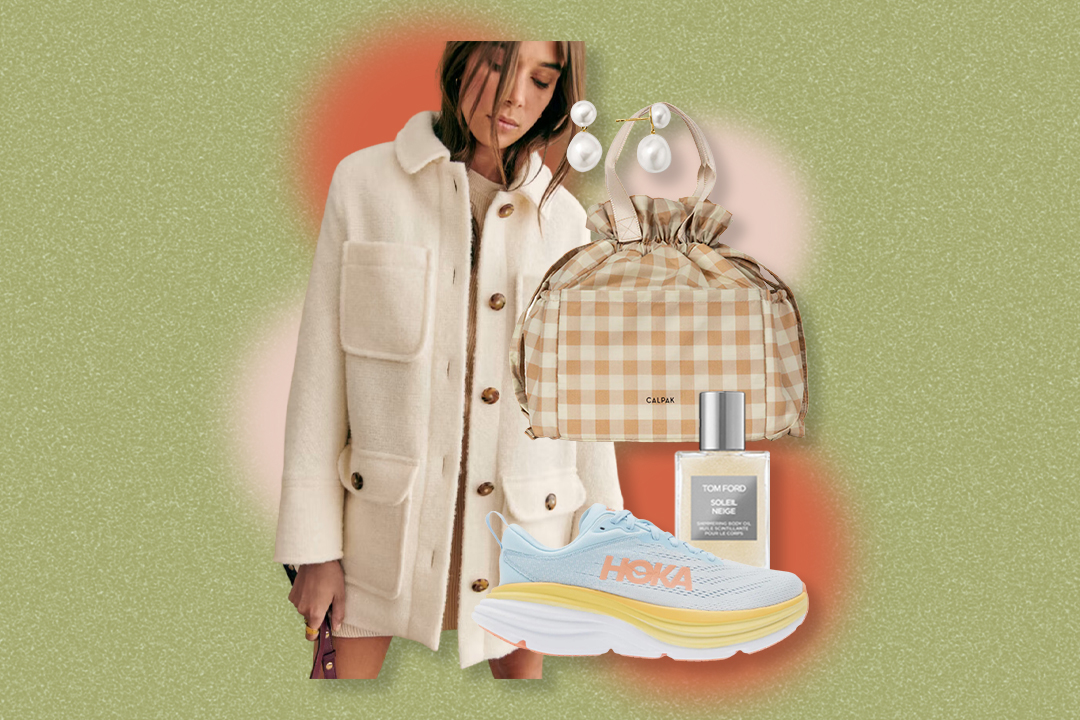 Forget any large, expensive equipment—all you need is that bare wall you've been meaning to dress up in order to work up a sweat. The best part? It won't make a dent in your wallet. Whether you use it as added support or a way to level up your mat practice, consider the four walls in your home office or living room the only accessory you need to get your Pilates on. Let's dive into what Wall Pilates is and six no-equipment-necessary workouts that'll leave you feeling better and stronger.
What exactly is Wall Pilates?
If you've gotten a taste of any form of Pilates, you've likely powered through glute bridges and the classic Pilates move that is the hundred. Well, replace the ball, band, or reformer machine with a wall as your prop to perform the exercises, and voila, you're a Wall Pilates girlie. Translation: Wall Pilates is a variation of mat Pilates that entails pressing one or more body parts (mainly your feet) against a wall while you carry out movements like the hundred, wall squats, or plank. The wall is there to not only provide balance and stability, but also add resistance. And while your glutes and core will feel most out of the burn in Wall Pilates routines, with standing exercises that target your arms and chest (think: wall push-ups and planks), your upper body won't get left out of the sweat sessions.
How to try it for yourself
Ready to give Wall Pilates a go? Start with these six workouts courtesy of YouTube to check off a week of movement.
If you're looking to a get taste of what Wall Pilates is…
Just starting out on your Pilates journey? Look no further than this 10-minute, beginner-friendly workout with certified Pilates and Barre instructor Callie Jardine. Expect a glute-bridge burner, leg lifts, crunches, and some stretches to round it out.
If you want to focus on core, glutes, and quads…
Grab a mat and your favorite wall for a 20-minute routine from Pilates with Donna Finnie. You'll ease into the flow with a round of slow plank walk-outs and work your way to the core of the workout with wall sits, bird dogs, and more. By the end of the sweat sesh, your form will be *chef's kiss*, thanks to Finnie's detailed instruction throughout.
If you're all about abs…
In the mood for a total ab scorcher? Follow Rachel's Fit Pilates' 15-minute workout for a variation of the hundred, bicycles, side planks, and much more core work on and off the wall. Talk about a quickie, but goodie.
If upper body is more your thing…
Meet Pilates with Donna Finnie once again on the mat (and wall) to enhance mobility and increase strength. You'll start with breathwork, followed by arm exercises like arm rotations, wall push-ups, and kneeling plank push-ups. This workout (just shy of 24 minutes) will highlight any imbalances you may have (i.e. having one arm or shoulder that feels stronger) and hone your awareness on how your body moves and feels.
If you're looking for a full-body workout…
For a full-body training, join Trifecta Pilates in standing exercises (think: single-arm wall push-ups, leg lifts, and split squats) and floor work that includes a glute bridge variation that gives major Miley Cyrus vibes (see: her "Flowers" workout) and an ab series. By the end of the 40-minute class, you'll feel it everywhere—I mean everywhere.
If you're ready to take it up a notch…
Wild Waves Yoga guides you through a 20-minute intermediate to advanced Wall Pilates yoga fusion workout in this video. After a proper warm-up, you'll work the booty, legs, and core with exercises such as a bridge series, heel lifts, split squats, downward dog, finished off by a dolphin plank hold (spoiler: it's no joke). But don't worry—the last few minutes reward you with satisfying upper and lower body stretches. Ahh…