By now, we're all well aware that social media is far from reality, but when we're in the depths of our feeds, it can be hard to separate fact from fiction. This is true of one of the biggest trends currently crowding our feeds: "What I Eat in a Day."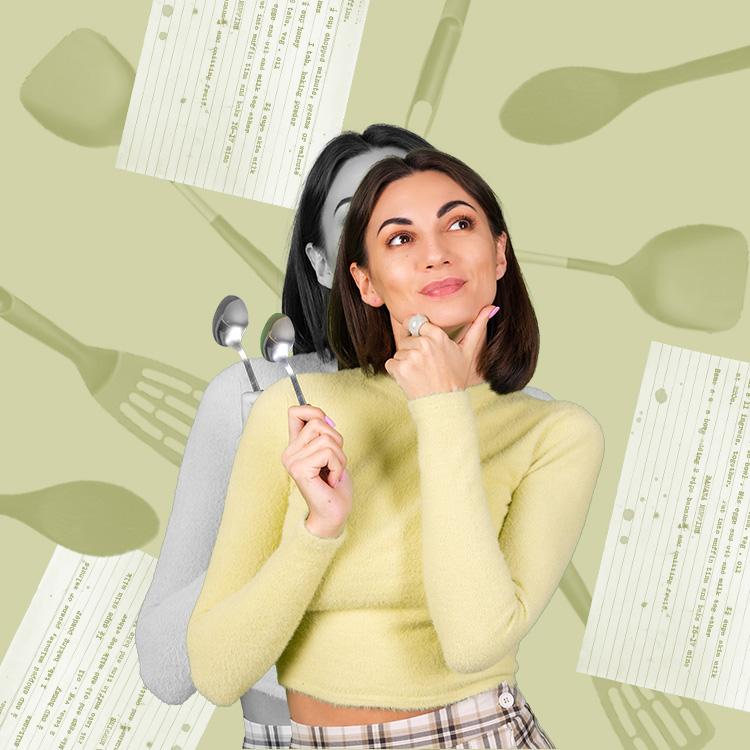 high in protein, good for gut health, and anti-inflammatory? yes, please!
When I first discovered the trend, I felt a palpable confusion. Getting a play-by-play of creators' carefully-crafted meals left me questioning what a healthy diet looked like for me. As someone in recovery from a years-long eating disorder, I was susceptible to this one-size-fits-all approach to diets. Below, I'm breaking down the trend—what it is, why it can be damaging, and how I learned to make peace with the proliferation of diet diaries. And if you're also feeling uneasy about this trend, know that you can always redefine your relationship with it.
What is the "What I Eat in a Day" Trend?
Watching a short video of someone detailing the meals and snacks they ate in the last 24 hours might sound dry and—truthfully—kind of boring. However, the personal content of "What I Eat in a Day" videos is a huge engagement driver for many online creators. Looking through the hashtag #WIEIAD, you'll see short-form videos recapping everything that person ate in a day, from their morning cup of coffee to their after-dinner dessert (if there is one). Today, the tag #WhatIEatInADay has amassed over 12.8 billion views on TikTok.
As with ample online video content, this trend started on YouTube. It can be traced back to the early 2010s, when users began tracking their meals (and often, calories). Fast forward a couple of years, and the videos started to shape a significant part of the wellness conversation, with vegan and fitness communities leading the charge. Daily diet diaries began surfacing on YouTube in abundance, and this content spread from fitness to more general lifestyle realms. With the rise of TikTok and the inception of reels, these quick videos set the stage for an even easier way to roll out "What I Eat in a Day" content. Because of social media, we can now track and recreate others' diets for ourselves.
Why the social media trend could be damaging:
Most of the foods and meal plans showcased in "What I Eat in a Day" videos aren't inherently harmful, and many tout the benefits of nutrient-dense and satisfying picks. However, this content can drive obsession and keep us from choosing the foods we truly want and need.
"Many of these videos are promoting diet culture and disordered eating behaviors. When watching these videos, people may feel self-conscious and anxious about what they eat in a day, compared to these curated videos," Chelsea Kronengold, Communications Manager for the National Eating Disorders Associated, shared with Healthline. For example, viewers may believe eating larger portions than what's shown in a video is wrong and, therefore, plan to cut back.
These videos are often created with good intentions. Some videos even highlight the importance of flexible eating styles or how to eat more sustainably. But just because your favorite influencer eats a certain way—even if it's a healthy way—that doesn't mean you should too. While I appreciate the nod to inclusivity with disclaimers like "intuitive and non-restrictive," it can still lead to people thinking there's a right and a wrong way to eat. Remember: Our days and our diets differ, and one person's nutritional needs don't look exactly like another's. What intuitive eating looks like for one person will look, by definition, entirely different for another.
Registered nutritionist Rhiannon Lambert shared with Business Insider that what someone else eats—healthy, sustainable, realistic, or not—might be completely opposite of what another person needs. And just because the FDA uses the 2,000 calories per day mark as standard nutrition advice, your needs could fall above or below that threshold. So when calorie counts get involved, the experience of watching "What I Eat in a Day" videos can become all the more confusing—and potentially damaging—for viewers.
How #WIEIAD can be used for good:
Get curious about your intentions for watching.
Even as I critique the trend, "What I Eat in a Day" content has helped me discover fun food brands, try out new recipes, and learn the aesthetic pleasure of matching Tupperware. By watching the videos for inspiration beyond nutrition and meal planning, I've come to enjoy them. And that's what it comes down to—the intention you bring when you tap on a post or press play on a video.
While we can still watch and feel inspired, we must stay grounded in our truth, knowing that whatever we eat is perfectly OK—so long as it supports our unique and personal needs. As with all social media, I ask you to get curious and be critical about the content you're consuming. Some questions that might be helpful to ask yourself:
Does this video make me feel like I have to change how I eat?

Do I feel bad about myself or my eating habits after watching?

Do I feel inspired and excited to try new foods and make new recipes?

Does the creator make me feel seen because their budget or body type is similar to mine?
Watch to get inspired, not down on yourself.
If you get a serotonin boost every time you watch a video with colorful fruits, veggies, snacks, and sweets, by all means—revel in it. And if you're tired of your same old breakfast routine or are guilty of making the same thing for lunch every day, there's no harm in letting a recipe or video be the catalyst for your own creations. Seeing how other people eat can be beneficial. If you see a meal that looks tasty and you want to try it in your own way, go for it! Just be sure to recognize that not every meal of the day needs to be exactly like theirs. If you start to feel bad about the way you eat, it may be time to stop watching.
Online food content can allow you to learn more about yourself and develop a kinder relationship with your eating habits. As someone with a big appetite for novelty, I find immeasurable joy in discovering the best avocado-slicing hacks and diving deep into other cultures' staple recipes. Just as food is fuel, it's also a pleasure and an opportunity to connect with the people and world around you.
So, search for inspiration, then put down your phone and eat, cook, and create in a way that feels truest to you. And if it's really pretty and you're proud of it, feel free to snap a pic or take a video. Just remember that the aforementioned rules apply: Your plate doesn't have to look like anyone else's.