We love our summer trips and fall vacations, but let's be honest: The winter months are when you truly need an escape. Now is the perfect time for a pre-holiday weekend getaway, and once January and February hit, we'll be itching for a little change in scenery. The best part about winter travel? Costs are typically lower, so you can indulge a bit more than you normally would during the peak seasons. Whether you want to embrace the winter weather and après ski or you'd rather escape to someplace warm, we've got you covered with the best winter getaways in the U.S.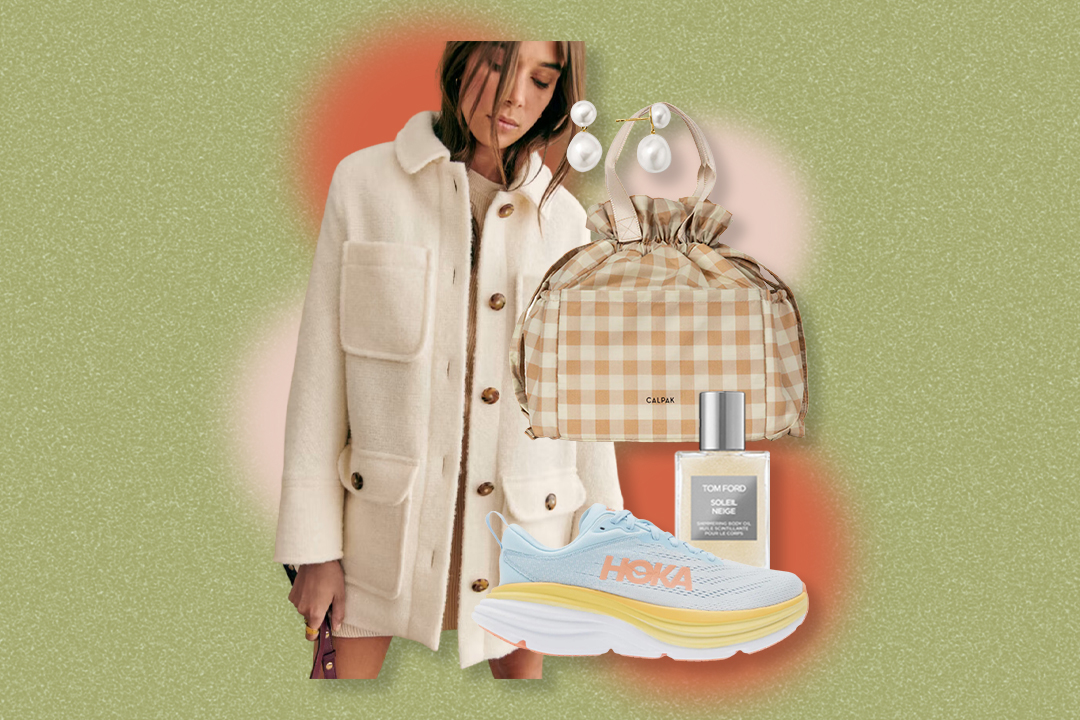 Take it from someone who's pretty much always planning her next vacation: The coming months are going to be *so* much better if you have one of these winter getaways to look forward to. Keep scrolling for our top picks for winter destinations in the U.S., including warm-weather hot spots, snow bunny favorites, and iconic cities that go all out for the holidays.
Best City Vacations
You'll want to pack your warmer clothes and comfortable shoes for these winter getaways, but you'll find no shortage of restaurants, bars, and shops to pop into while you're out and about exploring. Plus, few things beat the hustle and bustle of these cities during the holiday season.
Chicago, Illinois
We wouldn't be true Chicagoans if we didn't include The Everygirl's hometown on our list. Say what you want about Chicago winters, but locals know the city really shows out during the holiday season. Pack your puffer and fill your trip with festive activities like ice skating in Millenium Park and winter festivals like the Christkindlmarket (grab a mug of hot cider or mulled wine to keep yourself warm!). Chicago also has an excellent food scene—yes, there's more to it than just deep-dish pizza and hot dogs—and what better time of year to cozy up inside for an indulgent meal than during the chilly winter months?
In addition to food, drinks, and holiday festivities, the city has great museums and shows—with some of the best comedy in the country at Zanies and Second City. Don't miss the Adler Planetarium, the Field Museum, or the Shedd Aquarium, and if you're a sports fan, head to the United Center for a game. With so many things to fill your time in Chicago, you'll *almost* forget how cold you are.
Where to stay: Thompson Hotel (from $115), Viceroy Chicago (from $179)
New York, New York
There's never a bad time to visit New York City, but the winter months are truly magical. Braving the (even denser than usual) holiday crowds is worth it once you see the city all dressed up in holiday lights, window displays, and festive decorations. Winter is the one time of year I'd actually recommend doing the classic NYC tourist activities: ice skating in Central Park, Bryant Park & Union Square holiday markets, 5th Avenue window displays, The Rockettes at Radio City, and (of course) the Rockefeller Center Christmas tree. If you have time, head up to Lincoln Center and see the NYC Ballet's Nutcracker performance, or grab a hot chocolate and take a stroll through the West Village—the holiday energy cannot be replicated anywhere else.
Don't think you'll make it to New York before the holidays? January and February bring lower hotel costs, fewer crowds, and a beautiful (potentially snow-covered) backdrop for a city vacation.
Where to stay: Walker Hotel Greenwich Village (from $166 a night), Arlo Soho (from $179)
Best Winter Destinations for Small-Town Charm
Does the winter make you want to pack up and head to a cottage, à la Cameron Diaz in The Holiday? We can't promise you'll find your Jude Law, but we can promise all the small-town charm you'd hope for and more with these picturesque winter getaways.
Leavenworth, Washington
You'll feel like you stepped onto the set of a Hallmark movie when you arrive in this quaint community in central Washington. Nestled in the Cascade Mountains, the town is modeled after a traditional Bavarian village, which means it's basically the closest you can get to the famed German Christmas markets without leaving the country. Leavenworth truly goes all out for the holidays with dazzling Christmas decorations and lights decking out the entire downtown area from Thanksgiving through February.
With an average of nearly 100 inches of snowfall a year, this picturesque destination is also an ideal playground for all sorts of winter sports, including snowmobiling, snowshoeing, skiing, and good old-fashioned sledding. If you prefer more indoor activities, stroll through the local boutiques to shop for artisanal gifts and handmade crafts, then stop by the Nutcracker Museum to check out the collection of more than 9,000 nutcrackers crafted in over 50 countries. After a day full of activities, be sure to grab a beer and some authentic German schnitzel to warm you back up.
Where to stay: Bavarian Lodge (from $174 a night), Posthotel (from $625)
New Paltz, New York
Particularly if you live in New York City, New Paltz is an easy weekend escape that will give you the dose of fresh air and disconnection you're craving. And for a small town, it's got a lot to offer. Downtown Main Street has a large selection of shops, cafés, and restaurants, and there are a ton of hiking trails in the area—so pack your warm clothes. If you're feeling adventurous, start your day with the Lemon Squeeze hike, and make sure to follow it with a meal at the Main Street Bistro (just be prepared to wait a bit for a table).
History buffs can take a tour of Huguenot Street for some colonial American history, and film fanatics will want to check out Mohonk Mountain House, a resort and national historical landmark, which is rumored to be the inspiration for The Shining and can be seen more recently in Showtime's Billions. You could spend your whole trip at this all-inclusive hotel, which has a spa, a heated pool, delicious restaurants, and no shortage of indoor and outdoor activities (including winter weather activities such as ice skating, cross-country skiing, snow tubing, and snowshoeing).
Where to stay: Minnewaska Lodge (from $216 a night), Mohonk Mountain House (from $653)
Charleston, South Carolina
Charleston embodies Southern charm at its finest, and winter is a great time to take it all in. If you visit during the holidays, you can take advantage of the many festivals and markets the city has to offer, including the annual Holiday Festival of Lights, which runs from November 10th through December 31st and features over three miles of sparkling lights, train rides, walking trails, refreshments, and more.
Temperatures can range from low 40s to high 60s during Charleston winters, so make sure you pack for a variety of weather conditions. You'll want to be comfortable as you walk through the Historic District or shop along King Street. Charleston also has a lot of haunted history, so if you're already bummed Halloween is over, you'll be happy to know the city is famous for its ghost tours. For food, don't skip Leon's Oyster Shop, Husk, or Little Jack's Tavern.
Where to stay: French Quarter Inn (from $296 a night), Zero George (from $479)
Best Ski Vacations
Is it the mountains or the après ski calling? Whichever you're after, these snow-covered towns have something to offer for every type of cold-weather vacationer.
Park City, Utah
If you're traveling in a group or with a partner who has different travel preferences, Park City is a perfect destination for compromise. Some can spend their days going up and down the slopes, while others can treat themselves to a little spa luxury and pampering. Afterward, meet up for brewery hopping, exploring, and delicious meals downtown. The public transportation here is great, too, with free trolleys, buses, and shuttles at many of the hotels.
If you plan to ski, you can choose between Deer Valley Resort or Park City Mountain—the first option is for skiing only (except, of course, in the summer when it offers mountain biking trails). Each of the mountains has hundreds of trails, so there's something for every level of athlete. You might even run into some Olympic skiers on the slopes (or you can head over to the Olympic Park to check out where the athletes themselves train).
Downtown, you'll find shops, bars, restaurants, and the well-known High West Distillery, where you can book a tour and tasting and have brunch, lunch, or dinner. And in terms of spas, Stein Eriksen is a tranquil, indulgent experience, which you can book whether or not you're a guest.
Where to stay: Hotel Park City, Autograph Collection (from $237 a night), Stein Eriksen Lodge Deer Valley (from $462) 
Stowe, Vermont
Stowe is worthy of a spot on your vacation bucket list, even if you don't ski. The town is packed with charm (and things to do), and it's an excellent destination for the winter months. Spend your trip skiing (or hanging at the lodge), exploring downtown Stowe, and indulging in some delicious food and craft beer. Vermont has an excellent brewery scene, and Stowe is no exception. The entire town has a laid-back vibe, so if you're looking for something glitzy, this isn't for you.
You don't necessarily need a car here, as Stowe has a very reliable shuttle service that will take you up to the mountain and down to the downtown area. Spruce Peak and Mt. Mansfield are your options for skiing, and there is a gondola that goes between the two. Restaurants and bars are situated at the bottom of each (as well as a few on top) with views that cannot be beaten.
Where to stay: Topnotch Resort (from $159 a night), Green Mountain Inn (from $209)
Best Warm-Weather Getaways
Not one for the colder temps? Plan your escape to one of these sunny destinations.
San Diego, California
Even in the dead of winter, daytime temperatures don't drop far below 60 degrees in San Diego—which makes it the perfect place to defrost if you live in a cooler climate. The water might be on the colder side, but you'll still have some solid weather for surfing, kayaking, and other activities you might typically save for the summer months. San Diego also boasts a ton of great museums and art galleries for culture-buffs, as well as your pick of bars and restaurants.
If you're looking for a laidback, beachy vibe, you can't go wrong with Pacific Beach (where you'll find some of the best breakfast burritos you've ever tasted at Kono's Cafe).
Where to stay: Pacific Terrace Hotel (from $263 a night), Tower 23 Hotel (from $339)
Miami, Florida
I've been to Miami with family, with a partner, for bachelorette parties, and solo, and every time I've had a blast. For a true lay-by-the-pool or beach-lounging experience, Miami is it. Those hours in the sun feel even better when you know it's frigid and snowy back home. The city of Miami has developed a lot over the past few years, and it has a lot to offer outside of beaches and pools, too.
While most flock to South Beach, we also love the laid-back vibe of Coconut Grove, where you can find a ton of great local bars, restaurants, shops, and cafés to explore. If you want more of a bustling city scene, Brickell is a solid choice. It has better hotel deals than South Beach and is still within close enough proximity to the ocean if you have a car.
Where to stay: Novotel Miami Brickell (from $239 a night), The Betsy Hotel South Beach (from $321)
Palm Springs, California
Palm Springs is another destination that will make you wonder why you chose to live somewhere where the temps drop below freezing. This winter getaway is an ideal spot to relax, unwind, and set the tone for your year. Spend your days hiking and taking in the beautiful scenery, or stroll through the downtown area where you'll find great shops and restaurants. What really lands Palm Springs on this list, though, is its standout resorts.
I personally have my eye on a wellness retreat at the celebrity-favorite We Care Spa, but the city has plenty of resorts for every type of vacationer—including some great options for families with children.
Where to stay: Omni Rancho Las Palmas Resort & Spa (from $220 a night), Korakia Pensione (from $259)