So, you're engaged (or about to be engaged, or are on a wedding researching tangent after binging Say Yes to the Dress) — whichever way, congrats! Being engaged is such an exciting time in your life — there's only so long that your significant other has the "fiancé" title instead of husband or wife, and you're going to want to enjoy every minute of it. But one huge question still lingers: where on earth do you start when it comes to planning for your wedding?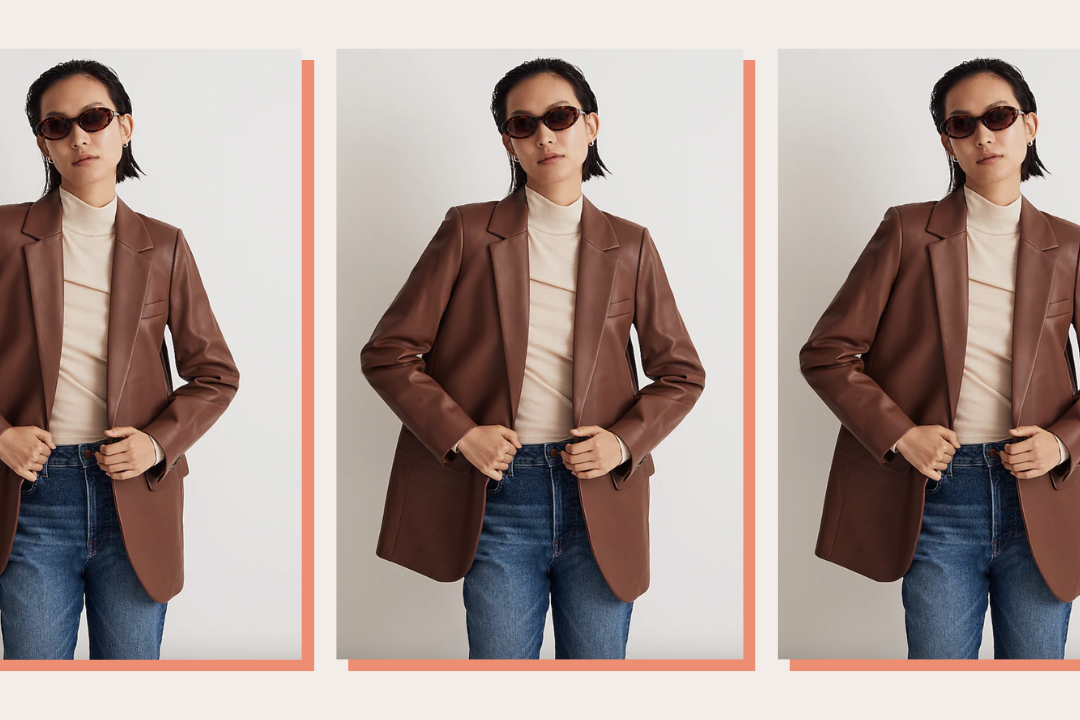 time for your fall wardrobe update!
Our favorite resource to streamline the wedding planning process is Zola, which allows you to design your wedding website, plan your dream registry, and create your Save the Dates and wedding invitations all in one place. With hundreds of affordable options for your website and invitations, and over 500 brands to register with, Zola makes engaged couples' lives that much easier.
Zola can also help your guests by offering free shipping and price matching on your registry to make gifting easier (and a gift tracker and thank you note manager to make the pressure off of the dreaded thank you notes, so you can start off enjoying newlywed life instead of rummaging through scribbled lists of who go you what).
The year leading up to your wedding should be exciting, not stressful, so we broke down the 12 months leading up to it to make it feel do-able (so you can enjoy your pre-bridal glory without ending up as the family bridezilla your cousins talk about for the next 10 years).
12 months
You're a year out — it can feel like a lot of time, but in wedding-planning time, can go by in the blink of an eye. Here are some of the big-picture items should start getting checked off your list:
Set a wedding budget and prioritize what is most important
Draft your wedding guest list
Tour and book your wedding venue
Set a date
Create your wedding Pinterest board
Book a planner or day of coordinator (if in budget)
Book a photographer
Try on wedding dresses, order by 10 months (this allows for up to 6 months for the dress to be delivered, any delays, and plenty of time for alterations); try to purchase your veil at the same time so you can try it on with the dress and finalize the entire "look"
9 months
Around 9 months, you should be getting some of the details of your big day sorted out — booking a florist and photographer, choosing your wedding party, and creating your registry and wedding website.
Zola can help make your registry and website feel like less of a chore, and instead like something you want to do, because you can make it so customized to you and your fiancé's wishes. With hundreds of beautiful website designs, super easy set-up, and even online RSVP, Zola will make this part of your planning a breeze.
The best part? Zola integrates your registry and website together, so guests can get all of your wedding details, RSVP, and buy your gift all in one place.
Book a videographer
Book a florist
Book an officiant and make any pre-marital counseling appointments (if required)
Choose your wedding party and ask them to be part of your big day
Take engagement photos
Set up your wedding registry (doing it early gives access to both shower guests and wedding guests)
Create a wedding website
Book hotel blocks (usually two differing price ranges)
Book your wedding night hotel
Begin researching and meeting with caterers
Begin compiling addresses for guests
6 months
You're six months out, which means it's time to book your hair appointments, finalize your guest list, and send out Save the Dates! You're going to want your Save the Date to set the tone for your wedding, and be cohesive with the invitation that's going to come shortly after.
Zola offers over 200 Save the Date designs, all of which are totally customizable — from the text, to the paper type, to even the corner types, your Save the Date will be exactly what you have pictured (and have the option for a free, matching wedding website!).
Book your rentals (linens, plates, cuttlery, chairs, lighting, tents, etc.)
Book hair and makeup artists
Book a caterer
Complete your wedding guest list
Send out Save the Dates
Decide on bridesmaid attire; send them the information and a final date to order by (pad this date for your sanity)
Start planning your honeymoon
Discuss bachelorette party dates and locations with the maid of honor; send her a rough guest list to help with planning
4-5 months
Your wedding is getting so close! At this point, you'll have started receiving some gifts, will be having dress fittings, and will be looking for honeymoon accommodations — so exciting!
Book the rehearsal dinner venue (unless relatives are handling)
Book the DJ or music
Order your cake
Begin bridal dress fittings (make sure to bring any undergarments you will be wearing on your wedding day — bra, spanks, pantyhose, etc.)
Buy or rent the groom's attire
Decide on groomsmen attire; send them the information and a final date to order by (pad this date for your sanity)
Finalize the honeymoon and accommodations
Send thank you notes as you receive presents so you don't become overwhelmed
Make sure you have all your legal documents needed for a marriage certificate and honeymoon. Many countries will not allow you entry if your passport is due to expire in less than 6 months, so look at the expiration dates. Knowing now will give you plenty of time to order any new documents.
3 months
It's officially crunch time. When it gets to the point that you're a few weeks away from your wedding, you won't want to be stressing about any of the big planning you have left, so now is the time to get it done. Start finalizing details and developing a timeline for the big day — it'll make the last two months before much more enjoyable.
Book transportation
Finalize the menu with your caterer
Finalize ceremony details with your officiant
Finalize your floral design
Buy your wedding rings
Send out your wedding invitations (between 6-8 weeks before)
Start planning music for the ceremony and reception (first dances, processional, etc.)
Order any paper products needed (ceremony programs, menus, place cards, table numbers, etc.)
Create a wedding day-of timeline — including times of wedding party arrival, vendor arrival, and family arrival
Buy thank you gifts for your bridesmaids, groomsmen, and parents
Purchase shoes for your wedding dress (the final fitting will be to determine the length and you can't do this without shoes!), also if you plan to change into more comfortable shoes for the reception — go ahead and order those as well!
Discuss your wedding hair with your stylist — treatments to do ahead of time, extensions, coloring/highlighting, trims, and what they feel the proper timeline is based on your experience with them. Book the appointments.
2 months
Your wedding is mere weeks away, so it's time to start getting yourself ready for the day.
Buy or make plans for any wedding accessories (jewelry, hair accessories, garter, family heirlooms, etc.)
Touch base with all your vendors to confirm details, payment date, and to make sure they have your coordinator's contact information for day of
Send out as many final payments as you can — typically all payments are due 30 days before the wedding so get as many done ahead of time
Check to make sure wedding party has all received their attire, are making plans for alterations, and have the appropriate accessories (shoes, ties, pocket squares, etc.)
If you're planning to get a spray tan, do your research and test it out now. We recommend a spray tan applied by a professional rather than at-home treatments or an automated booth. Take note of what worked, what didn't, and how many days after you liked your tan the best.
1 month
At this point, all of your big planning should be done, so it's time to start writing your vows (yay!), to get your hair and makeup trial done, and to discuss wedding photos with your photographer. And as tempting as it may be, do not go try that life-changing laser treatment your co-worker swears will make you absolutely glow for your wedding — stick with your normal skincare regime that you know works for you.
Get final RSVP count (call anyone you have not heard from)
Book your trial hair and makeup
Book your final dress fitting
Break in your wedding shoes
Get your marriage license
Once you have a final RSVP headcount, give this to your caterer, bar tenders, and rentals company to ensure you have enough (usually 2 weeks before the date)
Create your seating chart
Send out rehearsal dinner invitations (unless relatives are handling)
Purchase your rehearsal dinner outfit and shoes
Send your day of timeline to all your vendors (unless wedding coordinator is handling)
Meet with your photographer to discuss day of plans and a must-have shot list
Write your vows
Get your wedding party together to discuss roles and responsibilities for the wedding day
DO NOT under any circumstances try new beauty treatments or regimens this month. Stick with products you've used before and no treatments that you haven't tried yet.
Week of The Wedding
It's finally here! All of your hard work and planning has paid off, and it's time to enjoy the days up until your wedding.
Send your day of timeline to everyone in the wedding party and parents
Get your engagement ring cleaned at the jeweler
Book any maintenance waxing appointments around 7 days before
Pack a day-of bag and double check that everything you need is in it (make sure in addition to everything you need to get ready it also contains wedding bands and your marriage certificate)
Get your wedding manicure
Ensure you have day of payments ready and cash gratuity (give this to your coordinator on the day of so they can divvy up); pro tip: give your coordinator a back-up card in case the influx of charges puts a fraud hold on yours. This will help avoid a panicked conversation in the corner
Pack for your honeymoon
This post was in partnership with Zola, but all of the opinions within are those of The Everygirl editorial board.