While the world is buzzing over "~riiiseeee 'n shiineee~", I'm going to remind everyone of when Kylie Jenner's makeup practically broke Instagram in approximately 2014. I remember immediately running to MAC to buy Kylie's signature brown lip shade. Then, next thing I knew, I was wearing tattoo chokers, high-neck tank tops, and high-waisted jeans. The '90s were in full swing. I'm not trying to say Kylie Jenner is to blame, but her Instagram gave us a lot more than Stormi videos, that's for sure. Although Kylie's signature shade is now in the form of her own liquid lipsticks, classic '90s makeup is dominating runways, street style, magazines, and more. I can't scroll through my Instagram feed without seeing a metallic or glitter eye look (thanks, Euphoria!), dark nude lips, and smooth, satin skin. So, how exactly do those trends translate into real life? Here are all the top trends, plus, our secrets to wearing them from the office to the club: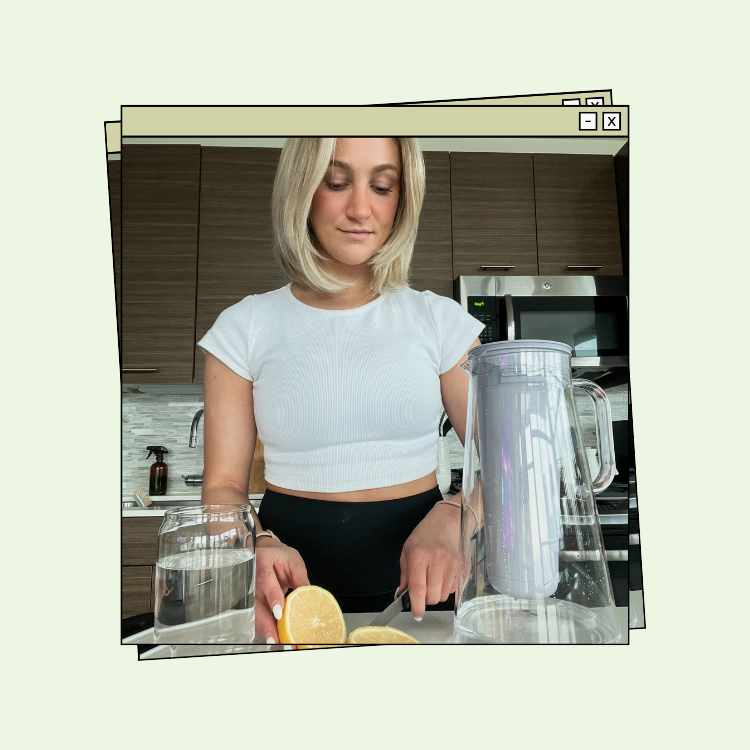 get it right in 2023 and beyond
Natural-looking skin
A flawless complexion that didn't look like you were wearing pounds of makeup was the goal for women in the '90s, and the same look was achieved across runways (such as Marc Jacobs, Stella McCartney, and Balmain) with a little bit of a twist. Instead of matte skin that cracks and looks cakey, the focus is put on a natural-skin finish. Get the look by layering products in thin layers instead of overloading on product and coverage in one go. Use a light moisturizer first, then a thin layer of a medium-coverage foundation, concealer to spot conceal, and then set with a powder. Along with natural skin, the "no-makeup" makeup look is totally '90s. Try this look first, and then add these other trends on top — this ensures nothing goes too over-the-top (unless that's the look you're going for, which is honestly a look on its own!).
Natural blush
Dewy blushes in bright shades were everywhere last summer, but this season, we're opting for natural blush looks that complement both those natural, no-makeup looks and fun, shimmery eyes. To get the '90s look, go for something close to your skin tone, whether that's a peach, a neutral mauve, or a dark brown.
Nudestix
If you want to keep your natural, radiant-finish on the skin, these cream blushes do the trick. They never look heavy or cakey the way a powder might, and they blend into the cheeks like nothing. The shades are all super wearable too, so you really can't go wrong with any of them!
Burt's Bees
Burt's Bees blushes are one of the best formulas at the drugstore, and the shades are perfect for a natural blush look.
Metallic eyeshadow
Metallic eyelids that shine in the light are the '90s equivalent to the warm, smokey eye of the early 2010s. They're easy AF, they use only a few shades, and anyone can pull them off. Simply swipe a metallic shade across the lid — it's seriously that easy! Make it extra glam for a night out by wetting your brush beforehand, or opt for an intense cream or liquid shadow. Want to go full Euphoria? Glitter isn't just for festivals and New Year's Eve anymore. Try wearing glitter as a liner, in the center of the eyelid, or in the inner corners to get a light glitter look without looking like you're heading to a rave.
Matte smokey eyes
I know we just talked about Kylie Jenner, but KKW's classic matte smokey eyes are what '90s-supermodel-makeup dreams are made of. (They're so classic that she made an entire '90s collection based on it for her makeup line!) This look is back this season. From the Tom Ford runway to magazine pages to Pinterest, smokey eyes are getting an elevated upgrade with matte cool tone shades and smudged out grundgey eyeliner. This tutorial makes the basic matte smokey eye so easy, but if you want to take it up a notch, run a black eyeliner across the upper lash line and smoke it out with a pencil or smudge brush. This gives that "bedroom eye" effect. The 1990s classic smokey eye isn't supposed to be perfect either, so go to town with blending and smudging the product out to create a grungey look. Final touches: your Doc Martens and Nirvana band tee.
Urban Decay
This could basically be called a matte smokey eye for beginners. The shades blend together easily, and the colors are perfect for daytime looks at work to sexy smokey eyes for date night.
KKW Beauty
Just looking at this palette makes me want to create a smokey eye. Kim K really brought out all the stops with cool browns, navy, black, and grey, all in one palette. Her formula is easy to blend too, making it perfect to create grungey looks.
Milk Makeup
This eyeliner is amazing for smudging along the lash line because it already comes with a smudge tool on the other end. It's also creamy when you first apply it, but it dries down and stays all day. I own it in black and brown, and it's become my favorite eyeliner.
https://www.instagram.com/p/Bwkp1JunGey/
Dark nude lips
You can't think about '90s makeup without thinking about the supermodel, dark lip colors donned by Naomi Campbell, Christy Turlington, and Cindy Crawford. While light nudes for lighter skin tones are all over the market, it's not as easy to find them for darker skin tones, especially in varying undertones.
What makeup trends are you loving this season?! Tell us your favorites in the comments!