If you ask anyone "What's your favorite grocery store?" you'll get plenty of different answers, as everyone has their tried-and-true brand. Among them all, a fan-favorite, Trader Joe's, will always get an honorable nod. But if you love Trader Joe's, it's hard to ignore its affordable, more accessible counterpart, ALDI. Trader Joe's and ALDI are pretty similar in price and product availability (you may have even heard that they're owned by the same company—a popular misconception!), but I'll choose ALDI any day of the week.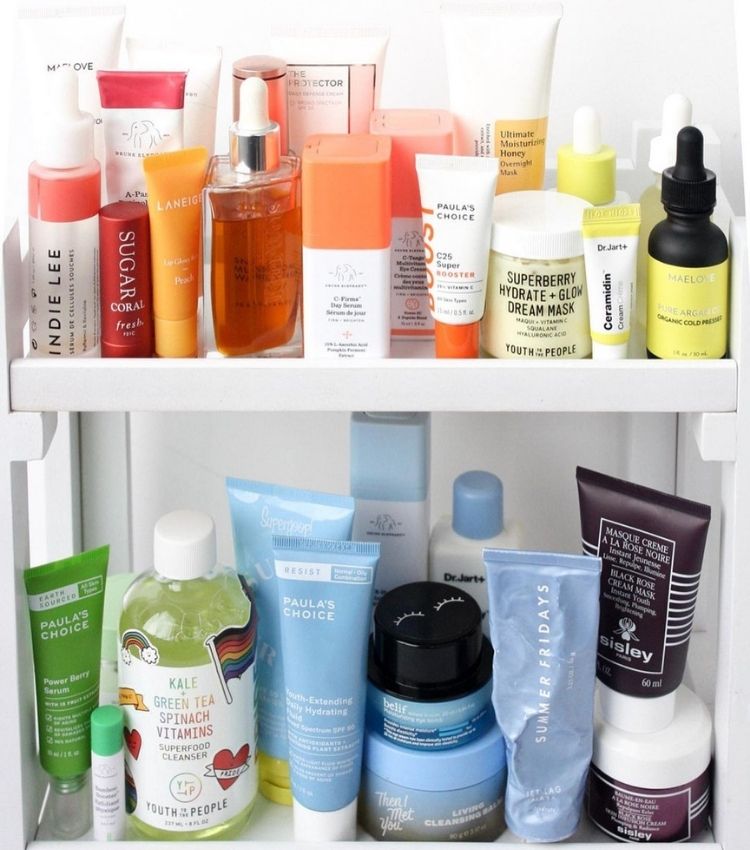 the wrong order can reduce effectiveness
I have been going to ALDI since I was a child with my mother, who never hesitated to tell others about the grocer and the unique food brands and household items she would find. We shopped for all of our groceries there, and now, I shop there myself and rave to my friends about it in the same way.
ALDI is a big brand grocer with a very local feel, with a few popular food brands like General Mills cereal and DOLE frozen fruit, and lesser-known brands that are just as delicious and even more affordable. Navigating a day at ALDI is simple and easy: with only a few options of each food item to choose from (no standing in the aisle looking overwhelmed trying to choose between four different brands of tomato sauce!), I'm in and out quickly with all the groceries I need. I even shop there for a variety of household items and trinkets in their famous "ALDI Finds" aisle, where they might have anything from an electric smokeless grill to air mattresses to kitchen mats, switching out their selection weekly. Needless to say, this is the only grocery store I visit when I need any and everything!
If you're looking to explore what ALDI is all about, here are a few of my favorite finds from the grocer, from wasabi soy almonds to meatless chicken patties. Happy grocery shopping!
1. Wasabi Soy Flavored Almonds
I love a good, clean snack to nibble on throughout the day, and these almonds are a handful of goodness. ALDI has a great variety of trail mixes, dried fruit, and nuts, and these wasabi soy flavored almonds caught my adventurous eye. These almonds have just the right amount of heat from the wasabi and saltiness from the soy flavor without being overpowering. I definitely plan to try the other types of almonds and nuts they have, but this unique flavor combination is a mainstay in my cart.
2. Banana Chocolate Brekkie Bites
I love breakfast, but in trying to work from home while maintaining my sanity, I often forget to meal prep for the morning and end up either surviving the first few hours off of coffee alone or skipping breakfast altogether. In comes ALDI's Banana Chocolate Brekkie Bites to save the day. These small-but-filling oat bites are like eating oatmeal on the go. With two bites per pack, these gluten-free, vegan breakfast bites have 14 grams of whole grains per serving and are non-GMO, so I don't feel guilty eating a few (or more) while logging on for the day.
3. Truffle & Porcini Mushroom Macaroni and Cheese
Boxed macaroni and cheese has gotten a pretty bad rep over the years, from lazy one-pan shell and cheese recipes to powdered cheese mix in a box full of elbow macaroni. ALDI's Truffle & Porcini Mushroom Macaroni and Cheese is the grown-up, elevated version of the boxed mac you love that doesn't make you feel bad about a store-bought, one-pan dinner. It's probably the easiest, tastiest macaroni and cheese I've had, filled with wild porcini mushrooms and a delicious truffle sauce. I bought this to use as a side dish for dinner, but some nights, it's the full meal.
4. Skillet Sized Chocolate Chip Filled Cookies
If I'm going to satisfy my sweet tooth, it has to be a something chocolate, warm, and baked that I can't be tempted to binge on. These sizable chocolate cookies are super delicious and easy to bake—after only 10-15 minutes in the oven, they'll have a crispy outer crust and a warm, gooey center. Add a nice size dollop of ice cream in the center of the cookie to take things up a notch. Each package comes with two cookies, even though one gets the job well done—if you don't have to share!
5. Chickenless Soy Protein Patties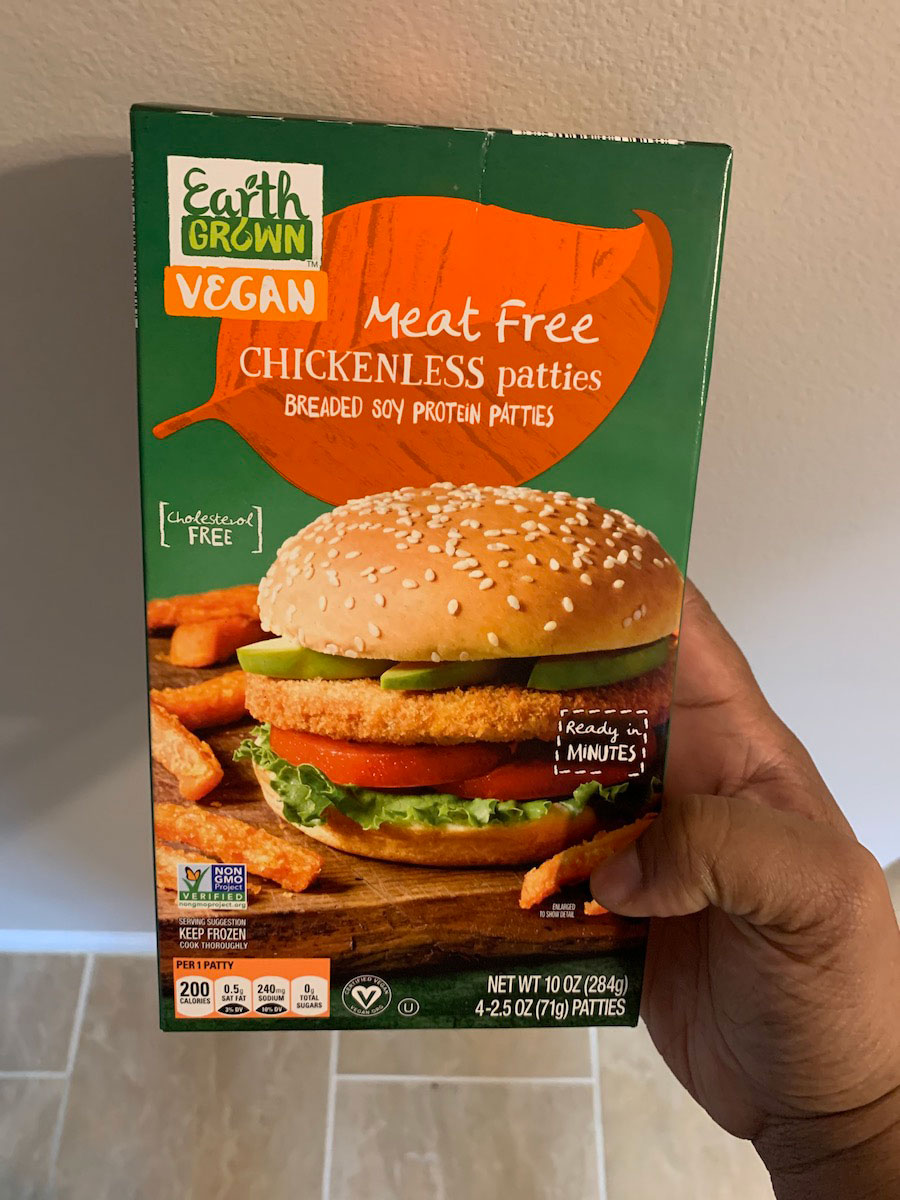 Since teetering for months on my vegan journey, I was surprised by ALDI's vegan selections, specifically their chickenless soy protein patties. These breaded patties are made of soy protein, and with a few minutes in the oven, they are ready to eat! I don't even miss chicken sandwiches from my favorite fast food restaurant; these vegan chickenless patties are just the fix I need.
6. Oat Milk Cold Brew Ice Cream
My appetite and tolerance for dairy had me looking for the best alternative for ice cream. This cold brew ice cream made with oat milk tastes amazing and is even better than its dairy counterparts. Plus, this vegan ice cream comes in pint-sized containers, just enough to binge on while winding down watching my favorite shows.
7. Frozen Cherry Berry Blend
ALDI has amazing produce, but find yourself in the frozen aisle and you'll stumble upon the frozen fruit blends, which you definitely shouldn't miss. The frozen cherry blend includes sweet and tart cherries, strawberries, and blueberries for thick, creamy, and fruity smoothies day after day. The fruit is unsweetened and frozen right after harvest so it's at its freshest. I love not having to worry about overripe, unused, or rotten fruit in my fridge; these blends stay fresh in the freezer for weeks.