A few weeks ago, after trying to blindly shove a pan into one of my kitchen cabinets that could not possibly actually fit one more pan, I made a move that was decidedly out of character for my unorganized self: every day of the upcoming week, I was going to organize a different room in my apartment.
Need some gifting inspiration? No matter who you're shopping for, we found a slew of exciting gifts that are bound to leave them speechless.
Considering my apartment consists of approximately four and a half rooms, this wasn't difficult. The fifth day was dedicated to my closets (which are in a hallway, and therefore did't fall into my "room" categories). Once I got in a groove, I was like a bat out of hell, donating the things I didn't use and tossing the things I'd been holding onto for way too long that weren't salvageable. Obviously, the most challenging went last: my closets.
I already had my momentum going for me, and in an out-of-body experience that I had little recollection of after the fact, I tossed almost all of my leggings. I went from probably 20 leggings down to three pairs. Don't get me wrong, this couldn't have been longer overdue—the pairs I got rid of were the ones I never reached for and that slipped and slid down me every time I wore them from either being overworn or just poor quality from the start. It was like a brand new beginning—but one that I wasn't prepared for.
I work out around five times a week, which, as someone who does her laundry maybe every 10 days, means that I need way more leggings in my closet than three—and thus began my hunt for affordable, amazing leggings that I could add back to my collection.
In what felt like a direct message from the legging gods, over the weekend, I saw our cofounder, Alaina, post about a $25 Amazon pair that she was raving over. They had my size in stock, so I ordered them as fast as I could in the dusty rose shade Alaina was wearing on her Instagram.
I was already familiar with said leggings—they've been everywhere for a while now with people yelling from the rooftops that they're a dupe for Lululemon's famous Align leggings. I personally don't own the Lululemon ones, so I can't speak on the comparison, but holy cow, when I took them out of the package… I got it.
In the middle of my kitchen, I ripped my sweatpants off to try them on and truly could not believe how amazing they felt on my body. Literally, the only way to describe the material is that they felt like butter. Prior to having them, I didn't understand what that meant, but after trying them, I couldn't imagine wearing other leggings again. But just because they felt good didn't mean they passed my only test: whether or not they felt good to run in.
Basically, my criteria for workout leggings involves: A. not sliding down (I don't even want to have to pull them up once), and B. that they don't feel weird in the crotch area as I run (as way too many do). I took them for a spin on a four-miler and forgot to even think about judging them, which was a huge pass considering that when I have bad leggings on, that's all I can think about my entire run. I got back inside afterward and decided I didn't even want to search for anything better and ordered them in three more colors (which was difficult because they have so many great ones). These check the rare box of being a pair that I both want to work out and lounge in because of their unique material; they aren't just cotton like so many lounge leggings, and they also aren't a dry-fit material like most workout leggings—they're truly in a league of their own.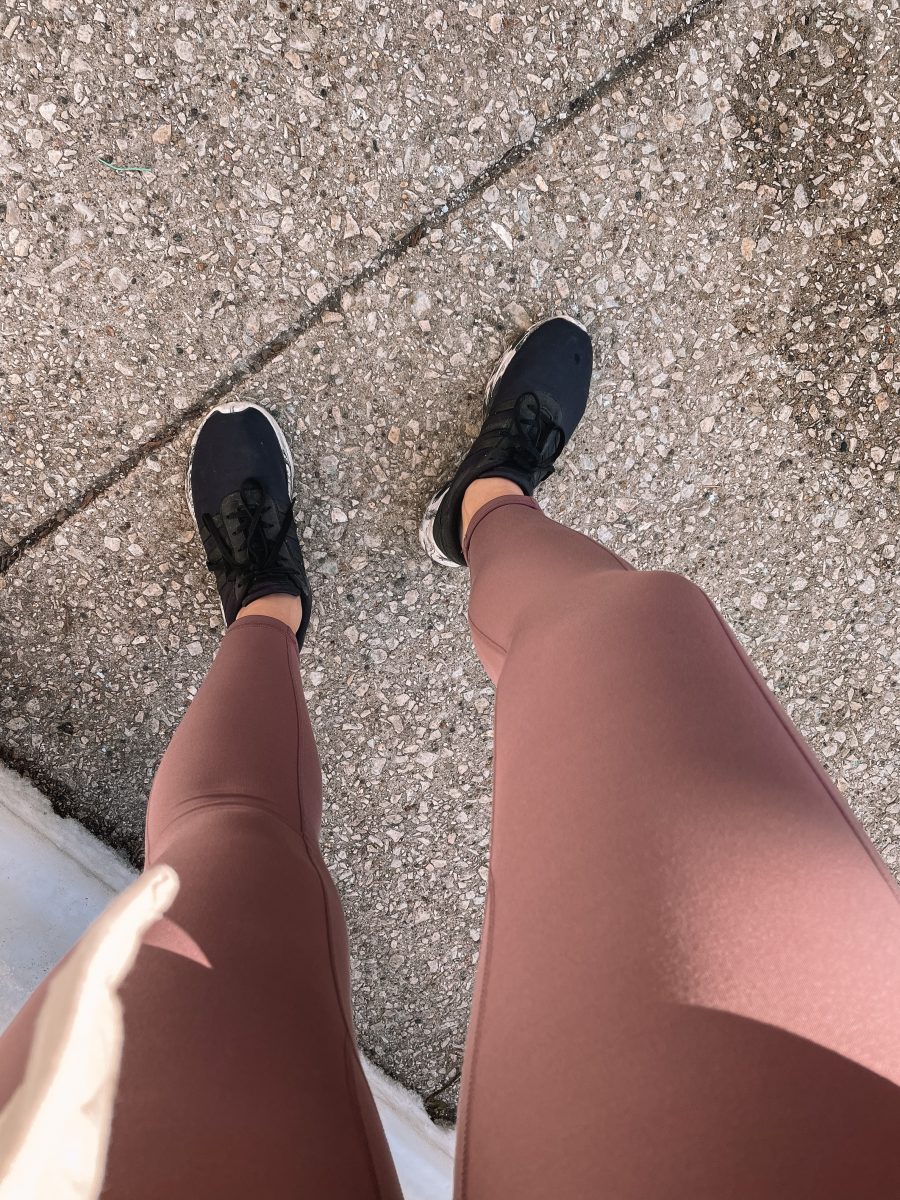 I never have gotten myself to spend three figures on leggings that people swear by, but I feel like now I don't even have to wonder—I can't imagine anything being better than these, and I was able to order four pairs (a full closet restock!) for $100. I'll be living in these until further notice.