As a fashion editor, my life quite literally revolves around clothes. I think about them, try them, and test them all day, every day—and much to my dismay, have never shied away from spending money on them. However, the one category of my wardrobe I'm thrifty with is workout wear. Despite working out daily, spending triple figures on clothes that I don't fantasizing about styling just never appealed to me; I have a history of always choosing to buy a new pair of jeans over a new pair of leggings. However, due to the nature of my job, I've acquired a lot of expensive workout wear over the years. I love and wear all of it, but over this past weekend realized something: despite my extensive activewear collection, when I fold my laundry, I always put my $30 Amazon pair at the top of my leggings pile.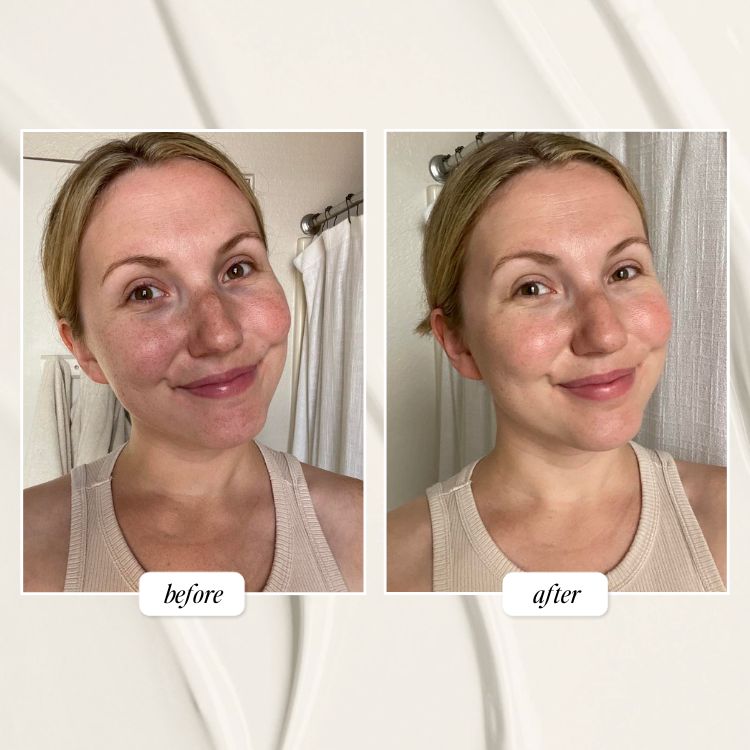 Given how much clothes I own, the top-of-the-pile test is one I take very seriously. As I put laundry away every week, I always subconsciously put the pieces I wear the most at the top of their respective piles in my closet. The pieces I reach for the least will slowly make their way to the bottom of the piles, which means they're not getting worn—and inevitably, will get donated. The top-of-the-pile pieces also stay there because they're getting washed so frequently, which also means they're getting worn frequently. Capiche?
I work out around five days a week, and rotate my workouts between running, strength training, and pilates. When the weather cooperates in Chicago, I run on the lakefront trail almost every day—which to me, is the ultimate test for a good pair of leggings. There is nothing (nothing!) like gearing up, getting on the trail, and starting a run only to be pulling up and fidgeting with a pair of leggings a quarter mile in. The same goes for a pilates class: my own personal nightmare is getting to a class only to not enjoy it because what I'm wearing isn't up to par.
I have about a dozen pairs of leggings that I rotate between consistently, but when every pair of them is clean (read: I have my choice of all of them—including ones that cost well over $100), the first I reach for is this Amazon pair. I have them in three colors, and every week, they're the first ones to be worn after doing my laundry.
What makes them so amazing to me? Several things, actually. First, they feel like butter, but simply do not move when they're on. I can't count the number of miles I've ran in these, and they don't slip, slide, or feel uncomfortable in any area. Actually, I don't think about them at all while I'm working out, which is exactly what I want. I also wear them for weight training, and they're completely squat-proof, too.
Second, they're flattering, but also easy to get on. I find that if a pair of leggings is too compressive, the trouble of squeezing them on for a workout often makes me not want to reach for them. These are just the right amount of compressive that makes them flattering, but not too tight, either. They also have pockets, which is important to me because I need somewhere to keep my keys if I'm heading to the lake for a run. They also come in 20+ colors, all of which are gorgeous, so it makes it easy to find a pair you love (I personally own the green, purple, and black).
I've owned all three of my pairs for over two years, and have put them through the wash every week since then—but despite 100+ cycles in my washer and dryer, they show literally no signs of wear. My toxic trait is I'm not super careful with my clothes when I wash them, and rather than air drying delicate things like workout wear, throw everything in my building's horrible quality dryer (laundry is my least favorite chore, OK?). Despite that, there's no pilling, no loss in elasticity, and no loss of quality in any of the three pairs. I've put each of them through the absolute ringer, and despite that, they look and feel brand-new over two years later.
I've become quite the critic over the past few years, and honestly, am not historically a huge consumer of Amazon clothes. So trust me on this: These are worth every penny. As a matter of fact, if they were three times their price, I'd still buy them in multiple colors. I don't know how, but Amazon has managed to make the absolute perfect pair of leggings for $25—and that, my friends, is a win for us all.