One thing I'm not, and in all honesty never want to be, is a DIY-er. If there is something I can hand off to a professional, I will do it 99% of the time. I just don't trust myself to do as good of a job as they would. This goes for everything from personal care to home projects. For instance, I don't shape my own eyebrows, even though I probably could. I'm also battling my boyfriend about hiring painters for our house, even though I'm well aware we could do it ourselves for a fraction of the price.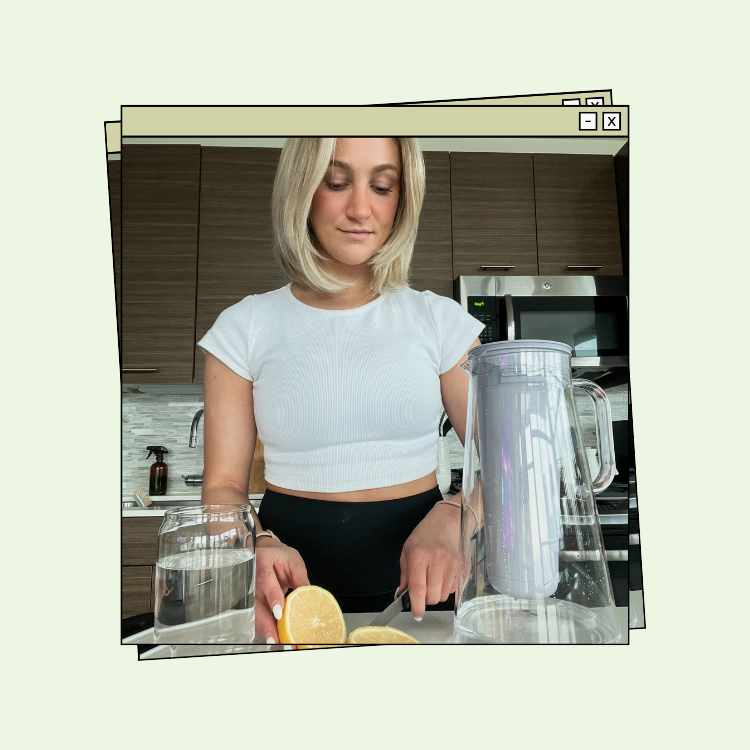 get it right in 2023 and beyond
So why did I decide to tint my eyebrows at home? Well, that's beyond me. But when I saw Melissa Wood-Tepperberg tinting her own brows in her gorgeous NYC bathroom on Instagram, I figured I might be able to handle it too. She made it look glamorous and easy. But don't worry. I didn't just follow the few steps I saw on Insta before I put a dark dye on my eyebrows. I first talked to eyebrow artist Michele Holmes to learn about the exact process to follow, the tools needed, what kind of dye to use, and more.
Everything to know before starting
What kind of dye to use
In recent years, at-home tinting has become more popular. So, there are quite a few tint kits on the market. A quick Google search for at-home kits will recommend everything from women's hair dye to men's beard dye and kits specifically for eyebrows. Back in high school, Holmes used good ol' hair dye boxes on her brows. She said, "They would still do the trick," but she also provided some actual eyebrow product recommendations.
Holmes says some oldie-but-goodie products are Godefroy's Instant Eyebrow Tint and Ardell's Brow Tint—both of which are affordable and cleaner options. Each one has its own clean-beauty benefits. (This array of benefits includes being plant-based, vegan, cruelty-free, paraben free, and containing no ammonia or peroxide.) Higher-end products that are $50+ include the Brow Code Brow Tint Kit, 801 Brow Tinting Kit, and Lovate Brow Lift + Tint Kit.
As far as consistency goes, tints come in creams, powders, and gels. "First-time brow tinters should use a cream dye and cream developer," according to Holmes. The consistency is less likely to drip and is more forgiving.
Brow tinting safety
When I started looking at product reviews, it didn't take long before I came across some at-home brow tints gone wrong. I'm talking about chemical burns and allergic reactions. This obviously became my nightmare. It made me question (yet again) what I got myself into. But, rest assured, I brought up my concerns to Holmes: I asked why this happens and what to do to avoid complications.
Holmes said, "Chemical 'burns' are more likely caused by using too strong of a developer or peroxide, where skin reactions are more likely an allergic reaction to either the color ingredients or PPD (Paraphenylenediamine)," which help the tint last longer. Strong developers can irritate the skin, so only use a developer that is 3% or lower. Additionally, be weary of tints that have a "poison" label on the box. Some common ingredients can be toxic or harmful in high percentages.
How to fix a mistake
Before I got started, I needed to know how the heck to fix a (likely inevitable) mistake ASAP. To my dismay, there isn't always an "ASAP" solution. For example, "If you accidentally tint your brows too dark, there isn't much you can do in the short term," Holmes said. However, luckily, "most brow tints fade quickly," she added. She recommended carefully rubbing clear facial cleanser or shampoo twice a day on your brows to help with fading in a "true tint emergency."
If you accidentally tint your skin in the process, don't worry. It will eventually come off in the shower. Michele Holmes also noted that you could use a little oil on a cotton pad to gently rub and remove it.
How long will the tint last?
In my experience, salon brow tinting lasts 2-3 weeks, but at-home brow tinting lasts up to two weeks on average. Each tint is different, though, so check the manufacturer's label to know what to expect.
Everything you'll need
Eyebrow Tint
Q-tips
Cotton rounds
Vaseline or moisturizer
Tint brush (synthetic lip brushes or small eye shadow brushes work great for this)
Spoolie
Disposable gloves (if you are worried about tinting your hands or nails)
The step-by-step process
Step one: Cleanse the skin to remove all brow makeup. Brush your brows into your desired shape with a spoolie brush.
Step two: Apply a face oil or Vaseline around your brows to create a "barrier" so the eyebrow tint doesn't spread and stain the skin beyond the brows.
Step three: Mix the dye according to the directions on the tint you choose. This is usually a 50/50 ratio of dye to developer.
Sept four: Tidy the tint around your brows with a Q-tip leaving a nice shape while the tint processes (5-10 minutes). The eyebrow tint application should mirror how you do your normal brow makeup. When in doubt, go a little smaller on the tint shape. This way, you won't accidentally tint your skin beyond your brows.
Step five: Remove with cotton rounds.
How it went
After all of the guidance from Michele Holmes, I felt way more confident going into brow tinting. But don't get it twisted—I was still nervous AF. I chose to use the Ardell Brow Tint for a few reasons. First, I like that it is free of ammonia, peroxide, and harsh chemicals. Additionally, 12 uses for $14.99 is a great bang for your buck. And lastly, it was in stock at my local Target.
I religiously followed the steps and tips recommended by Holmes, but I also read the directions Ardell provided as if my life depended on it. In a few simple steps, I had the mixture ready to go. I applied it to one brow at a time, as directed by Ardell. Ten minutes felt like an actual lifetime to leave the product on, so I removed the eyebrow tint after about eight minutes. (I was worried my brows would be too dark.) Then, I cleaned off my brows with a wet washcloth, and just like that, they were tinted!
I wouldn't say they came out perfectly. I had to clean up some stains around my brows, but it was nothing that a little rubbing couldn't fix. The color turned out just like it would have at the salon, but I think I will leave it on for the full 10 minutes next time. All in all, I am happy with how they turned out and even happier to have saved myself a trip to the salon. Since I have 11 more uses in my Ardell kit, I'm pretty confident I'll be able to perfect the at-home tint. Yet, only time will tell how long I'll want to stay in my DIY era.