Is it just me, or is everybody bingeing Nine Perfect Strangers? The thriller, based at a remote wellness retreat, is Hulu's latest buzz-worthy series that fans can't get enough of. I'm going to be honest: I have not yet watched the show or read the book (it's on my list, I swear!), but I'm assuming that this is not a wellness retreat that you'd opt into, based on the eerie tone and the fact that The Everygirl's resident lover of all things spooky, Maddie, is a huge fan (something bad has got to happen). However, the concept of a wellness retreat (not in a thriller storyline) sounds appealing, especially after a stressful couple of years.
I can't speak for Nicole Kidman, but the purpose of going on a wellness retreat is to spend uninterrupted time focusing on your physical and mental health. Imagine temporarily giving up your hectic life and busy schedule for sunrise yoga sessions, reiki healing, deep tissue massages, meditation lectures, and health food so good, it's won awards. No matter what actually happens at Tranquillum House, the show had viewers Googling where and how they can attend a wellness retreat.
However, leaving your life for a few days and spending a hefty amount of money isn't always feasible. But good news to those of you who are wellness-retreat curious (or just need a damn break): You don't even have to leave your home to reap the benefits of a trendy health retreat. Read on for six steps to get the Nine Perfect Strangers experience from the comfort of your own home (or you know, all the good parts before Nicole Kidman gets really creepy).
Plan ahead
To get the full experience of a serene retreat away from busy schedules, to-do lists, and distractions, you're going to have to plan ahead to get rid of those busy schedules, to-do lists, and distractions. Start by decluttering your space (more on that below), let friends or family know you'll be off the grid for the next day or two, and get any chores done ahead of time so you can fully relax. Also, plan out a schedule to follow or meals to make, just like any other wellness retreat would have for you (as for what to put on the schedule or menu, more on that below!). Most importantly, plan to go tech-free while you're on your "wellness retreat" (you don't want an Instagram notification or scroll through TikTok to ruin your meditative bliss).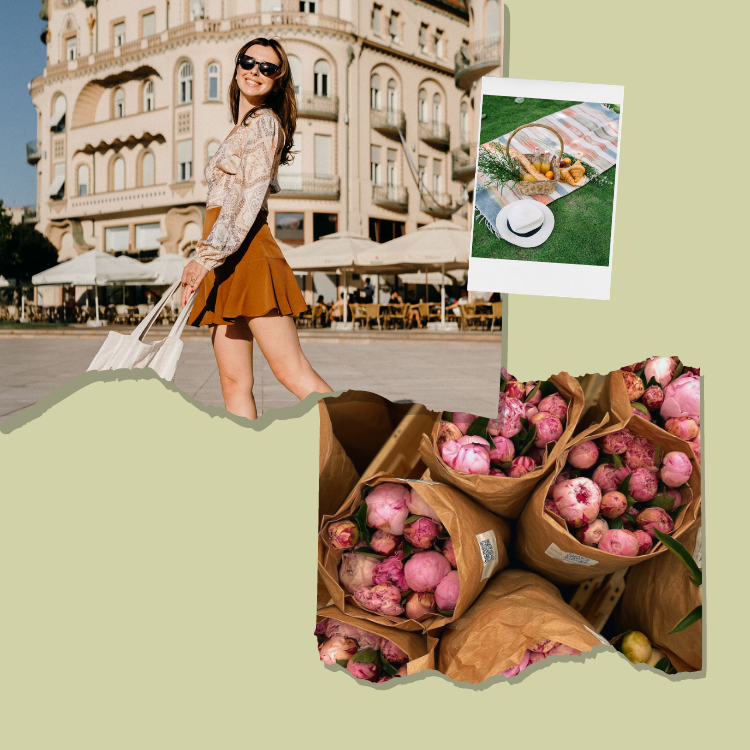 read this if you're in your saving era this summer
Turn your home into a sanctuary
The main reason a retreat is so appealing is because of the environment. You're not going home to dirty dishes, screaming kids, or a pile of laundry—leaving your home gives you the chance to escape normal life for a little and focus solely on your well-being. Even if leaving home is not an option, you can still update your environment for similar benefits. Once you've decluttered and cleaned up, orient sofas or chairs toward windows (for more exposure to nature, even if nature is the view of the building across from you), add plants and greenery throughout your space, play with aromatherapy through diffusers and candles, and set the scene with calming music.
"Attend" classes online
Wellness retreats often mean early morning yoga or a meditation session before bed. Just because you don't have a sunrise view or an instructor standing in front of you does not mean you can't schedule meditation, yoga, and mindfulness classes (without the hefty wellness retreat price tags). Check out YouTube for a variety of wellness-related classes, lectures, and sessions, or try a service like obé fitness for workout classes, yoga stretches, and meditations all in one place. For extra points, try something totally new, whether you want to amp it up with an online fitness bootcamp or do a 60-minute yoga session with poses you've never tried. Wellness retreats mean new experiences, so trying something different from your usual workout or meditation app will help separate your at-home retreat from normal life.
Have a DIY spa session
Let's be honest: The very best part of a wellness retreat is the back-to-back luxurious spa appointments (and absolutely no guilt spending hours of your day to pamper yourself). To reap the same benefits from home, you don't need a live-in masseuse or facialist on call. Start with a relaxing bubble bath (or luxurious shower) and apply a face and hair mask, and then go into facial massage, dry brushing, and lymphatic drainage to treat yourself from head-to-toe. In fact, there are dozens of beauty treatments you can do in the comfort of your own home (aesthetician not required). Check out 30 of them here. If you're interested in other wellness treatments like acupuncture, cryotherapy, or aromatherapy, check out how I tried them at home here.
Get outdoors
Retreats are typically located in a place surrounded by nature to create a calm environment and to help attendees disengage. Nature provides many benefits and will help you feel totally at peace. To get the benefits for free, find a nearby hike to schedule into your retreat schedule. If hiking isn't your thing or you don't have trails near you, taking a walk through a nearby park or spending some time sitting at the beach will give you the same effects. If you're more interested in the wellness retreats that are more active than relaxing, plan some more outdoor activities, like kayaking at a nearby lake or booking an outdoor workout class near you.
Make your own menu
And now for the most important part: food. Wellness retreats around the world have a slew of impressive menus that promise high-quality and tasty vegan, farm-to-table, gluten-free, or totally clean meals. Instead of buying a lot of fruits and veggies and hoping for the best, plan out a menu ahead of time like any good wellness retreat would offer upon your arrival. Explore plant-heavy recipes that taste good and make you feel good, and consider meal prepping in advance so you don't disrupt your R&R whenever you get hungry. Also, you can take this opportunity to improve your cooking skills. Look up online cooking classes like a DIY sushi class or watch a video to get assistance following a more complicated recipe.