When I first got into skincare, I watched just about every drugstore skincare routine video on YouTube. I vividly remember forcing my mom to drive me to the store so I could buy the likes of Cetaphil, St. Ives Apricot Scrub, and every Clean & Clear spot treatment known to man. But the kids these days? I'm jealous because they have The Ordinary, one of the best affordable skincare brands on the market.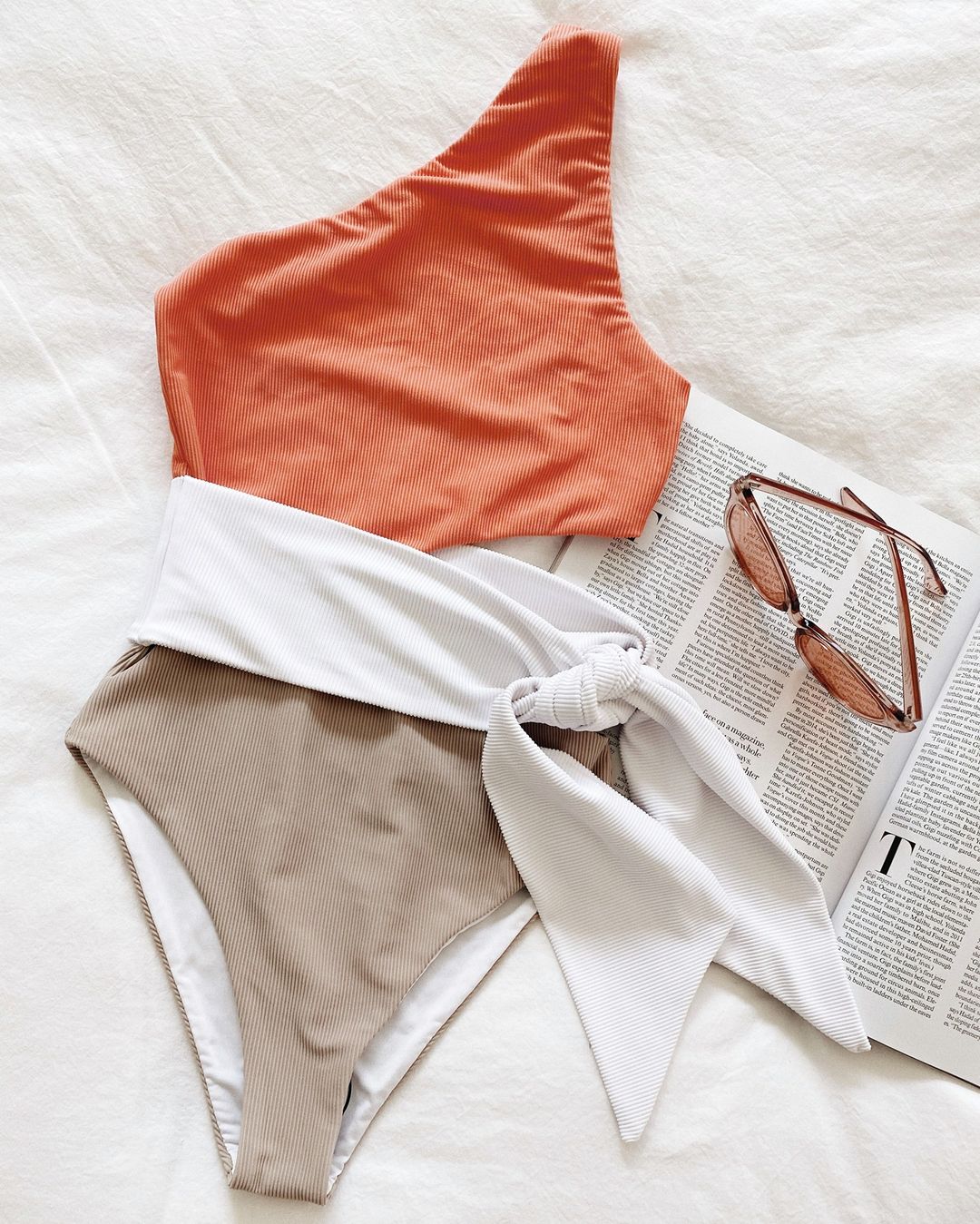 Consider your swimsuit search done.
The Ordinary took over the skincare world over the last few years, bringing us effective, science-backed skincare products and ingredients at a price point no one had really seen before. With to-the-point packaging and labels and strong ingredients found in more expensive products, The Ordinary has become a household name in skincare. Our editors swear by their toners, the famous red mask, their foundation, and more—and when we asked our readers their favorite beauty products, we got an overwhelming response of products by The Ordinary.
While the Ordinary started this movement into inexpensive, effective, single-ingredient skincare, they're not the only ones anymore. If you're ready to try something new but want a similar experience, we found six skincare brands just like The Ordinary to try next.
This French line just started selling stateside, and I ordered products immediately. This line has similar ingredient profiles (taking out what they call the "superfluous ingredients" in their products) to The Ordinary, but it takes a clean, sustainable approach along with gorgeous, minimal packaging. They're a Certified B-Corp, meaning they not only support sustainable practices in packaging but also in their business practices, such as diversity, transparency, waste and water management, and more.
Typology
This was the first product I grabbed, and I'm already loving it. It's a light, neutral-smelling cleansing oil that removes all of my makeup (including pesky mascara), and it removes without any residue except soft, moisturized skin.
Typology
If you want a no-frills eyelash and brow serum on a budget, this is your best bet. The bottle comes with a spoolie brush that makes applying this right to your lashes and brows a breeze. It contains a pea peptide that fortifies and strengthens lashes, while castor oil can help increase lash growth.
Typology
When I first saw this product, I immediately thought it reminded me of our editor-favorite R+R Mask from Summer Friday's. This scrub/mask/oil hybrid has a gel base, but as soon as you start rubbing it into your fingers, it turns into an oil/scrub that's exfoliating and moisturizing all at the same time. Dull skin, this is your match-made in heaven.
InnBeauty Project prides itself on sustainability and affordability, a combination you don't see often. They're the first plastic neutral beauty brand: for every product sold, they fund the removal of three units of plastic from landfills, waterways, and marine environments that can be recycled and repurposed. With a mix of beauty products from skincare to makeup, the brand focuses on data-driven ingredients and fun packaging. It's also newly available at Sephora!
INNBeauty
Use this resurfacing toner morning or night to exfoliate and smooth skin. It's good for diminishing the appearance of pores, dark spots, and tackling texture on the skin. It's made with a blend of six different acids (lactic, salicylic, phytic, malic, gluconolactone, and citric acid) and niacinamide to make your skin shine (in a good way).
INNBeauty
This new product from the brand immediately caught my attention. Apply this to any acne overnight and watch it disappear by morning—made with a mix of acne-fighting ingredients like sulfur, clay, azelaic acid, and willow bark. In a consumer survey of 30 participants, 100 percent saw a decrease in the size of a zit overnight—and if that didn't make you grab your wallet, I don't know what will.
INNBeauty
Like many of us, I like a foaming cleanser. It makes my skin feel really clean. But they can be stripping and drying—but not this one. Made without alcohol and sulfates (the ingredients that usually cause that tight, dry feeling), this cleanser cleans and exfoliates lightly with a mix glycolic, azelaic, and salicylic acids but doesn't leave you with dry skin.
The Inkey List launched at Sephora in 2019, but the brand started a year before. They hoped to turn the confusing, scientific elements of skincare easier for the average consumer, but not forcing them to compromise for efficacy. They work to make skincare more easily understood, thanks to their AskInkey feature on their website. You can chat with skincare experts right on the platform to help make routines, figure out what your skin is lacking, and more.
The INKEY List
This basic cleansing balm, in a unique squeeze tube packaging that is so much more sanitary than dipping your hands into a pot, is a staple in my routine. It takes off all your makeup and rinses away clean. Some nights, I don't even follow up with cleanser because my skin feels so clean after just using this.
The INKEY List
You've heard of hyaluronic acid, but polyglutamic acid is its hydrating sister. Unlike hyaluronic acid, polyglutamic acid is a humectant, so it holds even more moisture. If you haven't seen magical results from hyaluronic acid, try this instead.
The INKEY List
The Inkey List is known for their array of eye creams, and this one really tops the list. Made with caffeine and peptides, it plumps, hydrates, and smoothes the under eyes. Didn't get a lot of sleep? Under some stress? Eating a lot of salt? All of the above? Try this eye cream.
Lumin is technically skin for men, but anyone can use these effective skincare products. They're made with high-quality ingredients and backed by skincare experts in Seoul, all to give you the best skin of your life. With a low price point and simple products, this is a perfect product to gift to any Ordinary lovers in your life (especially, but not only, the men you know).
LUMIN SKIN
Looking for a self-care treat that actually helps your skin? Look to this sheet mask. It has a host of benefits, from soothing sun damage to treating dullness to moisturizing dehydrated skin, all in this one little mask.
LUMIN SKIN
If you struggle with clogged pores and excess oil, this cleanser fights all of that, getting rid of all the gunk on your skin at the end of the day. For those who are looking for a stronger cleanser to really clean (i.e. those milky cleansers everyone raves about don't do a thing for your skin), this should be on your radar.
LUMIN SKIN
Add this to your morning skincare routine and thank us later. Made with niacinamide and caffeine, this eye cream diminishes the triad of under eye problems: dark circles, fine lines, and puffiness.
You've likely seen Acure at your local Target or Ulta, but their line continuously adds exciting new products at a price you can't beat. Their products are all 100 percent vegan (and 0 percent pretentious, according to their tag line–I love self-awareness).
ACURE
Blue tansy
is a trending skincare ingredient for its calming and antioxidant properties, making it a fighter against redness, irritation, and sun damage. Apply this oil after a day in the sun or when you're just feeling a little "blah," and it will instantly soothe your skin.
ACURE
Not everyone wants a dewy moisturizer all the time, and this is the one to go for. It mattifies and keeps oil at bay, but it still keeps your skin hydrated. This is an ideal moisturizer to wear under makeup, but it has a cooling, lightweight texture that would make it great for nighttime too.
ACURE
Ready to try bakuchiol
(retinol's gentler sister) but don't want to spend a fortune? Buy this. It's a lightweight, moisturizing overnight cream that resurfaces and exfoliates without sacrificing soft, supple skin. At under $30 a pop, you'll reconsider your retinol.
SkinButtr is all about promoting confidence through a simplified routine of staples that make the skin soft and supple from your head to your feet. With a full line-up of facial care to their famed body butters, these products are meant to give your skin the love it needs. Plus, the brand focuses on sustainability by packaging their products in only outer packaging, putting product in reusable glass jars, and using recycled materials as much as possible.
SKIN BUTTR
For a classic hydrating, pH-balancing toner, this is your best bet. Made with vitamin C, it's a refreshing spray toner you can use anytime you want to add some moisture to your skin.
SKIN BUTTR
This hydrating cleanser is perfect for day and night, leaving your skin refreshed (thanks to a citrus scent), clean, and never stripped. If you look for a basic cleanser to add to your routine full of actives, this is a solid choice because it simply cleanses the skin without too many other frills.
SKIN BUTTR
Because SkinButtr is known for their body products, I couldn't leave one out. This body butter is their fragrance-free iteration, making it ideal for sensitive skin. Made with 100 percent whipped shea butter, it's lightweight and non-greasy while still being completely moisturizing and glowy.