I only know one person who religiously takes care of their skin, and let me tell you, it shows. My grandma has always had a glow about her—and it's not just because she has the heart of an angel. I have asked her on countless occasions how she gets her skin so soft and radiant, and for my entire life, she has told me about the practices and products she uses daily to achieve it. My first thought? That sounds like a lot of work. My second? Well… I guess skin that glowy isn't genetic, so I better get started with a body care routine.
because periods CAN suck less
The only thing that has kept me from prioritizing a body care routine is pure laziness. But I'm turning over a new leaf this year and committing to it. If you too are ready to lean into body care, I am breaking down tips I've learned for maintaining healthy skin along with the tools and products that will make your skin baby soft and radiant from head to toe:
How to Build an Effective Body Care Routine
Tips for healthy skin from head to toe
There are plenty of products and tools that you can add to your body care routine to achieve soft, healthy skin (more on that later). But first, let's start with the basics (and honestly, the non-negotiables for achieving healthy skin).
Stay hydrated
I hate to break it to all of the gals who forget to drink water, but there is no way around this one. If you want your skin to look and feel hydrated, you need to stay hydrated. Water intake is directly linked to better skin hydration and circulation, so taking in enough water (drinking half of your body weight in ounces of water is a good rule of thumb!) will not only make you feel better but make your skin look better too. *Reaches for water bottle*
Shower in lukewarm water
I prefer to take showers on the side of scorching, but unfortunately, hot water can dry out and irritate the skin and make skin conditions like eczema worse. I'm not saying the only way to glowing skin is a polar plunge. But if you turn down the heat to lukewarm, your skin will thank you.
Exfoliate regularly
Exfoliating 1-3 times a week (depending on your skin's sensitivity!) can help buff away any dry, dead skin cells, and make room for new, healthy skin cells to form. Plus, it increases circulation (bonus points if you use a dry brush!) which can help flush out toxins and boost skin radiance.
Use SPF daily
Dermatologists recommend using sunscreen with an SPF of at least 30 to cover all skin that is not covered by clothing. While it may feel silly to apply sunscreen when you're not about to go lay directly in the sun, SPF can help protect you from uneven pigmentation, dark spots, melasma, and other skin condition flare-ups.
Avoid harsh soaps
Harsh soaps and detergents (especially those that contain irritants or strong fragrances) can wreak havoc on your skin barrier, causing irritation and dryness. To prevent this from happening, check your products (body wash, lotions, laundry detergent, etc.) for harsh ingredients and choose more gentle options.
Tools for your body care routine
The right tools can not only make your body care routine easier and faster but elevate the experience on a daily basis.
The correct order for your body care routine
So what are the steps you need to take and the products you should have in your arsenal for an effective routine? We've got you covered:
1. Cleanse
Odele
Perfect for anyone who has skin conditions like eczema or just sensitive skin in general, this fragrance-free body wash is ultra calming and gentle since it is infused with restorative oats. And since it is pH balanced, it will also support your skin's natural barrier.
Maude
Say goodbye to skin irritation with this pH-balanced body wash that is fortified with essential vitamins like omega-3, 6, 0 and vitamins B3, B5, C, and E. Your skin will be gently cleansed and smell like a bright mix of pink pepper, gurjun balsam, lemon, and cedarwood.
Dermalogica
This conditioning body wash purifies skin with the help of essential oils. Eucalyptus, lavender, sandalwood, and lemon get to work soothing your skin while orange peel oil promotes brightness and Vitamin E nourishes.
2. Exfoliate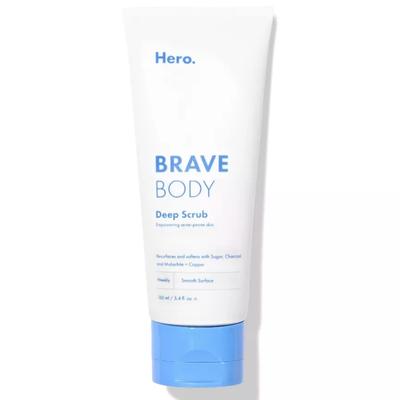 Hero Cosmetics
Visibly renew and smooth your skin with this once-per-week scrub that buffs away oily buildup, removes dead skin, and smoothes out skin texture.
First Aid Beauty
If you struggle with keratosis pilaris, this is the scrub you need to have in your shower at all times. Pumice buffing beads and glycolic and lactic acids get to work removing dead skin cells to reveal brighter skin.
Lux Unfiltered
A gentle, hydrating body polish that smells like warm santal AND is non-toxic? Say less. This product has a cult following, and you'll understand why when you feel how silky smooth your skin feels after the first use.
3. Target
Topicals
Roughness, dry patches, bumps, scales, dullness, strawberry skin, flakiness—this lightweight and milky body serum does it all. Use it 2-3 times per week to reveal hydrated and toned skin without patchiness once and for all.
SkinCeuticals
The cooling fluid in this body tightening concentrate can help your skin look and feel more lifted and firm. With regular use, your skin will be supported, helping with the appearance of youthful, smooth skin.
Versed
This body mist contains a salicylic acid acne treatment to combat problem skin, including body acne, clogged pores, and oiliness. The best part? It's 360-degree continuous spray makes it easy to treat hard-to-reach places like your back.
4. Moisturize
Sol de Janeiro
This product is all over TikTok, and we can tell why. It locks in moisture, visibly restores skin's elasticity, and helps the skin look and feel young with the help of fatty acids and antioxidants.
Summer Fridays
Summer Fridays says this is a "indulgent body lotion," and honestly, that's all the convincing I need to try this product. With plant-derived butters, natural oils, and ceramides, it melts right into the skin to deliver hydration and protect your skin's natural barrier.
Ouai
We love Ouai haircare, and their body line is just as good. This rose-scented, quick-absorbing, whipped body cream provides hydration and the visible glow we are always trying to achieve.
5. Glow
Glossier
Hate the feel of an oil on your skin but want the glowy results? Same. Glossier's dry-touch oil mist is here to solve all of our problems. Ingredients like sunflower seed, grapeseed, and oat get to work moisturizing and soothing the skin while fennel extract evens skin tone.
Nécessaire
Fatty acids, antioxidants, and natural essential minerals protect, soothe, and nourish the skin while revealing healthy, dewy, and glowy skin. The best part? It's lightweight and fast-absorbing, so you don't have to wait forever to get dressed after applying.
Patrick Ta
Available in three shimmery shades, this body oil lives up to its name, delivering a major glow. But it's not just for looks—it contains vitamin E and magnolia bark extract to defend the skin from free radical damage and it also contains squalane to deliver moisture.