Once upon a time, I was a girl spending her days reading The Everygirl's reviews of Bumble's BFF mode, dreaming about being a young 20-something in a big city and making tons of fabulous new friends. Now, I am a young 20-something moving to a big city and freaking out about how to make friends without the education system spoon-feeding them to me with seating assignments. Thankfully, Bumble BFF has grown up right alongside me and launched their new app Bumble For Friends on July 26th.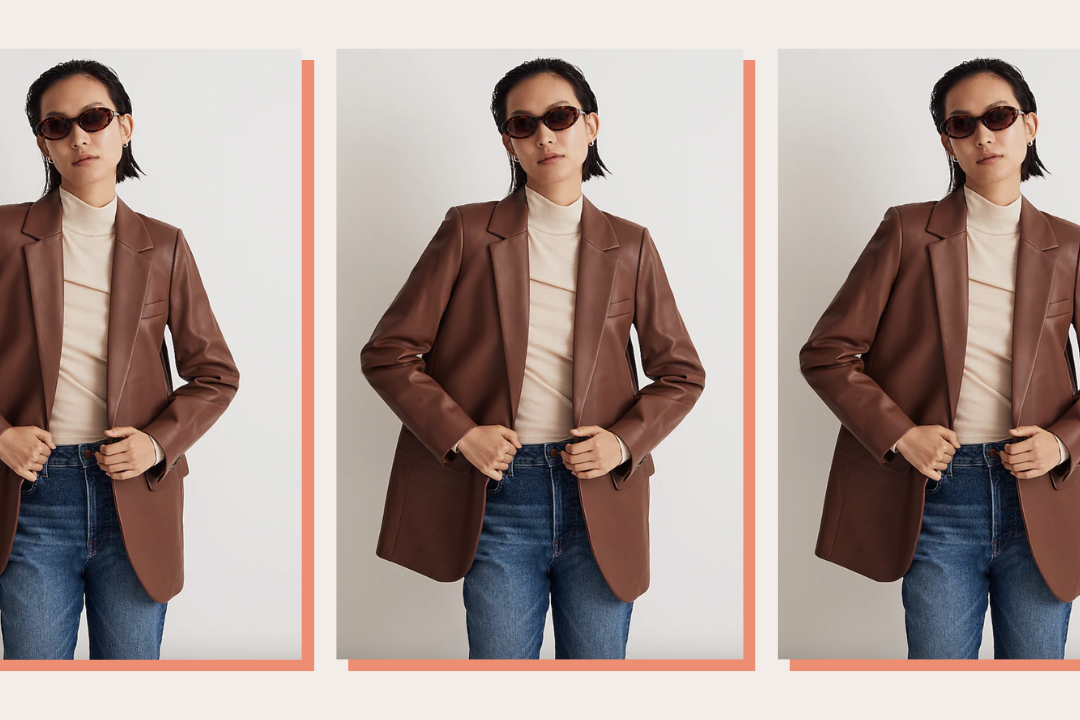 time for your fall wardrobe update!
Bumble For Friends is a new way for people to find and grow their friendship circles, entirely outside of the Bumble dating app. For those who are in committed relationships and don't want to download a dating app onto your phone, this one's for you. In all seriousness, though, the new Bumble For Friends app has some amazing new features that give the app a total vibe shift from the original version. So, how does the new Bumble For Friends app stack up? Here, we're sharing what you can expect from the new app, including its new group meetup feature and our tips for making the most of your profile.
Why Meet Friends Online in the First Place?
I was raised on the internet, so the idea of making friends through social media or through a dedicated app doesn't scare me one bit. However, not everyone feels this way, whether out of an understandable fear of putting yourself out there on the internet or out of a concern for a lack of authenticity. So, why download a whole new app for the sole purpose of meeting friends in the first place?
For one, the conversation about meeting people online has shifted massively in the past few years. The pandemic and the transition to work-from-home meant that many people had to adapt their attitude toward internet connections; suddenly, all friends were online friends. Though the world has opened up, the stigma around meeting friends online has shrunk. According to Bumble, "People who chose to work from home might not have had as much of an opportunity to form friendships in an office setting, and those who moved might be looking to build a new community of nearby friends."
When it comes to having a whole app entirely dedicated to friendships, though, Bumble For Friends is Bumble's response to the loneliness epidemic. According to Whitney Wolfe Herd, Bumble's founder, and CEO, "With feelings of loneliness and isolation at an all-time high, now more than ever is a time to prioritize self-love and friendships for our wellbeing." Having access to a group of people who are all intentionally seeking quality platonic connections is a big deal. Whether you are experiencing those feelings of loneliness, you're starting a new stage in your life, or you just want to flex your friend-making muscles, Bumble For Friends can kickstart a beautiful friendship.
Setting Your Profile Up for Success
If you've ever suffered through making a dating app profile and ended up staring at the ceiling for an hour thinking about whether or not you're catering to the male gaze (just me? Cool), making a Bumble For Friends profile will feel like a breath of fresh air. Making a profile for friend matches simply means including photos of yourself doing things you love, being the fun, silly, relatable icon that you are, and adding prompts about your personal interests. Plus, if you are currently a fan of the BFF mode on the regular Bumble app, you can easily migrate your profile to the new Bumble For Friends app without needing to make many changes.
Much like a dating app profile, the Bumble For Friends profile includes spaces to add up to five of your top interests, what you're looking for in a friendship, and your basic details, from religious beliefs to lifestyle to zodiac signs. The app also allows you to answer prompts, such as your ideal night out or your favorite tv show. Unlike a dating app profile, though, the Bumble For Friends Profile has a section where you can share your relationship status. Sound a little overwhelming? Here are our top tips for setting your profile up for success:
Add photos of yourself socializing and with friends. You know that dating app "rule" where it's more effective to add photos of yourself than group shots? Well, you can throw that out the window with your Bumble For Friends profile. Adding pictures of yourself with friends will show potential matches with the kind of social life that matters to you.
Choose prompts that start a conversation. Just like with a dating app, adding prompt responses that show your genuine interests will spark conversations with people who share those same interests. For example, the "ideal night out" prompt can be a great way to chat with friends who love a similar type of socializing. My own profile reads, "Drinks at an aesthetic bar followed by drinks at a fun bar and home before 1."
Add as much information about yourself as possible. When I was filling out my own profile on Bumble For Friends, I found it super hard to narrow down my interests to just five things (I landed on reading, cooking, pilates, bars, and coffee). Adding as much information about yourself as you possibly can will draw in more people who are genuinely excited about meeting you and doing fun things with you.
Using the New Group Meetup Feature to Your Advantage
Don't get me wrong: I am 100% the introverted, deep-chat kind of girl who values her one-on-one friendships more than group dynamics any day of the week. If we are close, you will be receiving a Gcal invite for a bi-weekly coffee so we can have that quality one-on-one time. At the same time, I love to do fun stuff, and doing fun stuff is always even better with a big group. Farmer's market visits, beach days, going to see a live show or movie, and hosting a fabulous dinner party all call for a true squad.
The Bumble For Friends app is making group communication and planning much easier with a new group meetup feature. Any Bumble For Friends users can create a group meetup on the app and invite at least two of their matches for an in-person activity. According to Bumble, "Any member from the group can select a planned activity, or they could create their own. From there, the member would invite the other two connections. Once the invite is accepted, all members will join a group chat to discuss meetup details."
When you open the "chat" tab on the Bumble For Friends app, you'll see a bar at the top of the page that says "Get a group together." Clicking on the bar will lead you to a page where you can either choose from Bumble's suggested meetups ("meet for coffee" or "live music" are a couple of options) or write in your own activity. You can add a description for the activity, including the date or location, and then you can invite however many matches you want to the group chat. The option for a group meet-up allows you to use all of the things you loved about the OG Bumble BFF, plus an opportunity to invite even more friends to the party. It's a feature that makes you wonder, why on earth wasn't I using the internet to create my intramural pickleball team earlier?!
Making The Most of Your Bumble For Friends Experience
Whether you've just moved to a new city and need to make friends to show you around, are a new mom or bride looking to connect with others, or if you simply want to expand your social circle, Bumble For Friends is a great option. Just like dating apps, you may have to go on a few friend dates before you find your forever bestie, but long-lasting, high-quality friendships are always worth putting yourself out there. Might as well start planning the theme of your next girls' night right now!