As a major book-lover who owns way too many titles, I've taken to calling my horde of books a collection and treating it as such. I am constantly reimagining and rotating my stash to display different titles based on color and design. Over the years, my book collection has transformed into more than just a library to pull from. Rather, it has become a source of interior design inspiration and an outlet for creative energy. When it comes to styling books in your home decor, the possibilities are endless (no, you don't need to be limited by a bookshelf). If you're like me and want to give your book storage a refresh, read on for some unconventional methods to store books and elevate your home decor.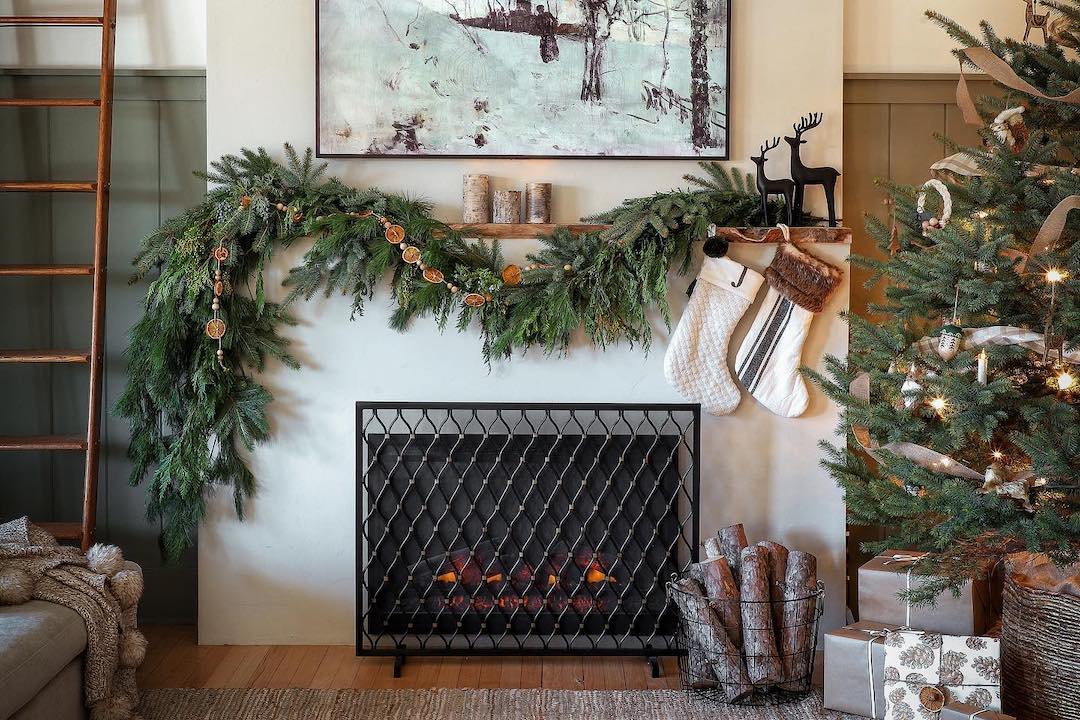 there's still time to deck your halls
Creative Ways to Store Books
Whether you stack them, line them up, or display them like art, there are so many ways to store books without a bookshelf. Here are some of our favorites:
1. Stack books on your bar cart
A bar cart can be used in almost any room to hold favorite trinkets and glassware as well as a few bottles of your favorite wines or liquors. But just because bar carts are intended for barware does not mean you can't mix and match with some of your favorite books. Fill up the bottom shelf with stacks of books, a house plant, and maybe a small lamp to create your own portable library.
2. Mix books with art
I love displaying my favorite titles front-and-center like the pieces of art they are rather than tucking them away like storage. To free up some prime real estate on your bookcase, shift the more aesthetically pleasing book covers onto a picture ledge or floating shelves. Then add in some framed prints to create a stunning gallery of mixed-media art. You'll make room on your shelves and create a new and interesting focal point.
3. Display your books on (or below) a windowsill
There's virtually nothing better than a cozy reading nook—except a reading nook next to a window with plenty of natural light. Why not preemptively pull some of your favorite titles off the shelf and display them right next to your ideal reading spot? The natural focal point that the window creates will not only place your favorite books on display, but it'll also keep them close at hand when you're ready for an impromptu reading session.
4. Use a credenza or buffet for book storage on display
Think of a credenza as a more functional and aesthetically pleasing bookshelf. You can use one as a media console below a TV, for extra storage behind a couch, or as an impromptu buffet table when guests are over. Arranging a mix of coffee table books and favorite novels among the other items is a lovely way to create some aesthetic intrigue and tie rooms together. Plus, your books will add a little more interest than the usual internet cables or kitchenware that are typically found in media consoles and buffets.
5. Take advantage of hard-to-reach storage spots
We all have those high shelves or awkward spaces in our homes that often sit empty. If you have unused space above kitchen cabinets or at the top of tall a shelving unit, these areas are perfect for storing items you don't need to access every day. And since you're typically only reading one book at a time, the rest of your books fit that bill. Or if you're like me and, on a whim, you've acquired one or two awkwardly sized coffee table books, use them to create visual intrigue in a space that is otherwise empty or bland.
6. Display books on the mantel
Mantels are a fantastic way to display artwork, vases, candles, plants, clocks, etc. If you have a decorative keepsake, your best bet for displaying it prominently in your home is to place it on a mantel. Books on a mantel might not seem that revolutionary, but if you happen to have a fireplace and a ton of beautiful books you'd like to display, why not show them off them on the focal point of the entire home? Sprinkle in some decorative items to make your stacks of books look like intentional decor instead of temporary storage.
7. Store books in the fireplace
No, this is not a creepy call-to-action or a hint that you have too many books. If you find yourself living in a home with a defunct fireplace, you might have a brilliant opportunity to display your books. Especially if your mantel is already taken up by a TV, decorative mirror, large painting, or decor accents, I raise an alternative: the hearth. You often see defunct fireplaces (or fireplaces that are never used) filled with elegant candelabras or stacks of logs, but this space can be used more creatively (and functionally). Arrange the books in intentional, opposing stacks and include one or two decor items for a unique look.
8. Stack them vertically
No furniture needed here—books can create visual intrigue on the floor, too. Stack your favorite books below a windowsill or along a baseboard to introduce an unexpected design element to your living room, office, hall, or entryway. Face the spines out to create colorful chaos or turn all of the spines inward to create more visually cohesive stacks. You'll immediately feel the creative energy of your room shift and your favorite books will be closer to grab when inspiration strikes.
9. Use a decorative ladder
Ladders are a fun and interesting way to incorporate something visually unexpected into a room. They create height, and their frames are often inconspicuous enough to not detract from the decor items you're putting on display. Drape books over a ladder to incorporate color and texture in your room and put a unique spin on storage so they're on display but also organized.
10. Stack underneath a bench
Like a fireplace, benches are useful spots for intentional clutter because they can bring uniformity to items with a lot of variation. In the case of books, that variation can be height, thickness, color, or texture. If you have a bench in a hallway or at the foot of your bed, consider using the space below it to arrange either stacks of books at various heights or a horizontal display of interesting books spines. This unexpected spot will create visual appeal and effectively tuck your books away at the same time. This idea also works under console tables!