When deciding how to decorate a room in your home, it's easy to spiral into an identity crisis. Am I more traditional or modern? Is my style more boho or Scandinavian? How much color is too much color? In a world filled with beautiful Pinterest images and endless design inspiration at your fingertips, it can be hard to narrow down what you actually want a room to look like versus what you just like looking at on the internet. After all, tapping "like" on a pretty picture while scrolling your feed and actually spending time in a room every day are two very different things.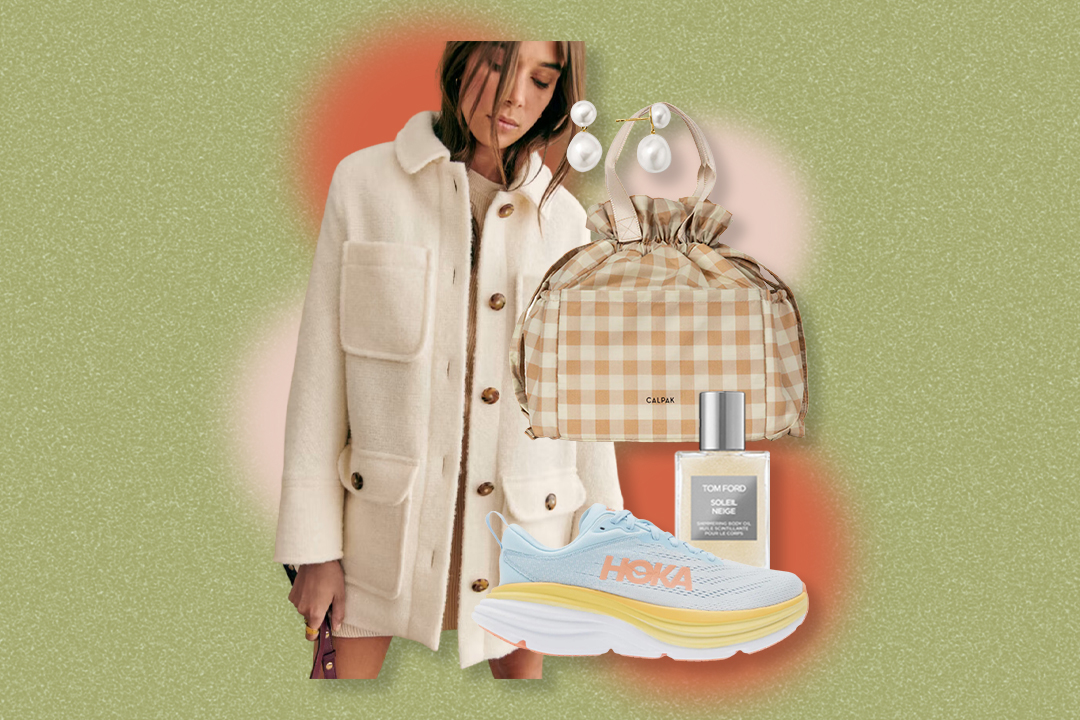 Whether you're an all-white-everything kind of girl or prefer your rooms with a bold splash of color, we've found a living room you can draw inspiration from. With ideas this good, your living room is about to become your favorite room in the house.
If you love natural light and all things neutral…
It's no secret that we love a bright, white space, and this room proves you can get that look without it feeling sterile or boring. Natural light seeps in to compliment the mostly-white furniture, while the patterned rug works with warm-toned throw pillows and blankets to create an inviting look. Add plenty of texture through your accessories, and your dreams of a white, relaxing living room will come to life.
You'll need:
If you're not afraid to think outside the box…
Let this room be the permission you need to play with color to your heart's content. The space boldly mixes olive green, rust, blush pink, and navy, but the artwork above the fireplace brings it all together. Incorporate a wooden coffee table and a neutral rug to make the varied color palette feel more approachable, and you've got an Insta-worthy living room that you'll love living in.
You'll need:
If you like to have fun with your accessories…
This room captures a fun, vintage vibe through the power of accessories (which is perfect for a rental when you can't paint your walls!). Pair a statement light fixture with some cozy seating, then layer mirrors, picture frames, candlesticks, and other accessories for a collected look. To make a real statement, invest in an oversized, ornate mirror to anchor the room—the bigger, the better!
You'll need:
If you like a clean, modern look…
If you want to capture the "bright and airy" vibe but white walls aren't your thing, opt for a cool gray as your paint color. This living room nails the calming vibe thanks to a nearly monochrome color palette, but a few hits of black give it a modern edge. The effect is crisp and clean without skimping on personality.
You'll need:
If you're drawn to texture…
If you love all kinds of prints and textures, refer to this space as your living room inspiration. For a similar look, pair a colorful rug with pillows of various patterns and incorporate lots of wood for texture. Pick up artwork at a thrift store or vintage shop (these can be mixed and matched in different frames!) for an offbeat gallery wall.
You'll need:
If you love earthy colors…
To give your living room an earthy, relaxing feel, look to hues like slate blue, olive green, mustard yellow, and warm brown. We love this room's combination of colors—the rug, accent chair, and accessories bring plenty of variety but stay within the nature-inspired palette. A mix of materials including faux fur, jute, and velvet keeps things interesting.
You'll need:
If you love a bold pop of color…
Paint isn't the only way to add a splash of color to a room. We love how this bold blue sectional stands out amid the all-white space. By keeping the walls, carpeting, and curtains white, the rooms feels bright and inviting while allowing the sofa to shine as the true focal point. Woven accents and textured throw pillows in neutral tones contribute added visual interest.
You'll need:
If you're drawn to vintage pieces…
We love this room's eclectic, effortless, vintage vibe. To get the look on your own, take a trip to a local vintage shop or boutique, and keep an eye out for small trinkets and accessories that can add big personality to your space. Layer your finds among furniture in rich wood tones and leather for a collected-over-time look that's full of character.
You'll need:
If you're a little traditional and a little modern…
This room takes a more minimalist approach to traditional decor that gives the room a modern edge. The space isn't overcrowded with accessories, which allows each unique piece to shine. Sofas piled with pillows and a statement-making plant make it the perfect place to wind down.
You'll need:
If you're attracted to all things artsy…
We're obsessed with the artsy feel of this room, courtesy of the sculptural furniture and variety of interesting objects. For a similar look, keep the furniture modern and neutral, then bring in color through art and accessories. If you have a collection of decorative objects you want to display, invest in storage furniture that'll proudly show them off.
You'll need:
If you need your space to be as cozy as it is chic…
Neutral lovers, this one's for you. This living room maintains a warm, inviting feel thanks to layered accessories and a palette of neutral tones. Mix tans, grays, and shades of white to pull together a living room that you'll love to sip your morning coffee in. Invest in plush furniture and pile on the pillows and throws for a living room that nails the cozy-chic look.
You'll need: