I can't think of a season that's as timeless as fall. While summer trends come and go in a blink of an eye, fall seems to tone it down a bit, allowing old favorites to come back while embracing new trends, beginnings, and changing seasons. What better way to embrace that than having a plethora of fall outfits lined up to carry you from the first changing leaf to the last?
because periods CAN suck less
We're big fans of capsule wardrobes here. Knowing how to wear these easy outfits is just as important as curating a wardrobe you love. From apple picking to long car rides, a foolproof fall outfit should make you feel two things: comfortable and oh so stylish.
If you're looking for go-to outfits for those days when you're not sure what to throw on, have no fear. Read on for easy outfits to wear this season that'll make you feel just as good as you look.
1. A cropped jacket and straight-leg jeans
Shackets have permanently become a fall staple, but we're loving different iterations of this classic overcoat. A cropped shacket is ideal as the temps haven't dipped too much yet, and it still allows you to show off your cute high-waisted jeans. Paired with a crossbody and your go-to pair of sneaks, this combo can't be beaten.
Alo Yoga
4 colors available
Abercrombie & Fitch
20 washes available
2. A knit set and Uggs
Think of a sweat suit, but a little more elevated. Matching sets are perfect for those fall days you want to switch things up but still want to stay as cozy as possible. Endlessly versatile, the sweater set looks great on its own or paired with monochromatic accessories. To top it all off, add Uggs.
Alo Yoga
2 colors available
ASOS
Matching pants sold separate
3. A big ol' trench and statement boots
What's easier than throwing on a giant trench over a simple outfit and calling it a day? Not only does the trench coat speak for itself, but when you pair it with a striking pair of boots, the outfit combo is to die for. We're not sure what we like about this outfit better: the fact that it's zero effort with a high-quality outcome or feeling like the ultimate cool girl as the trench billows behind us.
Banana Republic Factory
2 colors available
Old Navy
3 colors available
4. A cozy crewneck and comfy sneakers
What's great about this simple outfit is that it truly goes with any pair of pants: denim, ribbed knits, or my personal fave, leggings. It's a classic fall fit that's foolproof. We've all got a crewneck, so why not dig it out and take it for a ride at the pumpkin patch or cozy up on the couch sipping your fave fall drink?
Old Navy
7 colors available
adidas
6 colors available
5. A collared sweater and trousers
If you don't have a pair of trousers in your wardrobe yet, now's your chance. It looks like wide-leg trousers are here to stay, and why wouldn't they? They look great with absolutely everything. This fall, pair them with a chunky collared sweater. The contrasting textures go hand-in-hand. (Don't worry. We still love a simple pair of denim, but this combo is more of its chic older sister.)
Everlane
4 colors available
Reformation
2 colors available
Everlane
4 colors available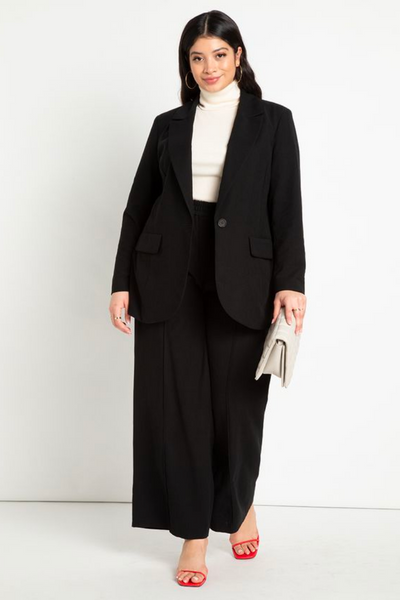 Eloquii
2 colors available
6. An oversized blazer and clogs
Clogs are absolutely everywhere right now. What better way to style them than with a timeless piece that looks good with anything and everything? Bonus points if you match your blazer to your Bostons.
Old Navy
2 colors available