While some might say Trader Joe's hits its peak in the fall and winter (and I have to agree, I do love anything that's pumpkin-themed), I frequent TJ's at an alarming rate during the summer. I'm busier, engaging in more food-themed events, more on-the-go, and overall, my tastes are just a little different. Oh, and my finances take a bit of a hit (thanks to happy hours, too many swimsuits, and all those summer weddings!), and Trader Joe's always gets me a full cart of groceries on a budget I can actually suffice. Wondering what Trader Joe's products I swear by every summer? You've come to the right place: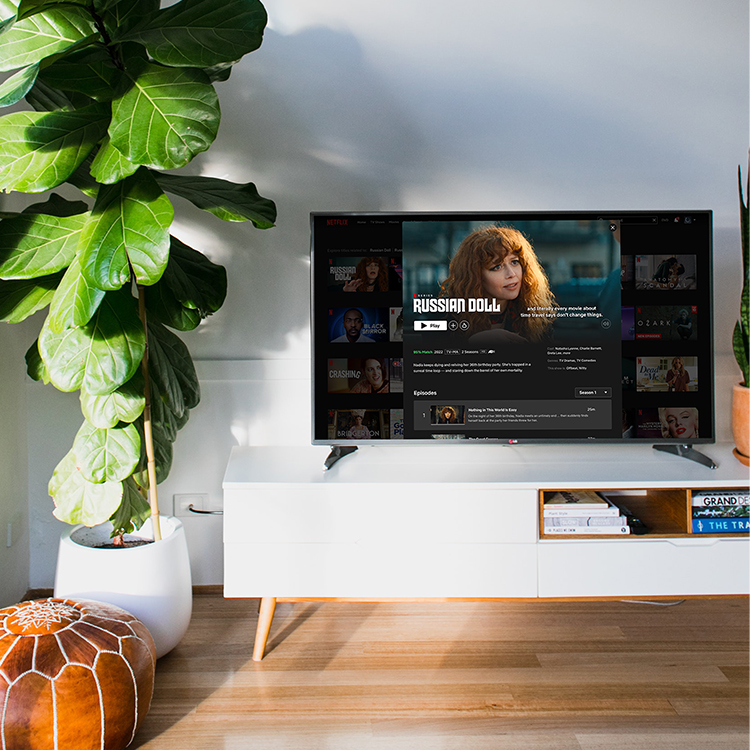 stop mindlessly scrolling on Netflix—these shows have our seal of approval
1. White Meat Chicken Salad
This chicken salad goes perfectly on a lettuce wrap or with my personal favorite, a package of Trader Joe's croissants. I love packing this up for picnics or beach days.
2. Mini Watermelon
A mini watermelon is the perfect snack for one, and I've found these from TJ's are super juicy and delicious. Plus, the small size makes them way easier to cut than your normal giant watermelon.
3. Protein Palette
I'm all about an easy on-the-go snack that I can pack in my bag in the summer, and this has been my current favorite. A little protein and some healthy fat make this the ideal snack that actually keeps me full.
4. Bite-Size Sharp Cheddar Cheesy Crackers
I tried these on a whim a few months ago, and now I buy them every single time I go to TJ's. They're full of flavor (they have that perfect sharp, cheesy bite) and crunchy. They also have quite a bit of protein, so eating a few is satisfying enough—I don't feel like I need to eat the entire box.
5. Organic Grilled Chicken Breast
It's always good to have chicken on hand: to put in salads, as a protein with pasta, shredded with barbecue sauce, any way you like it. This package is easy and actually tastes good.
6. Pre-Made Salads
What is it about summertime that makes me crave a salad? I eat it for lunch most summer weekdays, and some days, I don't have time to put it all together, which makes pre-made salads convenient. Plus, these are so nice for taking on-the-go (hello, back-to-office lunch!). I love all of these flavor combinations, but my latest favorite has been the Waldorf salad.
7. Golden Berries
I'm really picky about texture, so I expected to hate these, but they've actually become one of my favorite sweet treats whenever I walk into the kitchen. They have a tangy, tropical taste that's unlike any berry I've tried. It's almost like eating a pineapple but in berry form. I don't know how to explain it, but it's so good.
8. Chile-Spiced Pineapple
I don't make the rules: Spicy and sweet is the ideal flavor combination. The chile-spiced mango is one of TJ's biggest items, but I'm loving the pineapple this year. It's actually quite spicy too, which I love.
9. Organic Beef Hot Dogs
Hot dogs are a summer staple, and after swearing by Hebrew National for as long as I can remember, I grabbed these from TJ's and have now conformed to them. I like them just as much (if not more), and they're a little less expensive. I'm really picky about hot dogs because they can be chock-full of God-knows-what, but the ingredients in these are pretty good. (But mostly, they just taste amazing on the grill, in a bun, and with a little mustard.)
10. Tempura Cauliflower
When you want a simple dinner that's healthy and filling, make sure to keep this on hand. My favorite way to use it? Make a sauce (usually buffalo or something spicy), top it over the cauliflower, and put it inside a tortilla to make tacos. It's my easiest (but arguably one of the best) dinner to date.
11. Watermelon Fruit Spread
I'm a grape-jelly-or-nothing kinda gal, but seeing as I love watermelon, I gave this a try. Ever since then, it has added a lovely hint of watermelon to toast and charcuterie boards. It has a really light, jelly-like texture and has absolutely no chunks, and the watermelon flavor isn't too overpowering or artificial-tasting.
12. Mango Sorbet
Sorbet is typically the lesser of the frozen treats because usually people want something like ice cream. But sometimes, I like a light treat to help me cool down on really hot days, and this fits the bill. It has a great texture, and the mango flavor is sweet but not overpowering.
13. Turkey Corn Dogs
I'm a corn dog aficionado, and once I found these, there was no going back. They make me feel like a kid every time I eat one, and even though they're "healthier," they taste just as good as the state fair classic I used to always get. I've been obsessed with them paired with the new Dill Pickle Mustard from TJ's. *chef's kiss*
14. Organic Acai Smoothie Bowl
Happy smoothie season! When you want a light breakfast that'll cool you off after your morning workouts, get this smoothie bowl. It's basically already made for you and tastes so good.
15. Patio Potato Chips
The perfect bag of patio chips doesn't ex—JK, it's these. You know when you're at a cookout or party and you grab a handful of chips from each bowl so you can get a little taste of each? That's exactly what you get in this bag. Containing all the best flavors (Dill Pickle, Ketchup, BBQ, and Salt and Vinegar), this bag of chips lasts a very short amount of time in my house, but it's so good and perfect for sharing!
16. Turkey Burgers and Chili Lime Chicken Burgers
Having a plethora of cookout options (or dinners that'll make me pretend I'm at a family cookout at home when I'm actually alone in my city apartment) is important in my summer fridge. These are two burger options I keep on hand and spice up with different cheeses, buns (sometimes lettuce wraps if I'm feeling it), toppings, and more. These are really easy to pop in the air fryer for lunches too!
17. Fruit Bars
For the adult version of a popsicle (not that I won't be eating at least a few freeze pops this year), I go for these. Again, I'm always focused on finding snacks to cool me off when I get sweaty and gross in the summer, and a frozen fruit pop is just the way.
18. Love, Olivia Watermelon Wine
Sommeliers might scoff at this, but I love a flavored wine like this in the summer. They're so sweet and refreshing, and they feel special since I don't drink them much at any other point in the year. I'm obsessed with watermelon, but I'm also dying to try the peach-flavored version.