Our editors recently came to a controversial realization: Spring outfits are actually more exciting than fall ones. Yes, we said it, but hear us out before you write us off for being absolute fools.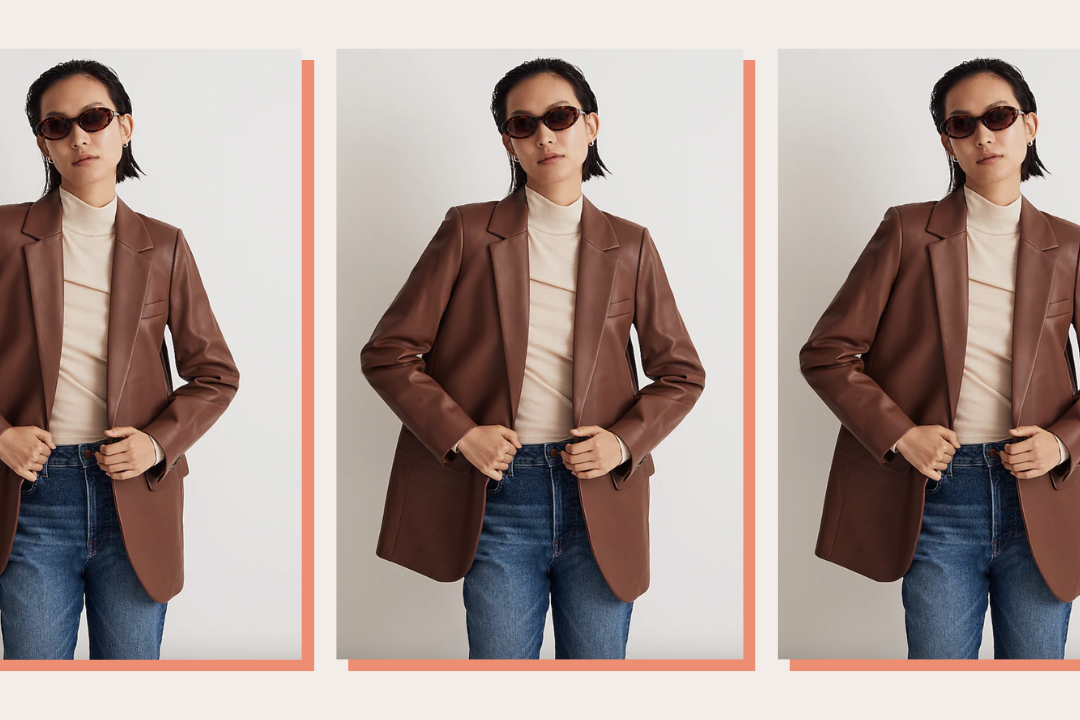 time for your fall wardrobe update!
Fall clothes are magical because, at the end of a sweaty summer, you finally get to cozy up and wear something besides the tank top you conceded to be your uniform for the past three months. But spring? Spring is the opposite in the best way. After being cooped up and covered in as many clothes as humanely possible, you finally get to strip them all away and emerge from your parka like a butterfly emerging from a cocoon after a long, hard metamorphosis.
So as a celebration in honor of that first warm day that's right around the corner (you know the one), our editors have picked out the outfit we're counting down the days (minutes even!) until we can finally wear. All we're saying is that if you happen to see us out and about on a patio drinking a margarita on that glorious day, you saw our look here first.
blazer | belt | jeans | purse | tank | flats
I'm in my Meredith Blake era RN because all I want to wear are blazers and neutrals. There's something about spring that makes me want to lean into clean girl aesthetics and wear basics like denim, ribbed tanks, and camel blazers. The pant I am currently obsessed with is denim cargo–I'd never have thought that I could pull off regular cargo pants, but put them in a more structured fit and light wash denim fabric and I'm hooked. Some other trends I can't get enough of: ballet flats (sorry heels but we need a break) and metallics (visual cue: Paris Hilton's 21st birthday party look).
-Josie, Wellness Editor and Podcast Host
If there's one clothing item I can't stop wearing right now, it's my denim midi skirt. I love styling an outfit I'd normally style with jeans, but swapping out my jeans for this skirt instead. I'm also completely obsessed with this $50 Amazon bag; it adds a little metallic punch to any outfit that makes it automatically cooler. With a basic tank and my favorite ballet flats (that I love so much I got them in a second color), I've got my spring uniform.
-Maddie, Fashion Editor
top | earrings | skirt | tote | sunnies | shoes
I might be getting a little too cocky with Chicago weather because lord knows, we might get a blizzard in mid-May. But in the spirit of willing warm weather into existence, I'm looking forward to wearing midi skirts and crop tees galore. Picturing myself in this outfit while people-watching on my favorite Chicago patio (Trivoli Tavern I love your work) is getting me through these cold and gloomy days and I am so looking forward to it.
-Ashley, Brand Partnerships Manager
tee | shorts | jacket | boots | purse
One of my favorite trends of 2023 so far is the coastal cowgirl aesthetic. I think the mix of coastal-inspired prints, textures, and silhouettes with some touches of Western style is so fun and a great way to lean into spring fashion. I'm especially loving quilted jackets and vests for spring, so when I saw this one from J.Crew Factory, I audibly gasped. I would size up for a relaxed look, and pair it with a basic tee and long jean shorts. To complete the look, I'd wear my tan suede cowboy boots—which I've already worn a ton this spring—and a fun straw shoulder bag.
-Jess, Associate Commerce Editor
earrings | heels | jeans | button-up
I'm a simple, neutral girlie through and through when it comes to my wardrobe, but I love adding an unexpected element to my outfits too to keep them fun. You should have seen how fast I added these sandals (and TBH a few more similar pairs) to my cart when I saw them. I can't wait to pair them with denim and this sheer button-up for a dinner date on a Friday night or for drinks with the girls. Catch me wearing a summer version of this outfit too with black shorts and a white tee. Outfit repeater? That's me.
-Hailey, Assistant Editor
purse | sunglasses | skirt | vest | boots
I only have two things on my spring to-do list: 1. Stomp around and explore a new city. 2. Wear dreamy and flowy outfits all season long. Por qué no los dos? I don't want to live in anything other than a skirt lately, and it's looking like cowboy boots are the newest everyday shoe (about time). I'm keeping the look fun and flirty with floral motifs and bright pops of cherry red. Now I just need somewhere to wear this outfit. Road trip anyone?
-Bella, Editorial Fashion Assistant