When you see the word "meal prep," do you automatically get stressed? Perhaps you add "preparing healthy meals ahead of time" to the category of adulting tasks you never seem to be "adult enough" to get to. Maybe you've tried and tried (and tried) to meal prep, but because you're bored/busy/unmotivated, it hasn't become a habit. While I feel your pain, meal prepping is a key part of a healthy diet because it ensures we can make healthy decisions and opt for nutritious foods, even during busy or stressful weeks (AKA every week).
Here's the good news: you don't have to spend your entire weekend grocery shopping and chopping, and you don't even have to put a lot of time and effort into it to get your meal-prep game strong. Using a few expert tips, meal prepping can not only be easy, but it can be so streamlined, you won't have to give it a second thought. Here are eight expert tips that make meal planning a breeze:
1. Go the delivery service route
We get it: some weeks are just so busy that you don't have time to plan, prepare, and cook your meals. If you find yourself opting for takeout every night or you check Uber Eats more than you check Instagram, a meal delivery service might transform your eating habits and lifestyle. Blue Apron offers health-conscious options like vegetarian, carb-conscious, 600 calories or less, etc., so not only can you select meals that you'll look forward to all day, but you'll be eating meals that help you achieve health goals. With 23 weekly recipes, there is quite literally something for everyone, no matter your tastes or diet preferences.
Plus, Blue Apron is now offering a variety of customizations since they know everyone (and their tastebuds) are different. For example, you can now swap, add or upgrade proteins on select meals to ensure that everyone in your home can enjoy the meal, no matter preferences or diets.. In other words, even your vegetarian roommate, meat-loving significant other, or picky kids will love it (insider tip: look for the "see options" box under the meal's image after signing up to see if it is customizable).
Thanks to more customization, it's like you really are your own gourmet chef, except with a lot less hassle and a lot more ease. When you're doing all the "prepping" online, the groceries show up at your door with a recipe and perfect proportions, and you can customize to your personal tastes or preferences, cooking becomes a no-brainer. Blue Apron removes all the pain of meal prepping: you'll have delicious, fresh, healthy meals every night and won't even feel tempted to order a pizza.
New customers: click here to save over $60 on your first 3 boxes!
2. Organize your fridge
Have you heard the saying that your life is only as organized as your fridge? OK, even if it's not a real saying, I'm saying it because it's true. If you can't even see what's in the fridge (we all have that one jar shoved to the back) or it's so full that you don't have room for anything new, you're making your life (and your healthy diet) a lot harder. Reorganize your foods by first cleaning out anything expired, and then store the oldest foods in the front and newest in the back (grocery-store style) so you remember to eat those first. This will highlight what foods you have, but most importantly will reduce food waste. Finally, label foods and invest in the right containers (preferably sustainable glass containers that are clear so you can see what's inside) of all sizes to store prepped veggies, easy-to-grab snacks, and leftover meals.
3. Make extra sauces and grains
Casserole is great, but it can only ever be casserole (and who really wants casserole every day?). If you get tired of meals and are never a fan of leftovers, cooking one dish to reheat through the week may not be the best plan of action. To eat brand new dishes but still utilize the convenient power of planning ahead, cook more of a sauce or grain than you need for your dish. For example, if you're making a pesto sauce for pasta on Monday night, make extra, so you can keep it in the fridge to put a pizza on Tuesday, drizzle over roasted veggies and chicken for lunch on Wednesday, and spread onto avocado toast on Thursday. Likewise, if you're making rice, a big batch ensures you'll have a basic grain to repurpose into risotto, lunch bowls, or stir-fries.
4. Make a meal schedule
Meal prepping only works if you know what you need for the week. In your daily planner or weekly calendar, plan out breakfast, lunch, and dinner to get a rough idea of what meals you'll be making all week long. Planning it out in your calendar also means you can see if any busy days or late nights are coming up where you won't have time to cook and can either plan on takeout, food delivery, or prepping the whole dish ahead of time. Once you have a plan for your week, make a grocery list based on the recipes.
If the hardest part for you is finding recipes (first of all, check out some meal prepping recipes like here, here, and here), you can instead make a list of all the produce, pantry items, and meat/dairy you love and know how to prepare first. Once you have a good idea of your go-to's, then come up with some recipes. Starting with the grocery list of your basics and then find or think of recipes based on the list ensures you won't try any difficult recipes or have to buy items you don't otherwise use.
5. Do a different step on different days
Many people prefer dedicating an entire day to grocery shopping, washing produce, chopping or prepping, and batch cooking for the week. For others (especially meal-prepping newbies), fitting so many tasks into one day can feel overwhelming. If you fall in the latter category, try separating meal prepping steps into different days. For example, go grocery shopping on Saturday (bonus points that it will be less crowded); chop easy-to-prep produce like cucumbers, onions, and carrots on Sunday; and bulk cook a grain or roast veggies on Monday. Tackling one task at a time might make meal prepping much more manageable and help you form habits.
6. Use spices, dressings, and sauces
Prepping ahead of time doesn't have to mean foregoing cravings. To adjust to what you're craving, update basic grains, veggies, and proteins with spices, dressings, or sauces. For example, try a store-bought tomato sauce, DIY a creamy dressing, or play around with spices like turmeric, cumin, or garlic powder to elevate ingredients. You can also sprinkle on herbs like basil, cilantro, or parsley to diversify tastes. A bowl of rice and veggies could become a sushi bowl with a little soy sauce and pickled ginger, or a Mexican dish with some taco seasoning, lime juice, and cilantro. The good thing about meal prepping basics is you can transform them into whatever flavors or foods you're craving at the moment.
7. Prep produce right away
Sure, you can wash and prepare produce as you need throughout the week, or you can make your life a lot easier by washing and prepping before putting the groceries away. When you get home from the grocery store and unload all your new goodies is a key time to put all produce in the sink to rinse, wash, and dry before putting them away. Also, doing a little light prepping will not only save a lot of room in the fridge, but will save you time during the week. Try chopping tomatoes, dicing onions, separating celery stalks, and slicing lemons as soon as you get home from the grocery store. Keep in reusable containers to easily access ready-to-go produce throughout the week.
8. Pre-bag smoothie or soup ingredients
If your days are so busy that even making a smoothie or homemaking soup feels like too much time, consider freezing ingredients at the beginning of the week. Try adding fruits, leafy greens, and nuts and seeds to reusable bags and store them in the freezer to keep them fresh. In the mornings, simply add ingredients to a blender with some water or almond milk. This smoothie hack can work for lunchtime with a simple soup. Portion out veggies, protein, and spices or herbs (like garlic, ginger, or thyme) to individual bags, and store them in the freezer. At lunchtime, simply add all ingredients to a pot with your stock of choice, and let simmer until fully cooked.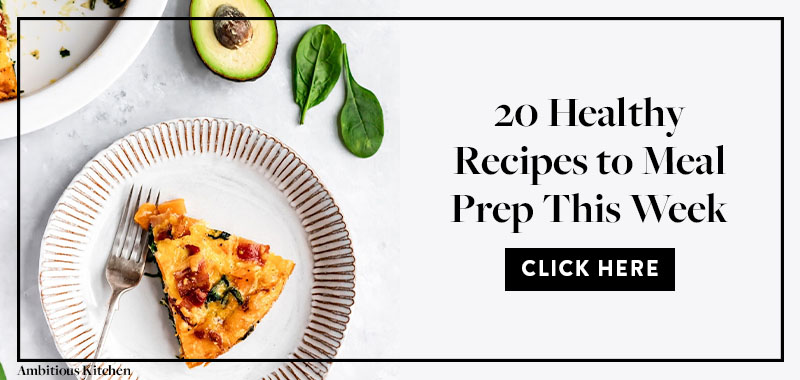 This post includes a sponsored mention of Blue Apron, but all of the opinions within are those of The Everygirl editorial board.