As a Sag Sun, Virgo Moon, I'm not someone who particularly needs validation per se, but I'd like credit where credit is due. I'm a cool girl who has a tendency to try new things, which often leads me to both write about them but also share them in my day-to-day life. And the #1 thing I'd like some credit for is being the first person in our office of many to sing the praises of Spanx's faux leather leggings. I got them exactly a year before everyone else I know, meaning I had a whole year of softly admiring them before the storm that was Faux Leather Legging Fall and Winter™ hit TEG in 2019.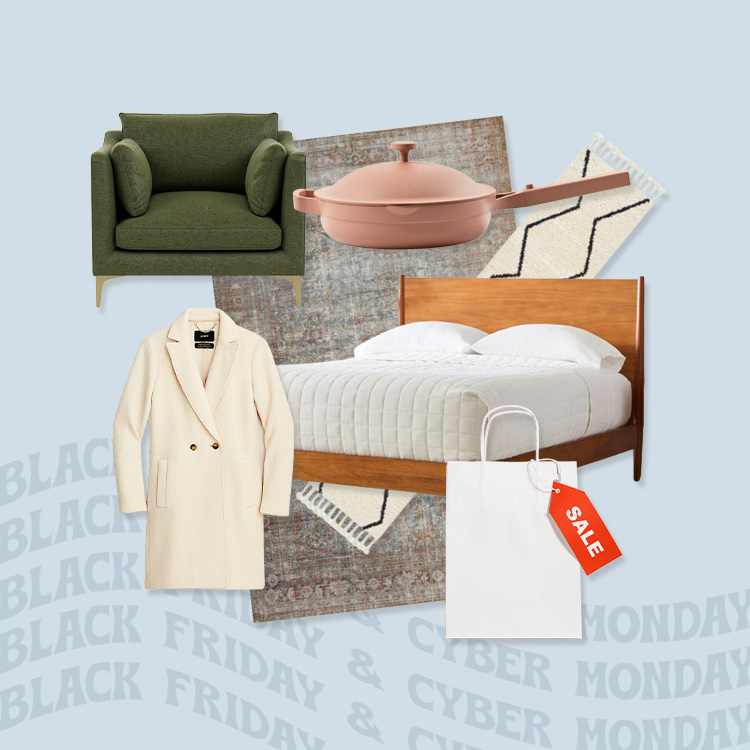 we combed the internet for the best OMG-CANNOT-MISS deals
I'd like my credit, but I also see why everyone went nuts over them: they're durable, beyond comfortable, ultra-flattering, and pair with basically anything from a fancy sweater and heels to sneakers and a sweatshirt. They're a staple in all of our wardrobes, but as more inexpensive options have hit the market, I was dying to see if they lived up to the hype. I ordered four other pairs to compare to my beloved Spanx, and the results were surprising to say the least.
Spanx: The Reigning Champ
I tried these on last just to give them a true comparison to the contenders, and as I was trying on the others, I was like, "OK, maybe these Spanx ones aren't even that great." I kept thinking of all the good things about the others that the Spanx didn't have. Then, I put them on my body and remembered. These are truly just the most comfortable leggings there are, and they are so compressive, which lends to just how flattering they are. They smooth every bump and crevice there is.
I went through quite the journey the last two years with these being terrified to show my crotch, but I'm really over it and don't care anymore. Unless it's like an actual serious camel toe situation, it's just my body, and it's fine. But my favorite way to wear these is definitely with a long cozy sweater like this one!
As someone who rarely believes in an investment, I think these are one of the few things I've bought that have truly held up and are unlike any other pant out there.
Aerie: The Closest Dupe
Our editor Jess grabbed these during Black Friday last year, and I was enthralled when she wore them to the office and I couldn't tell a single difference. While they were on, they looked exactly the same as my Spanx pair. So when I saw they came out again this year (in a few other colors), I grabbed a pair. The black was out of stock in my size, but I tried the olive for a little ~something new~.
Here's the deal with these: I would say that they are the closest dupe you'll find. I liked that they are lined with fleece, so they're much thicker and warmer than the Spanx leggings. The only thing they're really missing is the compression, which I discovered through this experiment is where the Spanx really shines (pun unintended).
I am normally an XXL in Aerie, but these were way too big on me. You'll notice I had this problem with almost every pair I ordered, so I'm not sure if I am ordering the wrong size for myself or if they run big, but I'd say when in doubt, size down with these!
These top the list at the least expensive option, coming in at $16 a pop. Sometimes my takeout lunch costs me $16. I was expecting these to be pretty lackluster based on the price, but Target actually impressed me. This is a really thin material that actually kind of replicates the Spanx without all the compression. If you're strapped for cash, these aren't a horrible option. But they weren't my favorite either. I'd rather spend a little more on the Aerie (wait for a sale!).
I ordered an XXL, and they were definitely almost a full size too big, so I'd size down if you're between sizes.
Amazon: The New Beau 💞
When I ordered these, I expected very little. I ordered the largest size and was really worried they wouldn't fit me, but the size chart sounded right to my measurements (a major plug here to take! your! measurements! if you're an online shopper) and the reviews were outrageous. I have never seen so many positive reviews for any item of clothing, let alone a legging from Amazon. When they arrived in the mail, I opened the package in my elevator because I was so intrigued. I pulled them out and laughed so hard. "There is no way these will fit," I said as I was cackling trying to pull these up my ankles.
Then, I had a real Kombucha Girl meme moment when I pulled them on and said, "Oh, hey, wait…" They pulled all the way on and looked AMAZING. I definitely wouldn't say they're a dupe for the original faux leather legging from Spanx, but … dare I say it … I like these so, so much better. My biggest gripes about the Spanx leggings are that they are freezing cold in the winter because they're a super-thin material that wind blows right through (just Chicago things) and that they lose their leather-look a little too quickly for my liking. These solve both of those problems, as they are lined with fleece (excuse me while I cry) and have a real leather look instead of a shiny coating. I wore these to a patio brunch last weekend and got dozens of compliments from strangers—exactly how you know they're a winner.
As I said, I was really surprised by the fit, thinking they'd run small (my experience with most things on Amazon), but they did not! I would recommend ordering your usual size.
BP.: The "Meh" Pair
If you couldn't tell by my thumbs down, I really did not like these. Similar to the Amazon pair, these are a more "leather" material than a shiny coating like the Spanx. I thought that would make me love these, but the fit is just poor. I ordered my usual size in BP. (XXL), and I was swimming in the fabric. I especially noticed tons of fabric gathering at the crotch, which was annoying because I already am self-conscious about the legging crotch situation, and this made it so much worse. When I had my sweater pulled down, these almost looked more like pants than leggings, which I'm not against, but because the top is a legging look, you can't get away with pairing these with crop tops and bodysuits. Everything about these was just "meh" to me. It was like everywhere that Spanx, Aerie, and Amazon hit the mark, these fell majorly flat. They're only a little cheaper than the Spanx and are actually more than the Aerie, so I would say you can probably skip.