Hi, I'm Kelly and welcome to my home. Would you like a glass of water? My Brita is ice cold. A throw blanket to tuck around you while you curl up on the couch watching You've Got Mail? Choose from three different coziness options. But seriously, now that I've kitted out my apartment for fall, I want to host everyone. It's all just so snug and comfortable, like your old college crewneck you've perfectly broken in or that episode of Frasier you've seen about a million times. Here's how to get all that goodness in your digs: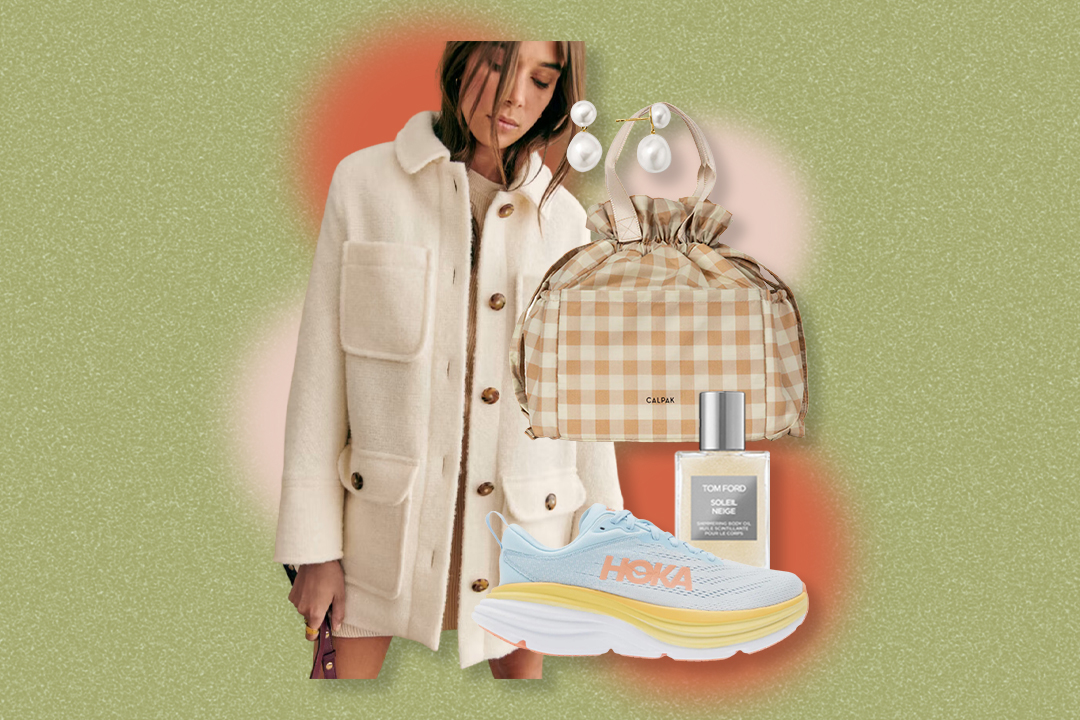 Add warmth and color to your space with dried florals
I went through a two week period at the end of the summer where I was like "I'm going to be a person who has flowers in her house at all times." Cut to me at the checkout counter of Mariano's with a (small) bushel of sunflowers and a $20 bill. But on I persisted. And the sunflowers looked gorgeous! Until approximately two days later, when they were dead as those proverbial doornails. Rinse. Repeat. Finally I realized I had spent like $100 in the space of 14 days on flowers alone and needed to reevaluate all my life choices.
Enter dried flowers — the perfect solution for adding a bit of life and color to your space without spending your weight in gold or dealing with that decaying smell. I picked these up randomly in the sale section of Anthropologie (but I found where you can buy them online as well, here 4 u) and I love how ~ fall ~ the shades look together, tucked into this amber vase from Hearth & Hand. Plus, they last forever!! My wallet is weeping with relief.
H&M
My tray is a thrift find, but this one is chic and affordable!
Brian Van Flandern, Laziz Hamani
Scour thrift stores first
I love the look of brass candlesticks, but they are shockingly expensive out in the real world. I picked up one singular stick while out shopping this weekend and it was, I kid you not, $25. $25!!! Erm, exsquoz. I hit my local thrift store (they know me by name there now) and found a set for $4 a pop. I added two black tapers for peak spookiness and witchy-girl vibes. Effective, no?
I also buy most of my books at thrift stores — they usually have a pretty decent selection, including fairly new releases. Sustainable and cheap! I was inspired by this article we just ran, and stacked a few of my collection (I have a truly astounding amount of books) under my coffee table for a fresh twist to the space. Feels very back-to-school cozy.
Swap out your pillows with richer textures, like leather and velvet
If you remember my apartment tour from June, I had my cute lil baseball stitch pillows on my couch. For fall, I wanted something a bit deeper and cozier, so I snagged a midnight blue velvety throw cushion from World Market ($10!!) and a faux leather lumbar from Amazon. Instant depth!
I tucked my summer pillows into one of these river weave baskets (I have bought four in the past month alone, they are so damn versatile), along with an extra throw blanket because I aspire to be peak cozy at all times. I love storage that doubles as decor because there is literally one closet (one. single. closet.) in my apartment and it fits about two coats and absolutely nothing else.
I also added two velvet lumbar pillows to my bed in the prettiest shade of green. Confession: I almost bought a green velvet couch when I first moved into the apartment and I think about it all the time. Where is that couch now? Does it wonder about me, too?
Liberally scatter candles and pumpkins throughout the space
I am obsessed with tiny things. I remember having this American Girl book when I was around 11 that taught you how to make things like miniature pies out of felt and bottle caps. Being a pre-teen in the early 2000s was a wild ride, y'all. Anyways, my love of lil treasures has never ceased, which is why I am deeply into these mini pumpkins. I bought a cartful at Trader Joe's for less than $3 and then tossed them about the room like fairy dust. Why isn't everything so easy?
The other day I was in Target (my one true home) sniffing all the candles like a totally normal person, and came across the new Hearth & Hand scent called "Harvest." How to explain the euphoria I felt when I first smelled this? Birds started singing. All my problems melted away. It was like the ending of a Disney movie only there was no prince, just a really freakin' good candle. I bought an unhealthy amount and now my apartment smells like a thatched cottage in the wilds of Massachusetts, surrounded by brilliant swaths of leaves in shades like amber, honey, oxblood, and bergamot.
The little birch circle is actually a place card holder, which I picked up because I wanted a fall-ish way to display this lettering I did a few weeks back.
P.S. You can download a PDF of the same lettering here, print it out, cut it into a square, and voila!
Finish with natural(ish) accents
It's a truth universally acknowledged that you can never have too many blankets. Seriously, I have done the research on this and no matter how many I own, I am never sad to have more. Fall weather is a huge relief, because I feel anxious sleeping without a minimum of five coverings, but my poor air conditioner unit is woefully negligent and the entire summer I have been slowly roasting alive. Now I will finally be invisible to night monsters again, who never remember to check under the covers, of course. Faux fur is my drug of choice when it comes to blankets, as seen in this real life conversation:
I also bought my cat a faux fur bed (it's the one our Editorial Director, Allyson, recommend in this article), which she of course eschews for the faux fur on my bed instead.
The slice of wood is real, scored from a vintage market here in Chicago for a song (jk, absolutely no one wants to hear me sing, it was just cheap). I added it to my bookshelf-topping bar for some extra fall-ish texture. It would also look great on a coffee table or dresser (both places I tried it before landing here). I also nabbed the antler at a vintage market while shopping with my sister-in-law, the queen of thrifting. No really, she has a crown. The faux branches are all Hearth & Hand (do I have a problem oh no). I had the white ones for spring and added in the yellow for more warmth. I randomly put the vase on the floor while I was cleaning the other day and the rest was history.
And that's it, folks! Thanks for visiting 🙂