If you're a regular reader here at The Everygirl, you've probably noticed how well-loved capsule wardrobes are around here. Think of capsule wardrobes as a collection of essential (ie: staple) clothing pieces that have all been very purposefully acquired. Said pieces are well-loved, timeless, high-quality, and versatile, allowing for endless mixing and matching.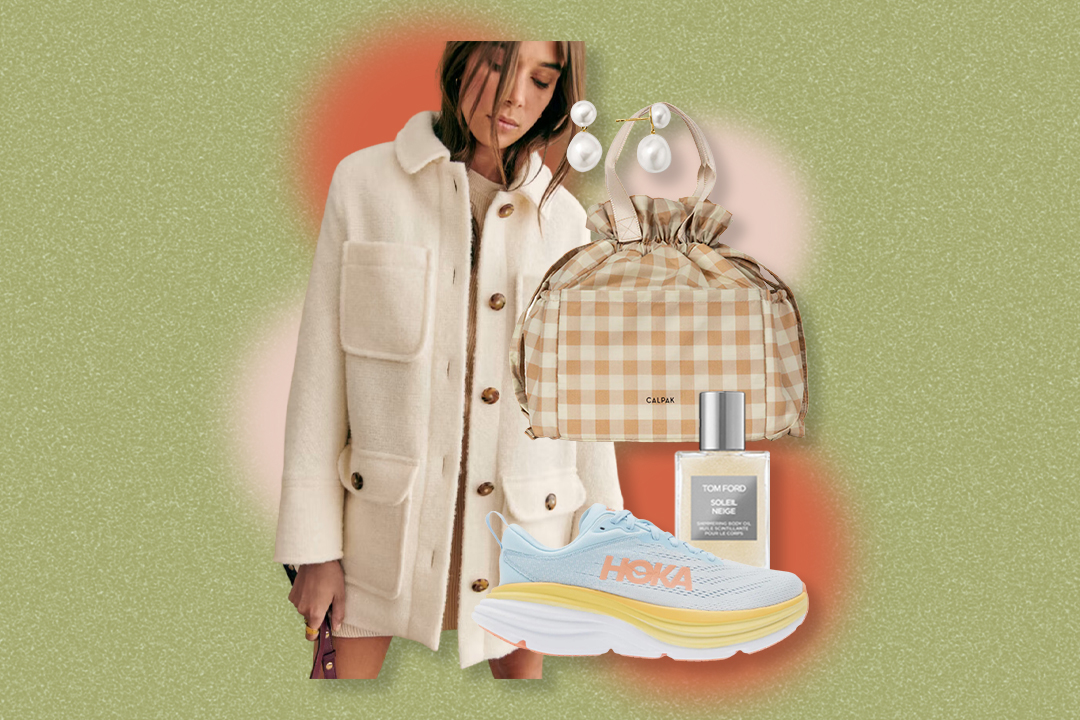 There are countless reasons to create your own capsule wardrobe, most notably that a capsule wardrobe can help you cut down on clutter, save money by investing in a handful of pieces (versus dozens), and make coordinating outfits infinitely easier—not to mention that it's a much more sustainable way of shopping. Building a capsule wardrobe can also be an enjoyable and rewarding task. Rather than stress shopping to keep up with the latest trends, you're taking a very proactive role in your personal styling.
A best-kept secret to capsule wardrobes is that they can be created to serve different purposes. One such purpose? They can be the solution to I-don't-know-what-to-wear-today mornings when getting ready for your 9-to-5. If you personally dread putting outfits together for the office, a minimalist work capsule wardrobe can change that.
What is a minimalist work wardrobe?
As you might have guessed, a minimalist work wardrobe is a no-fuss, straight-to-business collection of fashion items. Think refined work-wear staples that all play nicely together, such as trousers, blazers, button-downs, loafers, heels, and the like. With an emphasis on "minimal," this wardrobe is free of the "extra" or overly trendy and thrives on the simplicity of owning a small handful of stylish things. It's a highly-strategic, efficient way to approach dressing for the office.
While all capsule wardrobes follow a general theme, what makes a minimalist work wardrobe different is its dedication to professionalism and deference from the changing seasons. Unlike a seasonal capsule (such as this fall work capsule wardrobe), which is subtly influenced by colors, textures, and patterns associated with its designated season, your minimalist work capsule should remain generally agnostic. In other words, don't run out to buy an orange blouse just because the calendar reads "October." A minimalist work wardrobe is also generally elevated and chic. For instance, it strays away from the graphic tee and elastic waist bands that you might find in a work-from-home capsule wardrobe.
How To Build a Workwear Capsule Wardrobe
If you're sold on the idea but are wondering how to build a capsule wardrobe, have no fear. While it does require some thought, time, and effort, you'll find that the process is more than worth the commitment. Here are six easy steps for creating a minimalist work wardrobe.
Step 1: Visualize your ideal work wardrobe
Before you get started, there's something to be said for taking a moment to visualize your perfect professional wardrobe. Some things you might want to consider:
What is your office's dress code? Professional or business casual?

What do you do for a living? Are there fashion pieces you see constantly being worn in the industry?

What does your daily commute look like? Do you need a solid pair of walking-friendly shoes?

What's your ideal color pallet? Is there a particular color that gives you energy of confidence? While capsule wardrobes thrive on neutral bases, you might ask yourself if you prefer tan, navy, white, gray, etc.
All of these starter questions can help you start to visualize what your finished wardrobe will ultimately look like. Don't be afraid to also jump on social media and scroll through for outfit inspiration.
Step 2: Purge your closet
You probably saw this one coming, but every fashion overhaul requires a good cleaning out. Using the vision you've set forth in step one, take a critical eye to your current wardrobe. Go through your closet and dresser drawers, removing all items that no longer bring you joy. Whether it doesn't fit correctly or match your desired style, or has been sitting on its hanger untouched for the last three years—let it go. Don't forget to give your shoe rack a once-over as well!
When considering items to keep for your minimalist work wardrobe, prioritize quality materials, chic silhouettes and styles, and neutral base layers (such as a pair of tan trousers or a white button-down shirt) that can act as foundations to build upon.
When you're finished purging, consider donating items that are still in good condition to jumpstart your new commitment to sustainable living.
Step 3: Assess what's left
Once you're done clearing the clutter from your closet, take a moment to recoup and assess what's left. To do this most efficiently, consider grouping items together by clothing categories. In other words, hang your dresses together, consolidate your pants to one section of your closet, keep short-sleeve tops together, and so forth.
Step 4: Determine what you need to purchase
Looking at your different clothing categories, take stock of which items or general categories are lacking. Do you have at least three pairs of shoes you can wear to the office? If not, jot it down. And I do mean literally write it down. It's much easier to be strategic and stick to a specific plan if you commit it to paper.
When assessing wardrobe gaps, keep your vision top of mind, referring again to your personal style, your employer's dress code, and the weather of your geographic location. While a minimalist work wardrobe may vary slightly from person-to-person (based on the factors mentioned) some items you might consider filling your collection with include:
A pair of neutral trousers

A belted skirt

A white button-up

A short-sleeve blouse

A neutral bodysuit or plain white tee

A shirtdress

A neutral blazer

A pair of heels

A pair of loafers or ballet flats
Step 5: Fill in the gaps
Of course, the best part: shopping. When investing in new pieces, be sure to keep versatility in mind. Neutral colors are timeless and allow for more effortless styling. If your personal style tends to be a little more vivacious, consider adding pops of color to your wardrobe through accessories. As with any capsule wardrobe, quality is also key. Avoid purchasing fast-fashion items that will fall apart after a handful of wears and leave you unexcited to reach for them time after time. If investing in clothing is tricky based on your personal budget, enjoy the journey by setting aside a small fund each pay period and saving up for items you truly love. Take the pressure off of yourself by knowing that your minimalist work wardrobe doesn't have to manifest itself overnight.
Step 6: Have fun and get creative
As you continue to curate your wardrobe, have fun creating looks by mixing and matching the pieces in different combinations. As you get more comfortable in your curated collection, begin to also consider what kind of seasonal pieces you might want to throw into the mix to make your closet even more versatile. For instance, if you live in a colder climate, you might want to add a trench coat and posh scarf. In contrast, you might also consider adding a pair of quality sunglasses to your accessories drawer to protect your eyes on your commute.
The Everygirl's Workwear Capsule Wardrobe
How To Style It
1. shirt dress (plus)| 2. tote | 3. puff earrings | 4. ballet flats
Be it a warm summer day or a chilly fall one, a shirt dress always fits the bill for an office day. With a pair of ballet flats and your go-to tote bag (this one is our team's favorite), it's an easy outfit to throw on, but packs a major punch.
textured tee (plus) | 2. linen trousers (plus) | 3. necklace | 4. loafers
Workwear tops don't have to feel stuffy, and this textured tee is proof of that. With a pair of linen trousers and loafers, it's formal enough for the office, and can be worn on repeat with your arsenal of business-casual bottoms.
1. boatneck top | 2. trousers (plus) | 3. tote | 4. slingbacks
An all-black moment screams "professional," so this is a great look to pull out on a day you have a big meeting or presentation. The structured details of the boatneck top add some power to your work, while the trousers and slingbacks tie it all together.