To be honest, I'm looking for literally any way to spice up my life right now from my usual routine of watching the same shows; eating the exact same meal for lunch (if you're wondering, it's a sandwich with veggie straws); and following the same routine of eat, work, eat, work, eat, sleep every single day. For the last six months or so, I've dedicated a lot of time and money to my nails. So the first thing I had to learn to get right at home was my manicure (which was incredibly hard as I'm known to get more nail polish on the furniture than my fingernails).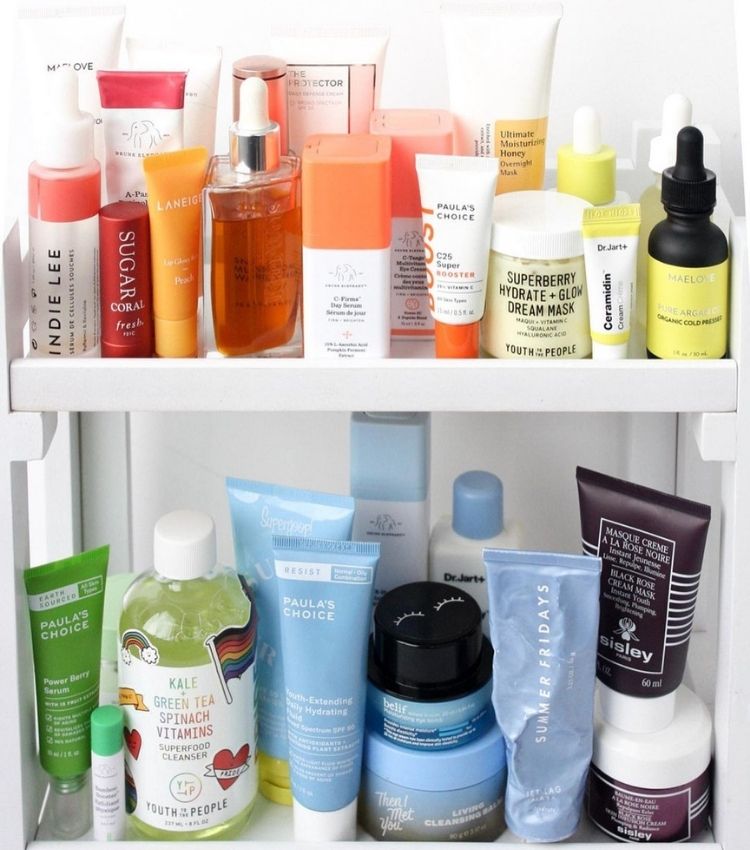 the wrong order can reduce effectiveness
Now that I sorta know the bare minimum manicure routine, I'm ready to jump into more intricate nail designs. Below, we're sharing a list of trendy manicure ideas you can do right at home, ranging from beginner-level to "I have an entire afternoon to waste on my fingernails."
Easy
1. Rainbow
You can't go wrong with a rainbow nail look, and it couldn't be more beginner-friendly. All you need is a few different nail polish shades. You can do each nail on your hand a different color, or switch on-and-off between three of four shades. You could do different depths of the same shade, all pastels, all bright—you'll never run out of options!
2. Glitter
There are tons of ways to add a little glitter to your nails that doesn't look like you stepped out of 2008. My current favorite ways to wear the trend are with an iridescent glitter all over the nails and with a glitter reverse French (which maybe is more intermediate, but we'll get there!).
3. Two-Tone
If you're not ready to go full nail-art territory just yet, this is another simple way to add a little flair to your look (or just minimize decision fatigue, you know). You can pick two different depths of the same shade or tone (a dark green and a light green, bright red and orange, etc.) or two complementary shades (pink and purple, red and pink, orange and coral, etc.). The world is your oyster!
4. Nail Stickers
It doesn't really get any easier than this. Paint your nails as normal and pop the sticker on, then go over with a top coat.
Intermediate
5. Reverse French
If you're looking for a more natural look, this is the one for you. You can paint your whole nail or leave it bare (bare nails are oddly a trend right now!). For this look, all you have to do is paint a straight line across the bottom of your nails—use tape to help you!
6. Rainbow French
Instead of going across the tips of your nails with the same color, alternate! The rainbow trend isn't going away anytime soon, and this adds the look without as much drama (notice I said "as much").
7. Two-Tone (Part II)
Instead of doing two colors on separate hands, combine them into one! This one looks hard, but with a little tape, it's easy. Place a little bit of tape (regular ole' Scotch works, but so does painter's or masking tape) or some type of barrier over the part you want to be at the top of the diagonal and paint the rest of the nail. Once that's dry, tape over the part that you've already done. Make sure your nail is totally dry before you place the tape on it, or it'll smear! Just as with the other iteration of two-toned nails, there are dozens of color combinations to choose from.
8. Half-Moon
There are a few ways to achieve this look. You can use tape to mark off the part of the nail that you want to keep bare, or you can use a small brush (an eyeliner brush works well here—make sure to thoroughly clean it afterward to remove the polish!) to map out the shape and fill in the rest of the nail. Either way, this looks super intricate and difficult but only requires a little bit of practice.
9. Milk Bath/Jelly Inspired
The name of this trend is kind of weird (inspired loosely by those milk baths we used to see all over Instagram!), but it looks gorgeous and has been all over nail Instagram accounts for months. Plus, it's actually not that difficult to recreate (just a little time consuming). Mix a white and clear polish to get that milky look and apply it all over the nails. Then, go in with a color of your choice to draw in the squiggles. The easiest way to do this would be a small, detail brush, but if you don't want them to be as precise, a regular nail polish brush would work too.
The cool part about this one is that if you mess up, it's kinda the vibe.
Difficult
10. Double French
Can you tell we love French manis over here? It's just impossible to not look put-together with a French manicure—sorry, I don't make the rules. This one adds a little extra flare with two lines across the tip of your nails. The easiest way to achieve this look is doing a light color as the bottom layer and a darker or brighter hue on the top; this way, you can do the first line and then just easily go over it lightly when you do the second line. This one is obviously on the difficult side, but can definitely be done with a little practice.
11. Tie-Dye
Because obviously we need our nails to match our tie-dye outfits. Duh. This is actually a little easier than it looks, but it can get pretty messy. To eliminate some of the mess, use these nail barriers to protect your skin and prevent some extra clean-up. Apply a white base first (or black if you're planning to go for that bleach-dye look) and let it completely dry. Then, place small dots all over your nail with the colors you want to use (I wouldn't suggest using more than four, as they could blend together too much and turn the wrong shade). Before they dry, place a plastic bag over the nail to blend the colors into that tie-dye look. You could also use a makeup sponge to sponge the color into your nails—whatever is easiest for you! This is a good tie-dye nail tutorial to get a better idea of the technique!
YOU MAY ALSO LIKE