This is a story about a girl named Lucky. Er, wait… no. This story is closer to Goldilocks finding the 'just-right' bed except I didn't break into anyone's house. Wow, this is going terribly, let me start over.
Can we all just agree that dressing rooms are the absolute worst? There's nothing that knocks my confidence down (or really, just pisses me off) more than a poorly lit, slightly stuffy, too-small space with 360 mirrors where I can see angles of my body I didn't know existed.
I know, I know. Lizzo wouldn't stand for this kind of talk… but mall pretzels aside, I prefer to do my shopping online. And if you love a good online haul as much as me, you know that Nordstrom is the absolute best place to shop online. They have the largest selection of on-trend brands and merchandise, plus their Nordy club perks and affordable shipping cannot be beat. That's why when I set out on my quest to try on every jacket imaginable (more like 80-ish options available in my not-Balmain price range) and narrow it down to only the best must-have jackets for fall, sourcing from Nordstrom was a no-brainer. Just don't blame me if you click over with just a jacket in your cart and end up with an entire fall wardrobe, some scented candles, a new pair of boots, three Barefoot Dreams blankets, and IDK an orphan or an exposed brick apartment.
1. The Unlikely Hero
Kenneth Cole New York
I'll admit it: when I pulled this out of the box, I immediately said to myself "oh, I am not going to like that." The sleeves are that of a thick knitted sweater, while the rest resembles a soft wool coat. When I put it on and looked in the mirror, all doubt was gone. For being a car coat, it's incredibly flattering. I don't know what sorcery Kenneth is up to in his lab, but women everywhere who hate their midsection are thanking him.
It's soft and light, perfect for styling over a blouse for cool-ish temperatures. You won't get much winter wear out of this unless you live in Florida.
2 colors available
2. The Utility Raincoat of My Dreams
Avec Les Filles
I tried on quite a few utility jackets that I really wanted to love, but they didn't make the cut. This one, however, was an instant double take in the mirror. Yes, it's a raincoat, but the material isn't your typical vinyl, so while it is repellant, you won't feel weird wearing it on a day that isn't drizzling.
The real MVP of this jacket (other than the pockets) is that you can remove the hood and cinch the adjustable waist to completely alter the look.
2 colors available
3. Apparently Now I'm Preppy
Ralph Lauren
At first glance, I could barely tell this jacket was navy, so be aware that the colors are darker than they appear on the Nordstrom website. And while my style doesn't normally lean this preppy, I couldn't help but really love this jacket. I immediately wanted to put on some riding boots and go to the country club to sip mint juleps. If a jacket could feel like the British countryside, it would be this. It exudes elegance in a really special way that your typical quilted jacket cannot match.
5 colors available
4. The Crazy Popular "Carly Coat"
Topshop
The Carly Coat isn't new on the block. In fact, it was our most sold coat of 2018, so I was thrilled when it returned this year in a host of new colors. The silhouette is oversized but still remains polished, meaning you can style it with everything from leggings and sneakers to cocktail attire. And that's exactly the type of coat I want to invest in. A++ Topshop. Please never stop making her.
I will say (as we all know), Topshop's sizing is anything but vanity, so I diligently follow their "fits like a..." guidelines. This coat, however, does run large, so while my normal size is fine (seen above), I'll be swapping for the next size down and another color. The oatmeal is gorgeous, but my skin is only going to get closer to this delicate shade as the days grow colder, and I don't need a coat the same color as my flesh.
5 colors available
5. The Cool-Girl Blazer
Madewell
For me, blazers are like fashion hats. Sometimes, I put them on and feel like I am, in fact, Olivia Palermo. Other times I put them on only to change five minutes later because I've managed to convince myself that everyone will see I'm an outfit imposter. I had just about given up on the perfect black blazer until this. Like everything else for fall 2019, it's slouchy and oversized, but the angled collar and buttons keep it from grandma-gifted sweater and leave it in effortlessly cool territory instead. This is the kind of jacket (can we call it that if it provides zero warmth? IDK, carrying on...) that you want to throw over an old concert tee and people will just look at you and assume you have an expansive vintage vinyl collection and really good tips for natural skincare. You could also easily wear it to work, so this do-all blazer had to make the list despite the crepe material providing zero shield to cold temperatures.
6. Winter is Coming, Jon Snow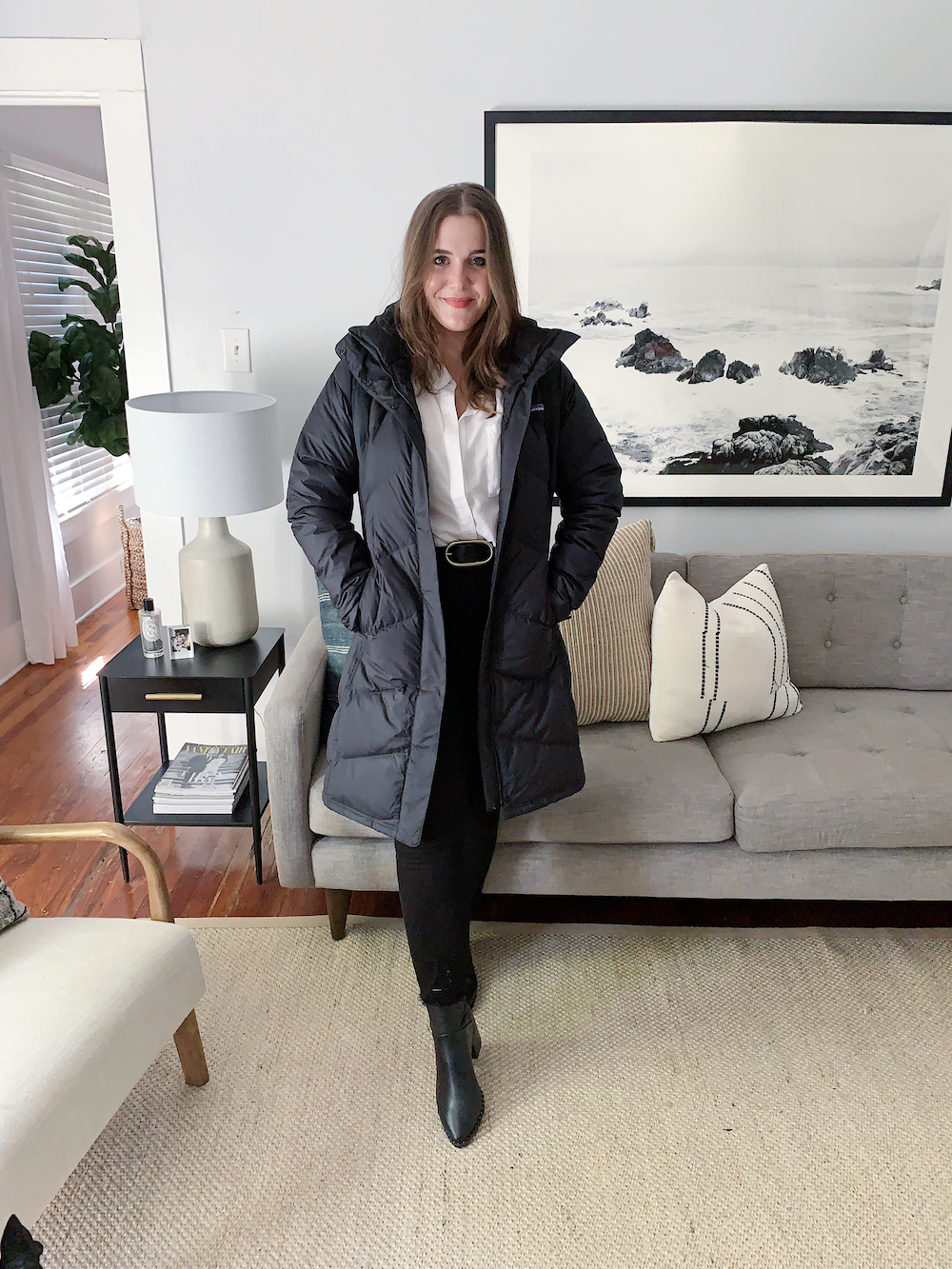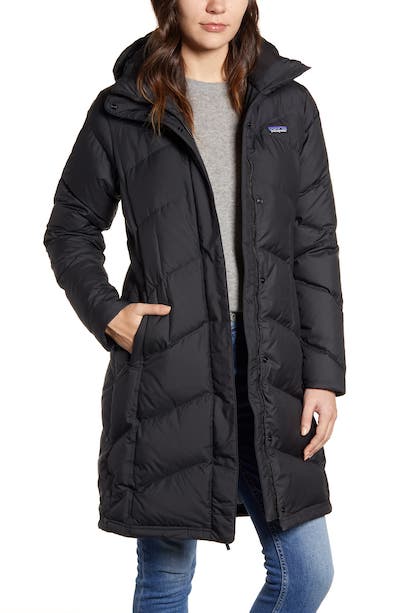 Patagonia
And in case you thought I was going to leave you out in the cold shivering for ~ fashun ~, I give you the most fantastic puffer coat that you may or may not be wearing until March. This weather resistant jacket will keep you toasty and is made completely with sustainable components and fabrics. A terrifying amount of the puffers I tried had an obnoxious level of hardware and gadgets, but this keeps things simple and effective while still giving me exactly what I need (read: zip-front pockets, a comprehensive hood, and a level ten shield from the cold). The angled quilted pattern keeps the jacket flattering so you look as little like a walking marshmallow as possible.
Even better? Patagonia can be found in Nordstrom's Sustainable Style section where you can shop brands that are responsibly manufactured and actively working to make our planet a better place. Win, win.
7. Call me Meghan Markle because this is muhhh favvvvvv
Avec Les Filles
I knew this coat was a winner from the moment I hit submit on my order (gotta love a good Meghan Markle dupe), but nothing prepared me for how fantastic I felt putting it on. There were 4 photos of me in this coat, and my head kept progressively tilting to the side (yes, like a dog), and my smile kept getting bigger. This is the least aggressive head tilt, but my obsession with this coat is still palpable. This is the type of coat you fill up your calendar for. I wanted an excuse to leave the house immediately just so I could receive compliments from strangers.
Let's talk about the fit because I feel like that's where some of you may run into problems with this coat. It does run large (the medium was quite roomy for size 8 me), so if you are between sizes, go down. Also, it's worth noting the length on my 5'6" frame and that I am wearing heeled boots. My friends under 5'4" might feel like this coat swallows them without alterations.
Honorable Mention: The Classic Trench
Halogen
I mean, I get it. There's a reason every celebrity with a renowned fashion collection has a trench. It's basically the fashion equivalent of a red lip. This version is lightweight and reasonably priced, but only gets an honorable mention because I didn't think ~ wow ~ until I saw the photo of myself in it. If your closet is without this essential, Halogen's is a great contender. Wear it now with basically anything and bring it back into rotation in spring like the chic AF Parisian you are. It doesn't get more universal than this piece.
Honorable Mention: The Traveler's Coat
*pic of my puppy for attention. I dare you not to zoom in.
Patagonia
I was truly blown away by the quality of the Patagonia jackets (yes, they live up to the hype and then some), so I would be absolutely nuts not to mention this investment piece. This jacket would be best styled with your go-to athleisure outfit but could truly be paired with anything thanks to the classic shape. It's warm without being bulky and would be perfect for rolling and packing in your suitcase. If you're an expert carry-on traveler, then this is the coat for you.
I should be a medium according to their size chart but would have wanted to size up to a large to allow just a bit more room for layering... and eating.
3 colors available
SHOP MY ENTIRE OUTFIT
JavaScript is currently disabled in this browser. Reactivate it to view this content.
This post was in partnership with Nordstrom, but all of the opinions within are those of The Everygirl editorial board.