It might come as a huge surprise, but I was a pageant kid when I was 5 years old. My grandmother hand-sewed all of my outfits (even making outfits to match my dolls), my mom put foam curlers in my hair the night before every pageant, and my cousin—bless her—did her best to teach a clumsy child to walk a runway. Luckily as I got more into pageants, I also started doing a little child modeling. To no one's surprise, my favorite part was always the makeup. And I wasn't all about the natural look either. The second my mom put some mascara on me, I had to have more. Next thing I knew, I was going full-Euphoria every chance I got. While my mom let me have at it with her makeup drawer, the bridal company that wanted me to dress up like a flower girl wasn't happy to see my eyes smothered in neon pink craft glitter. (Shoutout again to Euphoria's makeup artists for making this look now trendy AF—except with better glitter.)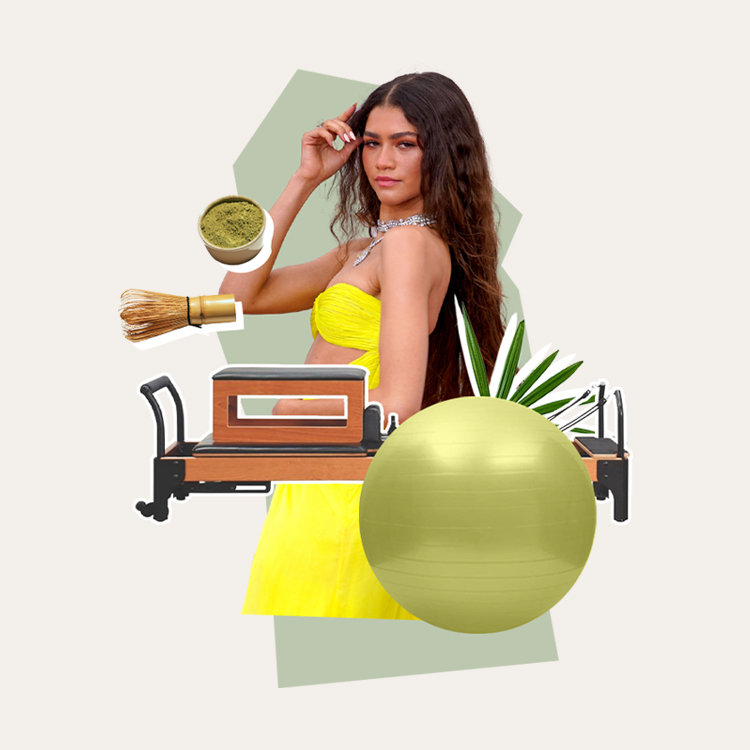 she's (kinda) just like us!
I like to think it was my creative, artistic soul that drew me away from modeling instead of having to go to kindergarten, but I digress. My childhood modeling taught me about makeup quite early, but it wasn't until I started working at The Everygirl that I had to think about makeup that would look even better in a photograph than it would in person. I officially have a year of photoshoots behind me, and I've learned a lot about what looks good in pictures versus what will never make it anywhere other than the trash folder on our photographer's computer.
1. Medium-Coverage Foundation
You want a full-coverage, thick foundation for photos because it covers everything, right? Not exactly. Instead, opt for a medium or buildable-coverage foundation that covers what you need it to without looking like a mask on the skin. You want something that will provide a natural or radiant/satin finish rather than something that looks too matte. Intense matte skin in photographs is a dead giveaway that you're wearing a heavy foundation in photos, whereas a more natural glow will blend in with the rest of your body. Don't go too heavy on the glow though; keep the areas that tend to get shiny—such as the sides of the nose and the center of the forehead—at bay with a little bit of powder.
To really give a skin-like finish, mix your foundation with a little bit of your moisturizer or primer to slightly sheer it out. More hydration, less coverage—win, win.
Giorgi Armani Beauty
Trust us: this one is wedding-day-worthy.
2. Color Corrector
In the same vein as limiting coverage, using a color correcting concealer under your foundation limits how much you'll have to use to cover anything you don't want to be seen in photos. Following the color wheel, green masks redness (great for blemishes or rosacea on the nose), purple masks brown/yellow tones (such as melasma or sun spots), and yellow/peach/orange masks blue/purple tones (AKA those pesky dark circles). You can also use a yellow/peach corrector on blemishes too, and it's significantly easier to cover up, so if you're new to color correctors, I'd recommend starting with that first.
Use a small concealer brush to dot the color corrector in the spot you're trying to conceal before you apply foundation and then pat it around with your finger to blend. Color correctors work best when you apply your foundation with a beauty sponge because it doesn't move the concealer around like a brush might!
Urban Decay
available in four color correcting shades
3. Liquid Highlighter
If you've ever seen a celebrity on the red carpet or a makeup artist's Instagram page, glowy skin is it. You can't argue that glowy skin trumps matte, dry, cakey skin in any photograph. To get the look, add a liquid illuminator under your foundation or on top as a highlighter. You can go over the look with a powder, but you'll want to make sure it's something that doesn't add or emphasize texture, as you'll be able to see that even more in photos.
Jouer Cosmetics
The beauty product I've gotten the most compliments on ever!
4. Voluminous Hair
Looking good in photos includes your hair routine too! Regardless of the style you go for (natural, straight, curly, messy—seriously, whatever!), amping up the volume is important for photographs. Not only does it make your hair look thicker and fuller, but it will fall throughout the day naturally rather than getting oily or flat.
5. Shimmery Eyeshadow
Adding a shimmery shade to your eyelids will open up the eyes and make them reflect in photos, whether there is flash or not. Focus the shimmer in the center to inner corner of the eyes, highlighting the inner corner and brow bone with the lightest shade. This brings attention to your eyes while still keeping these bright and light. Finish with mascara and smudge a little bit of a darker shadow on the lower lashline for some extra definition.
Charlotte Tilbury
available in 12 colorways
6. Light Bronzer
Although we didn't use a heavy, full-coverage foundation, your skin is still probably lacking a little color and dimension. You don't need a full contour and highlight situation to get a good sculpt; instead, add a light bronzer in the "3-E" placement (on the top of the forehead, under the cheekbones, and below the jawline) and blend it into the foundation. For a special photoshoot where you need makeup to last for a long time or under artificial light, use a cream bronzer and then set it in place with a powder version.
Vita Liberata
Super cool product alert: this bronzer has a self-tanner built in, so you'll look glowy even after you take it off. Also, it's clean. Obsessed much?
7. Lip Gloss
Aside from lip gloss having a moment in the beauty world right now (bye-bye, matte, dry lips!), a sheer, glossy lip with a little color will always look the best in photos. It looks youthful and glowy, and it's pretty much impossible to make it look heavy. Whether you go for a natural, clear gloss or opt for something with a hint of color (good for headshots!), choose something fine shimmer instead of glitter because it won't emphasize dryness.