When it comes to manifesting the hair of your dreams, having a one-size-fits-all solution isn't always the move. Depending on your hair concerns, your hair goals, and (yes) even the climate you live in, there are plenty of factors that should be taken into account when developing your be-all-end-all hair care system. And while we're ready to take our hair efforts to the next level, we simply don't have the time or energy to curate it ourselves. So when we had the opportunity to give Prose a go with the intention to have more good hair days, we jumped in head hair first.
A free consultation, a customized hair care routine delivered straight to your door, cute packaging, and sustainable and clean ingredients—it sounds too good to be true. But is it? Four of our editors with different hair types gave Prose a try, from their free hair consultation to unboxing to giving it a go and beyond. After weeks of use, they're spilling the tea on all there is to know about Prose—no aimless wandering in the hair care aisle required:
Initial thoughts:
I was admittedly quite skeptical when my customized routine from Prose gave me my products and suggested I *not* use conditioner. While, yes, I do have very oily hair (I barely last a day in between washes), I have never just not used conditioner. Is that even a thing? Will my hair just fall off? I was unsure. I used the Pre-Shampoo Scalp Mask and the shampoo, and then I got out of the shower to dry my hair a little and then apply the leave-in spray.
Upon first impression, I really loved how clean my hair felt after using the scalp mask and shampoo. I use a lot of different scalp masks, but this one gave me both a good scrub while lathering up. The shampoo left my hair extremely clean, but it wasn't stripped or dry. I was very concerned that my hair would feel like straw without conditioner, but I was pleasantly surprised that after using the leave-in, my hair felt just as soft as ever. The volume was extremely noticeable, and someone even commented that my hair had a lot of body when I went to dinner that night—and that's when you know.
I opted for no scent in all of my products, which I really appreciated as an option. I am very dedicated to my perfume collection and want that scent to shine through whenever possible (y'all, perfume is expensive), but I can rarely find products without a scent.
After a few weeks of use:
The most notable part of my Prose experience is how long my hair is lasting in between washes. With my other shampoos and conditioners, I'm rocking a messy bun on day-two hair. Day three isn't even a possibility. The first time I used my Prose products, I went a full five (!!!) days without washing. Yes, that fifth day was not necessarily pretty, but I didn't have to messy-bun it until the fourth day. Mind-blowing.
I've tested it now a few times with a conditioner, and I surprisingly like using it without. Am I… anti-conditioner now? Perhaps. My hair feels soft and smooth, but it doesn't get weighed down at all like it normally would.
My scalp is also quite sensitive and prone to getting flaky and itchy, but the Pre-Shampoo Scalp Mask was so soothing. I love the slight tingle it gives, but it definitely doesn't burn.
The verdict:
Any product that gives me the chance to avoid washing my hair is a winner in my book. I'll admit, I was a bit unsure about the "no conditioner" thing, but I think it might be my hair's saving grace. I'm a beauty editor, so I rarely stay loyal to one product for a long time, but I definitely never want to be without this scalp mask and shampoo combo. I'm already picturing using it on a Friday before a weekend at the lake house so I don't have to worry about washing my hair at the cottage—a match made in heaven.
Initial thoughts:
I am, first and foremost, a creature of habit. I like what I like and I don't deviate from my established routines, and that's just how it is. So while I'm not reluctant to try new hair products, I am always skeptical they'll be as good as my tried-and-trues. I'm happy to report that with Prose, I was wrong. I love that my products are tailored to my specific needs and goals (Prose even considers your specific environmental factors when crafting your products—something I didn't even realize I needed).
My Prose system consists of the Pre-Shampoo Scalp Mask, shampoo, conditioner, curl cream, and hair oil. When washing my hair, I noticed the benefits of the scalp mask almost immediately. It truly feels so soothing on my perpetually itchy and irritated scalp. While the shampoo lathers a ton, it didn't leave my hair feeling stripped and stringy, but it did feel super clean and build-up free, which is crucial when you use a ton of styling products like I do. I typically always use a deep conditioner as a final treatment after my regular conditioner, but the Prose conditioner was so good all on its own. It left my hair feeling incredibly soft, shiny, and primed for styling.
In the 10 years I've been wearing my hair naturally curly, I have always, always styled with a strong hold gel. When Prose suggested I use just their curl cream, I was extremely doubtful it would get the job done. However, after styling with the curl cream the way I would normally use a gel (sectioning my curls and then individually twirling each one with product—yeah, it takes a while), I was truly shocked by the results. Not only were my curls super defined, but they were also soft, bouncy, and full of volume. The real test of a styling product for me, though, is how well they hold. I opt for a gel because I know I'll get at least three or even four days of wear before my hair becomes a frizzy, undefined mess. The Prose curl cream doesn't have quite the same hold as my gel of choice, but I was still able to get a solid three days before I had to tie my hair back until my next wash. All around, the curl cream (and the rest of the Prose lineup) was a huge win.
After a few weeks of use:
If you'll allow me a moment to brag, my hair is, without doubt, one of the things I am most proud of about myself. I have spent years upon years perfecting my routine and taking better care of my hair than pretty much anything else. As a result, my hair is probably the healthiest it can be. It's long and strong and everything I wanted it to be when I first set out on my natural hair journey at the ripe age of 18. That said, after using Prose for just a few weeks, I've already noticed a few changes. It's a lot softer (I credit that to the curl cream I've been using instead of gel), it has crazy volume (again, not being weighed down by a mountain of gel certainly helps), and detangling in the shower is a breeze with the Prose conditioner. In short, I'm having a great time with Prose and haven't even spared my other products a glance since adding Prose to my routine.
The verdict:
When I said I was a creature of habit, I meant it. But Prose really blew me away. I love knowing that the products I'm using are made just for me. While I consider myself an expert on my hair, I love that Prose offers so many resources for my hair and the ingredients in my products—it's like an entirely fresh start for my hair journey. As for the results—which is what we all really want to know about—they speak for themselves. My goal is for my hair to be stronger, shinier, softer, and more defined. Prose checked all of those boxes and I couldn't be happier.
Initial thoughts:
As someone who gets overwhelmed looking at endless hair product options online and in-store, I welcomed Prose's free consultation. I'd way rather have a personalized routine created for me than spend literal days trying to pick something new. The consultation was a total breeze but thorough at the same time, which I was pleased with, and I really appreciated that I could choose an unscented routine. Since I am ridiculously sensitive to most scents, I try my best to steer clear of them.
When I first received my routine (shampoo, conditioner, and leave-in conditioner), I was a little concerned about the size of the bottles. They are smaller than I'm used to, so I was worried I would have to order more frequently, but after my first wash, I knew that wasn't going to be an issue. I have tried other brands with clean ingredients in the past, and I had a hard time getting enough suds, which led to me going back in for more product. My Prose shampoo starts to sud right away, so I don't have to use nearly as much to feel like my hair is actually clean—a total win in my book.
I'm not too picky when it comes to conditioner, but I knew that I needed one that would provide enough moisture and body to my hair while not weighing it down. I do love an after-shower product though, so I was excited to see that Prose recommended I try their leave-in conditioner with a heat protectant up to 450 (!) F. Since I use heat often, that's a must. After washing and styling my hair for the first time, I noticed how much more full and manageable my hair was. It's safe to say that the first impression was a good one.
After a few weeks of use:
Immediately, I noticed that my hair was less greasy on day two, so I started to push my wash days off to day three. Then, I pushed to day four and thought, "Who even am I?" Not only did I get back precious time (like so much of it) in the mornings, but I also didn't have to use heat as often.
I also noticed that my hair wasn't nearly as dry as it usually is in the colder months, so I didn't find myself reaching for additional hair masks. I don't particularly enjoy hair masks, so I was excited about this. I wondered initially why they weren't in my personalized routine, but after a few weeks using Prose, I realized that I don't need them when I am using the right products.
The verdict:
Washing my hair has become less of a chore and something that I actually look forward to. Instead of having to wash and style every day, I do it on Monday (providing a nice fresh start to the week) and Friday (to kick off the weekend). Now, I can't believe I used to wash and style my hair every single day. What a hassle that was.
Excessive grease and lack of moisture were my biggest hair woes, and I honestly don't have to worry about that anymore. Sure, my hair doesn't look amazing the day before I wash it, but I work from home and have experimented with different styles that get me to wash day: braids, top knots, and the low bun that all the cool girls are styling these days.
Now that my hair has evolved, I really appreciate that Prose checks in to see what I want to change with my next order. I see myself continuing my routine for the foreseeable future, and I will definitely be trying more products. I can't wait to get my hands on the hair oil and dry shampoo.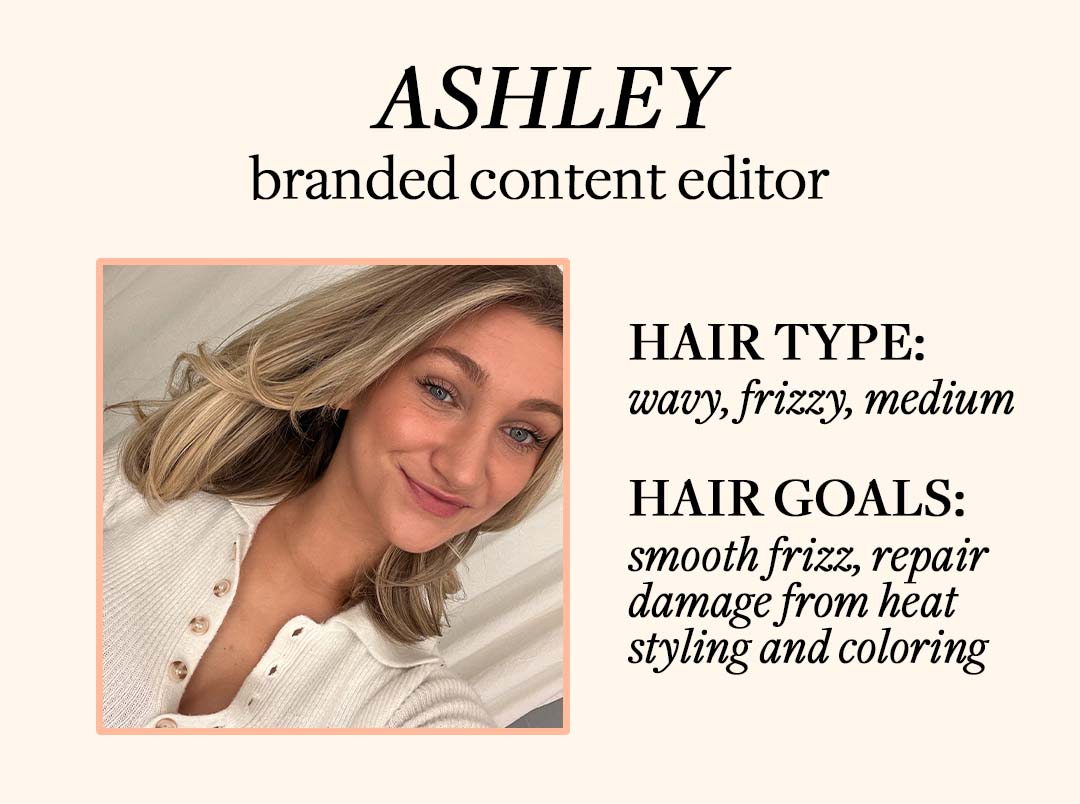 Initial thoughts:
If there's one area in my life that I don't pay too much attention to, it's been the hair care department. When it comes to finding shampoo and conditioner, I typically just go for a generic brand that I pick up on yet another Target run, don't give it another thought, and then complain that my hair is frizzy, dry, and damaged from far too much heat styling.
Full disclosure: The Prose hair consultation was the first time that I ever even thought to evaluate my current hair situation, and let me tell you: It was eye opening. I had never even considered that environmental factors (UV rays, water pollution, humidity, and wind—Chicago problems) were affecting my hair health and, for the first time ever, I set hair goals (but loved that I didn't have to do much work at all to make it happen).
First of all, when my order arrived, I fell in love with the packaging alone. Seeing my name on the label ignited that "woah, this literally was made for me" moment, and I got to "work" reading my customized instructions and learning about the formulas curated specifically for my hair needs. I received the Pre-Shampoo Hair Mask to restore overall health and provide long-lasting hydration, a gentle, sulfate-free shampoo, an ultra-color-safe purple conditioner, a protecting and detangling leave-in-conditioner, and a reparative hair oil treatment. Even with just one use, my hair was manageable and free of unwanted frizz, which was so refreshing in comparison to the previous hair system that I was just settling for.
After a few weeks of use:
I used my custom hair system for a few weeks and, in that short period of time, I can honestly say that my hair has never looked better—probably because I'm actually giving it attention and not opting for a one-size-fits-all solution, so I really shouldn't be surprised that I like it so much. I curated my formula to have a eucalyptus scent and it literally smells like a spa every time I use it, which, results aside, is enough to keep me coming back for more.
I think the system working together has done wonders for my hair over the past few weeks. It's definitely more shiny and voluminous and, with the use of the purple conditioner, a lot less brassy (praise be). I don't think I've been using it long enough to speak on how it's affected my shedding and hair growth necessarily, but I can say that my hair seems a lot healthier and manageable than usual, so we're off to a good start.
The verdict:
For me, using Prose wasn't just finding a hair system that worked for me—it was an entire experience. I learned so much about my hair from the free consultation and studying my system and finally have an entire routine that I literally never in a million years could have landed on by buying one-off, generic products from the drugstore. I've never given my hair so much TLC, probably because I barely had to lift a finger to make it happen, and for that, I'll recommend this solution to anyone looking to up their hair game.
This post is sponsored by Prose, but all of the opinions within are those of The Everygirl editorial board.