Back in my former life in 2019, my work bag might as well have been my fifth limb. It was stuffed to the brim, carrying everything I could ever possibly dream of needing, my sore and aching shoulder be damned. My favorite Trader Joe's treats, backup headphones, chargers, an umbrella—if there was a 1 percent chance I might need it, it was transported through the city on my shoulder.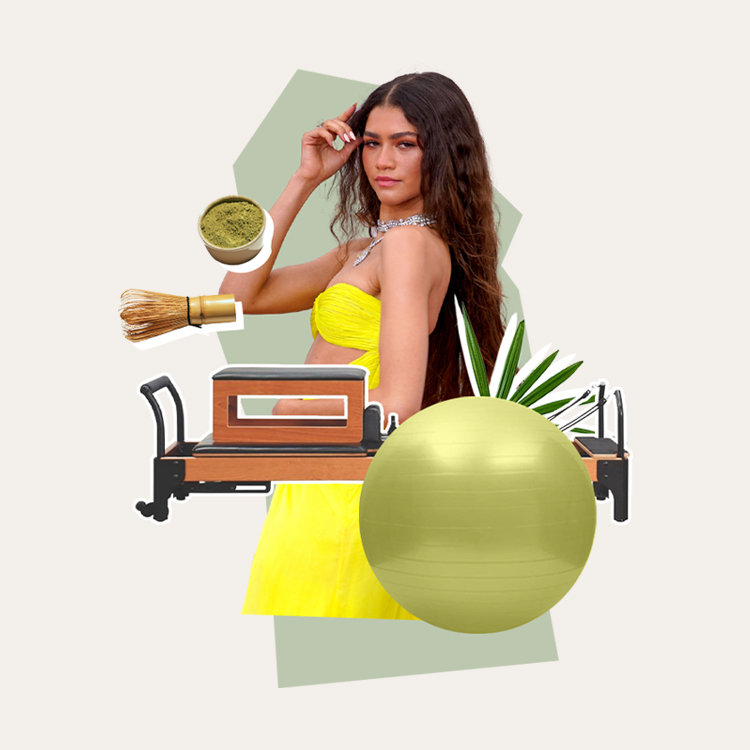 she's (kinda) just like us!
But now? The idea of packing a work bag after almost 18 months of not needing to feels like a task I just don't know how to do. More importantly, I'm a completely different person than the last time I shoved my belongings in my tote, and "office essentials" has taken on a whole new meaning.
Now that we're slowly but surely making our way back to office life, my work tote and I are meeting again like it's the first time, and its belongings are a little different than they used to be. Here are the things I'm taking to work with me—and the things I'll never pack again.
1. A big water bottle
One of the best things about the past year for me has been how hydrated I've been staying. I have a giant water bottle that sits next to me no matter where I am in my apartment. I have to admit, it's been so much easier to stay hydrated while at home.
To keep that going in my office life, I'm bringing a water bottle that holds a lot of water but can still fit into my bag without adding too much weight.
Simple Modern
I'm not one of those "I only like room temperature water people"—quite the opposite, in fact. This water bottle will keep whatever beverage you have in it ice cold for an amount of time that defies explanation. It also holds a lot of water, which makes hitting that daily water goal significantly easier.
2. My Equilibria Energizing Roller
If working from home for over a year taught me one thing, it's that self-care is important Monday through Friday, not just on the weekends. Just because it's a work day doesn't mean I need to completely neglect myself and what makes me feel my best.
One of my favorite at-home workday routines has become using essential oils. I love diffusing different ones both when I wake up and go to sleep, so when Equilibria released the Dynamic Roller Duo that gave me that same experience in a handy roller ball, you can correctly guess that it made its way into my daily rituals too.
I love keeping my Calming Roller on my nightstand to apply to my pulse points when I get into bed at night, and now that I'm going into my office, my Energizing Roller will have a permanent place in my work bag. Whenever I need a pick-me-up, I apply the roller—which is full of energizing oils like peppermint, sweet orange, and spearmint—to my temples and inner wrists. It's a small act that falls into the "taking care of myself" category that I'm taking into my office life, and it quickly makes me feel more energized and grounded. Sometimes it's the smallest things that make a difference, and this is one that I look forward to day after day.
3. My Kindle
I used to be so adamant about only reading physical books. I detested the idea of having a Kindle until I got one as a gift, and now, I can't imagine it any other way.
Not only does my Kindle save me precious space in my bag compared to a regular book, but it means that if I happen to finish whatever I'm reading, I can start a new book immediately rather than needing to go and pick one up. This year has taught me that I'm a better worker when I take regular breaks, and in the office, my Kindle is going to help me do that. Picking it up and reading a chapter will allow me to take a much-needed step back from the things I'm working on, which will lead to better work and more creativity. Win, win.
4. Makeup for day-to-night touchups
For almost every day of the past 15 months, I've mourned the days that my coworkers and I would spontaneously say, "Who's up for a drink?" and go out for happy hour after work. You bet your bottom dollar that I'm going to be ready for that now that it's an option again.
Rather than just keeping makeup in my bag for touchups throughout the day, I'm going to throw in a couple of products that'll make my look a little more night-appropriate (so when happy hour turns to dinner and drinks, I have no excuse not to go). I'm definitely picking up my favorites in mini sizes so they have a permanent place in my bag and so I'm not constantly taking full sizes in and out and forgetting them at home.
5. Hand sanitizer
If hand sanitizer wasn't in my bag before, it sure is now. Especially with public transportation being a part of my daily routine again, hand sanitizer has a permanent spot in my bag. This one is a staff all-time favorite, with absolutely no smell and lots of skin-loving ingredients that won't leave your hands feeling dry.
1. A change of shoes
Gone are the days where I'm wearing walking shoes on my commute and changing into blister-inducing, hard-to-walk-in ones when I get to the office—now, comfort is taking a front seat. I just don't have the time to worry about heels that are hard to walk in that might leave me with a blister. My office shoes will be the ones that I like walking in but are still cute, which is something most of us have come around to over the past year. The best part? It's going to leave me with a lot more bag space.
2. Dry shampoo
A mini dry shampoo used to have a home in my bag, and as soon as it was empty, it promptly got replaced. But after a year of training my hair, dry shampoo isn't an emergency, and my hair no longer gets greasy at the drop of a dime. Even if I have to use dry shampoo before I get to work, it's no longer necessary to bring to use throughout the day or after work before drinks.
3. That extra charging cord I never use
It seems like no matter what I do, there's always a rogue charging cord at the bottom of my bag, getting tangled up in whatever else is in there. But here's the thing: If my phone needs to be charged, I always do it with one of our office chargers, and that so-called emergency charger hasn't seen the light of day since it came out of the store. If your office doesn't have backup cords, consider picking up a spare that can live in your office so you don't need to travel with yours every weekday.
Even if the necessity you never use isn't a charger, it might be those three pens that are floating around at the bottom or a travel-sized planner you just never write in. Consider what you really need, and omit the rest.
In my newfound office mindset, I'm over clutter and hoarding things that I think I might need someday, even though all evidence points to it not being used at all. That means that the bottom-of-the-bag, untouched disarray is getting the boot.
This post contains a sponsored inclusion of Equilibria, but all of the opinions within are those of The Everygirl editorial board.