One of my greatest joys in life comes from a simple girls night in with my besties. Comfy clothes, piling onto a couch that's much too small for the number of people, an endless supply of wine in your glass, and more pizza and snacks than you could ever need—it's truly my perfect night.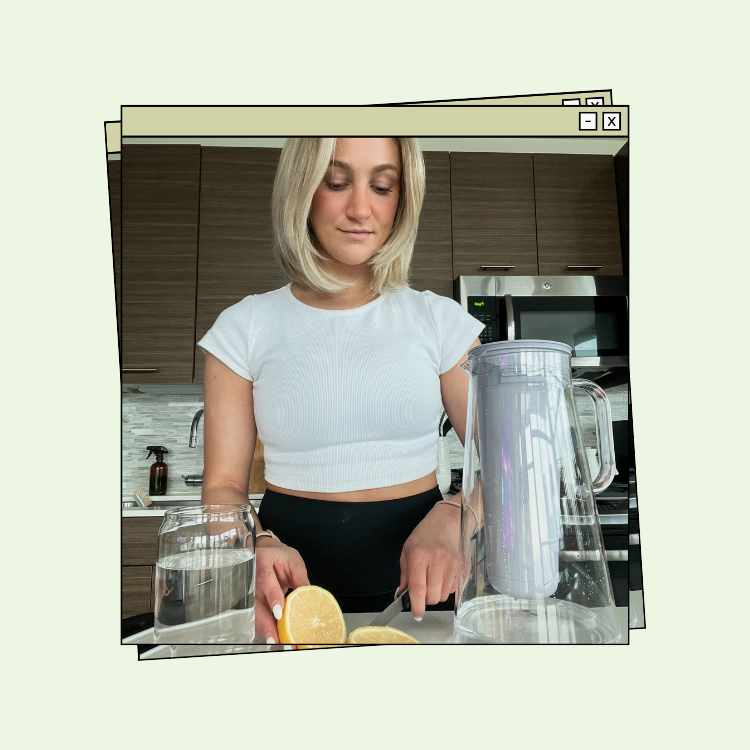 get it right in 2023 and beyond
Thankfully, in the era of streaming wars, we have a countless amount of content to entertain us between the "pause it for a second please!" bathroom breaks and gossip sessions, which brings us to the perfect piece of entertainment for a GNI: the rom-com. In addition to all the classics, each streaming platform has been churning out some seriously amazing—and more diverse, finally—original content for us.
Here are 20 of the best rom-coms to watch during your next girls night in and where to stream them:
1. Someone Great
Watch it on: Netflix
I want to shout it from the rooftops: Someone Great was one of the best movies to be released into the rom-com category! I truly enjoyed this movie so, so much (and have already watched it multiple times). It's funny, heartfelt, diverse, and emotional in all the right ways. It's not your typical rom-com, which makes me love it so much more. It is absolutely the perfect movie for a GNI—you'll laugh, cry, and appreciate your girl squad that much more.
2. Set It Up
Watch it on: Netflix
Set It Up is about two overworked assistants in the same building who develop a plan to set their bosses up with each other in an effort to get them off their backs for a bit and—you guessed it—also develop feelings for each other along the way. It's fun, simple, and feel-good!
3. Always Be My Maybe
Watch it on: Netflix
Childhood crushes who went on to lead very different lives reunite after a chance run-in and try to figure out if there is still a connection worth exploring there—or if their worlds are just too different.
4. When We First Met
Watch it on: Netflix
In a Groundhog Day-style time warp, Noah (Adam Devine) relives the same night over and over, trying to make his best friend—who, in present day, is engaged to another man—fall in love with him instead of just seeing him as a friend.
5. To All the Boys I've Loved Before
Watch it on: Netflix
If you haven't watched this series yet, get on it! It's the cutest love story you'll ever see, with the perfect mix of high school awkwardness and swoon-worthy moves from Noah Centineo's character, Peter Kavinsky (an Everygirl office favorite). There are three movies total, so carve out time with your girls to watch them all.
6. The Perfect Date
Watch it on: Netflix
Noah Centineo stars in yet another rom-com we love. In order to pay for college, Brooks creates an app that offers his services as a fake date. From avoiding going to a dance alone to getting parents off their back about dating, girls from all over town are paying him to stand by their side. It's all fun and games until real feelings start to emerge with one of his fake dates.
7. Holidate
Watch it on: Netflix
Gorgeous Emma Roberts (playing Sloane) and hunky Luke Bracey (playing Jackson) star in this light-hearted rom-com that isn't just about finding a date for Christmas. Nope, the two decide to be each other's date for every holiday of the year because let's face it: Sometimes, it sucks to be alone at a holiday family gathering. Genius idea? Yes, but what will happen when they start to think about each other when it's not a holiday?
8. Failure to Launch
Watch it on: Hulu
A successful and charming 35-year-old man still lives at home with his parents with no plans to move out. When his parents discover a woman whose job is to get grown men to move out of their parents' homes (by making them fall in love with her), they hire her—and things get oh-so-complicated from there.
9. Plus One
Watch it on: Hulu
Best friends Ben and Alice are recently single during the worst season of the year for singles: wedding season. They decide to team up to survive it together by being each other's plus one. Their chemistry is undeniably cute and quirky, so you will be rooting for them as soon as the movie starts—promise.
10. Marry Me
Watch it on: Peacock
Jennifer Lopez and Owen Wilson star in this 2022 rom-com about a popstar who is set to marry her boyfriend on stage in front of millions of people. Right before she gets on stage, she finds out he's cheating on her. When she spots a stranger in the audience, she decides to marry him on the spot instead. Now the two have to decide what to do next. Can two people from completely different worlds ever make it work?
11. Trainwreck
Watch it on: Peacock
When Amy was little, her father convinced her that monogamy isn't realistic, and she has believed that ever since. As an adult, promiscuity has become her forte, and that's not changing anytime soon if it's up to her. Of course, while writing a profile for her magazine about a charming and successful sports doctor, she starts to feel feelings she has never experienced before. From the producer of Bridesmaids and the director of Knocked Up, this movie is both hilarious and heartwarming. Plus, it's Amy Schumer, so what's not to love?
12. Home Again
Watch it on: Prime Video
I saw this movie in theaters and loved it, but it seems like a lot of people haven't seen it, which is a crime! It's a very unique story about three 20-something filmmakers who move into the home of 40-year-old Alice, the daughter of a legendary director—an arrangement that tests both their friendships and potential romantic connections.
13. Desperados
Watch it on: Netflix
If you loved Winston and Aly in New Girl, you have to watch Desperados. This is arguably one of the best moves for GNI because it is about three best friends on a mission. After Wesley thinks she's getting ghosted, she sends a slew of mean drunk texts to the guy she is dating. It turns out, he ended up in an accident in Mexico and wasn't ghosting her after all. The three girls head for Mexico to delete the texts from his phone before he can see them, but they won't be able to do it without constantly running into a new handsome man, Sean.
14. Stuck In Love
Watch it on: Prime Video
Stuck in Love is on my personal top 10 favorite movies list. I'll warn you, though, it's a little more drama-filled and emotional than your typical romantic comedy, so you might want to have some tissues nearby. The film explores the unique love lives and relationships of three different family members and how they affect their relationships with one another.
15. The Wedding Year
Watch it on: Prime Video
A young commitment-phobic couple's relationship is really put to the test when they are invited to seven weddings in one year. This promising Amazon review really makes me want to watch it: "Was looking for a cute pick-me-up movie and this was perfect! All of the characters were funny, lovable, and most importantly, relatable! Definitely watch this if you're sick of watching whatever rom coms are on Netflix, Hulu, etc. This was fresh!"
16. He's Just Not That Into You

Watch it on: HBO Max
If you love movies with interconnecting stories and an all-star cast, this is the movie for you. Scarlett Johansson, Bradley Cooper, Jennifer Aniston, Justin Long, Ginnifer Goodwin, Drew Barrymore, Ben Affleck, and more star in He's Just Not That Into You, which follows Baltimore-based friends and lovers trying to navigate their modern relationships.
17. 13 Going on 30
Watch it on: Prime Video (rent)
Razzles, Six Chicks, '80s basement parties, and big-time magazine editors—do I even need to say anything else? 13 Going on 30 is truly the movie of a generation, and there is no better movie on this list for a true girls night.
18. How to Lose a Guy in 10 Days
Watch it on: Prime Video (rent)
Who doesn't love this story of journalist Andie and advertising exec Ben? These two and their competing bets make for a hilarious journey and the absolute perfect balance of romance and comedy.
19. Sex and the City: The Movie
Watch it on: HBO Max
You've watched all six seasons of SATC over and over again, so why not watch the movie for a change? Catch up with Carrie and the ultimate girl squad as they navigate their lives (and relationships) four years after the show ended.
20. Crazy Rich Asians
Watch it on: HBO Max
Full of stunning cinematography, Crazy Rich Asians was exactly what the world needed when it came out in 2018. If you love to watch love stories of super hot people and want an inside look at what the fantasy world of some of the richest might be like, this one's for you (plus, we get hilarious scene-stealing comedy from our queen, Awkwafina).