One of my greatest joys in life comes from a simple girls night in with my besties. Comfy clothes, piling onto a couch that's much too small for the number of people, an endless supply of wine in your glass, and more pizza and snacks than you could ever need—it's truly my perfect night.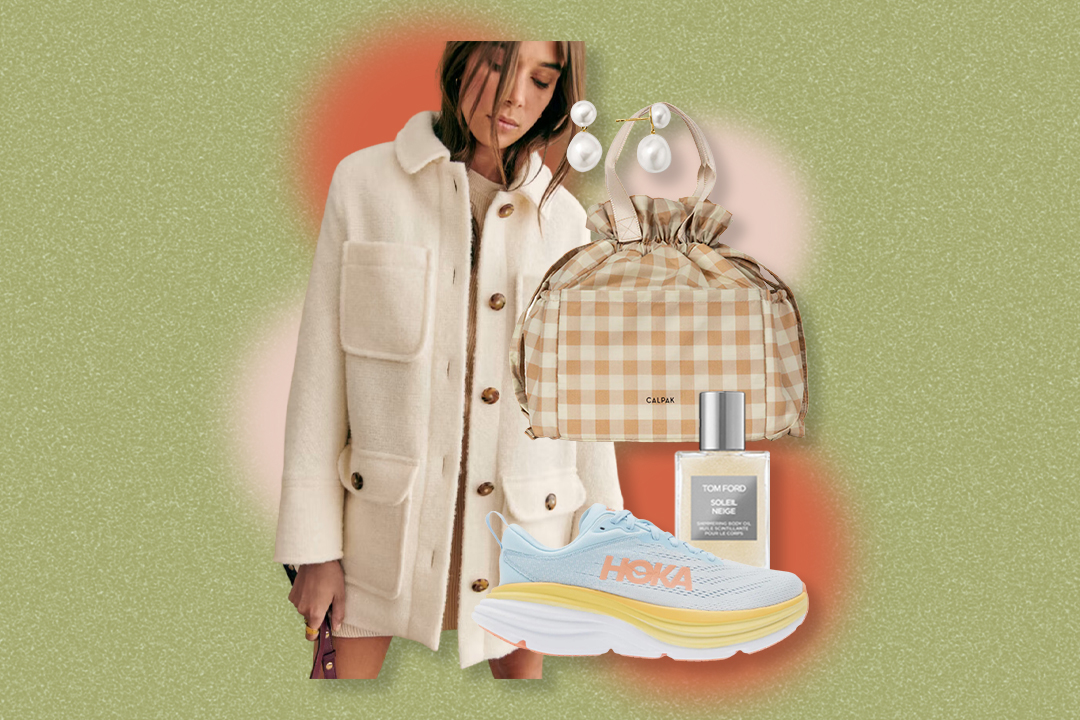 Thankfully, in the era of streaming wars, we have a countless amount of content to entertain us between the "pause it for a second please!" bathroom breaks and gossip sessions, which brings us to the perfect piece of entertainment for a GNI: the rom-com. In addition to all the classics, each streaming platform has been churning out some seriously amazing—and more diverse, finally—original content for us.
Here are 20 of the best rom-coms to watch during your next girls night in and where to stream them:
1. Ticket to Paradise
Watch it on: Peacock
In Ticket to Paradise, A-listers Julia Roberts and George Clooney star as divorced parents who try to stop their daughter from marrying a seaweed farmer in Bali. They set out to sabotage the wedding and one-up the other in the process, but it's clear that there is still something between them. Seeing their daughter so happy makes them wonder what went wrong with their marriage in the first place.
2. About Fate
Watch it on: Prime Video
Emma Roberts stars in a lot of my favorite rom-coms (starting with Aquamarine), but honestly, I think this is the best one yet. About Fate is about two strangers (Margot and Griffin) who believe in love but have never experienced it for themselves. On New Year's Eve, fate interferes, putting them in an all-day mix of chaos and epic love stories.
3. Hello, Goodbye and Everything in Between
Watch it on: Netflix
Claire and Aidan made a pact that they would break up before college, and the time is finally here. Before they go their separate ways, they decide to have one last epic night together where they recreate the most important parts of their relationship. When their last date starts, they are confident in their decision, but it gets progressively harder to handle as the night goes on. This movie gutted me, so please, add it to your must-watch list, but keep a box of tissues nearby.
4. The Lost City
Watch it on: Prime Video
Sandra Bullock and Channing Tatum star in this romantic comedy about a reclusive romance novelist (Loretta) and her book cover model (Alan). While they are out on her book tour, Loretta gets kidnapped. Alan becomes determined to be the same hero in real life as he is in her books, so he sets out on a jungle adventure to help her. This storyline is so unique, and Sandra Bullock and Channing Tatum are a duo we didn't know we needed until now.
5. Shotgun Wedding
Watch it on: Prime Video
Darcy (Jennifer Lopez) and Tom (Josh Duhamel) gather their loving yet difficult families for their destination wedding. When gunmen take everyone hostage, the ceremony gets put on hold, and they must figure out how to survive and save their loved ones in the process.
6. The Hating Game
Watch it on: Hulu
Based on the novel of the same name by Sally Thorne, The Hating Game, is about Lucy Hutton and her cold, efficient work nemesis, Joshua Templeton. Their rivalry grows as they work to one-up the other in the workplace, but it gets more and more difficult as their attraction grows. Staring Lucy Hale, this movie adaptation is everything we hoped it would be and more.
7. A Perfect Pairing
Watch it on: Netflix
In order to win over a major client, a wine executive from Los Angeles heads to an Australian sheep farm. When she runs into a rugged local who challenges her to get to work as a ranch hand, her plan to win over the client gets much more difficult. Victoria Justice and Adam Demos star in this movie, so not only is it a cute watch, the cast is easy on the eyes, too.
8. Love in the Villa
Watch it on: Netflix
A newly single woman (played by Kat Graham) jets off to Italy on a solo trip, but when she arrives, her villa has been double-booked with a cynical (but sexy) British man. When neither of them is willing to go elsewhere, they make each other's lives a living hell to see who will crack first and leave the villa. Throughout the chaos, they get to know each other and realize they don't hate each other that much after all.
9. The People We Hate At The Wedding
Watch it on: Prime Video
Familiar faces Kristen Bell, Ben Platt, and Allison Janney star in this hilarious movie about a dysfunctional, separated family and the tension that has formed between them. As a chance to reconnect, Eloise, the estranged half-sister of Alice and Paul, invites her siblings to her British wedding. With multiple love-gone-wrong storylines in the mix, this movie keeps you on your toes until the very end to see if love prevails in both family and relationships.
10. Wedding Season
Watch it on: Netflix
Pressured by their parents to get married, Asha and Ravi decide to fake date during a busy summer of weddings. Once the wedding season is over, they agree to go back to their normal lives. But the more time they spend together, the less they want to be apart. It's a trope as old as time, but this movie does it right.
11. Someone Great
Watch it on: Netflix
I want to shout it from the rooftops: Someone Great was one of the best movies to be released into the rom-com category! I truly enjoyed this movie so, so much (and have already watched it multiple times). It's funny, heartfelt, diverse, and emotional in all the right ways. It's not your typical rom-com, which makes me love it so much more. It is absolutely the perfect movie for a GNI—you'll laugh, cry, and appreciate your girl squad that much more.
12. Set It Up
Watch it on: Netflix
Set It Up is about two overworked assistants in the same building who develop a plan to set their bosses up with each other in an effort to get them off their backs for a bit and—you guessed it—also develop feelings for each other along the way. It's fun, quirky, and feel-good! Plus, it's set in New York City like all good romance movies are, so what's not to love?
13. Always Be My Maybe
Watch it on: Netflix
Childhood crushes who went on to lead very different lives reunite after a chance run-in and try to figure out if there is still a connection worth exploring 15 years later—or if their worlds are just too different. Starring comedian Ali Wong, you're guaranteed to laugh until you cry and fall in love with the story of Sasha and Marcus.
14. When We First Met
Watch it on: Netflix
In a Groundhog Day-style time warp, Noah (Adam Devine) relives the same night over and over, trying to make his best friend—who, in present day, is engaged to another man—fall in love with him instead of just seeing him as a friend.
15. The Perfect Date
Watch it on: Netflix
Noah Centineo stars in yet another rom-com we love. In order to pay for college, Brooks creates an app that offers his services as a fake date. From avoiding going to a dance alone to getting parents off their back about dating, girls from all over town are paying him to stand by their side. It's all fun and games until real feelings start to emerge with one of his fake dates.
16. Holidate
Watch it on: Netflix
Gorgeous Emma Roberts (playing Sloane) and hunky Luke Bracey (playing Jackson) star in this light-hearted rom-com that isn't just about finding a date for Christmas. Nope, the two decide to be each other's date for every holiday of the year because let's face it: Sometimes, it sucks to be alone at a holiday family gathering. Genius idea? Yes, but what will happen when they start to think about each other when it's not a holiday?
17. Marry Me
Watch it on: Peacock
Jennifer Lopez and Owen Wilson star in this 2022 rom-com about a popstar who is set to marry her boyfriend on stage in front of millions of people. Right before she gets on stage, she finds out he's cheating on her. When she spots a stranger in the audience, she decides to marry him on the spot instead. Now the two have to decide what to do next. Can two people from completely different worlds ever make it work?
18. Trainwreck
Watch it on: Peacock
When Amy was little, her father convinced her that monogamy isn't realistic, and she has believed that ever since. As an adult, promiscuity has become her forte, and that's not changing anytime soon if it's up to her. Of course, while writing a profile for her magazine about a charming and successful sports doctor, she starts to feel feelings she has never experienced before. From the producer of Bridesmaids and the director of Knocked Up, this movie is both hilarious and heartwarming. Plus, it's Amy Schumer, so what's not to love?
19. Desperados
Watch it on: Netflix
If you loved Winston and Aly in New Girl, you have to watch Desperados. This is arguably one of the best moves for GNI because it is about three best friends on a mission. After Wesley thinks she's getting ghosted, she sends a slew of mean drunk texts to the guy she is dating. It turns out, he ended up in an accident in Mexico and wasn't ghosting her after all. The three girls head for Mexico to delete the texts from his phone before he can see them, but they won't be able to do it without constantly running into a new handsome man, Sean.
20. The Wedding Year
Watch it on: Prime Video
A young commitment-phobic couple's relationship is really put to the test when they are invited to seven weddings in one year. This promising Amazon review really makes me want to watch it: "Was looking for a cute pick-me-up movie and this was perfect! All of the characters were funny, lovable, and most importantly, relatable! Definitely watch this if you're sick of watching whatever rom coms are on Netflix, Hulu, etc. This was fresh!"