Dry skin girlies, there is hope after all. A new trend has entered the chat claiming to be the secret to hydration, and we're more interested than ever to get to the bottom of it. Slugging, laminated skin, and skin cycling have had their fair share of hype over the last year, but right now, skin flooding is having a moment of its own, and in the absolute dead of winter, we couldn't ask for anything better than a method solely focused on reviving tight, dry, itchy, and flaky skin.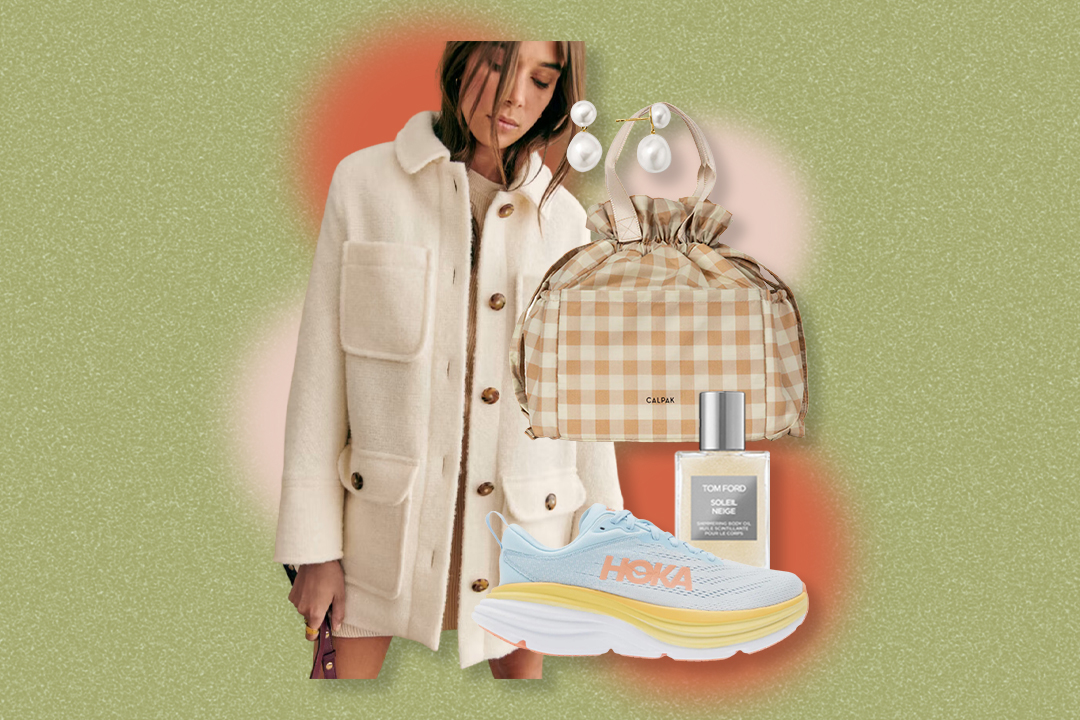 We took a deep dive to find out what exactly skin flooding is, who it's for, and what products you need to master the method, as well as heard from Alice Henshaw, Skincare Expert and Founder of Skincycles, to learn even more about the benefits of skin flooding. If you are one of many struggling with dry skin right now, here's everything you need to know:
What is skin flooding?
Layering lightweight, moisturizing products onto damp skin with the purpose of increasing skin hydration has been coined "Skin Flooding". While the method seems to vary slightly, it involves using a facial mist between each product application to keep the skin damp and add extra moisture. After watching a few TikTok videos, you'll notice that there are a few main ingredients and products in every skin flooding lineup: hyaluronic acid, niacinamide, a thick moisturizer, and of course, a facial mist.
What are the benefits of skin flooding?
When your skin is damp, products are better able to absorb, which increases their effectiveness. Since hyaluronic acid is a humectant (a substance used to reduce the loss of moisture), it acts as a key ingredient in this method because damp skin helps the hyaluronic acid "draw in the moisture from the surface of the skin to penetrate the deeper layers," according to Henshaw. When you apply a thick cream or moisturizer as a final step, it locks in all of the hydrating products before it, ensuring that your skin maintains the hydration it needs to make you glow.
How do you skin flood?
We already know that the order in which we apply our skincare products determines their effectiveness, but that is especially true with this method. "After cleansing, you'll want to start with a damp face before applying your first serum, usually a formula with hyaluronic acid," says Henshaw. Follow that with a moisturizing mist and then continue to a serum with niacinamide, another spritz of the mist, and finally a thick cream or gel-based moisturizer.
Recommended products:
This simple method is one that you can do with products you probably already have in your arsenal, but if you are missing some of the key steps, here are the products we recommend for your skin flooding routine:
Step 1: Cleanse
La Roche-Posay
This affordable creamy cleanser contains ceramides and niacinamide, which work to alleviate dryness and maintain a healthy skin barrier.
Cerave
This cleanser will leave your skin feeling hydrated, soft, and comfortable with the help of hyaluronic acid and three essential ceramides. Our Assistant Editor swears by it!
Step 2: Hyaluronic acid
Glow Recipe
This serum has a powerful blend of multi-weight hyaluronic acids (ultra-low, low, medium, high, and ultra-high molecular weights) that will penetrate your skin and give you bouncy, glowy results.
Skincycles
This serum contains long and short chain hyaluronic acid molecules that will provide long-term moisture in your skin.
Steps 3 & 5: Facial mist
Youth To The People
With the help of antioxidant-rich adaptogens and peptides, this ultra-fine mist will deliver moisture in-between steps and all day long.
Biossance
Two types of hyaluronic acid and sugarcane-derived squalane get to work replenishing the moisture in your skin in this facial mist and toner.
Step 4: Niacinamide
Peach & Lily
A lightweight serum that visibly brightens, firms, hydrates, and calms skin with niacinamide, a hyaluronic acid complex, peptides, and more.
The Ordinary
This high-strength formula helps reduce the appearance of skin blemishes and signs of congestion while visibly brightening the skin.
Step 6: Moisturize
Cerave
This thick moisturizing cream with ceramides and hyaluronic acid provides all-day hydration for dry skin.
Summer Fridays
Achieve visible plumping hydration with this ultra-lightweight gel cream that contains three types of hyaluronic acid and ceramides.