Spending the last few months in leggings has been pretty good–I mean, a girl can't complain about never wearing a single thing with a zipper. But it's June, and I've about had it with loungewear. I know, I know, who would have thought we'd see the day! However, I'm not exactly ready to wear all the leather shorts and off-the-shoulder tops in my summer wardrobe when I'm just sitting in my no-A/C apartment on my computer all day long. It's just not feasible. So, getting creative with trends is the easiest way to get on board. With basically the entire world staying at home, our fashion and beauty trends are shifting from what was initially predicted back in September—we've adapted to what's going on around us, making it easy to recreate our favorite looks without even having to step outside.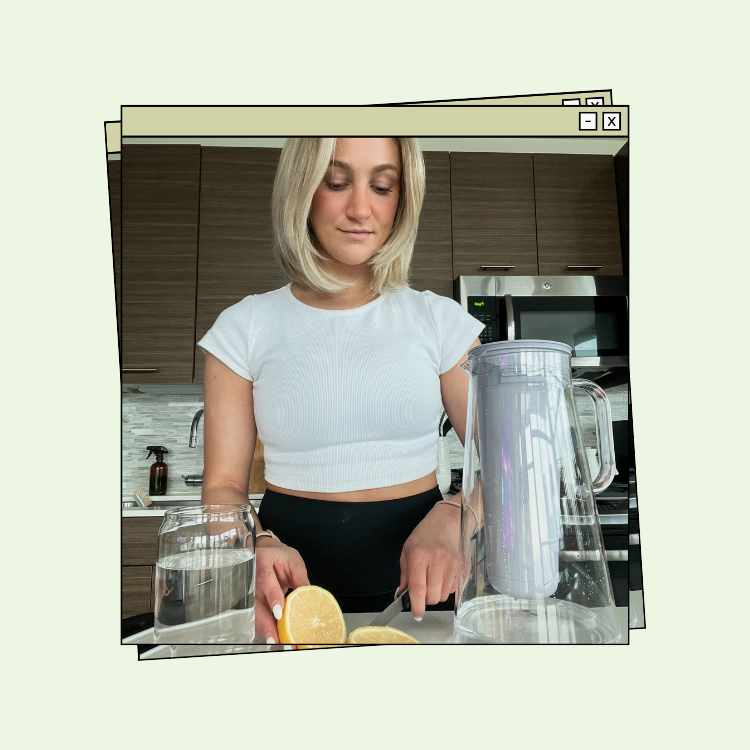 get it right in 2023 and beyond
After months of wearing the exact same thing day after day, let's just say I'm a little more than excited to start implementing these easy trends into my loungewear looks. And because they'll still be staples afterward, you'll be styling them with the rest of your summer capsule wardrobe.
1. Ribbed Tanks
This super '90s trend will become a staple in your closet in no time. Wear it with joggers or shorts to look put-together on a Zoom meeting, or dress it up with a skirt later down the road. I'm partial to white, but black, neutral, or a bright color is great too.
2. Embracing Your Hair Texture
This spring trend isn't going anywhere, especially with more people using less heat and not going to the salon. Rocking your natural texture doesn't have to be a frizzy mess either. Use a light hair oil, like Verb's Ghost Oil, to add shine and smoothness without straightening out any of your precious waves or curls. Use the diffuser on your hair dryer to amp up the waves or even a curling gel (trust us: scrunching your hair in 2020 is nothing like it was in middle school).
And if you're a straight-haired gal as myself, I fake it by putting my hair in braids or twists while it's wet, letting it dry, and then lightly straightening the ends (anyone else at that weird shoulder length where your hair refuses to do anything but flip out like a '50s housewife?!). You can also add a few curls with a curling iron to give it even more texture.
3. Dressed-Up White Tee
Instead of your favorite white tee, opt for something with a little extra somethin'-somethin'. This is basically the comfort equivalent to wearing a T-shirt, but you look pulled-together and like you put in way more effort than you did. These are a life-saver for Zoom meetings and grocery trips, and you can still wear them with jeans later on this summer and early fall. Look for pieces with ruffles, scalloped edges, puffy sleeves, cropped hemlines, and sweetheart or square necklines.
4. Glowy Cheeks
Will there ever be a time that glowy blush and cheekbones won't be in? I don't think so. This summer, we're seeing skin tints and light coverage rule, and they pair beautifully with all the new cream blushes, bronzers, and highlighters on the market. It's totally acceptable to do a totally cream/liquid cheek these days. If you tend to get oily or are trying to keep all of your makeup on underneath a mask, go over it lightly with a powder to keep it locked in place.
5. Lingerie Details
Bustier tops were initially a statement piece when paired with light-wash jeans and heels, but at home, we're seeing them worn with leggings and ribbed pants to lounge around in. Plus, they're not as intimidating as they once were—a lot of the lingerie-style tops available now are totally work-appropriate with a denim or leather jacket or cardigan.
6. Muscle Tanks
In an almost antithesis to the lingerie trend comes muscle tanks. It's a solid mix of '80s shoulder pads, '90s androgyny, and 2020 ~cool~. Wear it with leggings, jeans, tucked into skirts, biker shorts, jorts—you name it, and it'll look good with this trend. Not to mention, these usually come in soft, breathable fabrics that make them easy to throw on when the weather warms up.
7. Bright Nails
Say goodbye to your boring manicure this summer. Brights are trending big time, and they're an easy way to add the tiniest bit of a trend to your life without really having to invest too much time, money, or energy. I'm a big fan of nail art lately, but a simple bright polish on your hands and toes can go a long way.
8. Flowy Dresses
Flowy dresses for summer is the equivalent to florals in spring—everyone knows it's coming, but we get excited as all hell for it anyway. This year, they're taking a whole new job because they make waltzing around your apartment on a sunny afternoon way, way better. We're living in breezy minis, midis, and maxis this summer, from your bright summer whites to neutral hues to neons and pastels.
9. Watercolor Lids
https://www.instagram.com/p/B_5Hc4yp78I/
It doesn't have to be trend for me to rub blue eyeshadow all over my lids for the heck of it, but in any case, there's a reason colored shadows are all over Instagram. This look doesn't have to be difficult—a simple wash of one shade from the lashline to just above the crease of your eye makes a statement with truly zero effort. Go with a powder shadow and make it super mod, or use a cream or liquid to give a smudgey, '90s vibe. The trick is to use a sticky eyeshadow base to help the powders and creams stick to the lid and stay in place all day. Have a little makeup playtime in the mirror one morning, and your bright lids will make you happy all day long. Also, since all anyone is really seeing is our eyes with our masks on, why not make it a little crazy?!